SRV record lets you point a specific service (for example TeamSpeak ts3, minecraft, imap, etc) to a different location. It is generally used when a website is hosted in one location and a service on another. This tutorial will show how to add SRV record in cPanel.
What you'll need
Before you begin this guide you'll need the following:
Access to cPanel account
SRV record details
Step 1 — Navigating to DNS zone editor
Once you have successfully logged in your cPanel account, click on Advanced Zone Editor in Domains section.

Step 2 — Adding SRV record
In Advanced Zone Editor enter all the details of your SRV record. If you are not sure what to enter here contact server administrator where your SRV record will be pointed to. In the screenshot below Minecraft was used only as an example, you can use any service or port that you need.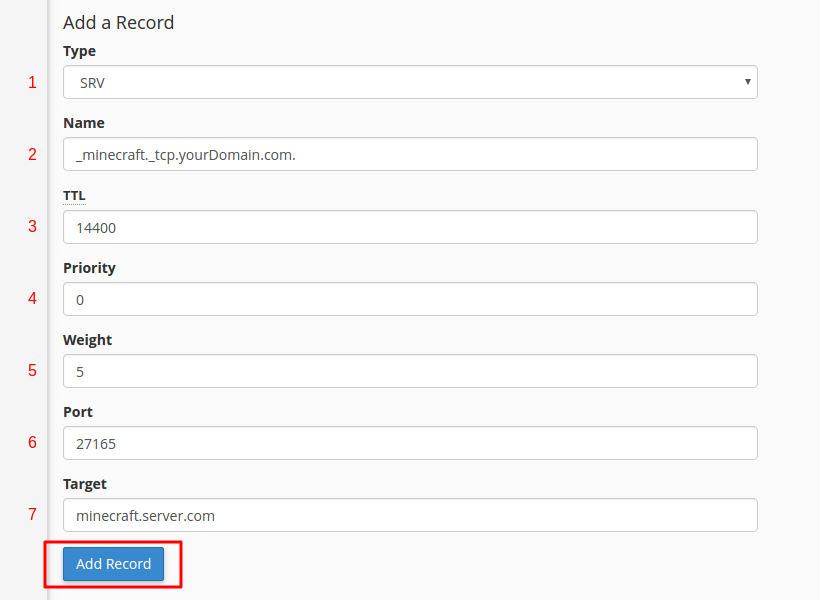 Select SRV in the Type field.
Enter name which consists of service, protocol, host separated by an underscore and a dot. Note that underscores are only before service and protocol, there is no underscore before the host.
TTL (Time To Live) limits the lifetime of record data on the network. You can enter the default value of 14400.
If multiple records are used priority value defines which one should be prioritized. A lower value means more preferred.
If two records are with the same priority then weight value determines which one should be prioritized. Higher value means more preferred.
Enter port number which will be used by the service.
Enter your destination hostname where you want your SRV record to be pointed to.
Generally, it takes less than 15 minutes for DNS records to start working over the network. However, in some cases, it might take even up to 24 hours. If new SRV record does not start to work within 24 hours your best bet would be to contact hosting provider to make sure SRV details were entered in the correct format and used port is not closed.
Conclusion
Using this tutorial you can easily add SRV record via cPanel and learn what each record field is used for.