Twitter Cards can be one of the solutions for driving traffic to your website. How? Twitter Cards allow to attach rich media to tweets that link to your content. In order to be able to use this feature, you need to implement it to your WordPress website first. In this tutorial, you will learn how to add Twitter Cards to WordPress using WordPress SEO by Yoast plugin.
What you'll need
Before you begin this guide, you'll need the following:
Access to WordPress admin area
Step 1 — Installing Yoast SEO plugin
Access WordPress admin dashboard, click on Plugins (1) -> Add new (2). Now, in the search bar type Yoast SEO (3). In the search results you will see Yoast SEO with traffic light in light blue background. Click on Install Now (4) button. Once the installation process is finished, Activate (4) will appear instead of Install (4) – click it.

Step 2 — Configuring the Plugin
Now, since the plugin is installed and activated, in the left corner you will see SEO (1) button. Once you click it, a SEO Dashboard will appear. Now, click on General (2) section. The configuration of Yoast SEO can be started by clicking on Open the configuration wizard (3).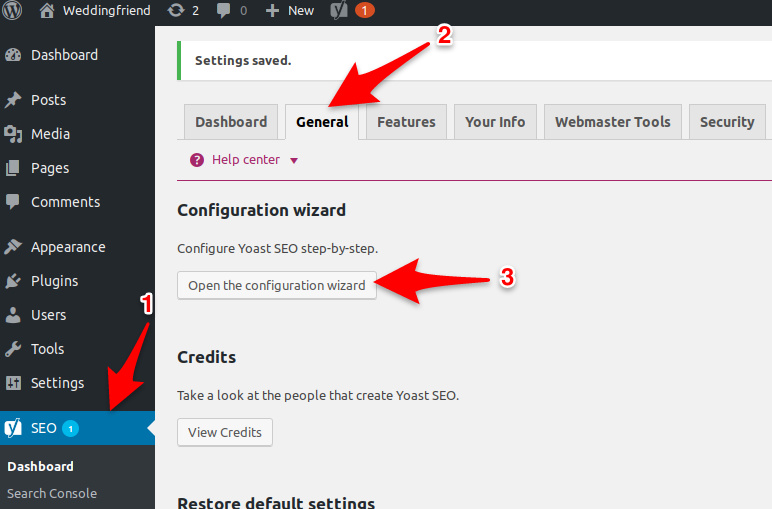 Step 4 — Filling in you details
At the form that has been opened, fill in your personal details.
Note: it is not obligatory to fill all of the fields. For example, in Social profiles you can write just a single one, if that is all you need.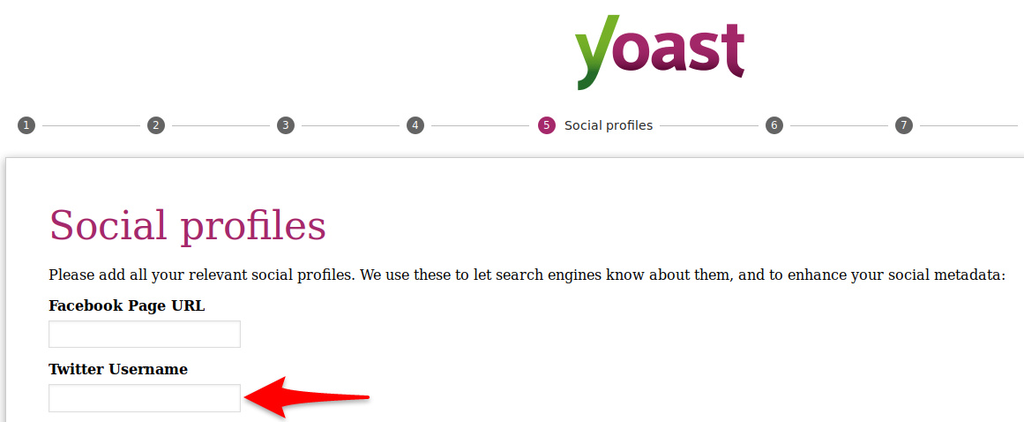 Step 5 — Enabling Advanced Settings Pages
Click on SEO (1) again. At the top click on Features (2). Only the first line of the three will not be enabled – you need to switch to Enable (3). Once you do this, click on Save changes (4).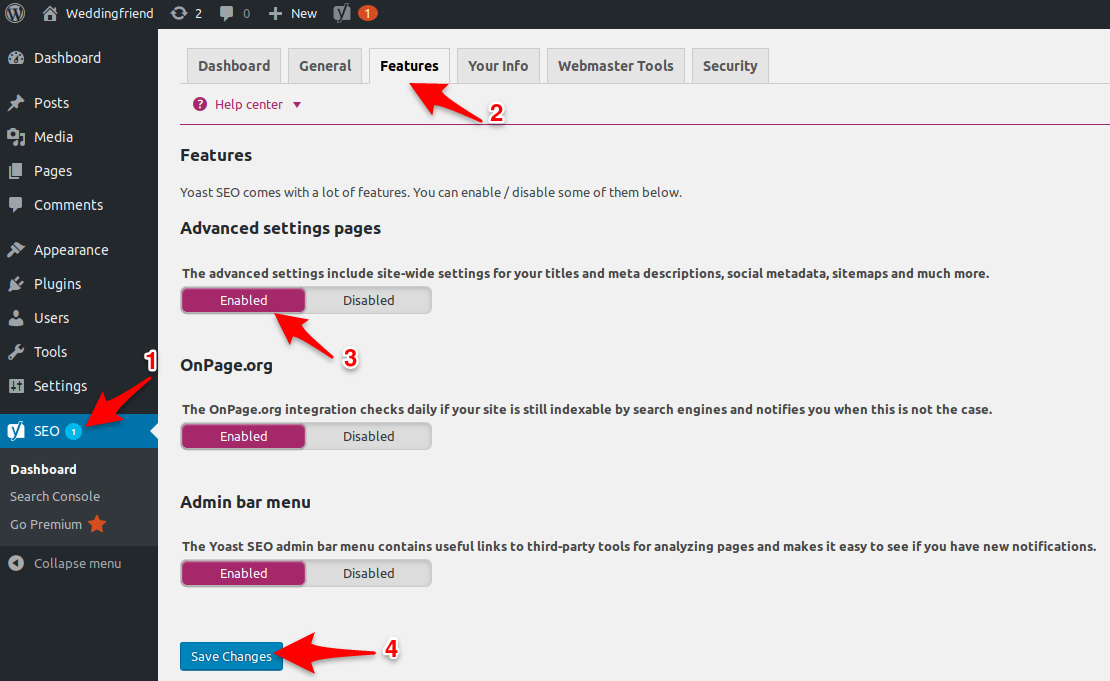 Step 6 — Filling in Account Details
More options will appear. You need to click on Social (1). Once you do that, in Accounts (2) section fill in the data you wish. To be able to use Twitter Cards, you must write your Twitter username and click Save changes (3).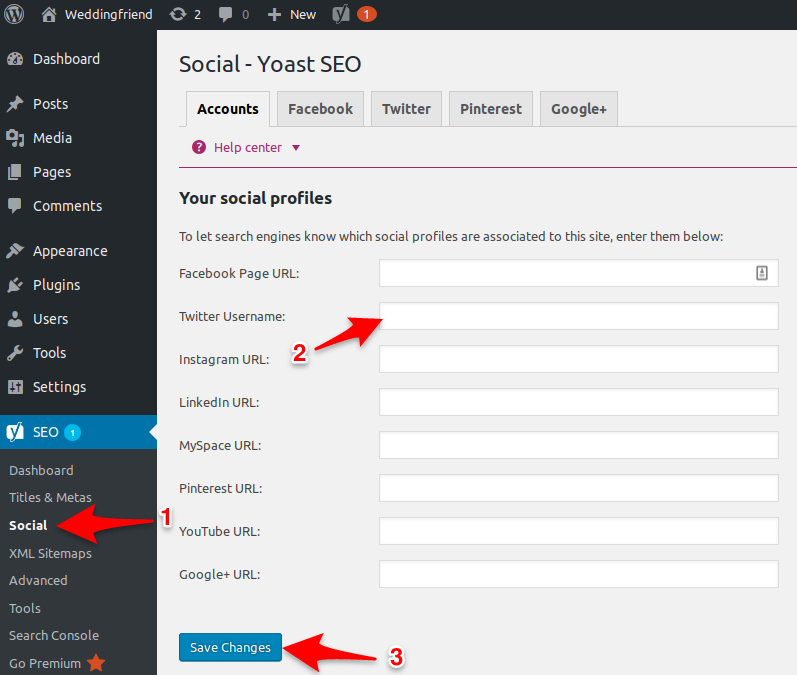 Step 7 — Selecting the Type of Twitter Cards You Wish to Use
Click on Twitter (1) section and Enable Twitter Card meta data. At the drop-down menu The default card type to use (2) you can select which type of Twitter Cards you would like to use. By default Summary card is selected, which is the best option for WordPress blogs. Once that is done, Save the changes (3).
Step 8 — Updating Your Profile
In this step, you need to update your profile with Twitter username. Click on Users (1), select Your profile (2) and write your Twitter username (3). Don't forget to click on Update Profile at the bottom of the page.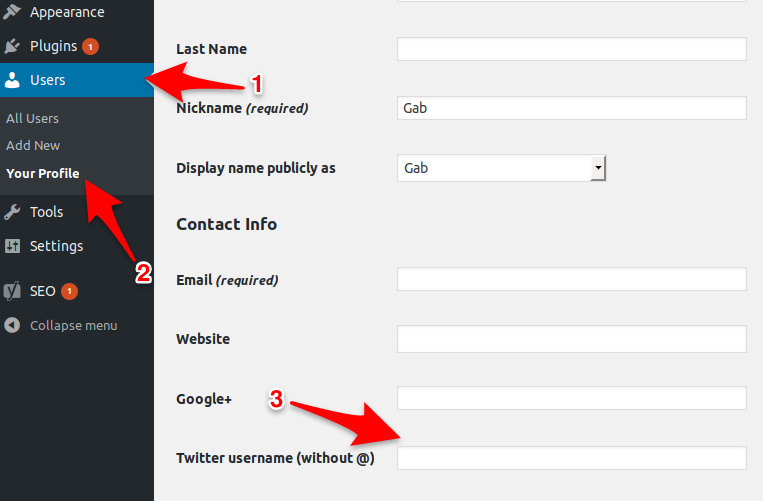 Step 9 — Validating Twitter Cards
Now, it is time to check how Twitter Cards work. Go to Twitter Validator,paste a link (1) from your website and click on Preview card (2). On the right side you will see how the generated Twitter Card would look like.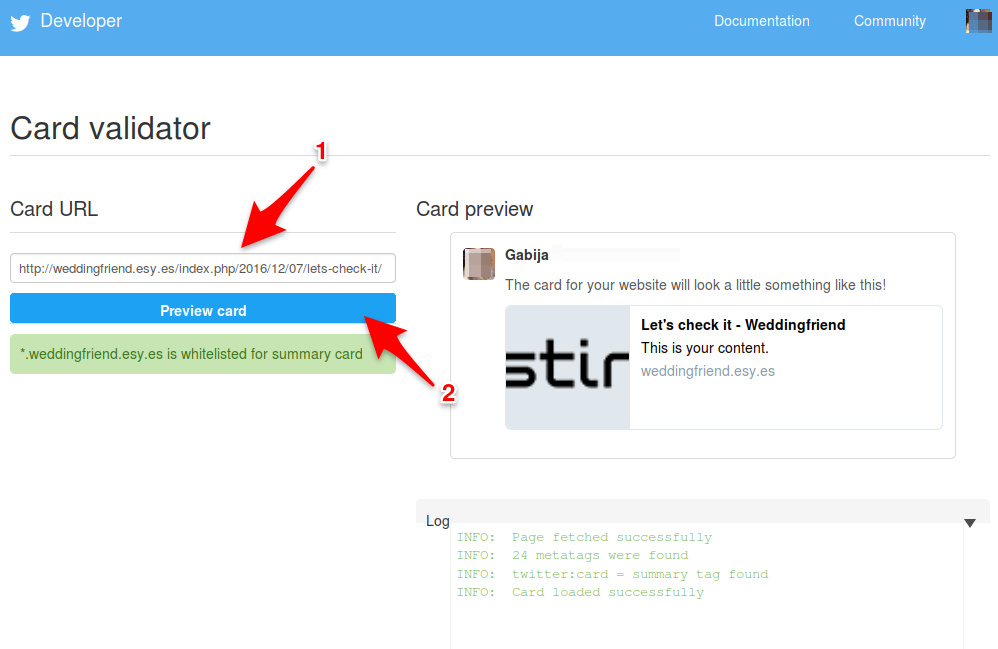 Conclusion
In this tutorial you have learned how to add Twitter Cards to your WordPress website with the help of Yoast SEO plugin. Not only have you increased the chances of getting more traffic to your website, but also the tweets will be more eye-catching.