You may be wondering what kind of WordPress themes do some popular WordPress sites use? Knowing those themes might spark some inspiration to get a better design for your own site. In this article, we will show you how to discover themes by using WordPress theme detectors.
What Are Theme Detectors?
WordPress theme detectors are tools that can provide you information about a theme that is used on a WordPress site. Usually, the detailed information will contain the theme name, author, the version and description of the theme.
Some of the theme detectors might also provide a link to the detected theme. Therefore, if you are interested in choosing the theme for your own use, you can go to the link, download it and install the theme right away.
These tools will be beneficial to any WordPress user, especially for beginners. It might help you understand what themes are considered good.
Hence, you can use these tools as an inspiration to give your site new interesting looks (or just sate your need-to-know).
How to Detect WordPress Themes Manually?
You can actually detect a WordPress theme without using a theme detector. Here are the steps to accomplish that:
Go to a WordPress website
Right click at anywhere on that webpage, and then choose View page source. Alternatively, you can press CTRL + U to open the page's source
Press CTRL + F and type "wp-content/themes". Then you will see the theme's name right next to it.

You can also click on the link and then it will show you the details of the theme

Using the manual method might be quick. But sometimes it can't provide detailed information that you need since each WordPress site have unique security options. Therefore, If you seek more information, using theme detectors will net a better result.
Top 6 Best WordPress Theme Detectors
There are several theme detector tools that you can use. We have compiled some of the best theme detectors out there and all of them are free.
Here is the list of popular WordPress theme detectors based on popularity: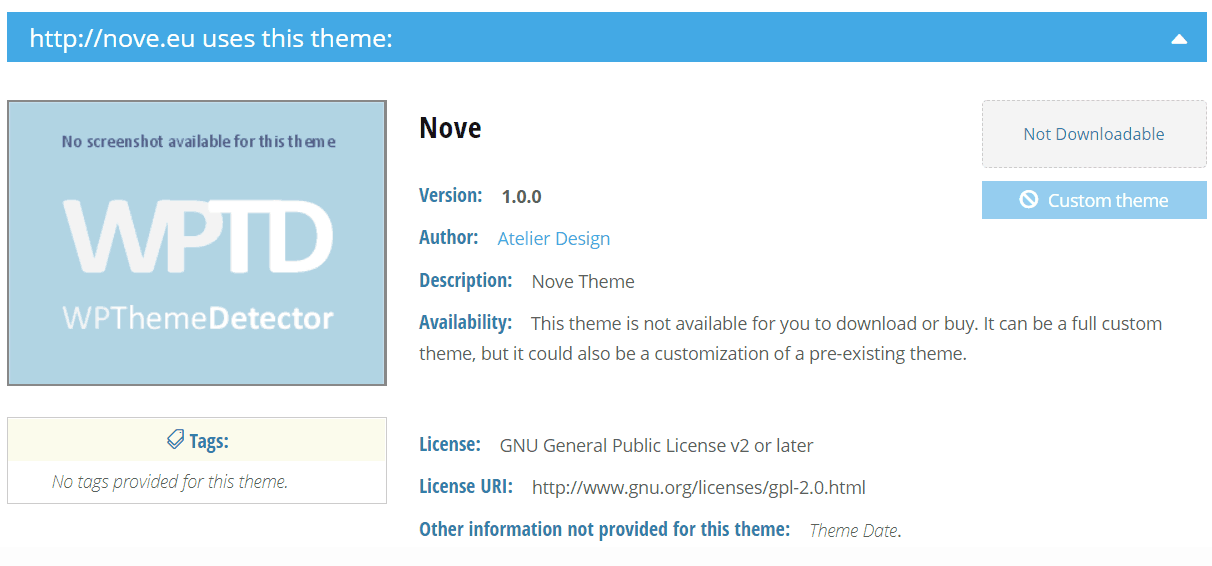 WP Theme Detector is a great tool which can provide you with diverse information regarding the theme. All you have to do is just enter the URL of the website, and the tool will show you all of the data that is available.
You will find the description of the theme, author, plugins and even the popularity of the theme. Moreover, you can also check whether the theme is available for you to download.
In addition to that, it's an overall great tool with robust features, that is complemented with a nice looking interface. And it also provides you with some additional information that you can use to find broader references with its top-ranked searches on themes and plugins.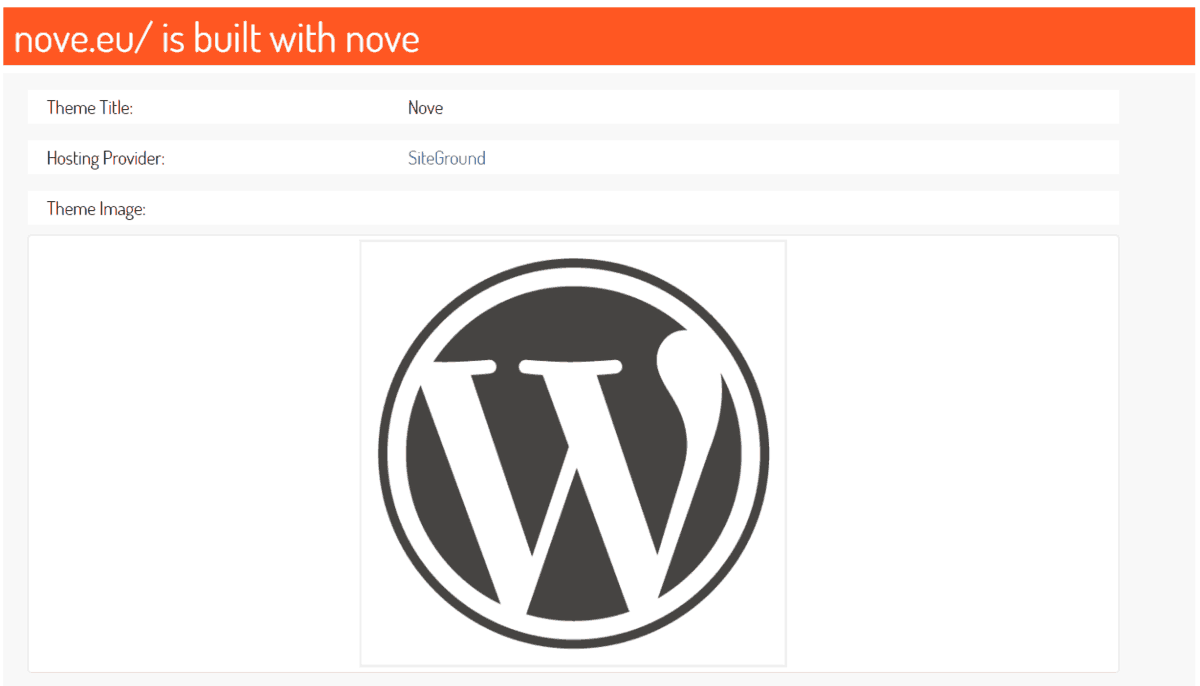 Another free, well-known WordPress theme detector tool that is ScanWP. Aside from giving you basic information about the theme, it will also tell you what hosting provider the site uses.
Depending on the theme, ScanWP could also show you the price of the theme.
Lastly, it provides some interesting lists of top scanned themes, plugins, and page builders.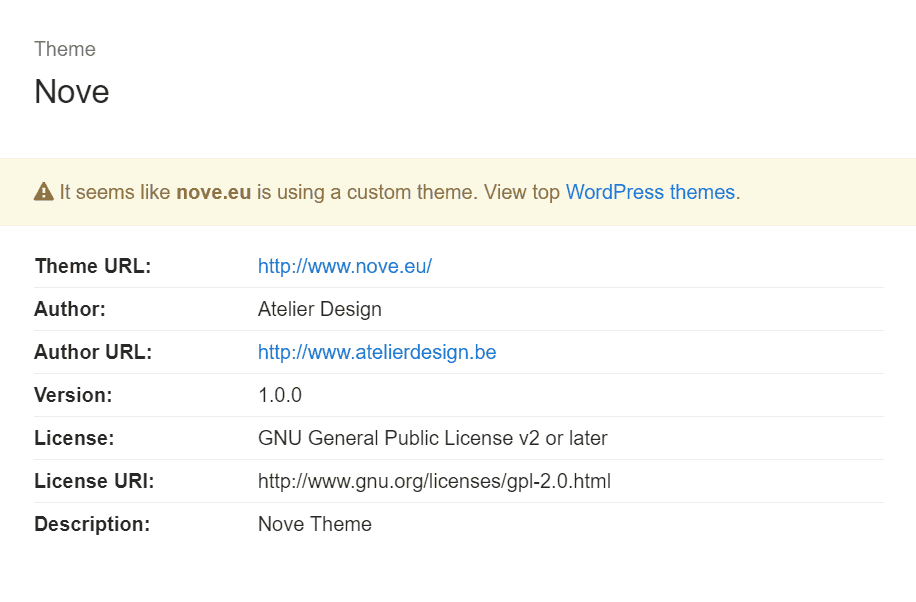 Unlike previous theme detectors, this tool solely focuses on providing information about the theme. So, you will not find additional information about the website.
This WordPress theme detector will be more compelling to people who need straightforward facts about the theme, as it is a simple tool with a clear function.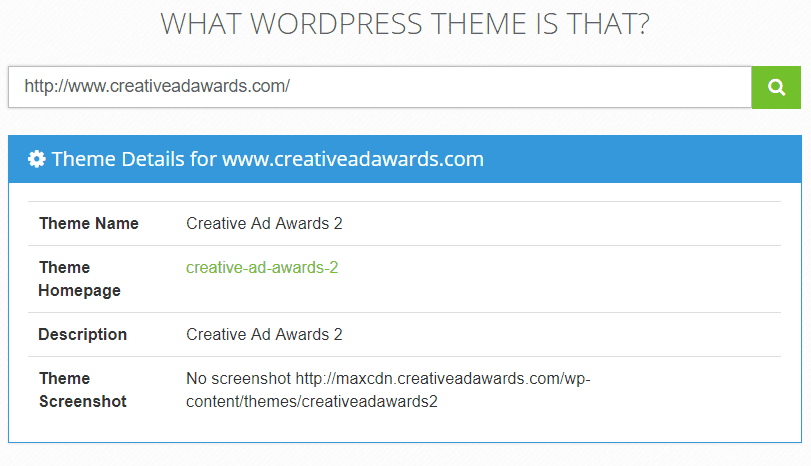 This theme detector can detect both parent and child themes. Furthermore, it provides detailed information about the theme. If the website is well-detected, it will give you a link to the theme and the author's homepage.
The information provided is quite comprehensive, as it also lists all of the plugins that are used by the website
What is more, this tool will also give you some recommendations from their top WordPress theme providers and plugin pages.

Among all of the theme detectors listed here, this tool is the only one that is not a web-app. Basically, WPSniffer is a Chrome extension which is made by PenguinWP. Since it is just an extension, it only detects the theme's title and homepage.
Although the information provided is limited, it has an advantage in terms of convenience, since you don't have to type the URL in order to know the theme. Just go to the WordPress site, click the extension's icon, and then you'll get what you want.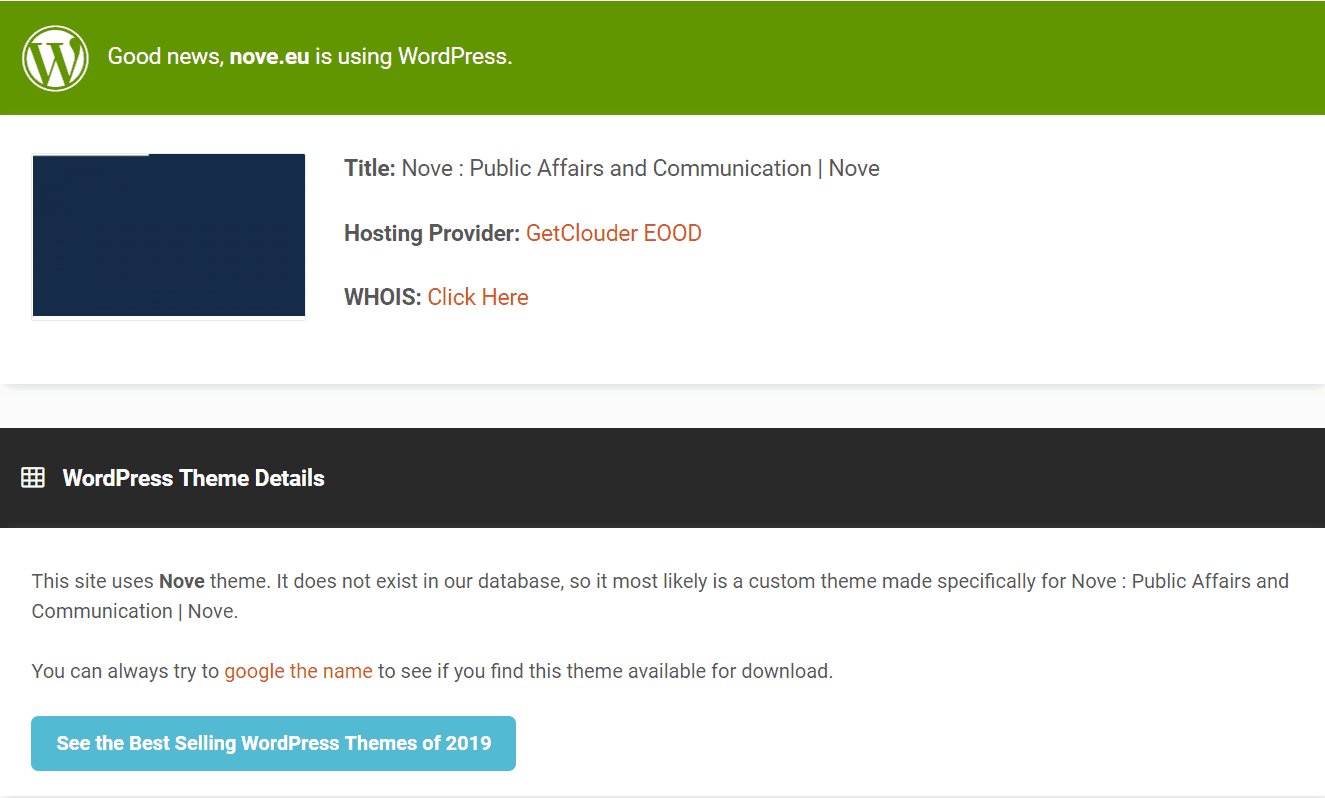 As the name implies, this tool is mainly used to check whether a website is using WordPress or not. Fortunately, it also provides other valuable information as a theme detector.
It can provide you the description and availability of the theme. In addition, it also shows you the plugins used on the website.
What is the Best Theme Detector?
Each theme detector certainly has its own strengths and weaknesses. We tested all of the tools listed to detect themes of some popular WordPress sites. The listed sites are mostly using custom themes, while Techcrunch uses a heavily modified theme. Here are the results:
| | | | | | | |
| --- | --- | --- | --- | --- | --- | --- |
| | WordPress Theme Detector | ScanWP | What Theme by CodeinWP | What WordPress Theme is That | WPSniffer | IsItWP |
| Techcrunch.com | Yes | Yes | No | No | Yes | No |
| Usainbolt.com | Yes | Yes | Yes | Yes | Yes | Yes |
| Etsy Blog | Yes | Yes | Yes | No | Yes | Yes |
From this comparison, we can see that WordPress Theme Detector, ScanWP, and WPSniffer can detect custom themes. As for What Theme and IsItWP – the tools can detect regular custom themes but are not good at finding heavily modified ones.
Finally, the only tool that was not able to detect two of the sites is What WordPress Theme is That. The test showed that this tool only works well to find popular WordPress themes.
Conclusion
To sum up, If you want to know what theme that is used by your favorite WordPress sites, you can find it manually or get a better result by using our mentioned theme detectors. These are some theme detectors that you can use to detect WordPress themes:
Use those tools to spark your inspiration. If you keep on looking, you might find a theme to best suit your WordPress site!