Introduction
If you are just starting out in developing your WordPress blog, installing WordPress locally and developing it on your local machine is a great idea due to numerous advantages. WordPress installed on your localhost is not visible to the Internet and offers much better performance for development and testing purposes, since it is located on your local computer. We will cover the easiest and fastest way of setting this up – using Wampserver software to setup and install WordPress on Windows.
What you'll need
Before you begin this guide you'll need the following:
A Windows machine with an internet connection.
Step 1 — Downloading and installing Wampserver on your computer
Begin by downloading Wampserver from the Wampserver website. With Wampserver, you can run PHP, MySQL and Apache2 on Windows machine without hassle. Before downloading make sure to select the appropriate version for your machine – either 32bit, or 64bit.
Once you have downloaded the executable, simply launch it. Follow the on-screen instructions, making sure to pay attention to all of the information that is given. Install it into your C:\wamp64\ directory for maximum compatibility. Wampserver will also ask you which browser you want to use for it, so if you are not happy with the default choice (Internet Explorer), you can specify another executable that you want to use, such as Chrome.
Wampserver installation is pretty basic and straightforward. Once it's complete, launch Wampserver.
IMPORTANT! Make sure to exit Skype if you use it, as it is not compatible with Wampserver.
Step 2 — Creating a database for WordPress
Before you install WordPress, you need to create a database for your WordPress website. To do this, access Wampserver from your taskbar and launch phpMyAdmin: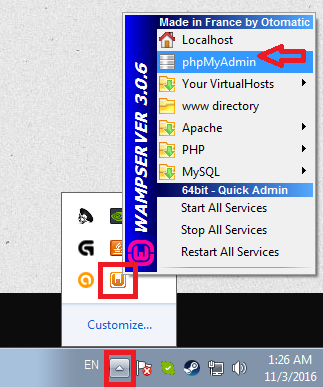 Your previously chosen browser will open the address /localhost/phpmyadmin/ and you should see the phpMyAdmin login screen. If you receive an error, make sure you have Skype disabled and restart your browser. Wampserver uses the root username by default, and the password for this user is blank. Input these details as shown below and login to phpMyAdmin.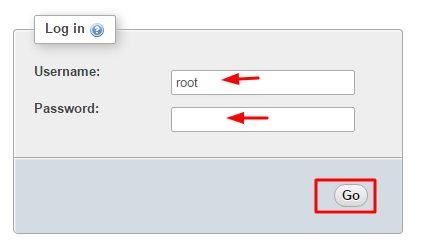 Next, select Databases and input your new database's name into the field below Create database and click Create. We will use wordpress_123 in this example.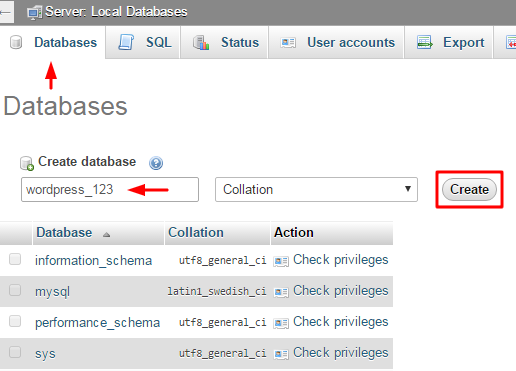 Your database will now be created and you can move to the next step.
Step 3 — Installing WordPress on Windows
Head over to WordPress.org and download the latest version of WordPress. Move the downloaded archive to your Wampserver document root. By default, this is the www directory inside the wamp64 directory, i.e. C:/wamp64/www/ . Extract your downloaded archive into the www directory: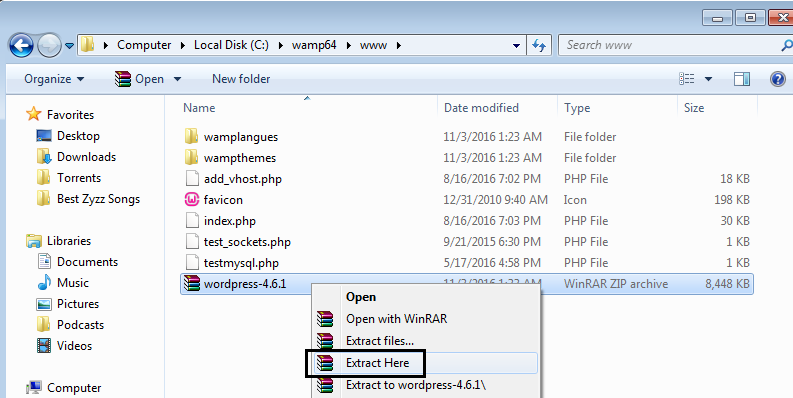 Once the archive has been extracted, you're ready to access your website. Simply open your previously chosen browser and navigate to /localhost/wordpress/ . You will be prompted with the WordPress installation screen, select your language and proceed with the installation. On the next screen, you will be prompted to input some database information.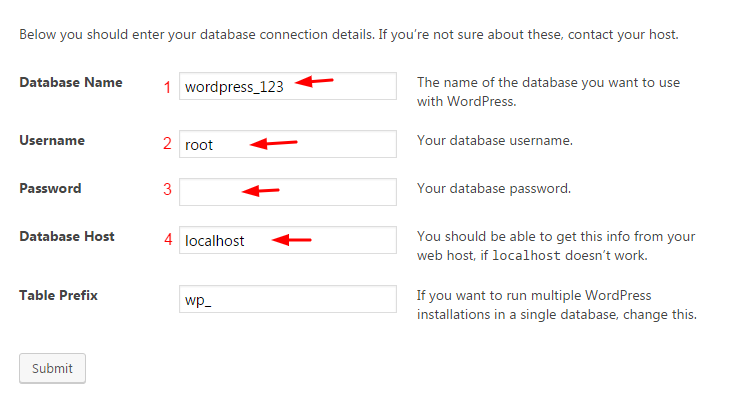 Database name: Input your previously created database name. In our case, we created wordpress_123.
Username: Use the default Wampserver MySQL username – root.
Password: Leave this blank, as Wampserver does not have a MySQL password set by default.
Database host: Set this to localhost.
Table prefix: You can leave this unchanged, or set your own table prefix if you wish. We recommend specifying it to wp_.
Click Submit to move to the next step. You will be prompted to input some information about your WordPress site. You can change this information at any point later, so let's input some simple information to proceed with installation: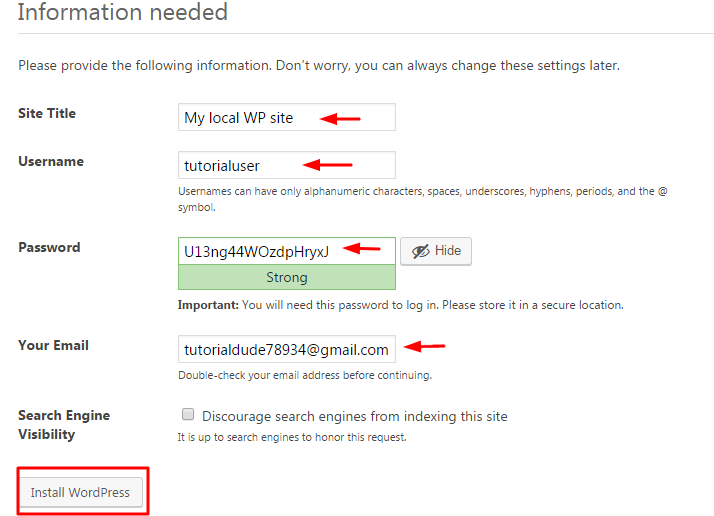 Site Title: The title of your WordPress website.
Username: The administrator's username of your WordPress website.
Password: The password for the administrator's user of your WordPress website.
Your email: The e-mail address of the administrator's user of the WordPress website.
Once you are satisfied with the options, click Install WordPress and the installation will commence. After it is complete, you can login to your WordPress administration area by accessing /localhost/wordpress/wp-admin/ and inputting the administrator's username and password, which you specified in the step above, and start building your website locally.
Conclusion
You have successfully installed WordPress on your Windows computer and can now commence with website development and testing. Once you have fully built your WordPress website and want to deploy it to the Internet, check out this tutorial for a step-by-step walkthrough on how to do this.