30 Small Business Statistics to Capitalize On in 2023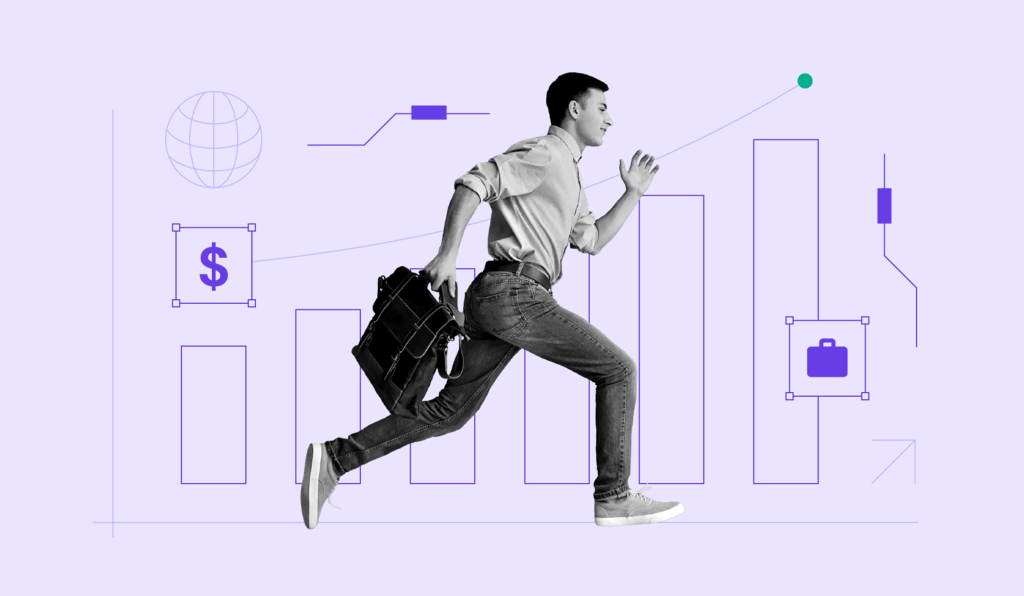 Starting a business requires plenty of effort, time, and money. Fortunately, it also allows you to quit your full-time job and achieve financial independence.
Before entering the small business world, research the most profitable online business ideas and understand the market's current state.
This article will cover the latest small business statistics every aspiring entrepreneur should know in 2023. These valuable insights will help you build a successful small business.
Download Checklist: How to Start an Online Business
Top 10 Small Business Stats You Should Know
We've curated the top small business statistics overviewing the private sector's current state:
There are 33.2 million small businesses in the US.
Small businesses created 12.9 million new jobs over the last 25 years.
More than half (54%) of small business owners plan to increase spending on social media.
In 2021, the average small business loan amount in the US was $52,158.
Rollovers for Business Startups (ROBS) is the most popular form of financing in 2023.
28% of people started a small business to be their own boss.
The salary of a small business owner in the US ranges between $30,000-$134,000/year.
95% of customers read online reviews before making a purchase. Meanwhile, 58% are willing to spend more on brands with positive social proof.
21.9% of new businesses fail within the first year. By the fifth year, the number increases to 50%.
Most small businesses fail due to cash flow problems and a lack of demand for their product or service.
Keep reading to learn more about current small business trends and statistics.
General Small Business Statistics
This section focuses on small business statistics in the US. Therefore, the data should benefit those living in the US or planning to target this particular market.
1. Number of Small Businesses in the US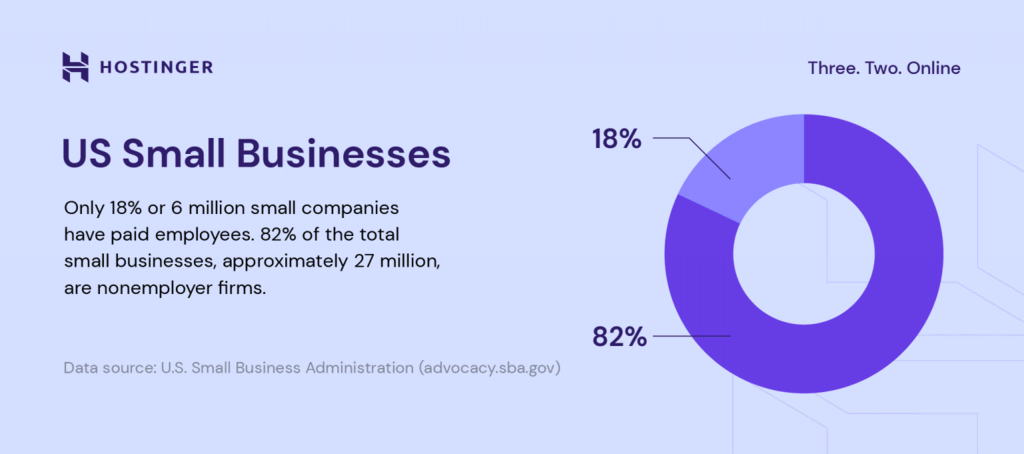 Around 33.2 million small businesses are operating in the US.
However, only around 6 million (18%) small companies have paid employees. 27 million of them (82%) are nonemployer firms.
The US Small Business Administration (SBA) defines nonemployer businesses as freelancers and independent contractors. Besides having more autonomy and equity, this business model also requires low startup capital.
2. Number of Net Jobs Created by Small Businesses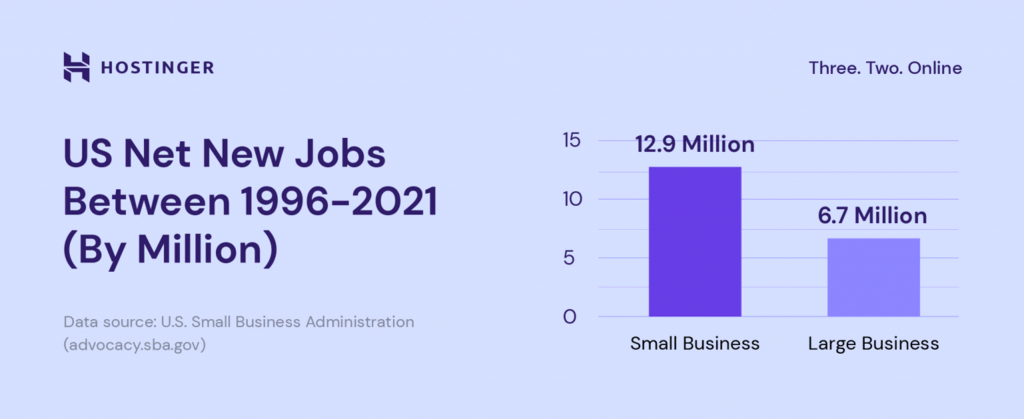 According to the US Bureau of Labor Statistics, small businesses created 12.9 million new jobs over the past 25 years. In comparison, large businesses generated 6.7 million new jobs within the same period.
By offering a massive variety of products and employment opportunities, small businesses significantly contribute to the US economic growth.
3. Methods of Launching a Small Business
46% of small business owners bought a franchise license, while 35% purchased an existing business. Only 21% started a business from scratch.
Franchising has gained massive popularity over the last few years. It offers a proven business model, an established brand identity, and a loyal customer base.
4. Distribution of Small Employer Firm Industries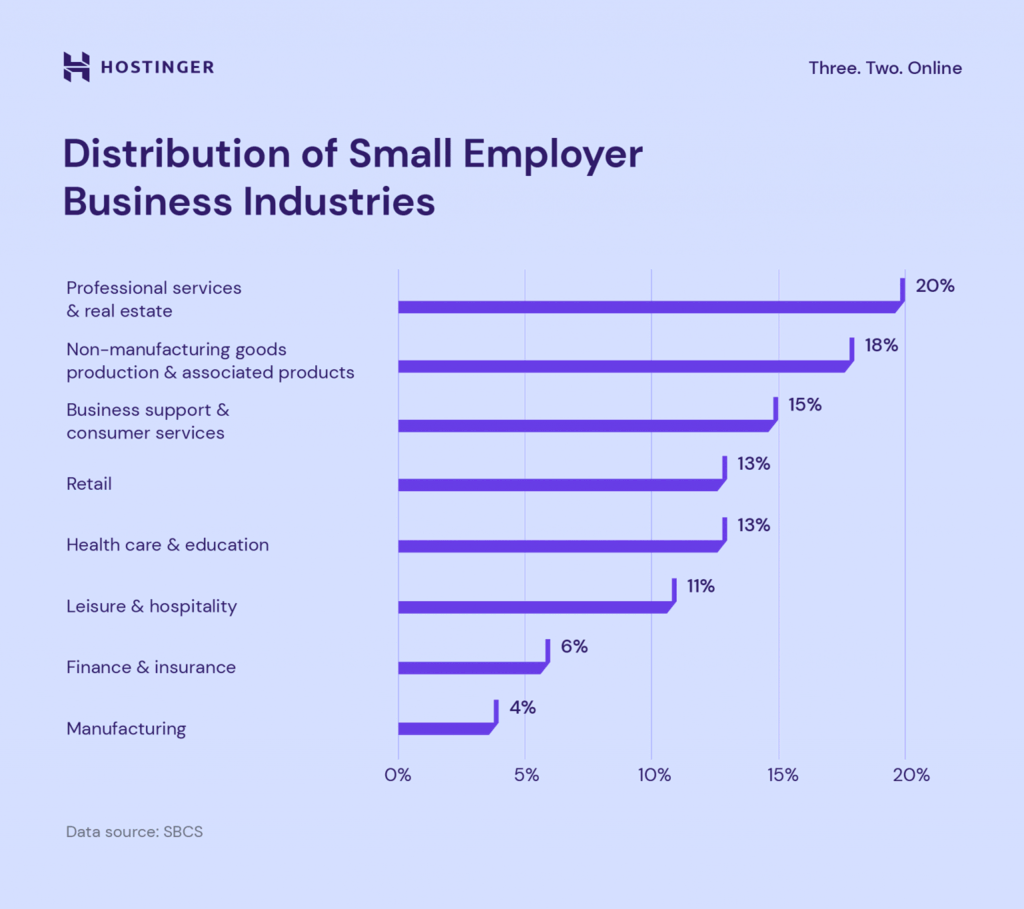 20% of US-based employer businesses operate within the professional services and real estate industries.
Non-manufacturing goods production and associated services have the second-highest share of small employer firms at 18%. Business support and customer services come third with 15%.
On the other hand, the manufacturing industry has the lowest share of small employer businesses, accounting for 4%.
Since the manufacturing industry has the lowest number of small businesses, it is less competitive than more saturated sectors. In other words, you will have a better chance of succeeding.
5. Different Legal Forms of Small Businesses
52.1% of small employer firms in the US are S corporations.
An S corporation has a regular corporate structure with a special tax status that includes the business profit in the shareholders' income tax. It's designed to avoid C corporations' double taxation and protect the owner's assets from business debts.
| | | |
| --- | --- | --- |
| Type of Business | Nonemployer | Small employer |
| Sole proprietorship | 86.6% | 13.7% |
| Partnership | 7.4% | 11.9% |
| S corporation | 4.5% | 52.1% |
| C corporation & others | 1.5% | 22.5% |
On the other hand, 86.6% of companies adopt the sole proprietorship legal structure that's popular among nonemployer firms. Its simple structure makes it easy for anyone to start a business, as only one person owns and runs it.
Small Business Social Media Marketing Stats
There are around 4.76 billion social media users. Due to its large user base, many small businesses rely on social media to promote their brand.
The following statistics will help you plan the right business strategy to dominate social platforms.
6. Most Popular Social Networking Platforms
According to Statista, Facebook and YouTube are the two most popular social networking platforms.
Facebook has almost 3 billion monthly users, while YouTube brings around 2.5 billion advertising potentials. WhatsApp and Instagram come next, with 2 billion active users each.
Make sure to apply tried-and-true marketing strategies to give your business a competitive edge on social media.
7. Social Media Posting Frequency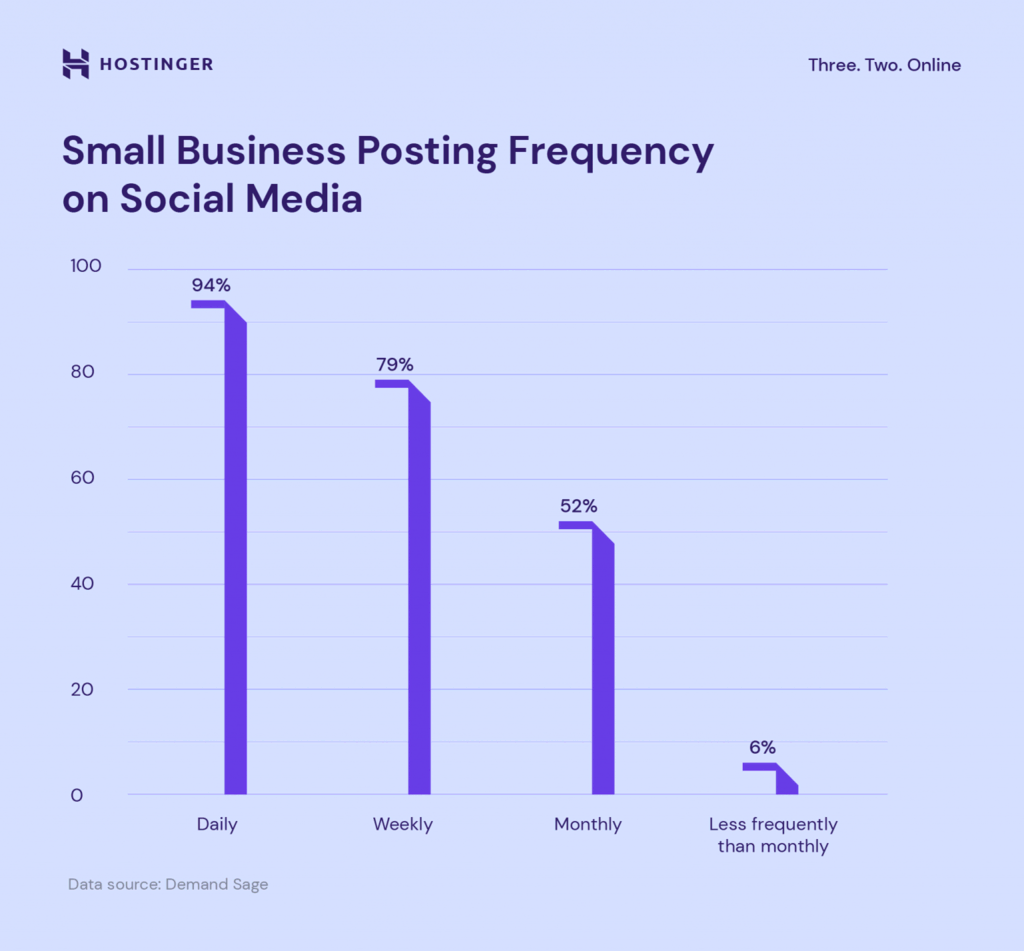 94% of small businesses post monthly, 79% post weekly, and 52% post daily on social networking sites. Only 6% of small companies post less than once a month.
While there is no fixed standard for posting frequency, 74% of social media users prefer brands to post once or twice daily.
8. Social Media User Demographics
22% of consumers look for new products on social media.
71% of Gen Z users regularly use social networking sites to discover new products. In contrast, only 17% of baby boomers surf social platforms to find new brands.
After finding their desired product, 28% of Gen Z and millennials purchased it directly in the social media app, followed by 18% of Gen X and 4% of baby boomers.
9. Small Businesses Invest More in Social Media
54% of small businesses plan to increase spending on social media, while 30% aim to spend less on print advertising.
Social media is one of the most cost-effective and profitable digital marketing channels due to its massive user base. However, being active on social networking platforms without practicing SEO may bring substandard results or even losses.
We recommend applying eCommerce marketing strategies and optimizing campaigns for search engines.
10. Social Media Content With the Highest Engagement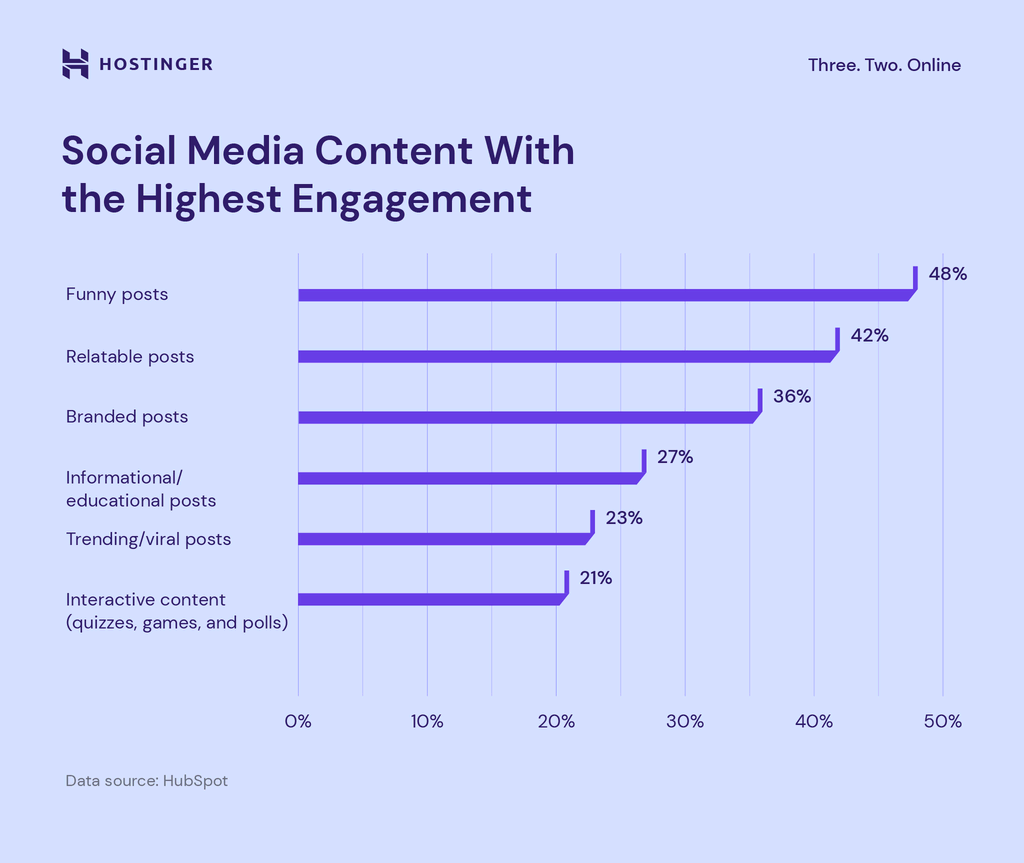 Nearly half (48%) of social media users enjoy funny content, 42% prefer relatable ones, and 36% find product-led campaigns attractive. Other popular types of content include expert interviews, news stories, polls, and informational posts.
Moreover, younger audiences prefer watching short videos. New businesses that target Gen Z and millennials should invest in relevant social media platforms like Instagram and TikTok.
Small Business Finance Statistics
Knowing how other small firms manage their financial affairs will give you a blueprint to follow. Here are five small business statistics to help new companies make better financial decisions.
11. Amount of Small Business Loans
The average loan amount varies based on the borrower's business type, bank, lending institution, and loan terms.
In Q4 2021, the average small business loan amount was $52,158. In terms of interest type, the average size of fixed-rated loans was $73,072.
Generally speaking, most small business owners prefer to make long-term, predictable payments to mitigate interest rate fluctuations.
12. Average Small Business Revenue
The average annual revenue of a self-employed business is $44,000/year. Meanwhile, an employer firm may earn around $4.9 million/year.
In 2020, only 63% of small businesses were profitable. 23% of small businesses suffered a loss in revenue, and 11% ceased operation.
Thankfully, 73% of small companies received financial assistance from the Paycheck Protection Program (PPP). It provided funds for paying operating expenses, helping small businesses maintain a healthy cash flow.
13. Small Business Loan Approval Rates
Small business loans have a 57% approval rate. However, each approval will depend on many factors, such as the bank type and the applicant's location, race, and gender.
For instance, small businesses in rural areas have a higher approval rate (51%) when compared to urban companies (38%). Businesses in big cities tend to favor large banks, which offer lower approval rates than small lenders.
14. Largest Expenses for Small Businesses
Companies spend 70% of their expenses on employee wages and bonuses. When facing financial challenges, a high percentage of small businesses perform mass layoffs or hire freelancers.
Stock inventory is the second biggest source of spending, accounting for 17-25% of a company's total budget.
15. Most Popular Form of Business Financing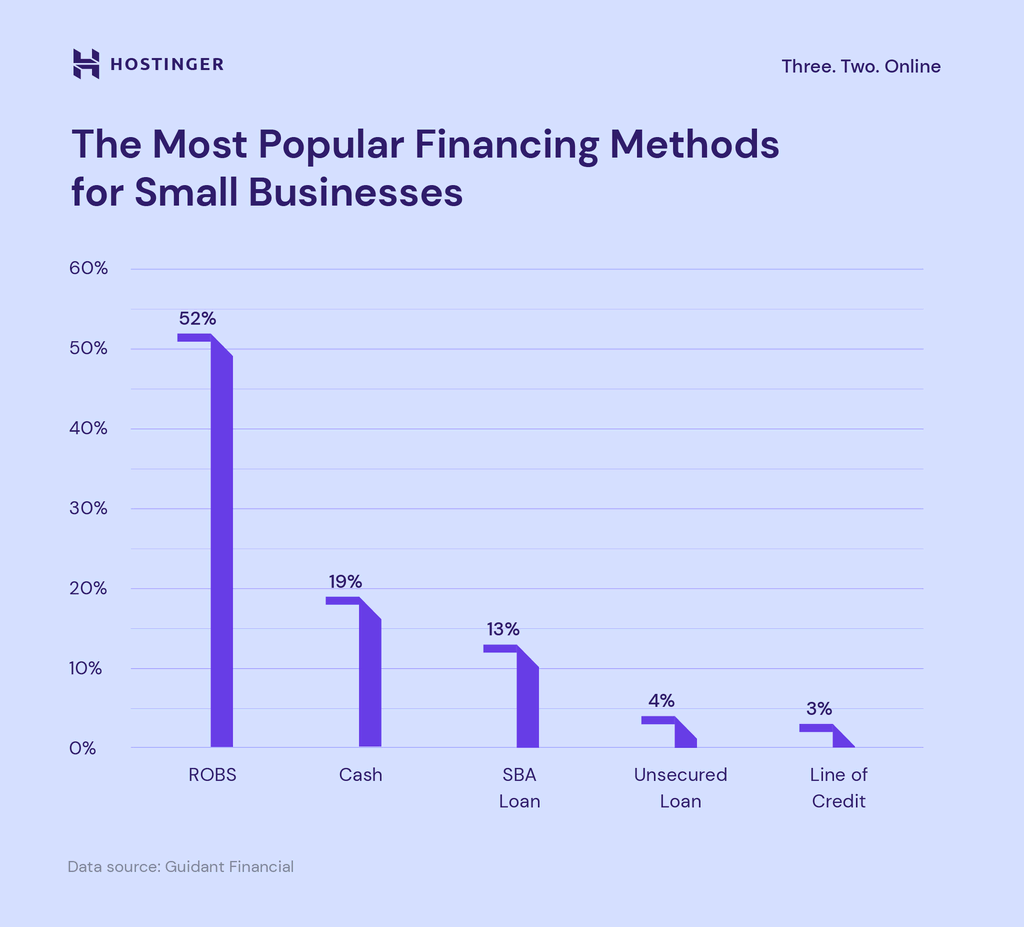 Rollovers for Business Startups (ROBS) is the most popular form of financing, with 52% of business owners utilizing it.
19% of small businesses prefer cash, while 13% seek financial aid from Small Business Administration (SBA) loans. Only 3% of respondents use line of credit, making it the least popular financing method.
Small Business Owners Statistics
Learning about small business owner demographics will offer more insights into competitors. Plus, this information can help you learn from their mistakes and create a better business and marketing strategy.
16. Percentage of Business Owners By Generation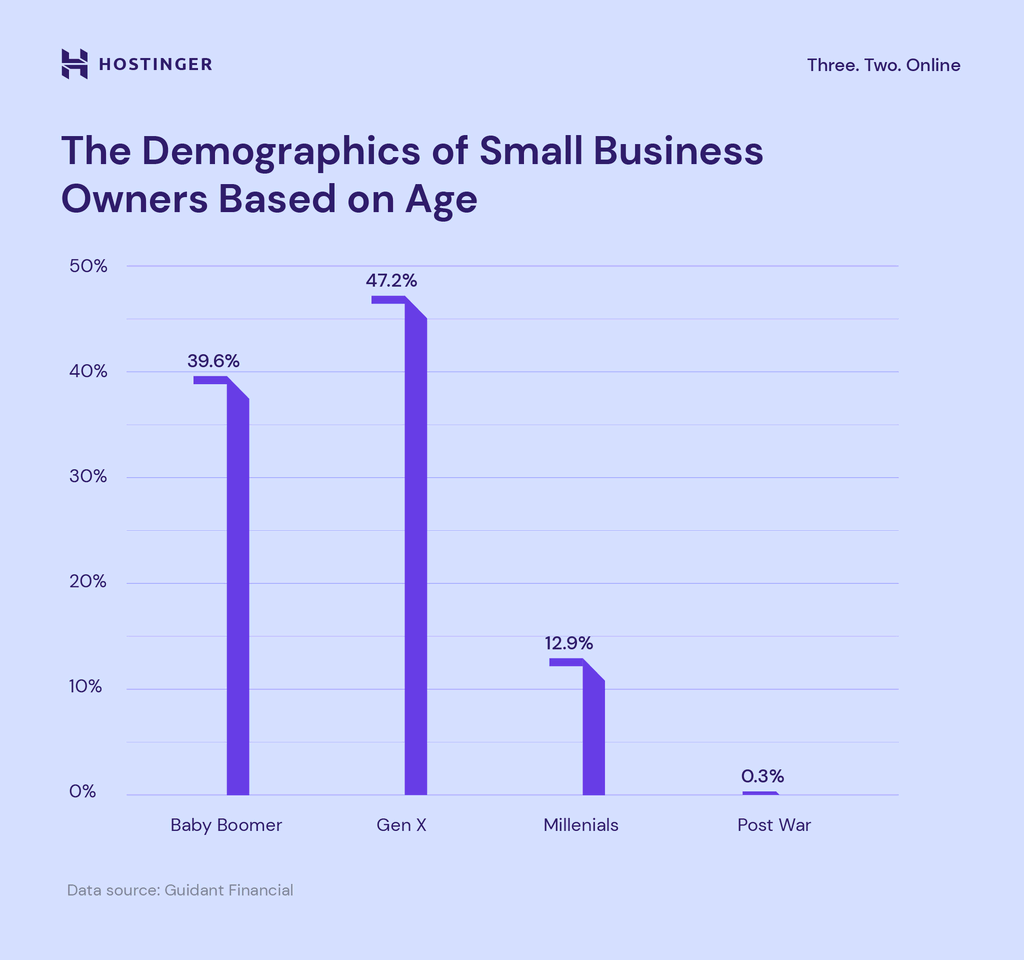 47.2% of small business owners are Gen X, 39.6% are baby boomers, and 12.9% are millennials. The silent generation – born between 1928-1946 – only accounts for 0.25% of all small business owners.
This business trend shows a shift in small business ownership from baby boomers to Gen X. This is because many baby boomers entered retirement in 2022, whereas Gen Xers are still in their productive years.
17. Percentage of Women-Owned Firms
Small business growth statistics show that the number of women-owned businesses has increased by 114% over the past 20 years.
Today, women own 22.4% of small businesses or franchises in the US. 68.9% are Gen X, 19.4% are baby boomers, and 10.7% are millennials.
Sector-wise, 22.3% of women entrepreneurs own a retail company, while 16.1% operate in the healthcare industry. Other sectors include business services (12.5%), food and restaurant (11.6%), and residential services (4.5%).
18. Motivations for Starting a Business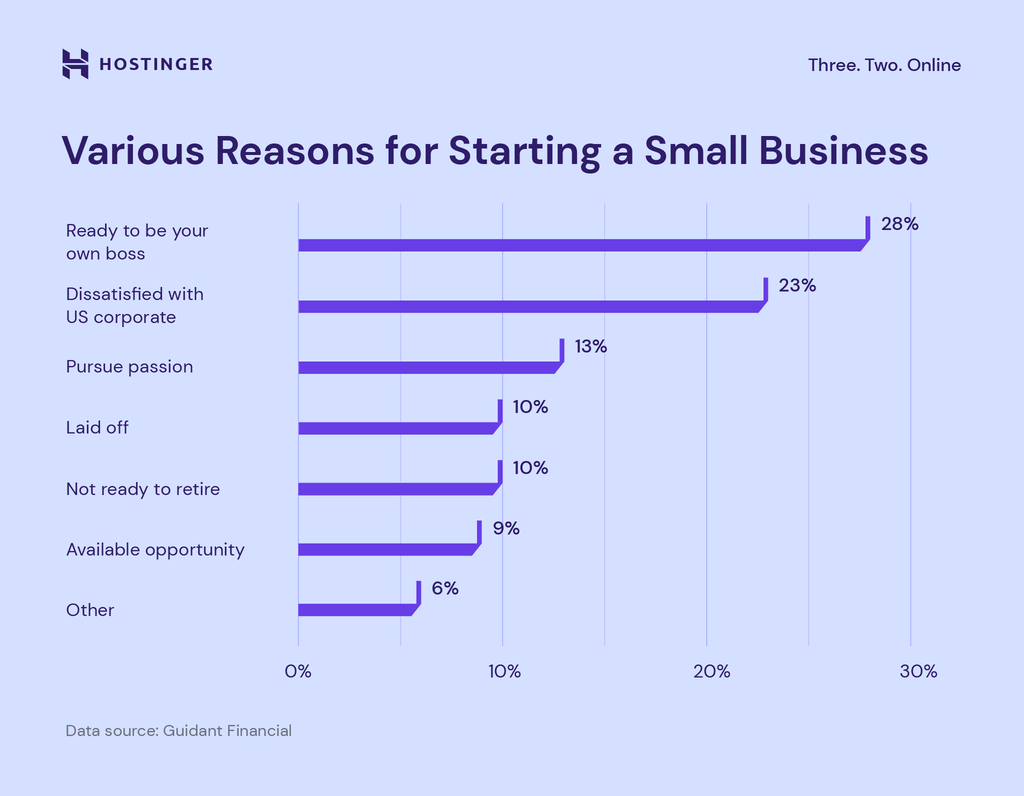 According to Guidant Financial, 28% of people started a small business because they wanted to be their own boss.
Meanwhile, 23% of entrepreneurs felt dissatisfied with corporate America. And surprisingly, only 13% of the respondents own businesses to pursue their passion.
In addition, 10% of respondents built a company after being laid off, another 10% weren't ready to retire, and 9% did so because there was an opportunity.
19. Average Income of Small Business Owners
Small business owners work nights and weekends to meet the market demand.
And it pays off. The average small business owner in the US makes around $69,000/year, with the annual base salary ranging between $30,000-$134,000.
On average, entry-level small business owners with less than one year of experience earn about $34,000/year. Those with 1-4 years of experience generally make around $48,000/year.
Meanwhile, mid and late-career small business owners with 5-19 years of experience are estimated to earn $62,000-$78,000/year. Finally, seasoned entrepreneurs with 20 years of experience or more make around $77,000/year on average.
20. Percentage of Business Owners Based on Race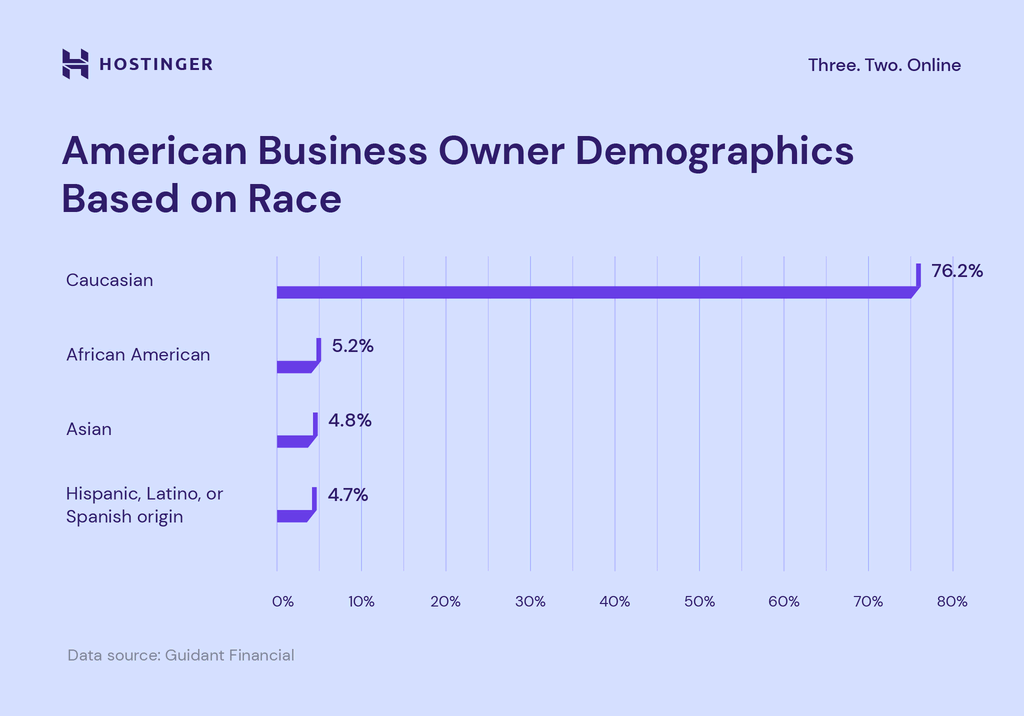 76.2% of US business owners are Caucasian, followed by African American (5.2%) and Asian (4.8%). Meanwhile, Hispanic-owned businesses make up 4.7% of the total number.
While the gap is currently high, the number of small businesses owned by minorities keeps growing.
According to a March 2022 survey by the Kauffman Foundation, there were 580 new immigrant entrepreneurs out of every 100,000 adults, compared to only 320 for native-born individuals.
Immigrant-owned businesses were particularly prominent in accommodation services, food and beverages, and retail business.
Digital Transformation of Small Business Statistics
As the internet becomes more accessible, many businesses have moved to online and digital channels to expand their market reach. Small enterprises can also capitalize on this eCommerce trend.
We've compiled five impactful eCommerce statistics to help small businesses succeed in establishing a strong digital presence.
21. Online Shopping Will Become the Norm
eCommerce's market share in global retail sales reached 19.7% in 2022. This figure is projected to hit 24% by 2026.
With 28% of the global population turning to online shopping, customers expect small businesses to have an eCommerce presence to support online transactions.
This trend is likely to continue in the years to come. Therefore, it is important for small businesses to have a website.
[Insert the Website Builder CTA here]
22. Artificial Intelligence Is Growing in Popularity
The US market value of artificial intelligence (AI) is projected to reach $299.6 billion by 2026.
25% of small firms currently use AI for various purposes, including chatbots, task automation, and predictive analytics.
AI users will keep growing, as most businesses believe this technology can help boost employee productivity and lower operating costs.
23. Consumers Read Online Reviews Before Buying
95% of customers read online reviews before making a purchase. Meanwhile, 58% are willing to spend more on brands with positive social proof.
For that reason, it's unsurprising that 88% of small businesses monitor their brand image on social media, review sites, and Google search results.
24. Most Consumers Support Local Stores
70% of customers support small businesses by shopping online or in-store.
Out of the 1,500 US citizens surveyed, 57% shopped small to keep their money local. Meanwhile, 38% wanted to support local communities and creators.
45% of millennial and Gen X customers are more likely to support local businesses via online shopping. Meanwhile, 56% of people who decide to shop in-store are over the age of 45.
25. Technology Use Among Small Businesses
86% of small firm owners believe that technology helped their business survive the pandemic.
Technology platforms help entrepreneurs automate tasks, improving their business efficiency. In fact, small businesses that use more than six digital tools experienced an increase in sales, profits, and employment.
As a result, 83% of entrepreneurs will continue to make technology investments in the upcoming years, with 63% planning to implement AI and virtual reality.
Biggest Challenges for Small Business Owners
The COVID-19 pandemic and the risk of economic recession affected various sectors worldwide. Keep reading as we uncover significant factors that impact small business success and failure rates.
26. Negative Effects of COVID-19 on Small Business Firms
Three years into the pandemic, many entrepreneurs are still struggling. A recent study revealed that COVID-19 has negatively impacted 71% of small businesses in the US.
Statista found that the pandemic caused significant negative effects on 21.6% of small businesses. 43.9% claimed that COVID-19 had a moderately negative effect on their business, while only 7% experienced moderate positive effects.
27. Small Business Failure Rate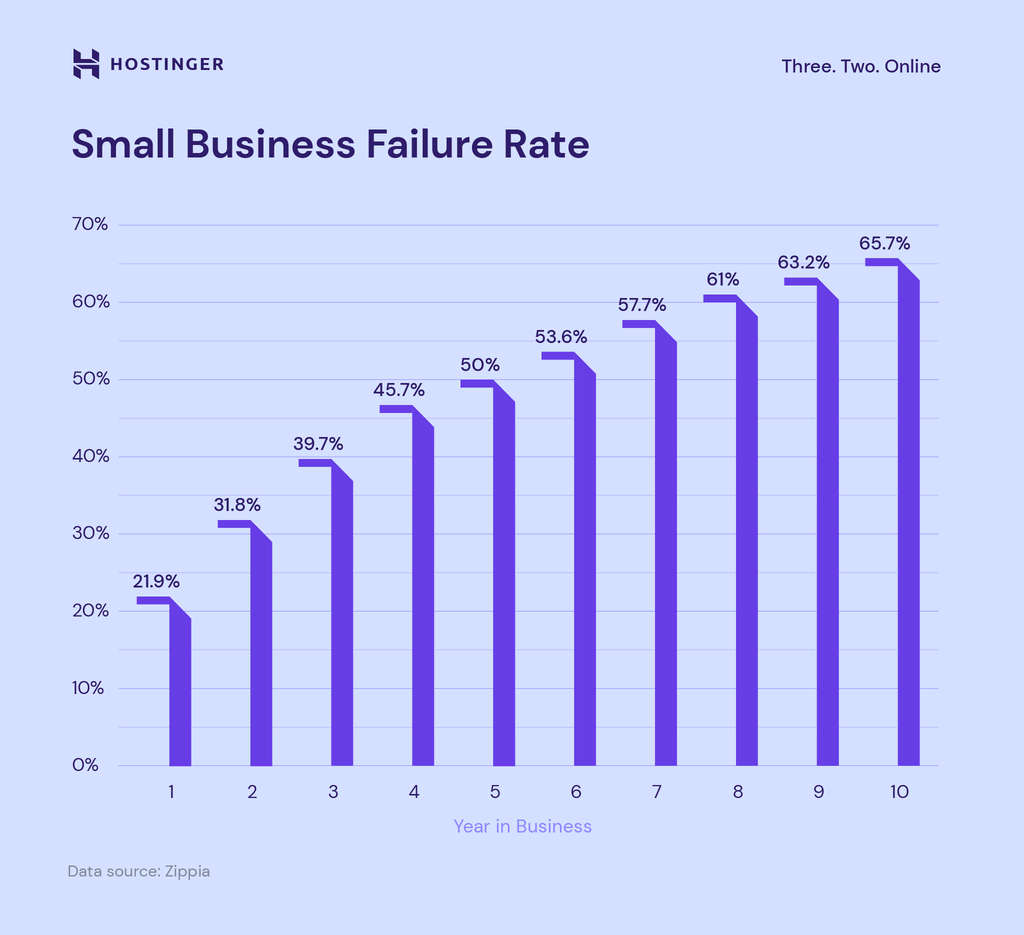 According to statistics, 21.9% of new businesses fail within the first year. By the fifth year, the number increases to 50%. Only 34.4% of small companies survive for at least 10 years.
82% of failed small businesses experienced cash flow problems, while 42% found a lack of demand for their product or service. Other causes of failure include the lack of cash, not having the right team, and the inability to beat competitors.
28. Small Businesses are Susceptible to Cyber Attacks
43% of cyber attacks targeted small businesses. Unfortunately, only 14% are ready to defend themselves.
The most common types of attacks include phishing (57%), compromised or stolen devices (33%), and credential theft (30%).
These cyber incidents can lead to operational disruption, financial loss, reputation damage, and legal liability.
29. Most Small Establishments Face Financial Struggles
While some businesses are recovering from the pandemic's effects, 48% still experienced a revenue decline.
85% of small businesses faced financial challenges, while 77% pursued financial assistance from the government. The two most sought-after business loans were the Economic Injury Disaster Loan (EIDL) and Paycheck Protection Program (PPP).
30. Factors That Hinder the Growth of Small Businesses
The top challenges small businesses face today are employee recruitment and retention (22%) and inflation (22%).
The third biggest challenge that stifles small business growth is the lack of capital (14%). Other hurdles include supply chain, advertising, administrative work, and time management.

Conclusion
Starting your own business may be challenging. It takes time, hard work, and dedication to create successful small businesses.
Fortunately, any aspiring entrepreneur can grow their small business with the proper skill set, passion, and extensive knowledge of current trends.
We hope the small business statistics in this article can help you launch a company and make money online. If you have any questions, check out our FAQ below.
Small Business Statistics FAQ
Find answers to commonly asked questions about small business statistics.
How Much Money Do Small Businesses Make?
The average annual revenue for non-employer small businesses is around $44,000. The number skyrockets to about $387,000/year for establishments with at least two employees. 
What Is the Average Number of Employees in a Small Business?
In most cases, family-owned businesses employ 10 people per company. Meanwhile, non-family firms hire fewer employees, averaging eight people per establishment.
How Many Small Businesses Are Successful?
According to small business failure statistics, only 25% of startups make it to at least 15 years. Sectors with the best survival chances in the business world are real estate, leasing, agriculture, and fishing.

To boost your small business' success rate, building a strong and memorable brand identity is crucial.