It's always great to have a backup plan – a fail-safe, insurance or plan B for when your site breaks. Think of the peace of mind you'll enjoy knowing that no matter what happens, you can restore your site to its former glory with WordPress backups.
If you've ever lost your site, you'll agree it doesn't elicit the best of feelings. Hackers, human error, system failures or unprecedented traffic spikes are some of the things that can break your site. Reliable backups cushion you from losses and undue stress that come with a broken site.
This tutorial shines light on what backups are and a couple of methods that make creating full WordPress backups the stuff of fourth graders. At the end of this post, you'll have all the tips and tools you need to back up WordPress.
Grab a pen, some paper and a mug of coffee, tea or whatever floats your boat, and prepare to create reliable backups like a pro. Ready? Let's get the party going.
What Are WordPress Backups?
If you're wet behind the ears as far as running a WordPress site goes, you probably have no idea what constitutes a backup. If you're wondering what makes up a complete backup when it comes to websites, worry not – we have your back.
Turns out a website backup is simply a copy of your website. A full backup – in the case of WordPress sites – is simply a copy of all files, media and database.
Why Do You Need Backups?
Well, the reason here is simple. We will borrow from a broad spectrum of experiences. In your time as a website owner, you'll have your own share of troubles – it's inevitable and happens to all of us.
Avoid Undue Stress
Malicious hackers (we have ethical hackers nowadays) run riot on their victims' site and dismantle their businesses. To curb the spread of the hack, many hosts usually shut down the affected sites.
Now, getting your site back up and running is a challenge more so if your host offers shoddy support. It goes without saying that such a situation will cause you a lot of stress.
Avoid Lost Time
Getting your site back online after a hack involves major edits (removing infected plugins and corrupted files) that take way too long especially if your host isn't helpful.
That's right, and things get worse if you don't have your own backups because more often than not, the hacker also corrupts the backups your host keeps. What a shame, more so when you can create a backup in minutes.
Avoid Lost Revenue
They say time is money, which simply means if your site break downs, you lose revenue every second it is unavailable. You also lose money if your site takes forever and a round trip to the sun to load. Moreover, you'll waste time rebuilding (oftentimes from scratch) – time you can use to grow your bottom line.
Every minute your website is down means lost revenue. For example, take a theme developer who relies on demo sites. If the whole network is offline, they will make substantial loses every passing minute. This applies to every other website owner.
It's especially bad if you're paying for traffic:
You are not only paying for clicks, which now need to be controlled. You are also paying for lost sales opportunities and lost customers. And then you are paying for unproductive employees while availability is restored. As seen on: The Website Downtime Survival Guide – Kissmetrics
A Broken Site Besmirches Your Credibility
Brand credibility takes a direct hit as soon as your site goes down. Just like bad content, a website that is unavailable (or one that is sluggish or contains spam) constitutes everything but great user experience. And user experience is everything if you hope to impress your web visitors.
Once user experience goes out of the window, credibility becomes a pipe dream for you. Your target audience and investors associate your offline website to how your business performs in the real world. Now, you don't want that, do you?
Pro Tip: Provided you have a great host, you can avoid server-related downtimes. And if you have a great WordPress backup solution, you can avoid downtime from a broken site effectively.
The Grief That's The Lack of a Backup
While it's great to prepare, you can never prepare for things such as illness or death that hit close to home. Such occurrences hit hard, which means you might forget to renew your domain and hosting in time. As a result, you might lose your domain and the host might delete your site.
When it is time to go back to business, it will be an uphill task since you'll have to rebuild your site from scratch. If you have a backup saved somewhere, you wouldn't work The Wayback Machine so hard trying to salvage your content. Mind you, the process isn't as simple as copy – pasting.
In short, you have to copy – paste the text, get new images, format your posts and edit links all over again. Just think how nasty this can get if you have a huge website. Furthermore, The Wayback Machine doesn't index all of your content, so yeah, there is that.
What Does This Mean For You?
Since most of your time goes to your work, you might rebuild your site for many months, which has a negative impact not only on your SEO rankings but also the number of inquiries you got prior to losing the site.
If you have a full WordPress backup, you'd just buy a new domain, a hosting account and simply upload your site. Now you know better.
Now that you know what a WordPress backup is and why you need them, how about we forge ahead and learn how to create full backups that won't break your heart? Sounds like a good deal, right?
Option 1 – Backup WordPress Site Hostinger with hPanel
Taking into consideration that you might be with a different host, we will keep things light. All the same, your best bet here is to choose a web host that allows you to create as many full WordPress backups as you wish. If the backups are automated the better, although I personally prefer doing things manually for no reason at all. What? Every man to his methods.
Without further ado, let's get down and dirty. For this section (and you can probably tell from the subheading), we're using Hostinger WordPress Hosting. Shameless plugs aside, worry not if you're using a different host. If they support hPanel, the process is pretty much the same.
Aside: Whenever you create WordPress backups, get in the habit of saving multiple instances of the same. Save a copy on your PC, send yourself a copy via email or keep a copy on cloud storage platforms such as Dropbox and Google Drive among others. Additionally, label your backups appropriately to avoid confusion in the future.
Back to Creating WordPress Backups via the hPanel
Login to your hosting account, navigate to the hPanel (it's usually the first page you see after login but some hosts are different) and scroll down to the Backups tab. This tab is usually under the Files section: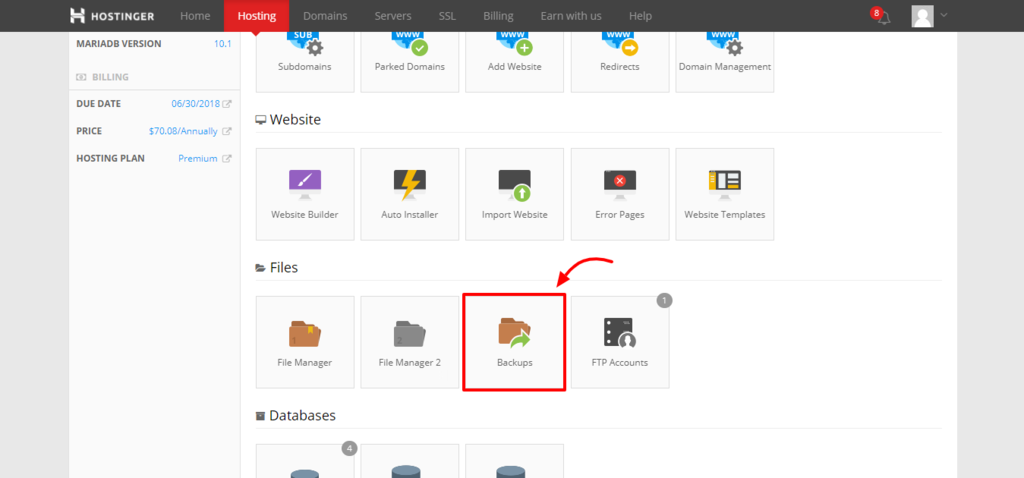 Click the Backups tab to see a list of available backups: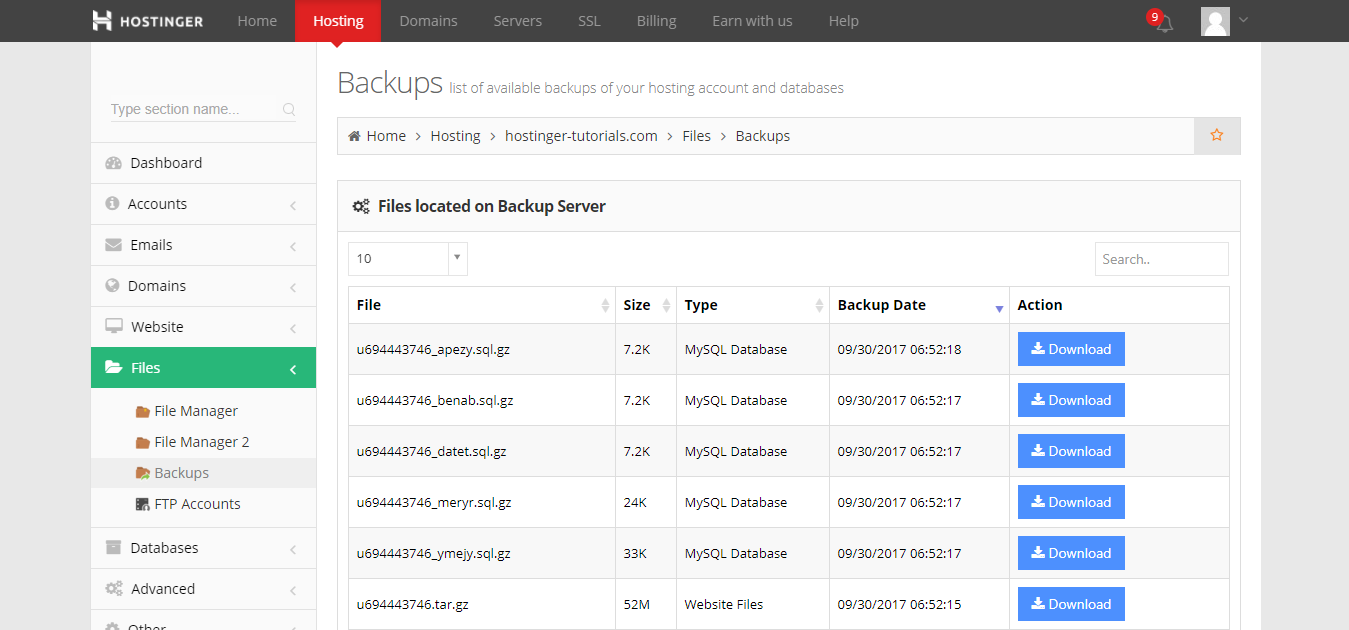 NB: If you're using Hostinger, you can always download your backups from the above screen.
Moving on, you can create a new WordPres backup by clicking the Generate a New Backup button found at the bottom of the page. This brings up a dialog box asking whether you'd like to replace your previous backup. You know what to do here.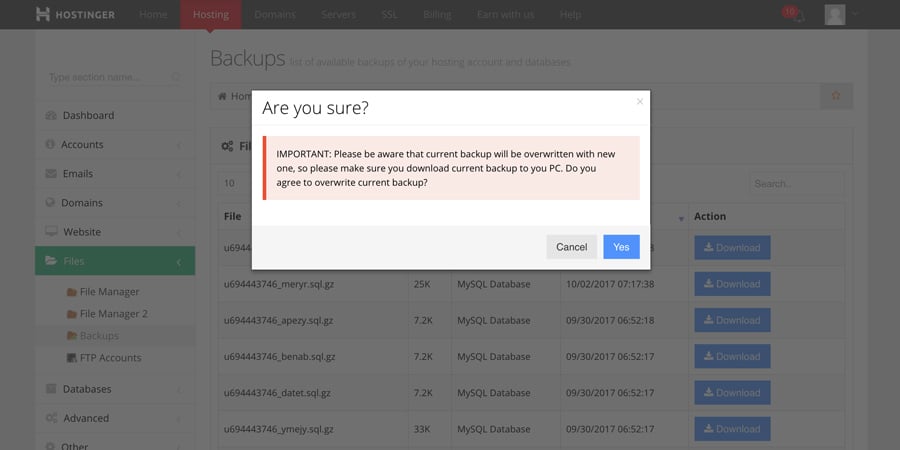 And that's it! Creating full WordPress backups is as easy as pie with Hostinger.
Now, let us try a different method because why not?
Option 2 – Backup WordPress via FTP & phpMyAdmin
Don't let the terms FTP and phpMyAdmin scare you, creating backups for your WordPress site using these two is a walk in the park you'll see. In this section, we are simply downloading your WordPress site to your PC. We use FTP to download your files and phpMyAdmin to download your database.
Before creating a backup, we recommend that you create a directory on your computer where you'll save your files. Otherwise, you risk creating a mess with a backup that's all over the place. We recommend FileZilla, a notable FTP client that's incredibly easy to use. Obviously, you'll need an FTP account that offers access to your WordPress directory.
What's The WordPress Directory?
The WordPress directory is the folder on your web server where your WordPress files live. In most cases, this is usually public_html or Home. If you installed your WordPress site in a subdirectory e.g. https://www.example.com/yoursite, your WordPress directory is yoursite. Are you following?
The WordPress directory contains subfolders such as wp-includes, wp-content, wp-admin and files such as index.php, wp-config.php and so on – all of which are essential in running your WordPress site. Allow me to explain further to clear things up.
Your themes, plugins, cache and media uploads live inside the wp-content folder. The wp-admin folder contains all the files that run the WordPress admin area while wp-includes stores WordPress core files. You must download all subfolders and files within your WordPress directory.
In other words, we need to download the WordPress directory in its entirety. Once we download your website files, we will download the database as well.
Create a Backup of Your WordPress Files via FTP
Firstly, install and run FileZilla. Using FileZilla, login to your web server using the credentials you gained when creating your FTP account. The details you need are:
FTP Host  – e.g. ftp.hostinger-tutorials.com
Username – the username you chose when creating FTP account
Password – the corresponding password
Port –  This is usually 21 unless your web host specifies otherwise
A successful FTP connection to your WordPress directory using FileZilla should look something like this: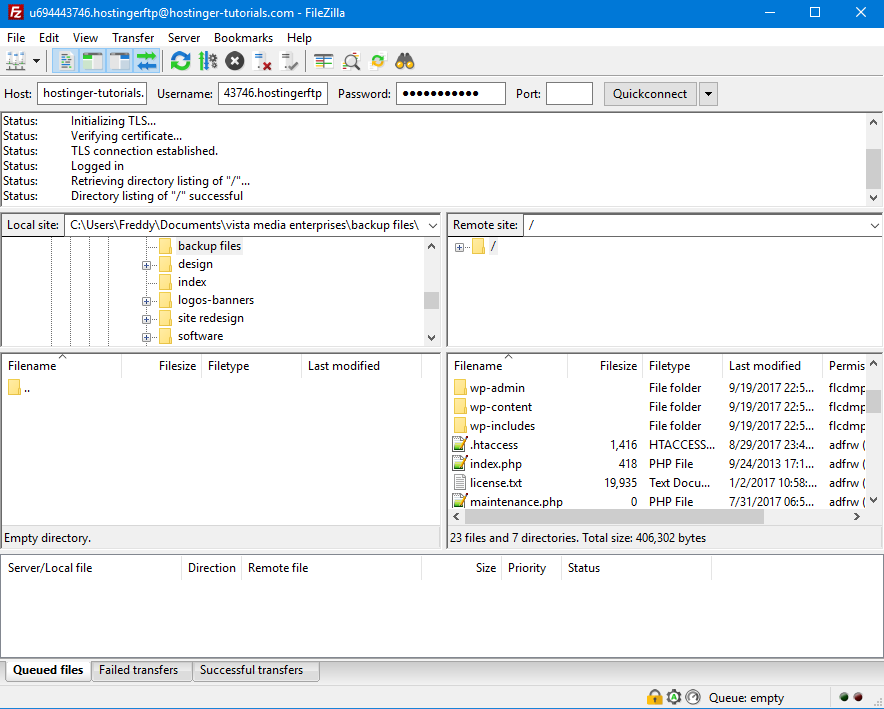 From the image above, note that I have already entered backup files, the directory on my PC where I will store my WordPress website files as well as the database. It's our hope that you already created your backup directory on your PC. You can easily enter the backup directory right from within FileZilla.
Next, select everything inside your WordPress directory. Then, right-click and choose Download as shown below: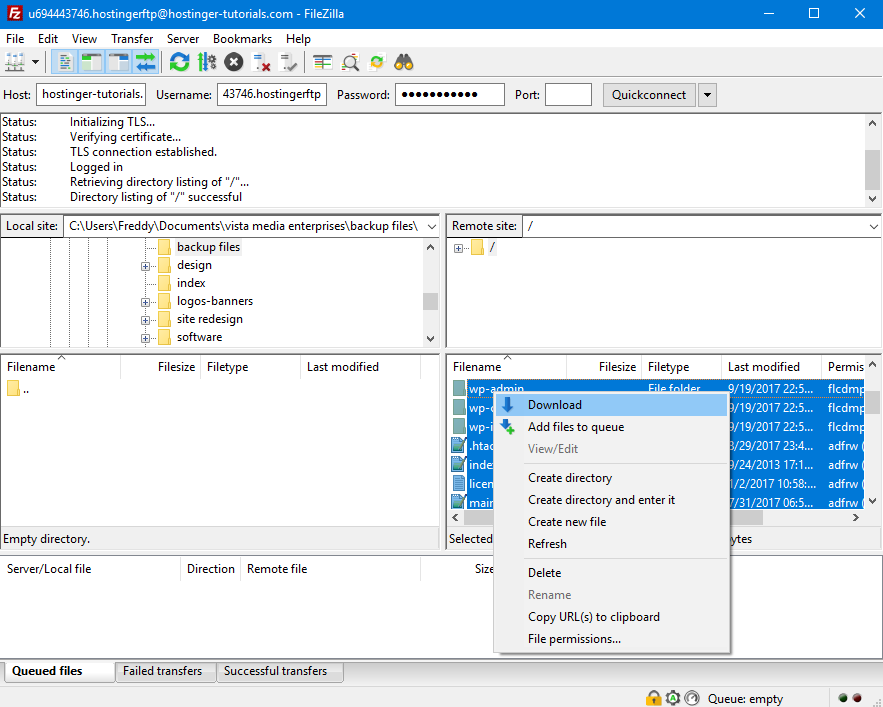 This initiates the download process, which looks like this: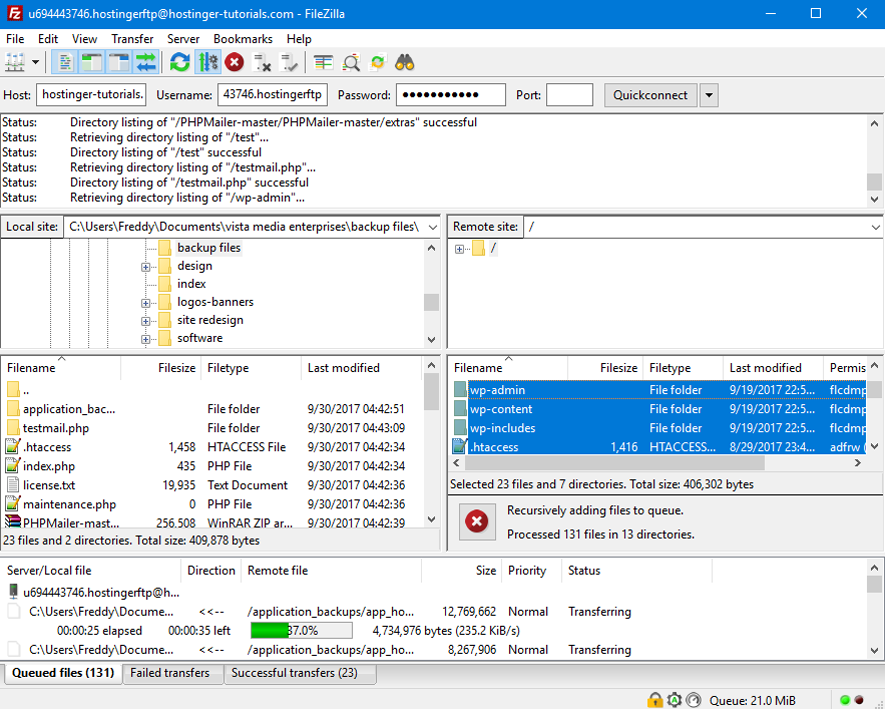 As you wait for your WordPress files to download (there is no set time limit for this as it depends on the size of your site and the speed of your internet), let us download your database via phpMyAdmin. Besides, FileZilla notifies you once the file transfer is complete so worry not.
Create WordPress Database Backup via phpMyAdmin
This is incredibly easy you should be done in less than 2 minutes. Login back to your cPanel and navigate to phpMyAdmin. Usually, the phpMyAdmin tab is under the Databases section: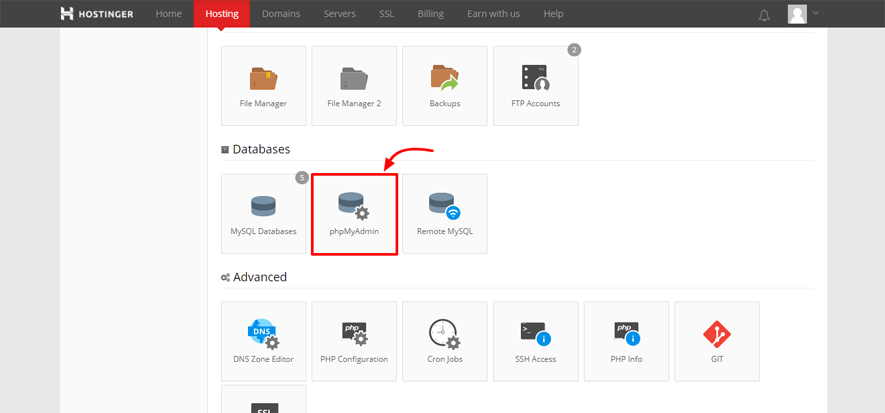 In some hosting environments, clicking phpMyAdmin takes you directly to the phpMyAdmin home screen, which looks like this: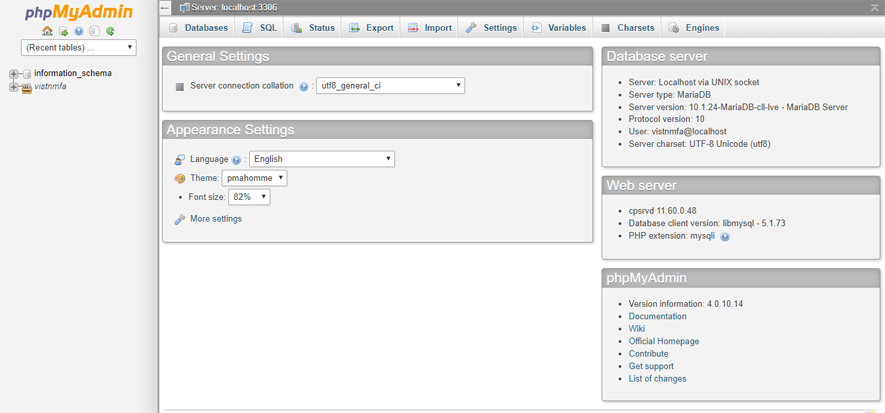 Once you login to phpMyAdmin, you can then choose your database.
In Hostinger, however, clicking the phpMyAdmin tab takes you to a list of your databases, which looks like this: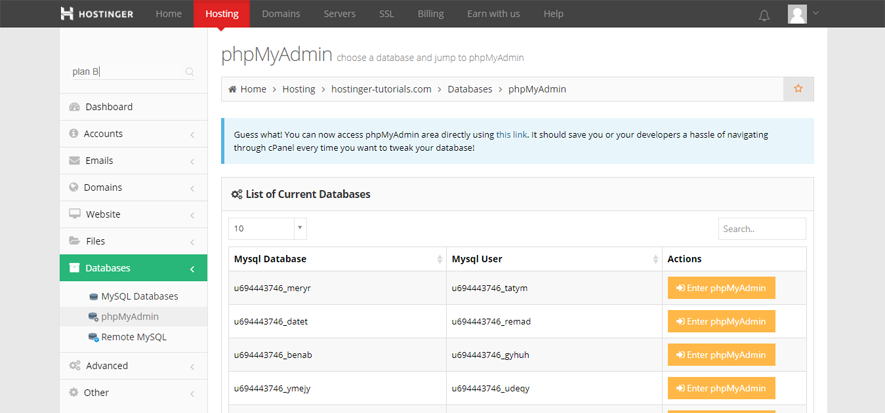 Here, you choose the database first and jump to phpMyAdmin. In some cases, you might find yourself on this screen: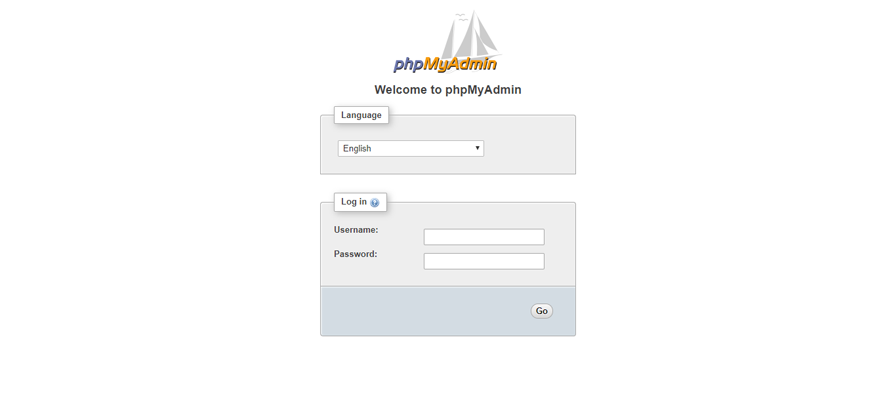 Whichever the scenario, you need to know your database and the corresponding login credentials (especially important for that last scenario). But how do you tell which database belongs to your WordPress site?
How To Find Your WordPress Database
This is ridiculously easy it will blow your wig off. By now, FileZilla has downloaded a good portion (if not all) of standalone files within your WordPress directory. To find which database belongs to your website, you need to locate the wp-config.php file either within the backup folder on your PC or WordPress directory on your webserver.
Commonsense dictates that finding wp-config.php within the backup folder on your PC is way easier. Open wp-config.php using your favorite code editor (I use and love Notepad++ but there's SublimeText):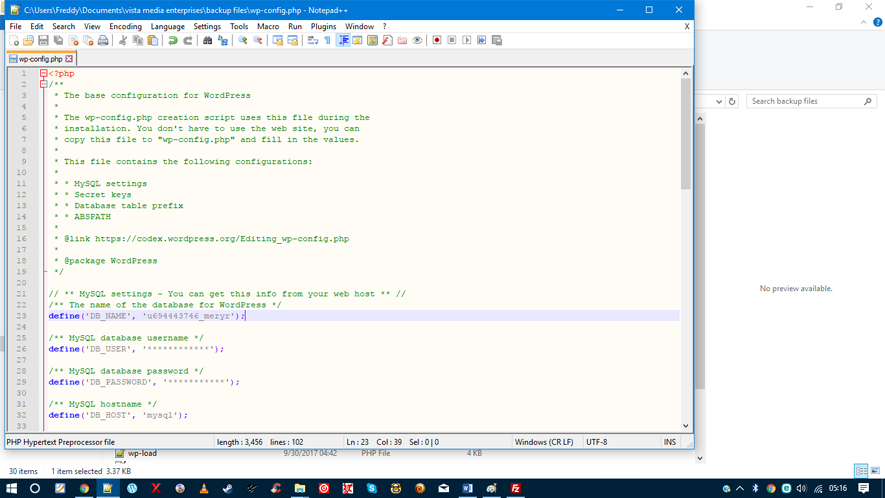 Look for this piece of code:
// ** MySQL settings - You can get this info from your web host ** //
/** The name of the database for WordPress */
define('DB_NAME', 'u694443746_meryr');

/** MySQL database username */
define('DB_USER', '************');

/** MySQL database password */
define('DB_PASSWORD', '***********');

/** MySQL hostname */
define('DB_HOST', 'mysql');
In our example above, our database name is u694443746_meryr. You can usually find the name of your database inside this piece of code. It is the value inside the second pair of quotation marks:
/** The name of the database for WordPress */
define('DB_NAME', 'your_database_name');
Now let's go back to phpMyAdmin. In Hostinger, I can now easily find my database from my list: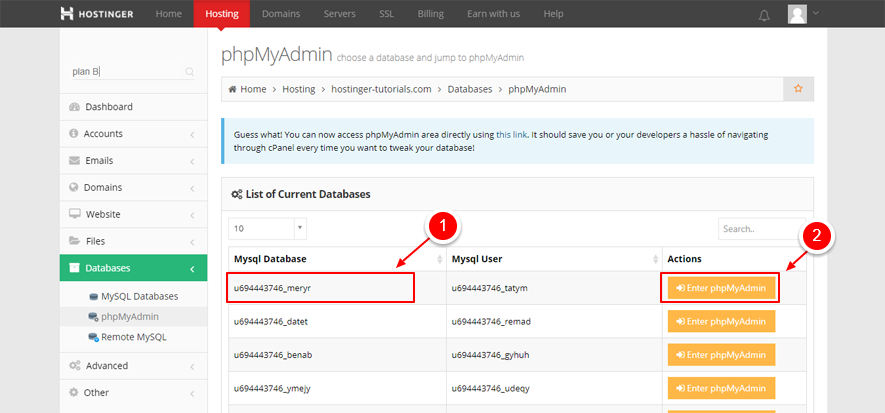 Now I just need to hit the Enter phpMyAdmin button. In other hosting environments that lead you straight to the phpMyAdmin home screen, you can locate your list of databases by clicking the Databases tab as shown in the example below: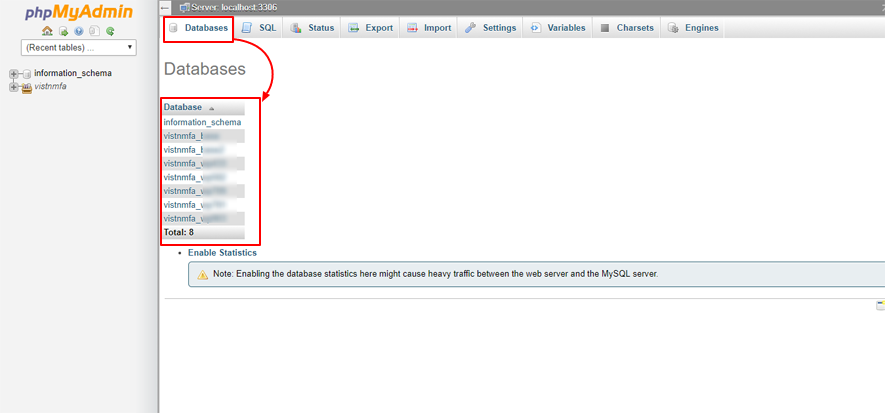 Where are we in all this? Oh yes, now that we can easily find the details we need inside wp-config.php, now let's backup our database.
Backup Your WordPress Database
Open your database within phpMyAdmin simply by clicking on it to display a list of tables. At the bottom, tick "Check All" to select all tables. Secondly, hit the Export tab at the top of the screen: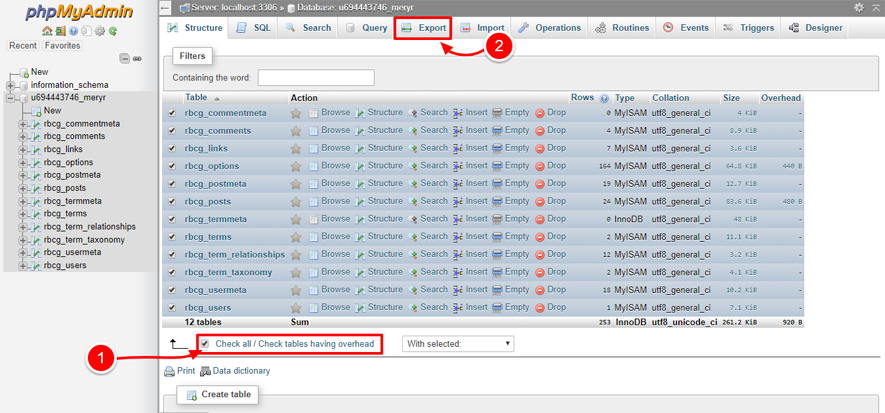 On the next screen, set Format to SQL but don't touch anything else unless you know what you're doing. Click the Go button to initiate the download: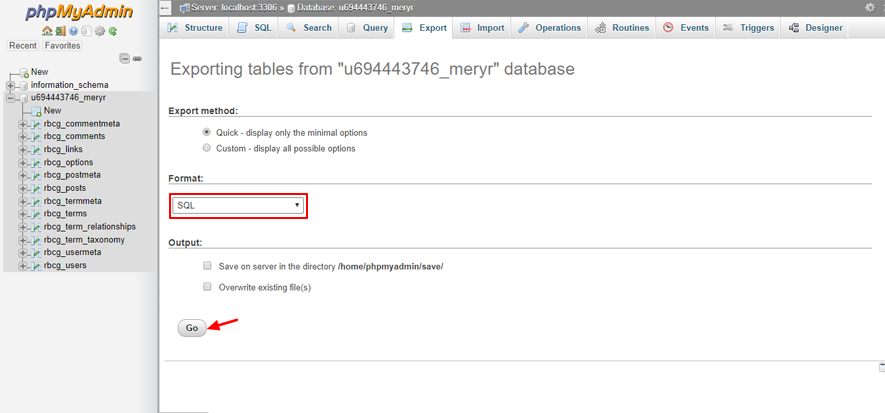 Next, choose the backup directory on your PC as the save location and save your database: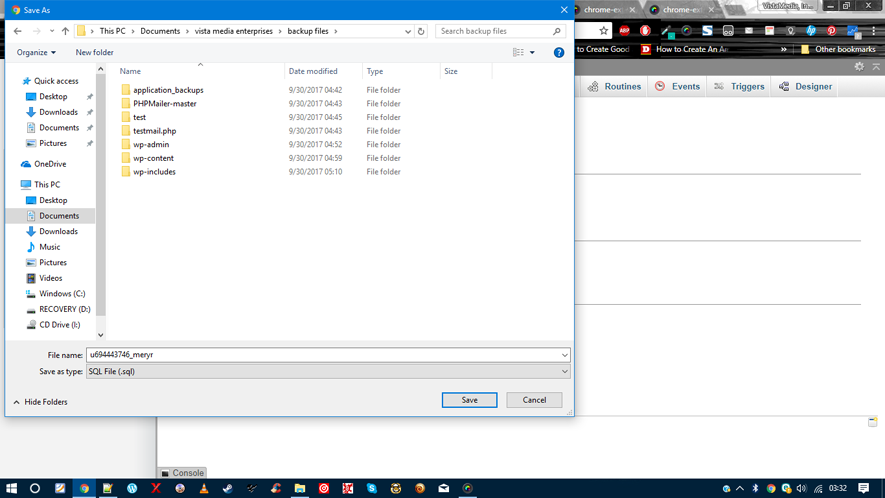 And that's it, you now have a full WordPress backup you can restore whenever you want.
Pro Tip: Keep regular backups of databases depending on how much you change your website. If you're about to upgrade WordPress or change your themes, create a backup. If you post 100 articles per day, you will obviously need more backups than the guy who posts, say, 1 article a month.
Option 3 – WordPress Backup Plugins
WordPress backup plugins simplify the whole process of creating WordPress backups. While our manual procedures involve a couple of steps and navigating the hosting environment (which might scare many beginners), creating WordPress backups using plugins usually involves a couple of clicks.
You won't need to login to your web hosting account to create WordPress backups since most WordPress backup plugins and services work right from within your WordPress admin. With this preamble, here's the juice:
BackWPup

With more than 20 free plugins on the WordPress Plugin Repository, including the likes of Adminimize and Search & Replace, Inpsyde GmbH is a force to reckon with as far as WordPress development goes.
And BackWPup is all the proof you need, what with with an impressive list of features that rival many other WordPress backup plugins, including its premium counterparts. Yes, it's a free plugin that you can download right away.
Notable features include scheduled (automatic) backups, database repair and optimization, one-click restore, WordPress XML Export, full/database backups, top-notch security and support for cloud-based backup storage among others.
Not to mention BackWPup has a pro version that comes with even more features.
We've been using the free version BackWPup for over a year now with a site supporting a small shop. It has been working fine until recently (I think because of the growth in the site – we post 15-20 posts per month plus other information) but the FREE support got us going again. – jeremyjjmail
All these three WordPress backup plugins are incredibly easy to use you should create WordPress backups without breaking a sweat.
VaultPress

Brought to you by Automattic as part of Jetpack, VaultPress is more than just a backup solution. It's a fully-fledged backup and security suite offering peace of mind to thousands of individuals, professionals and agencies.
In the WordPress backups department, VaultPress is a true winner. The plugin "…effortlessly backups every post, comment, media file, revision and dashboard setting on your site." In other words, VaultPress creates daily and real-time WordPress backups and stores them in a secure off-site location.
Further, you can restore your backups in minutes, download your backups whenever and rely on WordPress experts in case you're stuck. Other than that, VaultPress is known for other awesome features such as easy site migrations, automated file repairs, malware scanning and spam defense to mention a few.
whew. thank goodness for @vaultpress and the new one-click database restore. had to use it today. so easy. 10000% worth paying for – grechen
BackupBuddy

Famed as the "…original WordPress backup plugin…", BackupBuddy by ithemes is a WordPress backup solution on steroids. Thanks to this solid plugin, you can create full WordPress backups with a single click inside your WordPress admin dashboard.
Other than offering you full backups, BackupBuddy ships with other sweet features such as easy site migrations, scheduled automatic backups, remote backups to Dropbox, Amazon S3, Google Drive and more, ImportBuddy to restore your site easily, Stash Live for real-time, cloud-based WordPress backups as well as instant email notifications among others.
BackupBuddy is the first plugin I install on every WordPress site. It's my top "must-have" WordPress plugin, hands down. — Lisa Sabin-Wilson, Author of WordPress for Dummies
Related Resources
If you'd like to learn more (or your host doesn't use cPanel), you can always rely on these related resources:
Final Remarks
At the end of the day, a reliable backup solution saves you a lot of headache in case your site breaks. As a matter of fact, having a great backup strategy is one of the best investments you can make for your WordPress-based business.
We showed you ours, now show us yours. How do you backup WordPress site? Please share with us in the comments.