15 Best WordPress Plugins That Every Site Needs (2022)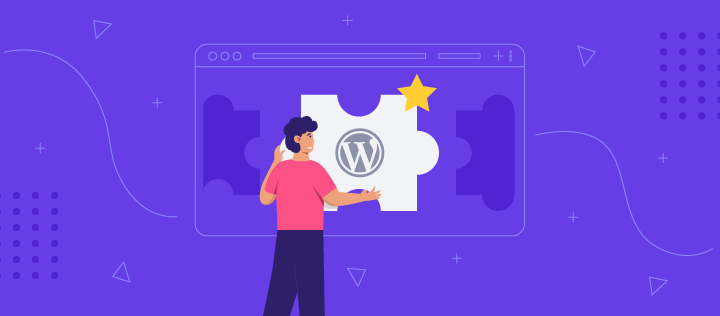 Creating a website with WordPress comes with many advantages, and one of them is the ability to install plugins to add more features to your site.
WordPress offers thousands of free plugins in its official directory, containing almost every kind of tool for any type of website. It's also possible to install plugins from third-party marketplaces and even create your own WordPress plugin.
However, you should be mindful when choosing WordPress plugins since activating too many of them can lead to your website loading slowly or potentially facing other security breaches.
To narrow down your search, we've compiled a list of the 15 best WordPress plugins based on a few factors, such as the number of installations and user ratings. We've also tried all the plugins on this list, helping you discover the best features that each plugin offers.
Best Plugins – Video Guide
In this video guide, we list the best WordPress plugins for 2022.
Visual Composer Stats:
Downloads: 90,000+
Rating: 4.5/5
Best suited for: beginners who want to build a WordPress website easily
Price: freemium
If you wish to design and customize a WordPress site, consider using Visual Composer – it's one of the best WordPress page builder plugins that simplify website creation, making it an excellent tool for users with limited technical skills.
When editing web pages with WordPress's default editor, you have to use its preview function to see how they will look. However, with Visual Composer, it's possible to see all the changes you make to a page in real time.
Other excellent features that come built-in with this intuitive WordPress plugin are:
Support for custom WordPress widgets – users can utilize custom widgets to add banners, advertisements, and newsletter signup forms to their site.
Parallax effects – a parallax effect can make a site look more visually appealing, encouraging visitors to focus on the web page and make them stay longer.
Responsive options – users can see how their site looks on a tablet, a desktop computer, or a smartphone, ensuring the website is accessible on any device.
Ability to create customized elements – aside from using Visual Composer's default elements, you can also create, save, and reuse custom components.
Template management – WordPress users can make and store templates for later use. It's also possible to organize the layout into categories for quick and easy access.
Notable Features
With Visual Composer's drag-and-drop editor, users can easily move and manage any elements across a page.
This page builder also lets you edit, clone, or remove rows, columns, and elements by simply right-clicking on the object.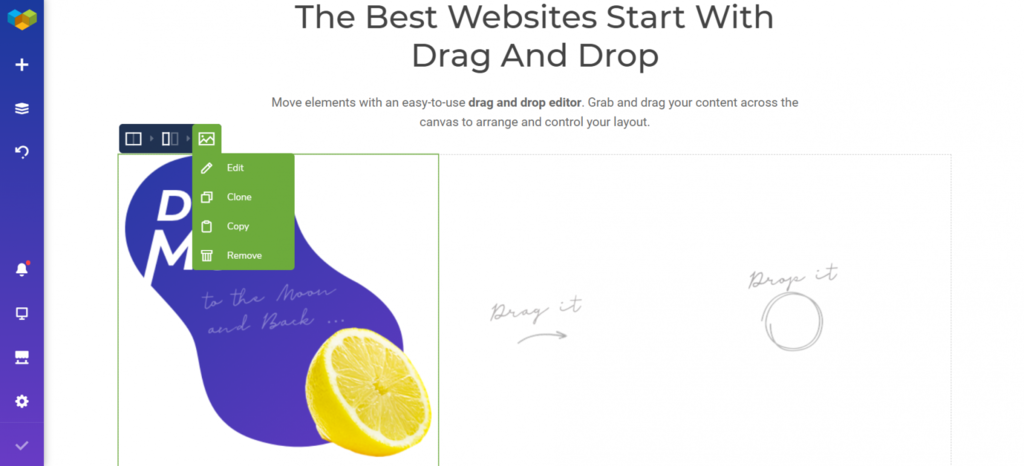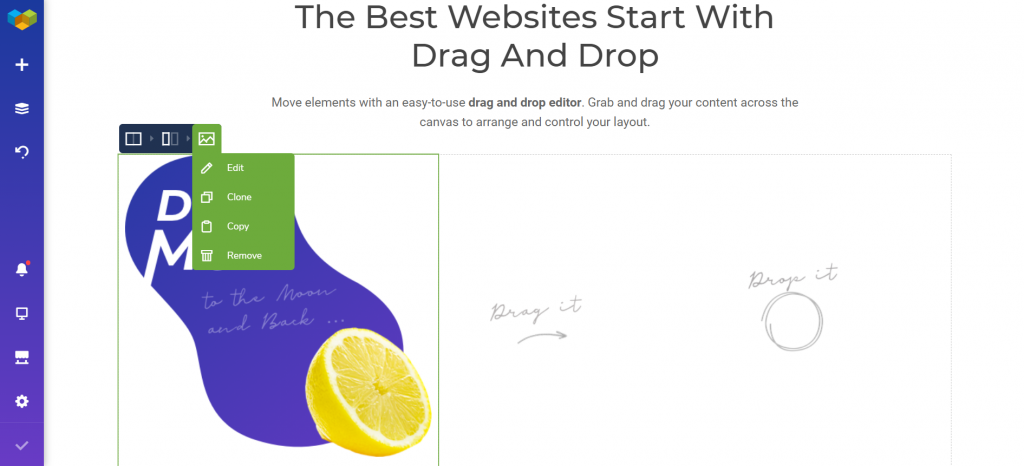 Additionally, Visual Composer presents a wide range of content elements, offering flexibility to customize the website to suit your personal preferences. Its free version has over 30 content elements, while the paid version offers more than 300 of them.
Users can access these elements from the drag-and-drop editor's sidebar – they are divided into different sections, such as Basic, Media, and Buttons.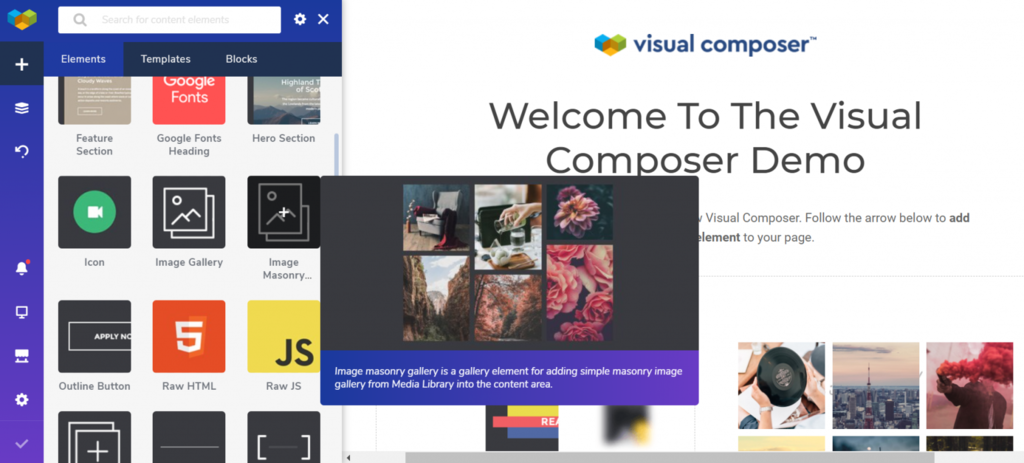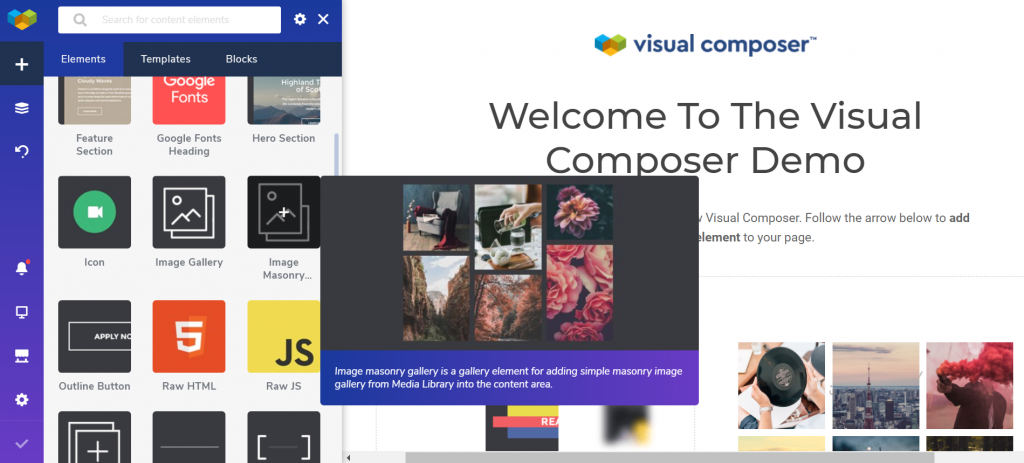 Moreover, this plugin has a storage space called Visual Composer Hub. It contains pre-designed blocks, templates, and elements you can download directly from the page editor and insert into the site with just a few clicks.
To use all the premium tools of the Visual Composer Hub, consider purchasing the premium version of this plugin that costs from $49/year to $349/year.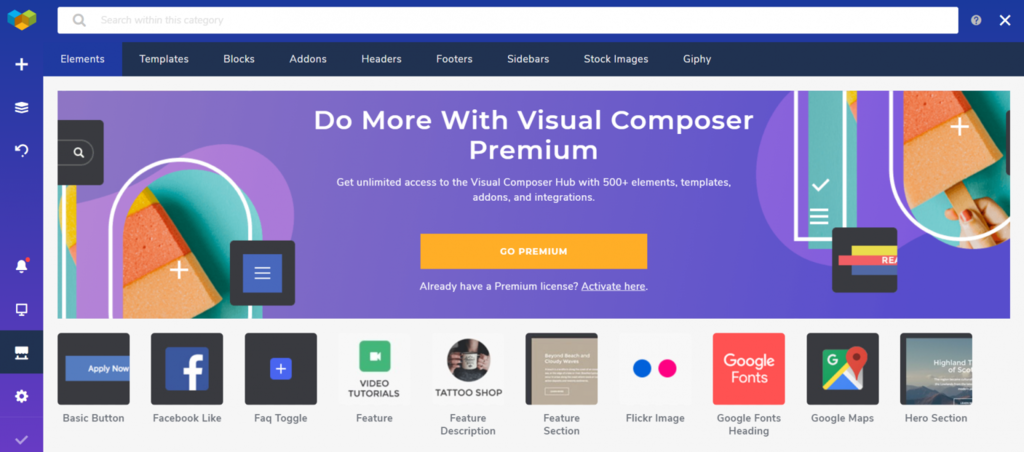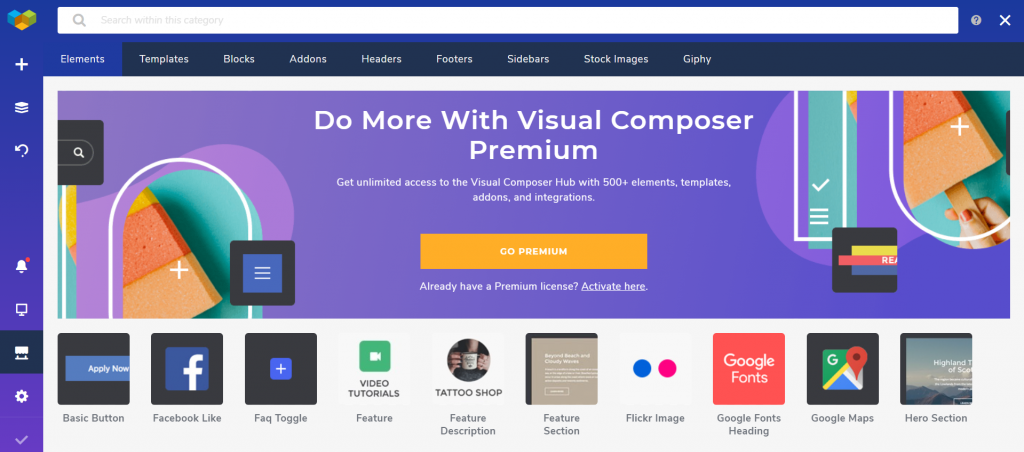 WooCommerce Stats:
Downloads: 5,000,000+
Rating: 4.5/5
Best suited for: people who want to start an online store
Price: freemium
For those who want to start an online business without hiring a web developer, using a WordPress eCommerce plugin is one of the best solutions.
There are many eCommerce platforms to choose from, but one of the most popular options you should consider is WooCommerce.
It's one of the best free WordPress plugins with essential tools to build robust eCommerce sites. Since it's open-source, WooCommerce users have a lot more control over the functionality and design of their stores than on other hosted platforms.
Some of the features that WooCommerce offers are:
Embed products on any page – users can utilize shortcode to add their products to blog posts or landing pages to drive more sales.
Categories, tags, and attributes – use these elements to describe and group products with similar features, helping shoppers find relevant items.
Unlimited images – use as many photos as you want to showcase products and visually convey information to customers.
Tons of theme options – there are plenty of impressive WooCommerce themes in the official theme store and other third-party marketplaces.
Shipping options – this free plugin includes various shipping methods, offering different choices for customers to select from.
Filters and sorting options – shoppers can sort products by price or attribute to quickly find the right fit.
Supports many payment gateways – WooCommerce provides many payment processors, letting customers explore their options and get the best deal.
Notable Features
WooCommerce is integrated with a setup wizard to make the configuration process easier. It will ask questions about your store, including its location, industry, and product types. This helps the tool provide suggestions based on your needs.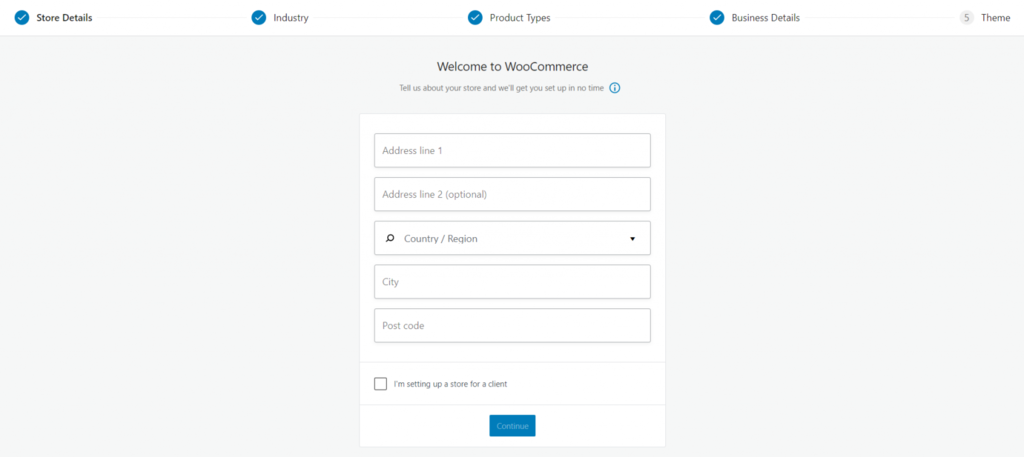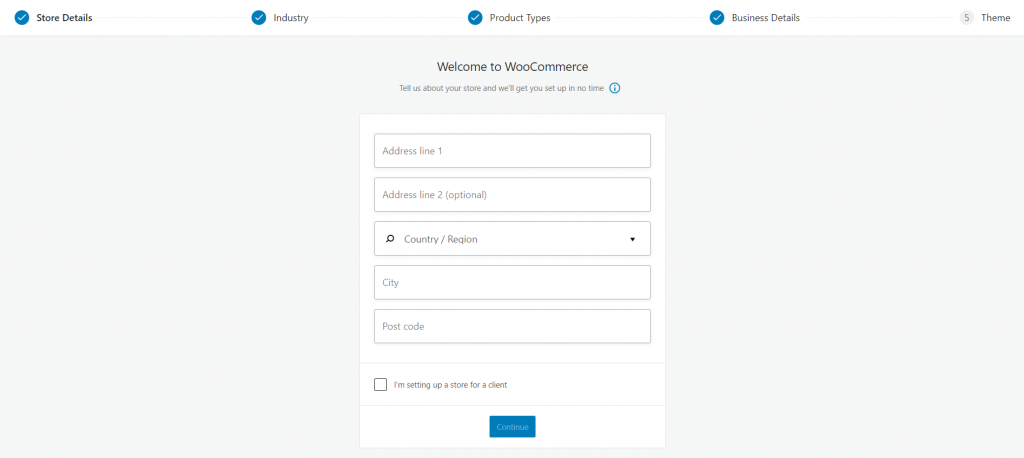 Once the plugin is configured, users can start adding products to their online store by heading to Products -> Add New from their WordPress admin panel.
Here, users can enter the product's name and description, add product images, and select categories and tags.


This page also includes the Product data meta box, where users can:
Set the item's regular and sale price.
Choose the tax status and class.
Manage stock for the product.
Enter the item's weight and dimensions.
Include up-sells and cross-sells to promote other products.
Assign attributes such as color and size to the item.
Create an optional note to send the customers after they purchase the product.
Enable or disable reviews.


WooCommerce also offers robust analytics, providing detailed reports about orders, stock, and revenue in charts and graphs. What's great, it's possible to export data in the .csv format for use in spreadsheets.
In addition, WooCommerce features the Date Range picker to specify which dates to include in the report. Users can change it to a custom date range to see data for a specific period.


WooCommerce is free to use, but you can purchase premium extensions to improve its functionality. The paid extensions may cost up to $299/year.
Yoast SEO Stats:
Downloads: 5,000,000+
Rating: 4.8/5
Best suited for: website owners looking for a tool to boost their site traffic
Price: freemium
If you want to increase your chances to rank high on search engines and reach more potential readers or customers, then having a search engine optimization (SEO) plugin such as Yoast SEO is essential.
Yoast SEO is the best WordPress SEO plugin with plenty of features to optimize a site's content and keywords, increasing its visibility on search engine results pages (SERPs).
Here are some of Yoast SEO's best features:
XML sitemaps – it can automatically create a sitemap to help search engines understand your site's structure and crawl all of its important pages.
FAQ block – this SEO plugin provides a frequently asked question (FAQ) block by default, letting users create an FAQ page that can rank on SERPs.
Image alt attributes check – ensures that all images in a post have alt text with the focus keyword – the phrase you want the content to rank for. This can improve content accessibility and the chances of ranking on image search.
Schema.org implementation – this WordPress SEO plugin automatically describes pages using Schema, making it easier for search crawlers to understand a site and its content.
Readability analysis – when users write a post, this tool gives them advice based on several aspects such as transition words and paragraph length, ensuring that the content is easy to read and grasp.
Notable Features
After configuring this SEO plugin, the Yoast SEO meta box will appear beside or under the post editor. One of the features users can find here is the snippet editor, which lets them control how a page appears on the results page.
Here are three aspects you can edit in the snippet editor:
SEO title – it's the first element of the page that people see on the search results. If the SEO title bar is red, it means you need to shorten the page title to prevent it from being cut off by Google.
Slug – this is the part of the URL that explains the page's content. It should be short, descriptive, and include your focus keyphrase.
Meta description – it's a short explanation that summarizes a page. If the feedback bar below the meta description field turns green, it means your meta description's length is optimal.
Another excellent feature included in the meta box is the SEO analysis, which ensures your content follows the best SEO practices.
Before using the SEO analysis, users must enter a focus keyphrase so that this tool can check the presence of the term in several areas, such as the title, introductory paragraph, headings, and the body of the article.
If most indicators in the SEO analysis are green, the content will have a better chance of ranking high on search engine results pages.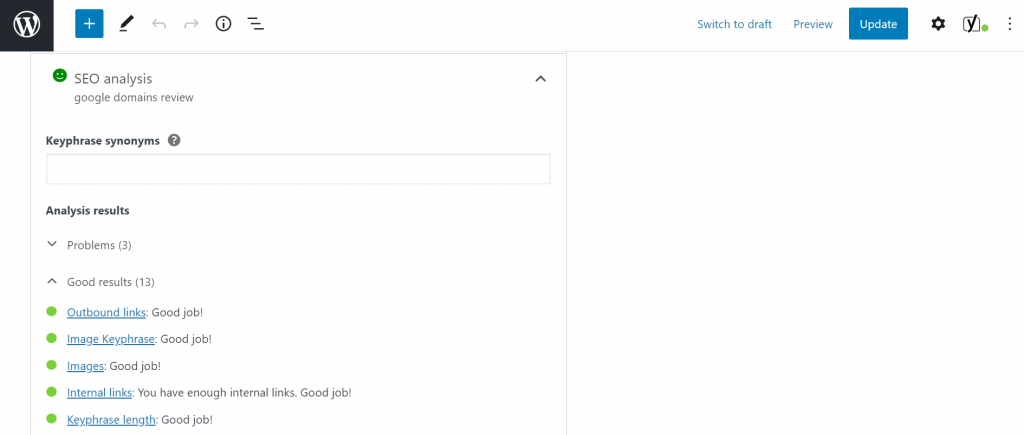 For more features, such as optimizing a post for synonyms and related keyphrases, consider purchasing the paid version of this WordPress plugin, priced at $89.
Contact Form 7 Stats:
Downloads: 5,000,000+
Rating: 4.1/5
Best suited for: users who want to add contact forms to their WordPress sites
Price: free
Contact Form 7 is one of the best free WordPress plugins for adding contact forms to WordPress sites. With a contact form, site owners can let visitors message them without revealing their email addresses to spammers.
This free plugin is compatible with all properly-coded WordPress themes, meaning that the forms it generates will integrate seamlessly with any theme.
Here are some other excellent features that you'll get from Contact Form 7:
Subscribers-only mode – lets you create a contact form specifically for logged-in users.
Drop-down menus – users can add a drop-down menu to their contact form, letting visitors select an option to submit with the form.
Acceptance checkbox – creates a single checkbox to confirm that a visitor consents to specific terms and conditions before submitting the form.
File uploading and attachment – sites or blogs that accept guest posts can use this feature to let people submit their articles via the contact form.
Notable Features
Contact Form 7 has a ready-made contact form that users can insert into their posts and pages quickly and easily.
To use the default contact form, copy the shortcode that comes with it and insert it into your posts or pages.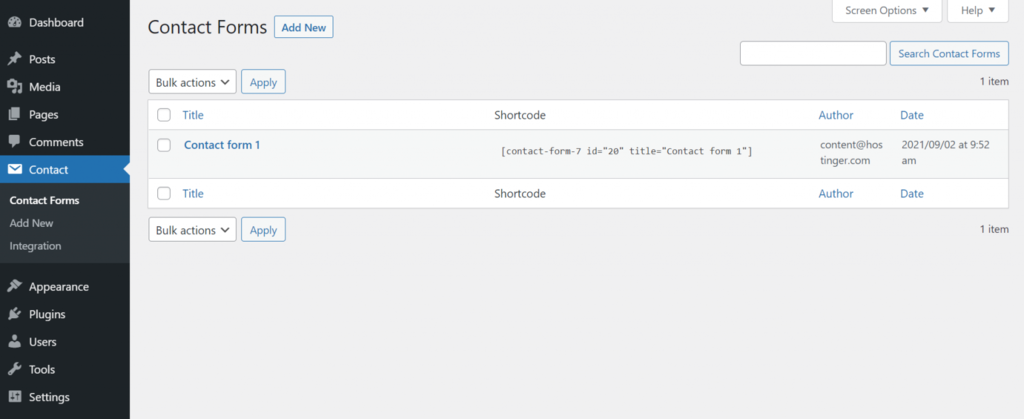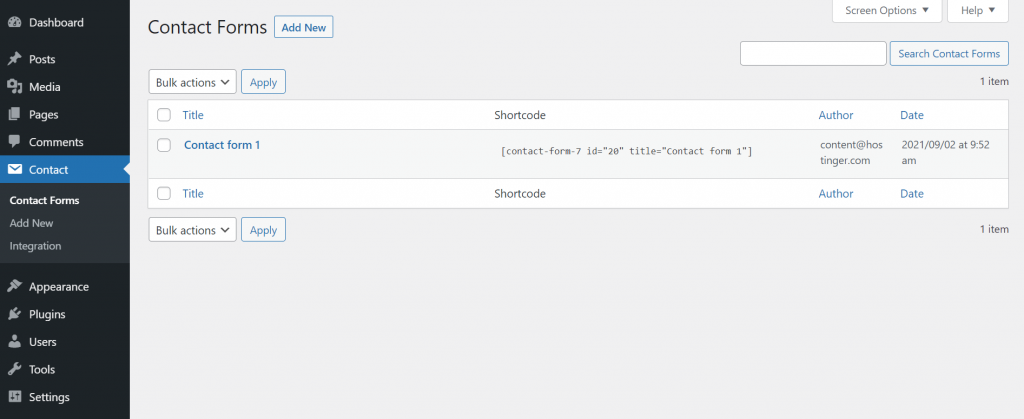 If you use Contact Form 7 5.3 or higher, it's possible to select the contact form block in the WordPress block editor instead of copying and pasting shortcodes.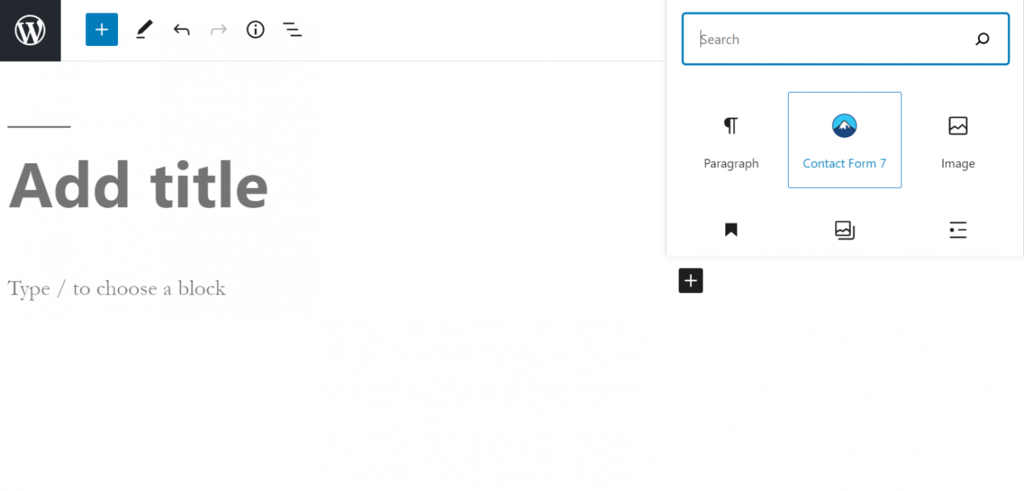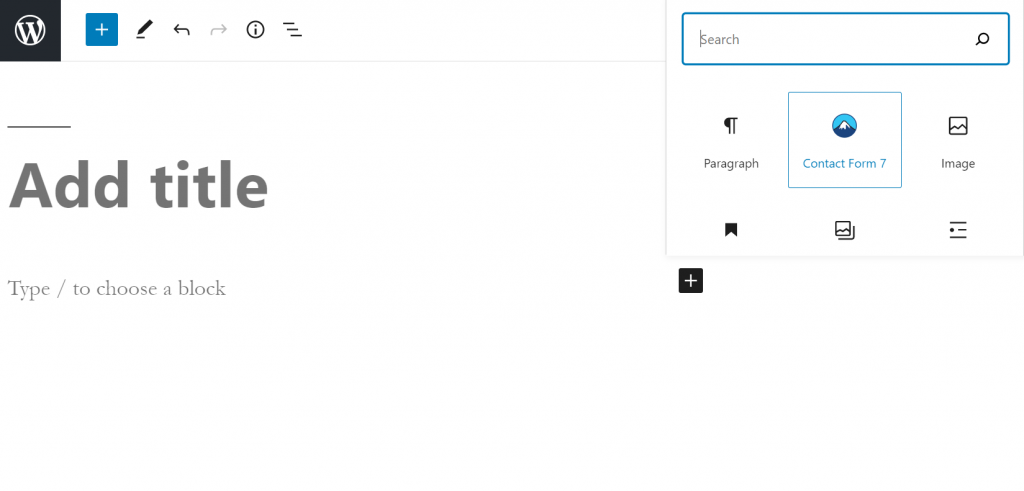 It's also possible to create a new contact form by heading to Contact -> Add New from the WordPress admin panel. The editor page of this free WordPress plugin has four different sections – Form, Mail, Messages, and Additional Settings.
The Form section includes various tag-generator tools that can create correct form tags – users can click on any of them to add a field to their contact form.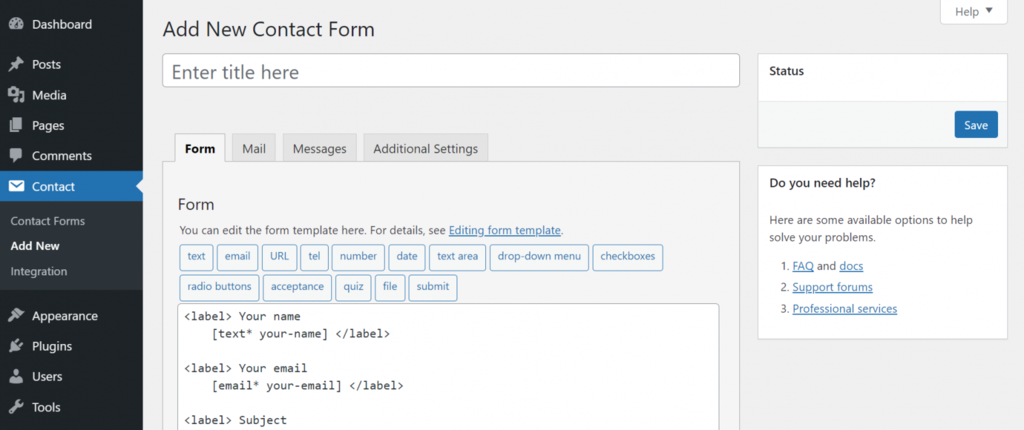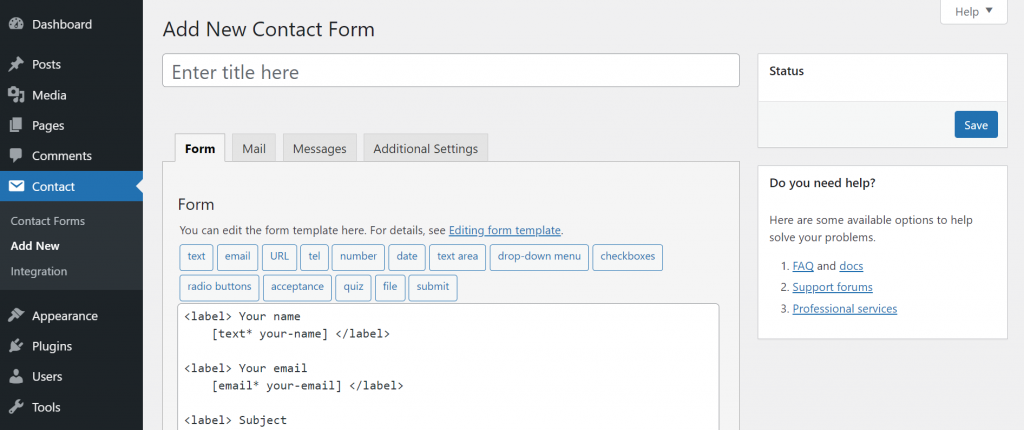 For example, if you wish to add a basic question and answer quiz to your contact form, click the quiz button in the editor. Then, Contact Form 7 will display a pop-up menu where you can configure the quiz form's tag settings.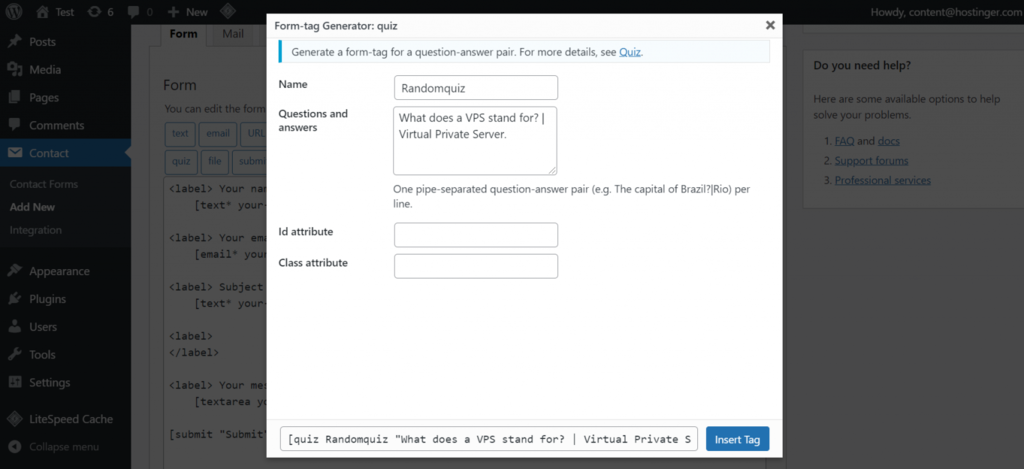 After configuring the form tag, a shortcode will be automatically generated at the bottom of the menu. Simply click the Insert Tag next to the code to embed it in the form template.
Now the contact form will have a quiz field in it: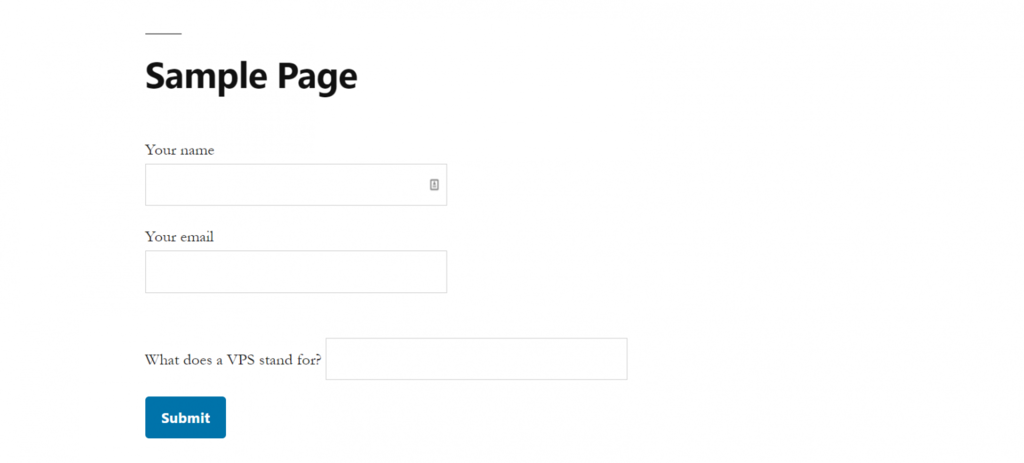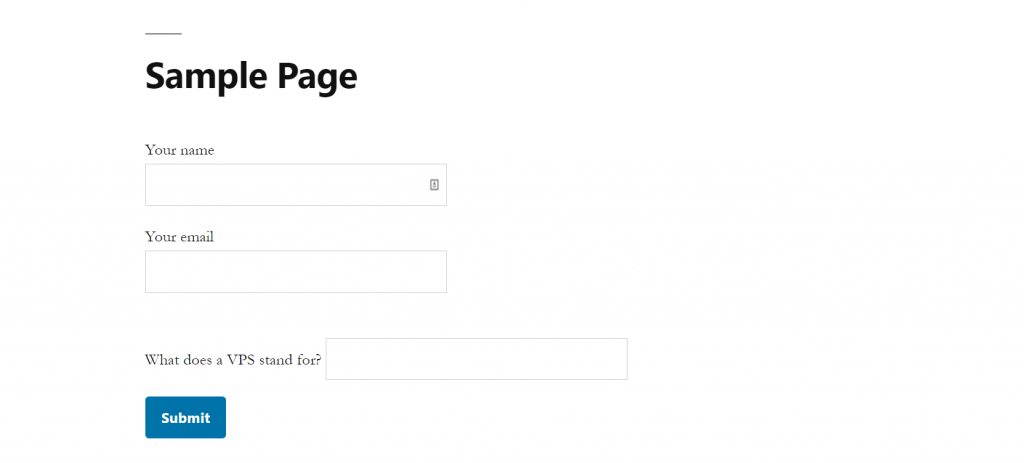 MemberPress Stats:
Downloads: 20,000+
Rating: 4.8/5
Best suited for: entrepreneurs or bloggers who want to implement paid content
Price: $179-$399/year
If you wish to start a paid membership program, an online course platform, or a digital downloads website, MemberPress is the best tool for you.
It's one of the best premium WordPress plugins to create WordPress membership websites that's easy to set up and comes with a professional support team.
This membership plugin has plenty of robust features, including:
Coupons – this premium plugin includes coupons by default, letting users run promotions to attract people to try out their membership site. Users can also customize the coupon codes and determine how many times they can be used.
Reminders – use this feature to send reminder emails to members when something happens, such as when a subscription expires.
Affiliate program – MemberPress integrates seamlessly with an affiliate plugin called Easy Affiliate, letting users create an affiliate program to boost their revenue.
Subscription management – members can change their subscription type, pause their plan, and cancel at any time.
Reports – this plugin features dynamic reporting tools, helping you analyze the performance of your membership site.
Notable Features
The process to create a membership plan with MemberPressis is simple. After activating this plugin, head to MemberPress -> Memberships -> Add New from the WordPress dashboard.
You'll be directed to a page that looks similar to the classic post editor:

On this page, set the title, price, billing type, and subscription period of the membership plan. It's also possible to configure trial access here.
There are four additional settings at the bottom of the membership page editor – Registration, Permission, Price Box, and Advanced.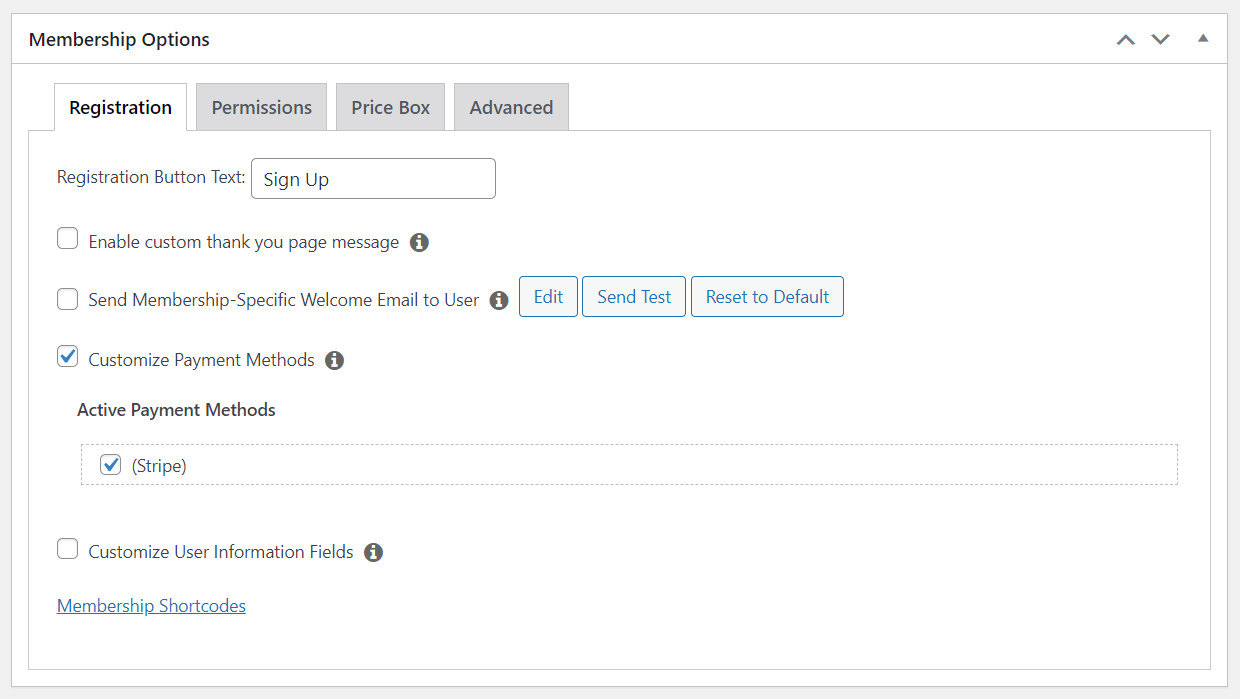 These membership options let you:
Configure options related to registration.
Determine who can purchase the membership.
Set payment methods.
State the benefits of buying the plan.
Preview the appearance of the pricing box.
Set the URL for content that those who buy the plan will have access to.
Enable membership roles.
Once you've set up the membership plan, MemberPress will automatically generate a registration page where visitors can sign up and purchase the subscription.
After taking care of the membership plans, create rules to control how members can access your content. To do so, navigate to MemberPress -> Rules -> Add New.
Here, users can restrict access to pages, posts, custom post types, categories, tags, and other files on their website. They can also set certain conditions that members need to meet to access the content.


Moreover, this page includes two additional options – Drip and Expiration.
Drip lets site owners keep their members engaged by enabling drip-feeding, a method of releasing content over preset intervals.
Meanwhile, the Expiration feature lets users set the length of time during which members will have access to specific content. This is useful for those who want to offer limited-access content.
Unlike the other plugins on this list, MemberPress doesn't have a free version. To use it, you'll need to purchase one of its plans that range from $179/year to $399/year.
This premium plugin also offers a 14-day money-back guarantee – feel free to try it and let the support team know if you wish to request a refund.
[DOWNLOAD]


bbPress Stats:
Downloads: 200,000+
Rating: 4/5
Best suited for: site owners who want to feature a forum page on their WordPress website
Price: free
If you want to create a forum page on your WordPress blog or site where visitors can ask questions and share ideas, install bbPress.
It is one of the most popular free WordPress plugins that adds the forum functionality to a WordPress site. With this forum software, users won't have to build an online community from scratch.
This free plugin runs fast, uses few server resources, and integrates well with any modern WordPress theme.
Here are some features of bbPress:
Subscriptions – visitors can subscribe to a forum to receive email notifications when new posts or replies are made.
Marking topics as favorites – lets visitors bookmark any topic with just a click of a button and save all of their favorite subjects in one place for easy access.
Extensible – bbPress comes with additional plugins to help users extend the forum functionality.
Blocking users – site administrators can block malicious users from using the forum to prevent spam comments and floods of traffic caused by attackers.
RSS feeds – use the RSS feed feature to keep members updated with any new content you create to improve user engagement.
Notable Features
After installing bbPress, the WordPress admin panel will display a welcome page and new menus for managing three custom post types – Forums, Topics, and Replies.
To start a forum page with this free WordPress plugin, head to the Forums -> Add New, enter a title and description of the forum, then press the Publish button.
Then, create a page that displays the newly created forum by going to Pages -> Add New. Name the page "Forum" or "Community" and paste the bbPress shortcode below in your page using the WordPress text editor:
[bbp-forum-index]
Here's what the forum page will look like: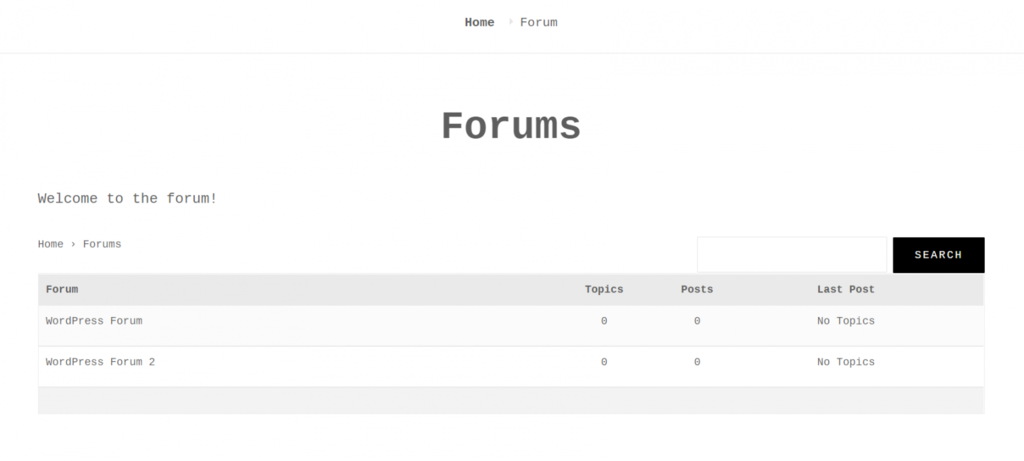 To tweak the settings of bbPress forums, navigate to Settings -> Forums.
The Forums Settings page contains several options, such as:
Forum User Settings – lets you select a user role for each user when they register, add a delay between subsequent posts, enable editing options, and allow guest users to create topics and replies.
Forum Features – users can turn any forum features on and off in this section.
Forum Theme Packages – select a bbPress template for your forum.
Topics and Replies Per Page – decide the number of posts and topics to display on forum pages.
Forum Root Slug – this is the place to set a slug for the root URL.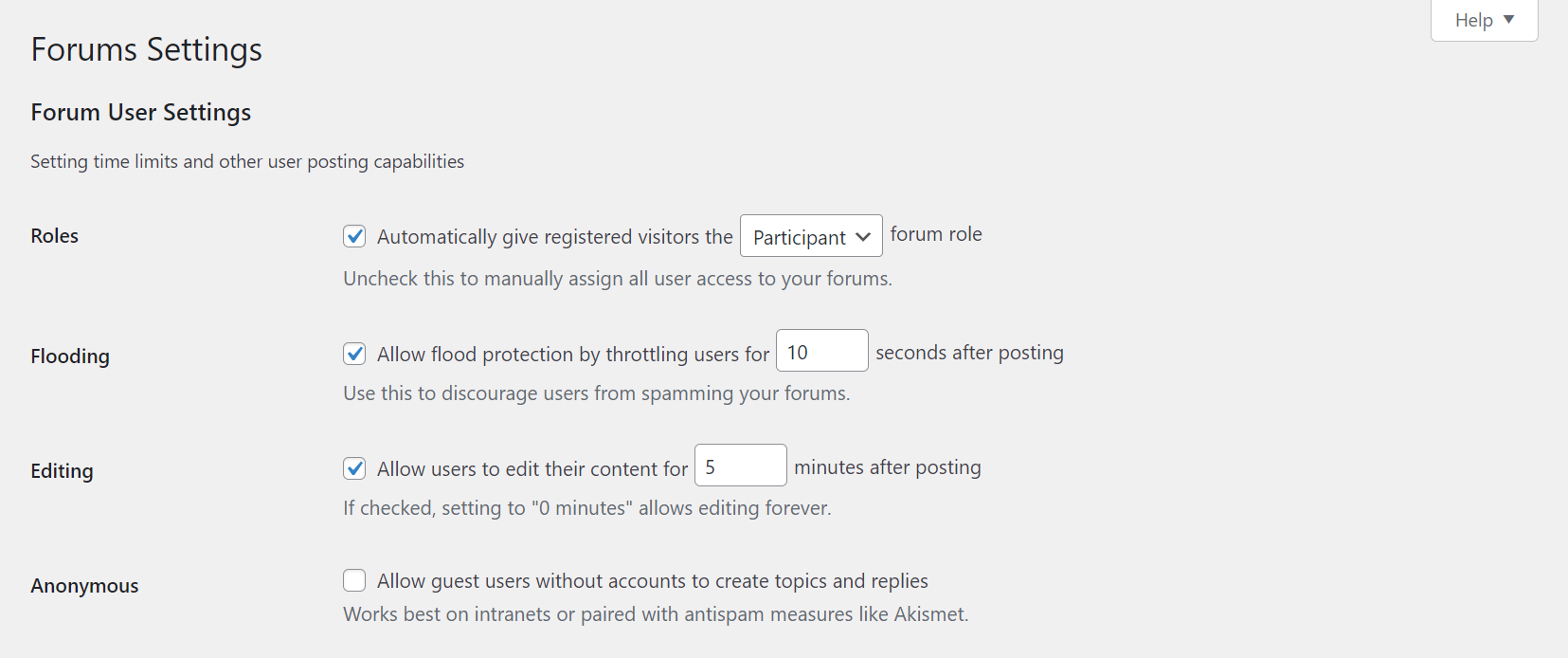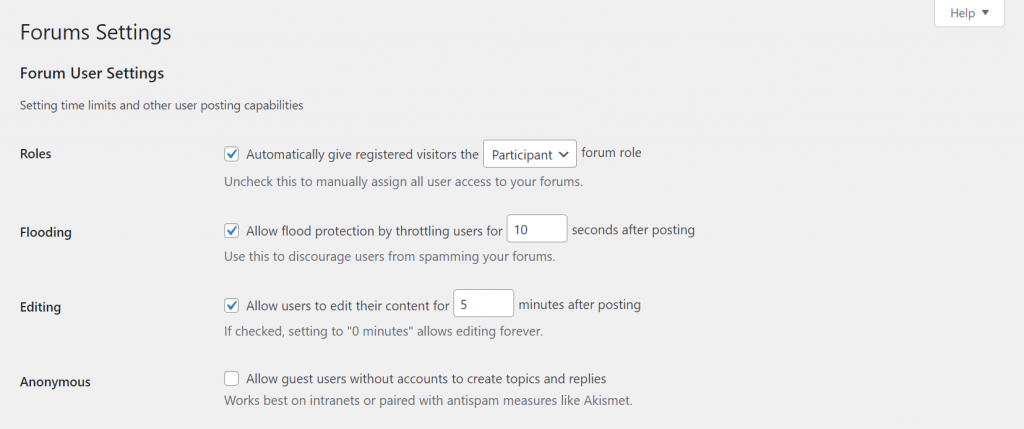 [DOWNLOAD]

HubSpot Stats:
Downloads: 200,000+
Rating: 4.4/5
Best suited for: businesses that want to manage their customer relationships on a centralized platform
Price: freemium
HubSpot is one of the best WordPress plugins that can optimize a site for lead generation and conversions.
It packs customer relationship management (CRM), sales, and customer service features, making it an excellent tool to support your inbound marketing efforts.
To use this plugin, install it from the WordPress plugin directory or download the .zip file from the HubSpot website and upload it to your site. You'll also need to create a HubSpot account for the plugin to function.
Once the plugin is installed, users can start using features like:
Lists – users can create lists to divide contacts or companies based on various characteristics and property values.
Marketing automation – HubSpot can send automated emails after visitors fill out a form for a more personalized experience.
Analytics – businesses can analyze which sales and marketing tactics drive the most traffic to their WordPress websites.
Pop-ups – create attractive pop-ups to quickly capture visitors' attention using HubSpot's drag-and-drop builder or pre-built templates.
Integrations – connect your HubSpot account with other installed WordPress plugins to automate work.
Notable Features
HubSpot offers robust contact management allowing you to organize contacts from the WordPress dashboard. Its free version lets users create and store up to 1 million contact and company records.
HubSpot can save you time finding details about your prospects. If you add a new contact using your prospect's corporate email address, this tool will present some insights from its database of over 20 million businesses.
With HubSpot, users can also add live chat to their WordPress website. It's an excellent way to engage directly with visitors and provide better customer service.
When setting up live chat, feel free to customize the chat widget to fit the look of your brand. It's also possible to use a logo as the avatar. Moreover, you can create a different welcome message for each of the web pages.
After setting up live chat and activating it in the Live Chat section of the WordPress admin panel, it will appear on your WordPress website, and visitors can start sending messages.
To respond to chat conversations, access your account via the HubSpot website and reply to the chats from the Conversations inbox.
The HubSpot WordPress plugin can be used for free. For more advanced features, such as removing HubSpot branding from pop-ups and live chat, consider purchasing the premium version – its plans start at $45/month.
[DOWNLOAD]

UpdraftPlus Stats:
Downloads: 3,000,000+
Rating: 4.8/5
Best suited for: users looking for an affordable solution to back up their site data
Price: freemium
Backing up a website is a crucial part of managing a WordPress site. It will prevent data loss in situations like system crashes, hard drive failure, or security breaches.
The quickest way to back up site data is to use a plugin such as UpdraftPlus. It's one of the best WordPress backup plugins and is simple to set up.
UpdraftPlus can store site data such as themes, plugins, posts, and databases. It also lets you restore previous backups without hassle.
Other features that this popular WordPress backup plugin offers are:
Email reporting – sends an email to notify users when their backups are complete.
Partial restores – users can also choose specific components from a backup for a partial restore. It's helpful for when you wish to restore plugins without changing the current version of the database.
Browse backup contents – it's possible to browse the contents of a backup file archive using UpdraftPlus's quick search.
Notable Features
After installing this plugin, head to Settings -> UpdraftPlus Backups from your WordPress dashboard to access the UpdraftPlus settings page.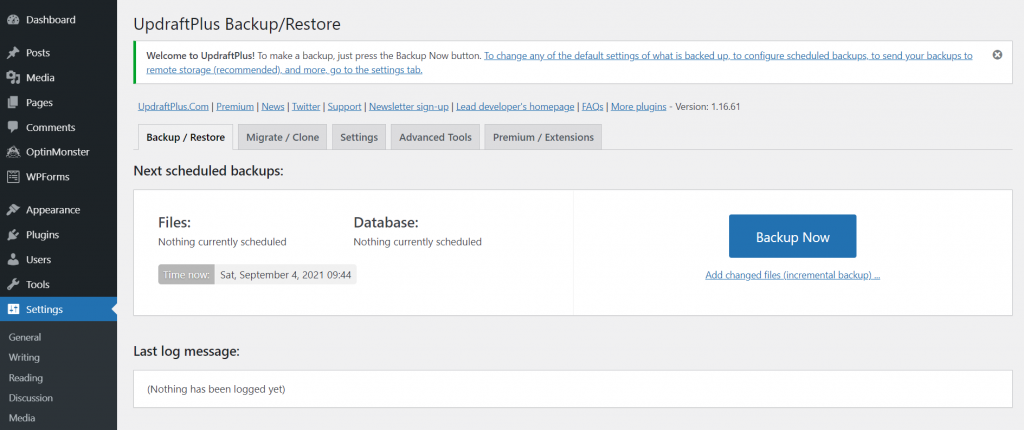 To start the backup process, select the Settings tab. Here, users can back up their WordPress website manually or schedule backups at regular intervals.
If you want to set up automatic backups, make sure to set their frequency based on how often you update the site. For example, if you publish new content every week, backing up the site weekly should suffice.
Additionally, UpdraftPlus lets you determine how many backups to store at one time. It will prune the oldest backup to save storage space if a new manual or scheduled backup is completed.


By default, UpdraftPlus will keep the backups on the same web server that hosts the WordPress site. However, storing backup files in a different location is preferable to secure the data from any issues the server may experience.
Thankfully, UpdraftPlus integrates with plenty of cloud storage providers like Dropbox and Google Drive, letting users store backups remotely. Simply choose one of the available cloud storage platforms and follow the instructions depending on the service you choose.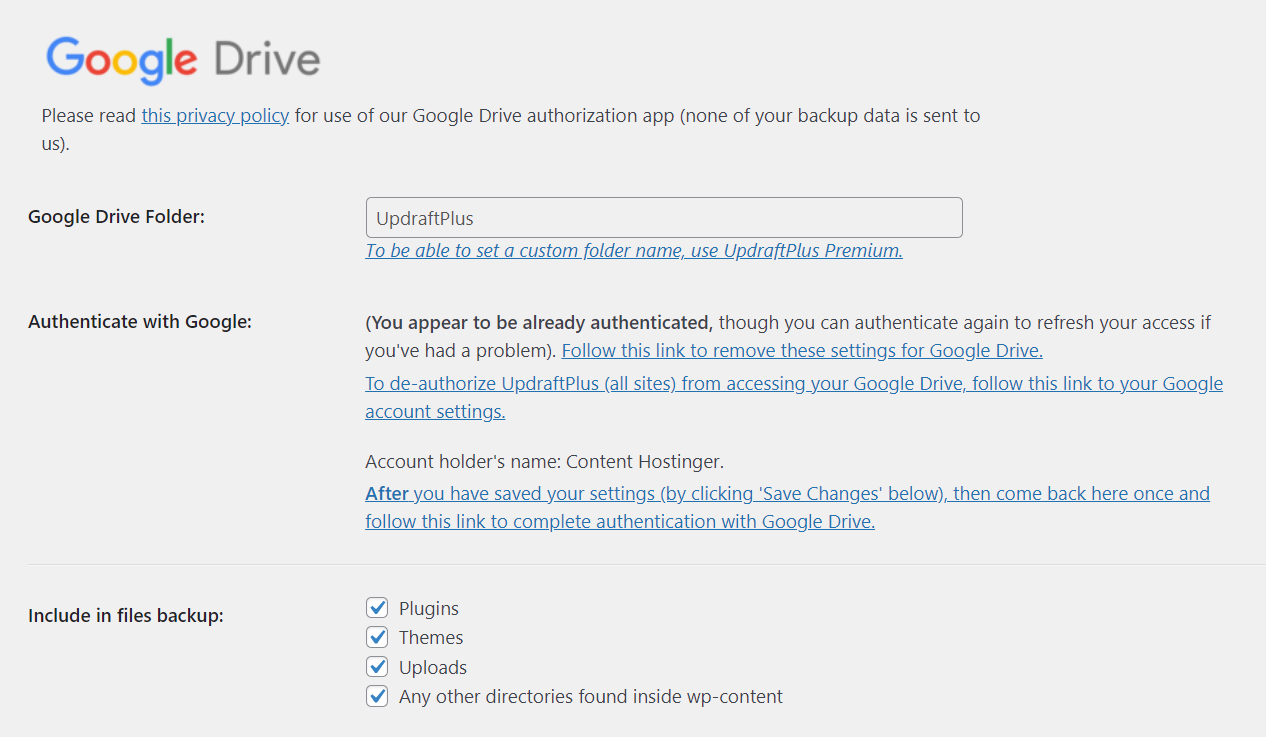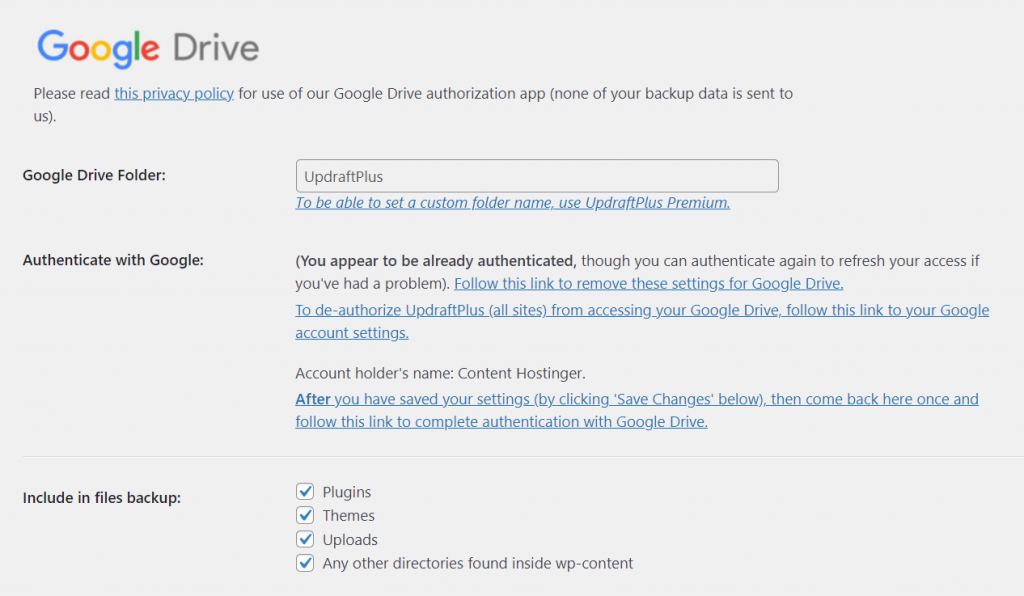 If you wish to restore a backup, head to the Backup / Restore tab on the UpdraftPlus settings page. The Existing backups section will contain the list of backups.
Choose the backup and components to restore and press the Restore button – this plugin will do the rest automatically.


In addition to using UpdraftPlus for free, users can purchase the premium version to access advanced features like adding multiple destinations and migrating websites.
UpdraftPlus's premium plans start at $70/year.
Jetpack Stats:
Downloads: 5,000,000+
Rating: 3.9/5
Best suited for: website owners who want to protect their site from brute force attacks
Price: freemium
If you are looking for an all-in-one tool that can secure your website and improve its performance simultaneously, Jetpack is a must-have.
Aside from adding an extra layer of security to a site, Jetpack also provides site stats that track website visits and most viewed pages.
Here are other benefits you'll get from this security plugin:
Plugin management – Jetpack can update plugins automatically and let users activate and deactivate them in bulk.
WordPress.com secure sign-on (SSO) – users can use their WordPress.com login credentials to register and sign in on a self-hosted WordPress site.
Site performance tools – Jetpack features a content delivery network (CDN) and lazy loading images, improving speeds and reducing loading times.
Mobile app – users can receive important notifications, view valuable site stats, and access other Jetpack features on their mobile device.
Notable Features
Jetpack offers an excellent tool called downtime monitoring, which can ensure that a WordPress website is accessible at all times.
When it is activated, Jetpack's uptime monitoring servers in multiple locations worldwide will check your website every five minutes.


Jetpack will also send an email notification when it detects downtime, letting you resolve the problem as soon as it occurs.
Additionally, Jetpack can protect a site against brute force attacks by automatically blocking malicious IP addresses before they reach the website. The brute force protection is enabled by default, so users can benefit from this feature right after activating Jetpack.
The total number of attacks blocked on a site will be displayed on the Jetpack dashboard.

It's also possible to whitelist IP addresses, preventing false positives when site owners make many failed login attempts or mistype their password several times.
Another handy feature of Jetpack is the activity log, which lets users monitor changes to their site.
It provides a comprehensive list of all WordPress and Jetpack activities, like login attempts, recently published pages or posts, and setting modifications. Each of these activities contains detailed information such as the timestamp, user, and description.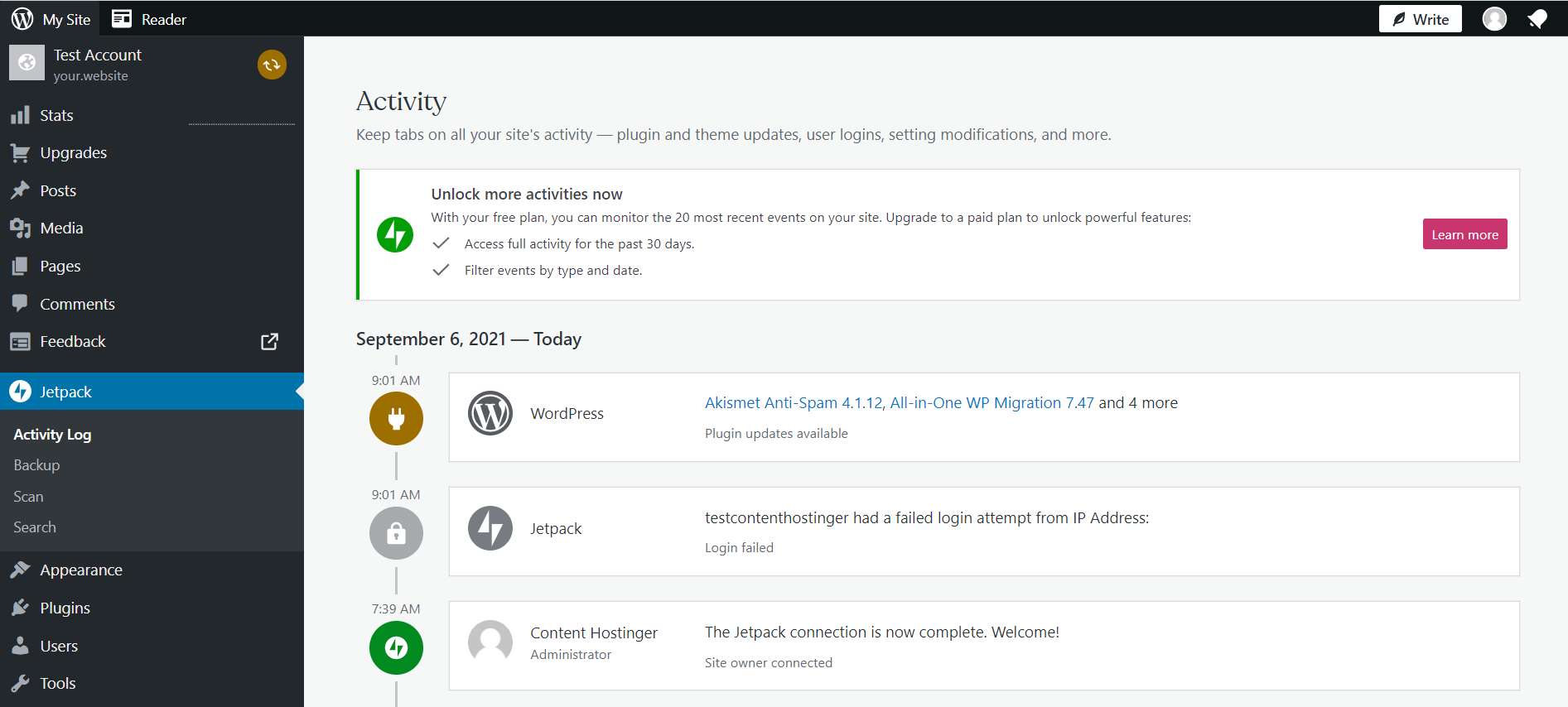 With the free version of Jetpack, site owners can see up to 20 most recent events. To view events from the last 30 days, consider purchasing any of Jetpack's premium plans that cost between $4.77/month and $47.97/month when subscribing for a year.
[DOWNLOAD]

LiteSpeed Cache Stats:
Downloads: 2,000,000+
Rating: 4.9/5
Best suited for: webmasters who want to improve their WordPress site speed
Price: free
Website speed is an essential factor to generate high traffic and conversion rates – site conversion rates fall by an average of 4.42% with every additional second of load time.
One of the best ways to improve website speed is to use a WordPress caching plugin, which can create a static version of your WordPress pages.
Some of the best WordPress performance plugins to use are WP Rocket and Borlabs Cache. If you are looking for a free solution, LiteSpeed Cache is the best option.
This website cache plugin for WordPress offers many robust features, such as:
Private cache – cache personalized copies of a page relevant only to the person who requests it. This is useful for sites like online stores, where different users see different content.
Edge Side Includes (ESI) – caches static parts of dynamic pages to make them load faster.
Browser cache support – store static content locally on the visitor's browser to speed up loading times.
Lazy load – loads media files when they are needed or when someone scrolls through the web page to optimize site performance.
CSS and JavaScript combination – combines multiple CSS or JavaScript files to remove unnecessary code, making your WordPress site load faster.
Database optimization – speeds up database queries by eliminating clutter such as post revisions, trashed posts, and spam comments in the WordPress database.
Notable Features
Before using LiteSpeed Cache, users need to set up an account on QUIC.cloud, a CDN service bundled with this plugin. Once that's done, they can start utilizing all of LiteSpeed Cache's features.
This plugin includes several sections to monitor and manage it. One of them is Dashboard, which displays the status of all of LiteSpeed Cache services.
On this page, users can analyze the percentage of the resources they have used for each QUIC.cloud service, such as page optimization and CDN Bandwidth.


The Dashboard section also displays your home page load times, showing how long it takes for the homepage to load before and after activating LiteSpeed Cache's features.
Another section to look at is Cache, which includes all the basic settings for your cache. Here, users can enable or disable the caching functionality and decide what types of content to cache. There is also an option to exclude specific parts of your site from being cached.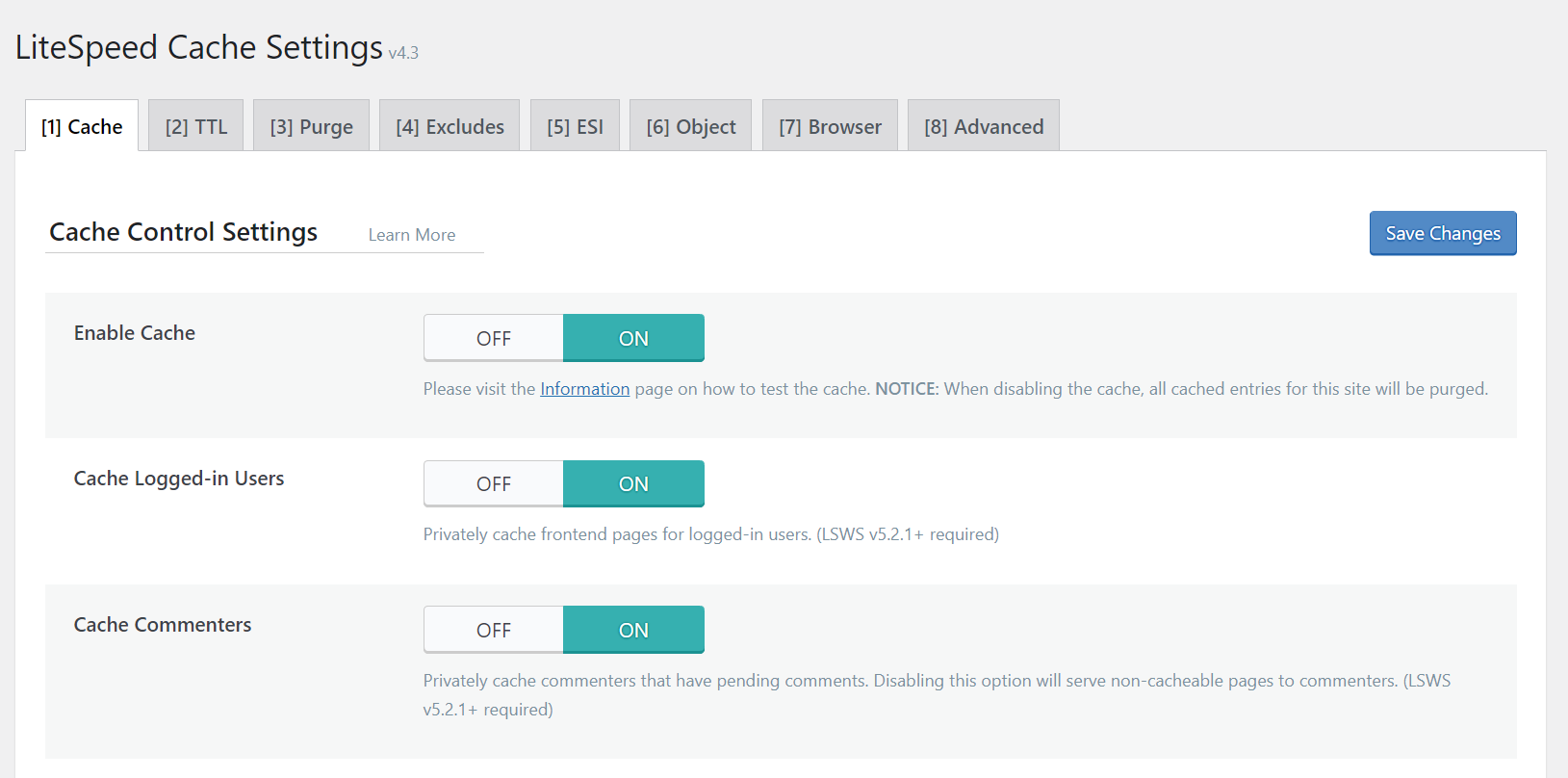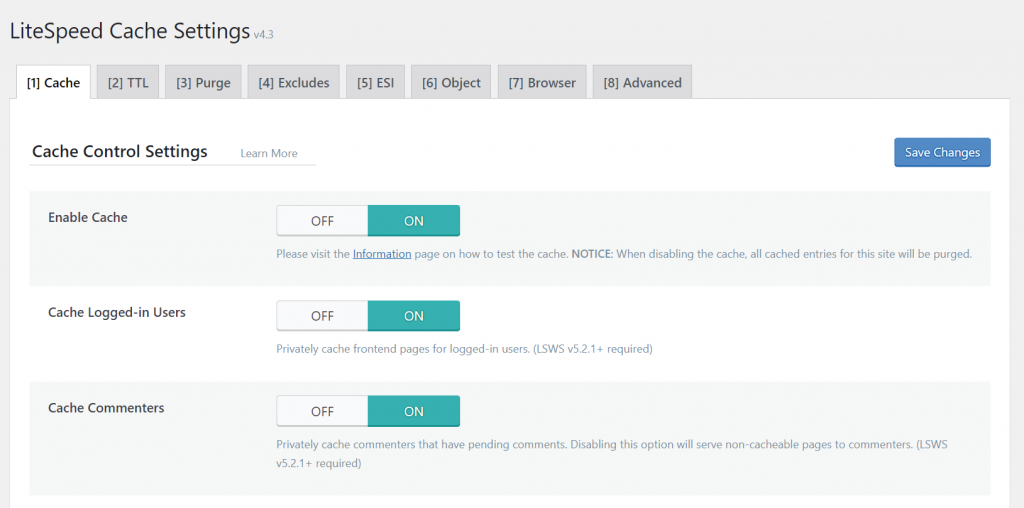 Pro Tip
It's best to leave the settings set to their default values unless you wish to make custom exceptions to the cache rules.
LiteSpeed Cache can also act as an image optimization plugin, reducing the size of a site's images to improve page load times. Head to the Image Optimization section from the WordPress dashboard to tweak the settings.


Using LiteSpeed Cache image optimization with other image optimization plugins at the same time can cause processing errors, so make sure to stick with only one image optimizer.

Akismet Stats:
Downloads: 5,000,000+
Rating: 4.7/5
Best suited for: users who want to combat spam comments
Price: freemium
Spam comments are a major problem for most WordPress sites – each month there are 6,208 times more spam comments generated than real ones.
One of the best solutions to reduce the number of spam comments on a site is to use the Akismet Spam Protection plugin for WordPress.
Akismet can automatically filter spam comments and send them to the spam queue so you don't have to examine and delete spam comments from WordPress blog posts or pages manually.
This plugin comes with several features, such as:
Status history – users can identify whether a comment has been caught or cleared by Akismet or a moderator.
Displayed URLs – this plugin shows URLs in the comment body to reveal suspicious or misleading links.
Privacy notice – display a message under the site's comment forms telling visitors you're using Akismet to process comments. This helps your website with transparency and privacy laws like the General Data Protection Regulation (GDPR),
Discard feature – save disk space and speed up your site by letting Akismet block the worst spam messages immediately instead of putting them in the spam folder.
Notable Features
Before using this plugin, you'll need to create an account, get an API key, and enter the key in Akismet's settings page.
Once your Akismet account is linked to the website, this plugin will start scanning for spam through your comments and forms – there are no additional settings to configure.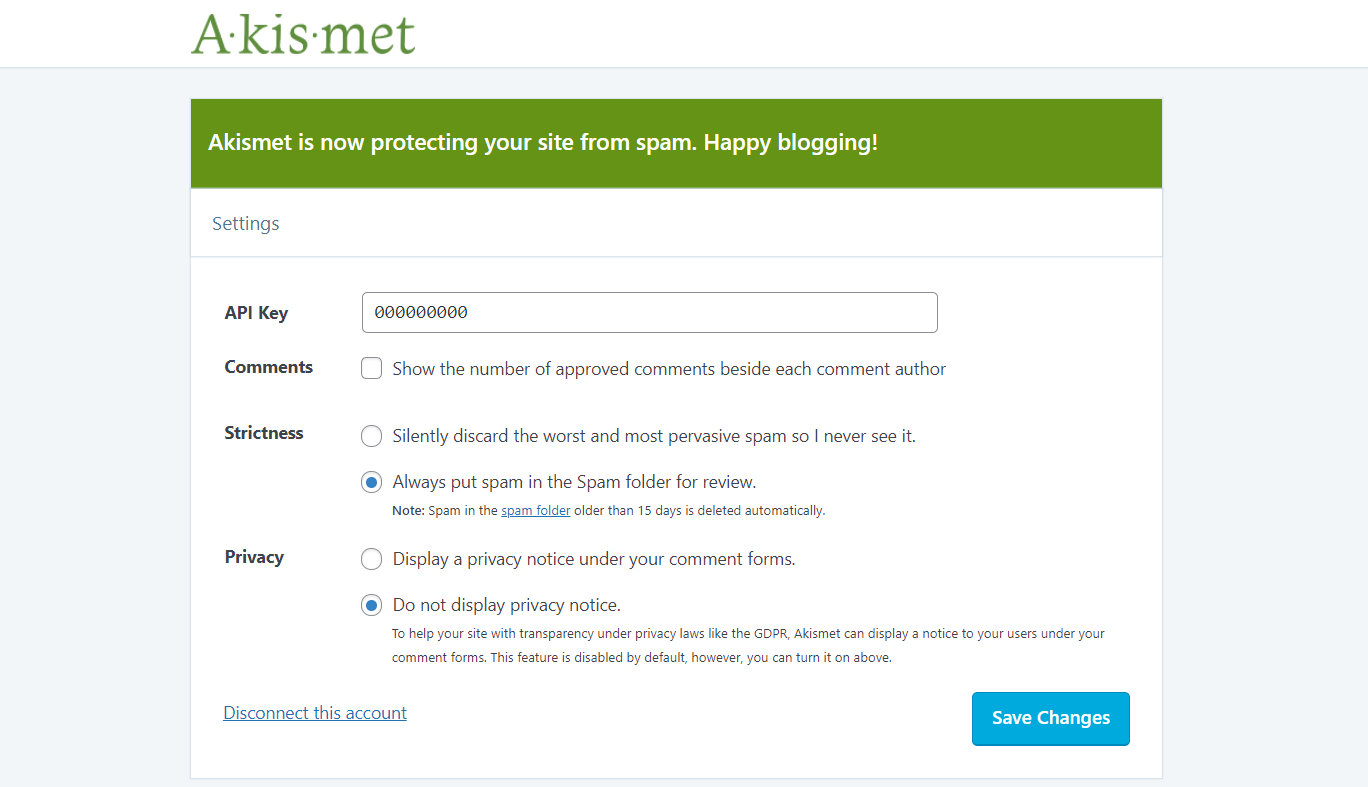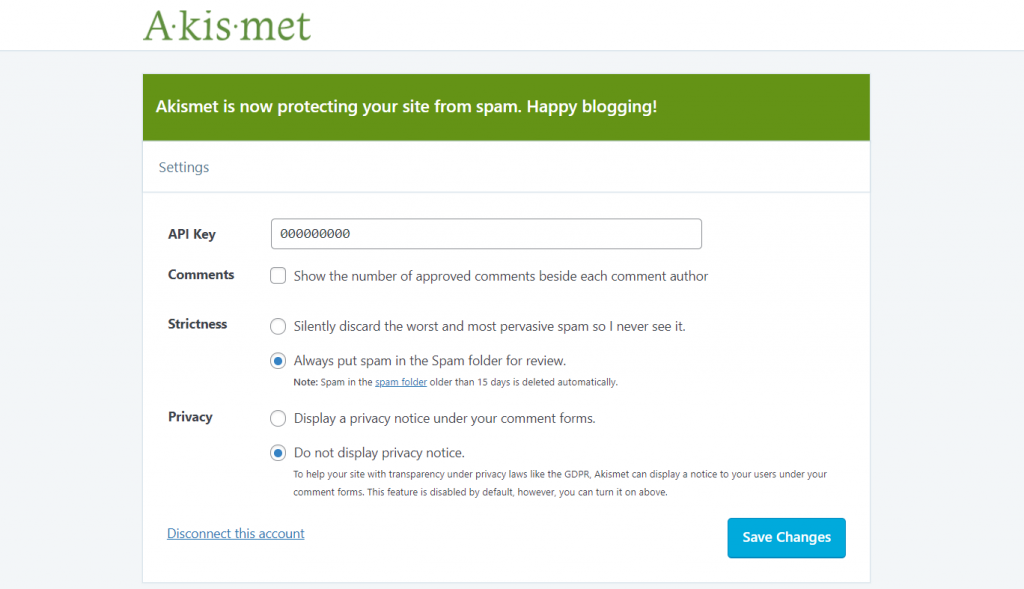 Akismet provides statistical data that can be accessed from users' accounts. By regularly monitoring a site's spam levels, users can take immediate action whenever there is a surge in suspicious activity.
In addition to showing the number of spam comments, the stats page also displays the number of false positives or legitimate comments marked as spam.

If the stats data shows a high amount of false positives, make sure to manage your spam queue and mark any comment that you think is not spam. It's also important to mark all spam comments Akismet misses so that the plugin can avoid similar mistakes in the future.


Akismet can be used for free, but there are also several paid plans, ranging from $8.33/year to $250/year. The premium version comes with more features, such as priority support and access to advanced stats.
[DOWNLOAD]

Wordfence Stats:
Downloads: 4,000,000+
Rating: 4.7/5
Best suited for: site owners who wish to add two-factor authentication to their website
Price: freemium
Wordfence is a WordPress security plugin that offers various features to protect a site against potential cyberattacks.
One of its excellent tools is two-factor authentication (2FA) to stop brute force attacks. It requires site administrators to enter their passwords and use an additional identification form to log in to the website.
Here are the other features offered by Wordfence:
Wordfence central – this WordPress security plugin lets users track their site security events in one place, making it easy to notice when any attacks like password breaches occur.
Repair files – Wordfence can repair any hacked files that belong to the WordPress core or plugins and themes from the WordPress.org repository.
Advanced blocking – users can set rules to block traffic from specific IP ranges or networks, hostnames, and referrer websites with suspicious activity.
Enable 2FA for any user role – two-factor authentication is available for other roles aside from the site administrator, protecting other important accounts from brute force attacks.
Live traffic – Wordfence provides real-time updates on visits and hack attempts, and each entry includes the IP address, location, browser, and time.
Leaked Password Protection – Wordfence has an up-to-date list of compromised passwords across hundreds of data breaches, allowing this plugin to block login attempts with a password previously used in a breach on your site.
Notable Features
After activating Wordfence, enable the 2FA feature right away by heading to Wordfence -> Login Security from the WordPress admin panel.
Then, use a mobile authenticator app such as Google Authenticator and 1Password to scan the QR code on the Login Security page – if you can't access your device's camera, simply copy the line below the QR code and paste it into the app.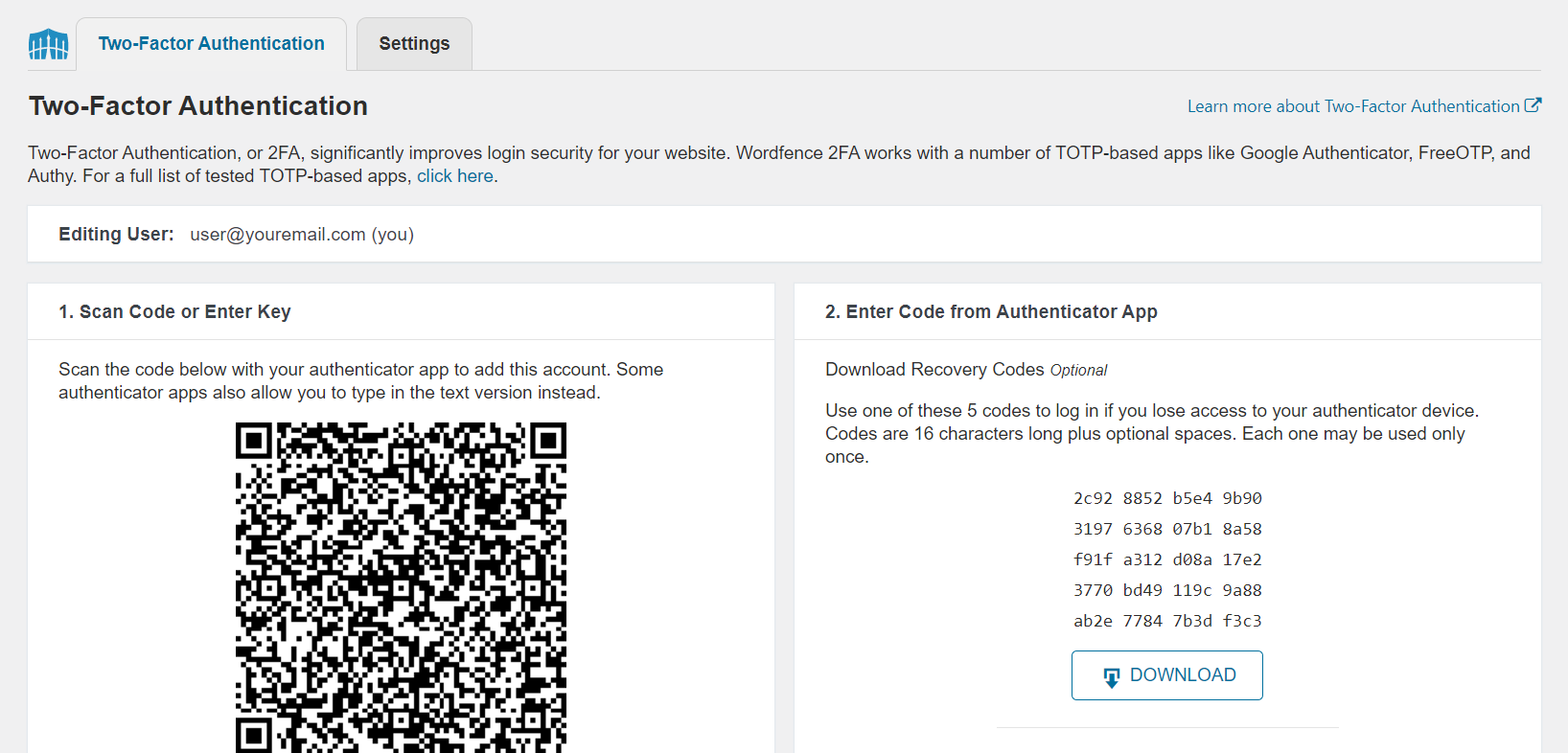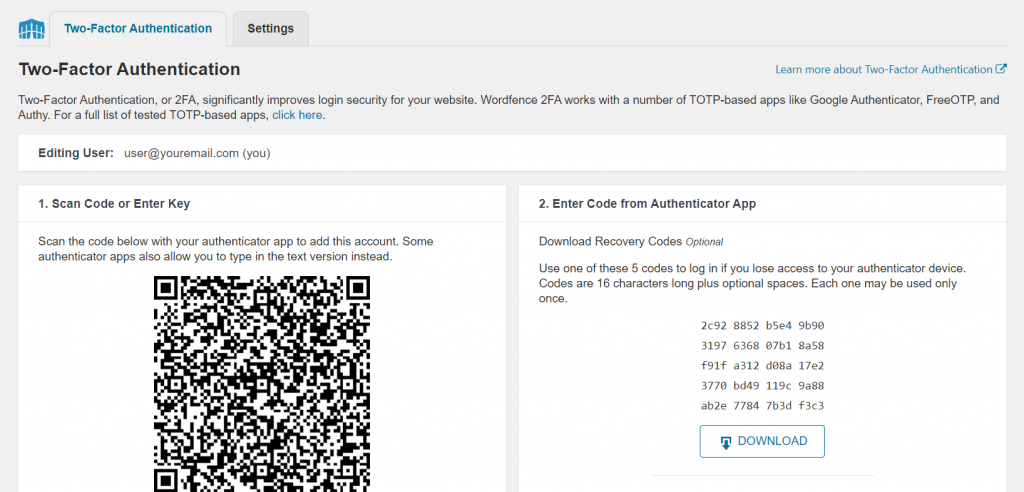 The authenticator app will display a six-digit code that changes every 30 seconds. Enter this code in the field under the Enter Code from Authenticator App section to verify and activate two-factor authentication for this account.
Then, you'll be prompted to download the recovery codes, which can be used if you lose your device. Make sure to keep these codes safe.
Once 2FA is activated, you'll be required to enter the code in the authenticator app to log into your account.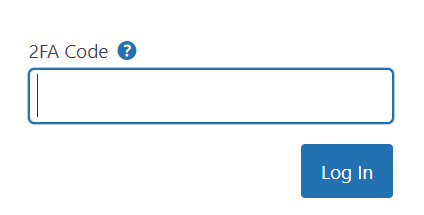 Wordfence also offers the option to allow specific IP addresses or ranges to skip 2FA. Using this feature, site owners can let users accessing the site from known locations or networks log in without 2FA.

Another excellent service Wordence offers is the web application firewall (WAF), which can filter out requests that include malicious code or content.
However, WordPress themes and plugins can sometimes show behavior similar to attack patterns, resulting in the firewall blocking valid requests.
That's why the Wordfence firewall provides a feature called the Learning Mode, which adds valid actions that resemble suspicious requests to the whitelist. This will prevent false positives from causing site functionality problems.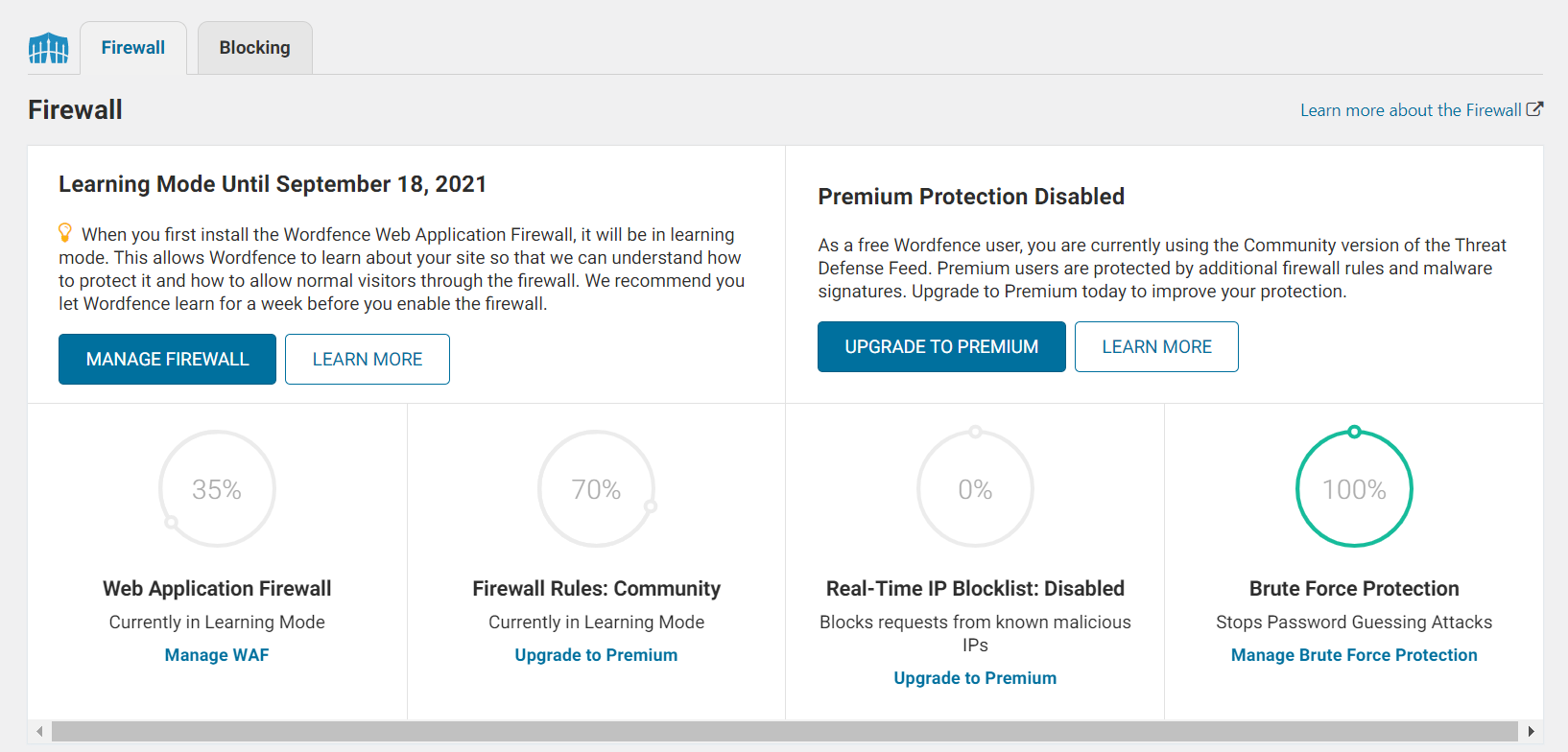 Pro Tip
Use all the features of your site during the Learning Mode period to help the firewall better adjust to your website.
If you wish to get additional security features, consider upgrading to Wordfence's premium version. It includes measures like country blocking, which can prevent IP addresses based in specific countries from accessing your login page.
Wordfence's premium plan starts at $99/year per license.
[DOWNLOAD]
Smash Balloon Stats:
Downloads: 1,600,000+
Rating: 4.8/5
Best suited for: bloggers or small business owners who want to feature their social media content on a WordPress website
Price: freemium
If you wish to display your social media content on WordPress to leverage social proof and increase user engagement, Smash Balloon is a WordPress plugin you should check out.
It combines five social media plugins – Social Post Feed, Social Photo Feed, Custom Twitter Feeds, Feeds for YouTube, and Social Wall. All of them have a free version, except for the Social Wall plugin.
With Smash Balloon, users can easily add social network feeds to their site. The feed will also adjust to your existing theme by default, making it consistent with your site's branding.
This social media feed plugin comes with other excellent features, such as:
Feed caching – caches different parts of your social media feed to minimize the number of API requests and make the content load much faster.
Responsive design – all feeds will look great on any device and screen size.
GDPR compliance – this feature can make some parts of your social media feed limited until visitors give their consent to ensure GDPR compliance.
SEO friendly – many social media plugins use iFrames to display content, preventing search engines from crawling the content. Meanwhile, Smash Balloon embeds the content directly into your web page to ensure it appears among Google's search results.
Feed backup – keeps your feed available, even when the social media platform is having an outage.
Notable Features
As we mentioned earlier, Smash Balloon consists of five social media plugins that serve different purposes.
If you wish to display Facebook posts on your site, Smash Balloon Social Post Feed is the right tool for you.
With the free version of this tool, users can display feeds from their Facebook pages and groups. They can show as many Facebook feeds as they want and embed them anywhere on the website.
To display Facebook videos, likes, shares, and comments in the feed, users have to purchase the premium version of this plugin – the prices range between $49/year and $199/year.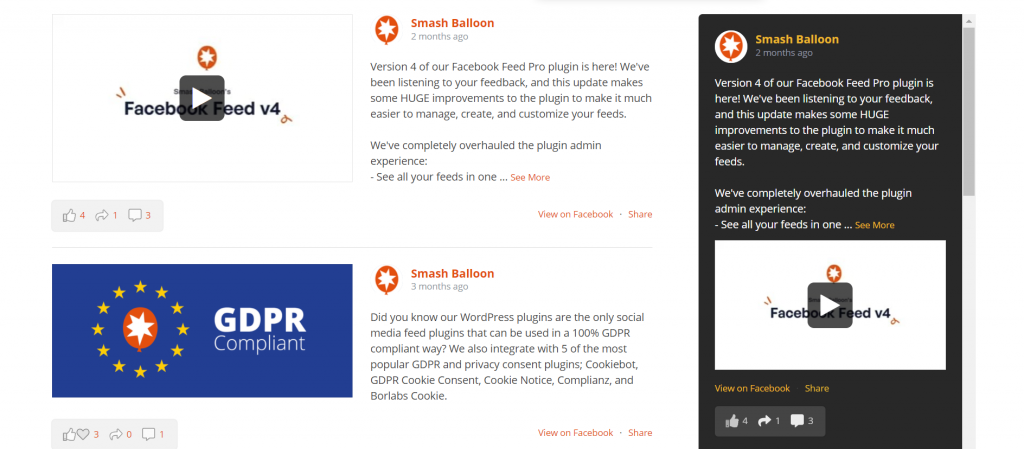 To add Instagram feeds on the site, take advantage of Smash Balloon Social Photo Feed.
Site owners can post their photos on Instagram and have this plugin automatically display the content on their website.
Moreover, this Instagram plugin includes a Follow on Instagram button at the bottom of the feed, letting visitors follow your account.
To highlight specific posts on the website, upgrade to the paid plans of Social Photo Feed, priced from $49/year to $149/year.


If you have a Twitter account, consider showing your tweets to boost user engagement using Smash Balloon Custom Twitter Feeds.
Aside from displaying tweets that match the look of your website, it also includes the infinite loading button. By clicking it, visitors can load more tweets and spend more time on the site.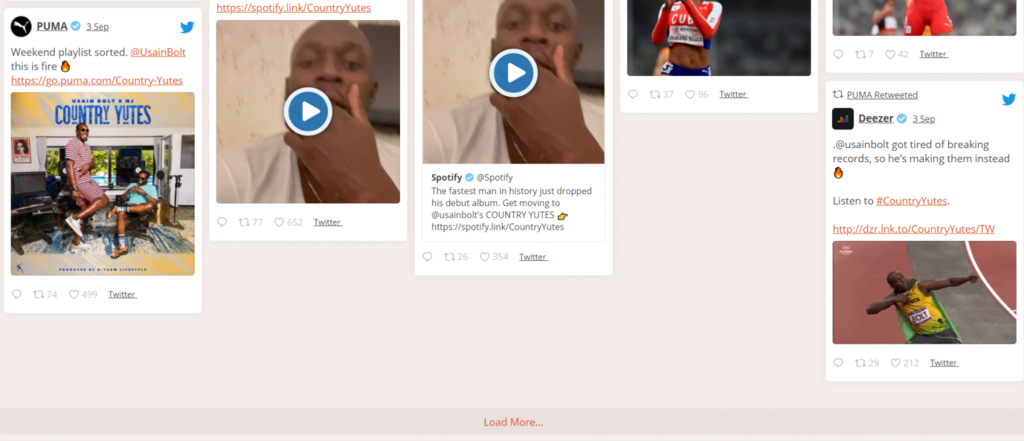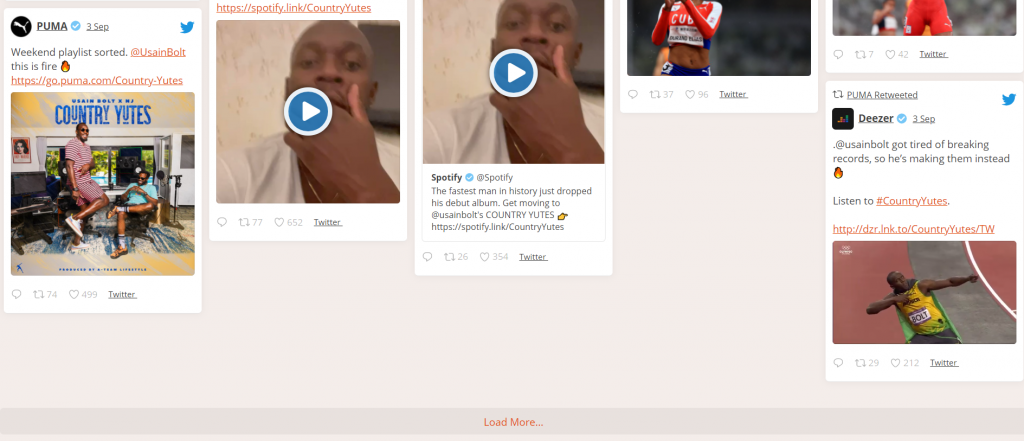 To embed YouTube videos in a WordPress website, utilize Smash Balloon Feeds for YouTube.
This tool can display feeds from different YouTube channels in a list, gallery, or grid layout to make them look neat and appealing.
To get more features such as displaying tweets you're mentioned in and YouTube videos from your favorites list, upgrade to the premium plans of Smash Balloon Custom Twitter Feeds and Feeds for YouTube – their price ranges are between $49/year and $149/year.
If you wish to combine Facebook, Instagram, Twitter, and YouTube content into a single feed to increase social sharing and followers across all channels, consider buying the Social Wall tool that costs $49/year.
Another option is to purchase the All-Access Bundle for $299/year to get all features of the five social media tools.

MonsterInsights Stats:
Downloads: 3,000,000+
Rating: 4.6/5
Best suited for: users who want to add Google Analytics to their website with ease
Price: freemium
MonsterInsights is a popular Google Analytics plugin for WordPress with various advanced features to help bloggers and business owners track their website performance and analyze visitor insights.
Coming with an installation wizard, MonsterInsights lets users quickly set up Google Analytics on their WordPress site without hiring a developer or learning how to add code snippets to different areas of their website.
Here are some excellent tools that are packed with this WordPress Google Analytics plugin:
Real-time stats – users can monitor activity on their site in real time, letting them identify and solve any problems quickly.
Affiliate link and ad tracking – makes it easy for bloggers to track their affiliate links with Google Analytics, helping them optimize them for better conversions.
Popular post tracking – displays the most popular blog posts and pages, giving users insight on which content their visitors like the most.
File download tracking – this Google Analytics plugin can automatically track downloads from links you have inserted into a website and show how many times visitors downloaded the files.
Referral tracking – provides data on where your referral traffic comes from, showing which referral sources are the most valuable for the website.
Returning visitors graph – displays the percentage of people who are returning to the website, revealing the effectiveness of your marketing efforts.
Demographics data – provides information related to your website users, including their age and gender, helping you tailor marketing strategies for the audience.
Notable Features
With MonsterInsights, users can access their Google Analytics reports right from their WordPress dashboard by heading to Insights -> Reports.
This page includes several tabs, but the free version users can only access the Overview Report section – it contains stats related to visitors' behavior, including the number of sessions, page views, average session duration, and overall bounce rate.


The Overview Report page also shows which countries your visitors are from. If you click the View Countries Report button under the list of top countries, this plugin will direct you to your Google Analytics account for additional data, such as the number of new users from each country.
To tweak the settings of this plugin, go to Insights -> Settings. Here, users can enable and disable tools like automatic updates, compatibility mode, and enhanced link attribution. They can also determine which user roles have access to the MonsterInsights reports and settings panel.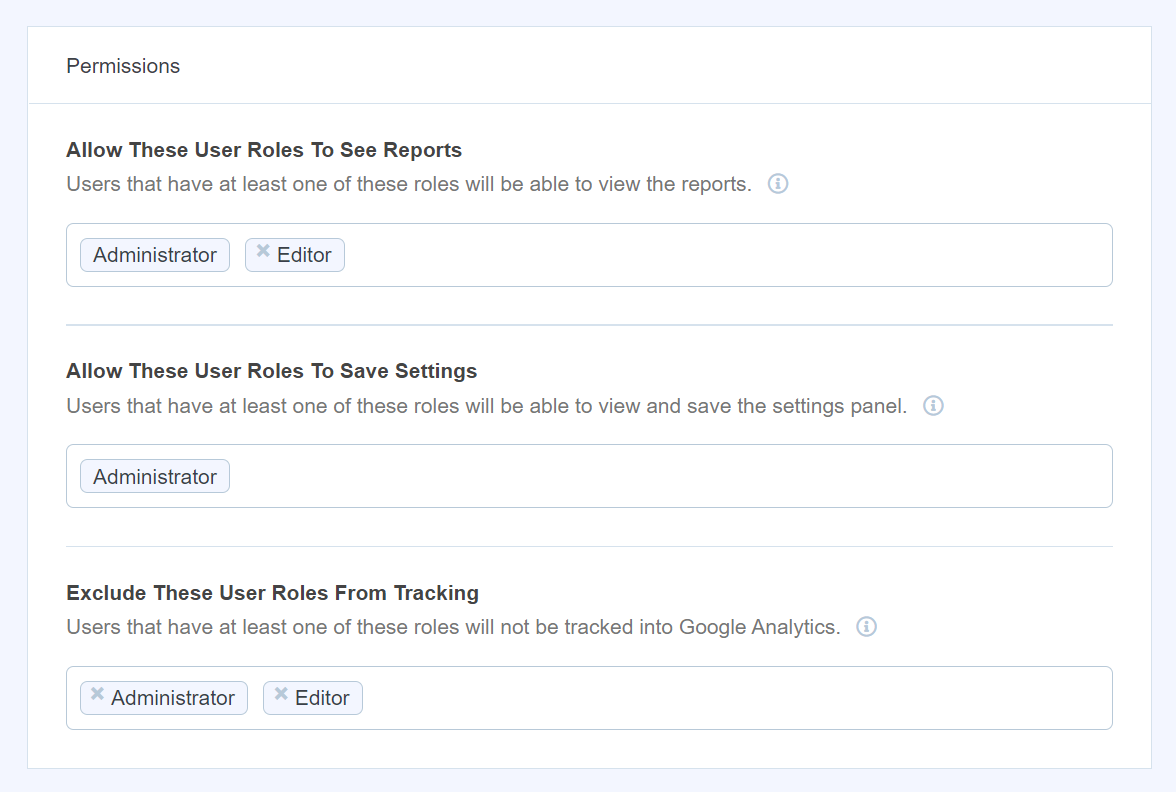 MonsterInsights includes a built-in URL builder to create links with a UTM tracking code. This is useful for people who want to find out how many visitors they get from a specific link or track the performance of a particular marketing campaign.
To use this URL generator, go to Insights -> Tools from the WordPress admin panel. Then, enter all the essential details to get the unique tracking link.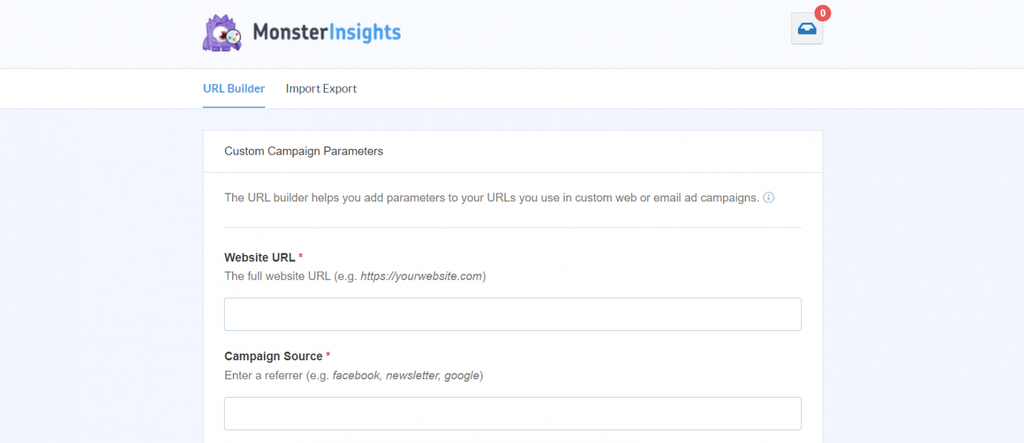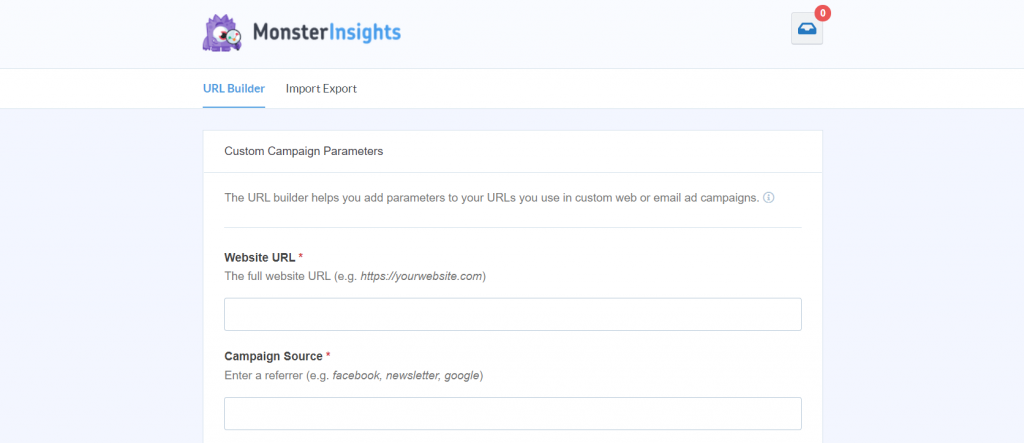 In addition to offering a free version, MonsterInsights also features premium plans – they cost between $99.50/year and $399.50/year.
The paid version is suitable for online stores as it offers eCommerce tracking, letting users monitor metrics such as conversion rates, total revenue, and top products.

MailChimp Stats:
Downloads: 2,000,000+
Rating: 4.8/5
Best suited for: entrepreneurs who want to start an email newsletter
Price: freemium
If you want to start an email newsletter and build relationships with loyal readers or customers, MailChimp is the best WordPress plugin for you.
MailChimp is one of the most popular WordPress plugins to build subscriber lists, create appealing opt-in forms, and manage effective email campaigns with.
This newsletter plugin is packed with plenty of features, such as:
Double opt-in – send a verification link via email to subscribers after they fill out and submit a form to prevent spam signups.
Free add-ons – MailChimp comes with several add-ons, such as Boxzilla, which can add pop-up or slide-in boxes to a WordPress website.
Customizable – this plugin provides a repository of code snippets used to modify or extend the default behavior of MailChimp and its add-ons.
Debug log – automatically logs errors and warnings, helping site owners monitor background processes.
Usage tracking – users can enable tracking of several aspects such as their PHP version and server software. This information can help MailChimp understand its customers better and improve the plugin's performance.
Notable Features
Before using the MailChimp plugin for WordPress, it's essential to create a MailChimp account and connect it to your website using an API key – it can be found once you've signed up.


After you have connected your MailChimp account to your website, go to MC4WP from the WordPress admin panel to access your lists – they will be displayed under the Your MailChimp Account section.

It's also possible to utilize the plugin to create a signup form by heading to MC4WP -> Form.
On the Add new form page, enter the form's name and pick a Mailchimp list for it. Finish by clicking Add new form. You'll be directed to the Edit Form page right away.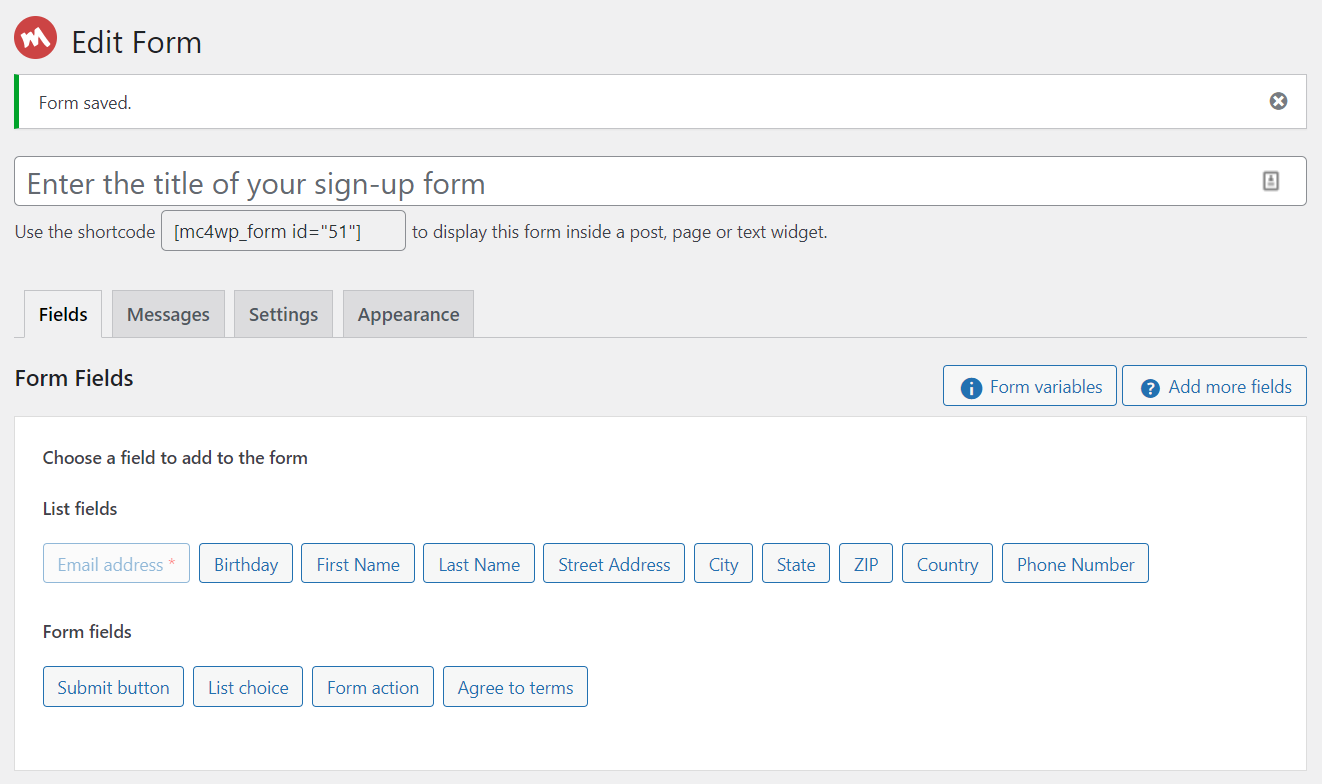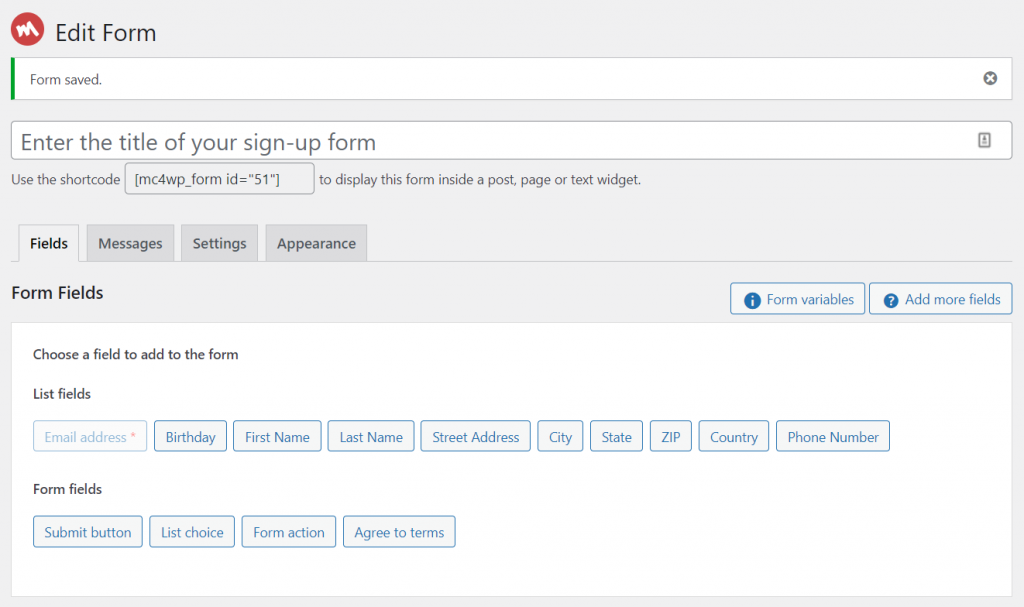 Similar to the Contact Form 7 plugin, MailChimp also features a field helper on the Edit Form page to generate the correct HTML code for adding fields to your form.
Additionally, it features different Form Messages that are displayed as a thank you note after a form has been submitted, to inform potential subscribers when an invalid email address is given, or if an error occurs.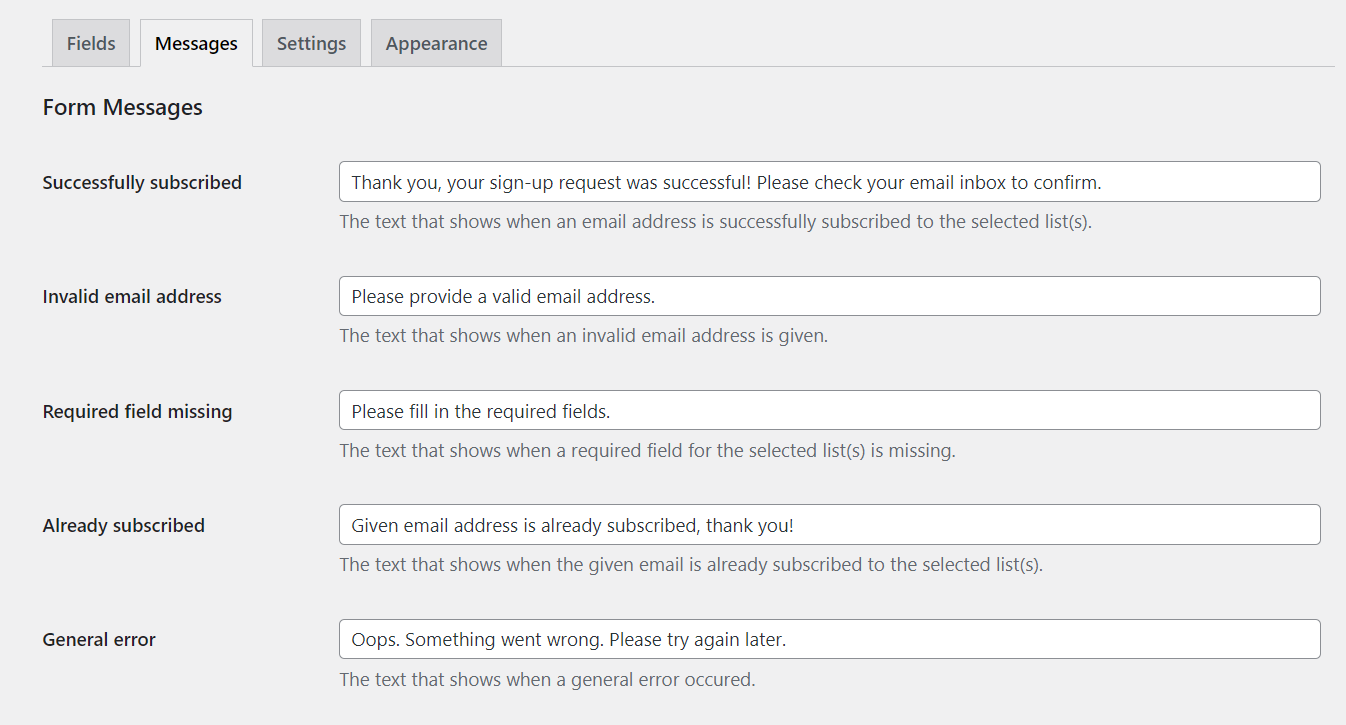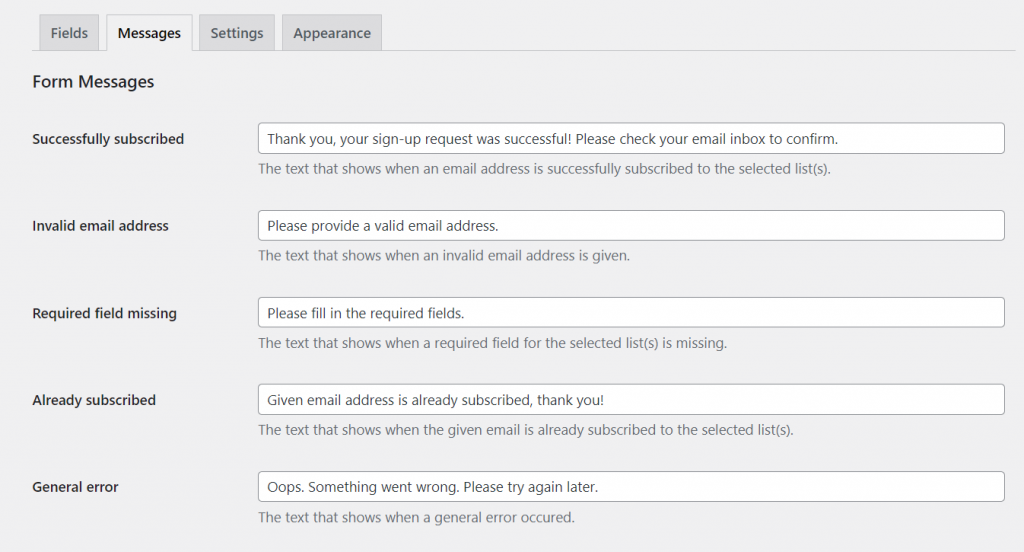 The Edit Form page also includes a Settings tab where users can enable the double opt-in feature and apply subscriber tags to organize their contacts.
Moreover, this plugin presents the Form behavior options, letting site owners hide the form and redirect visitors to another page after successful signup.


With the free version of MailChimp, users have limited options in terms of form appearance – they can only choose for it to follow the look of their theme, load some default CSS styles, or select one of the default color themes.
For more freedom to customize the form style, use MailChimp's styles builder. This tool comes with the premium plans of MailChimp, with prices between $59/year and $149/year.
Conclusion
Selecting the best WordPress plugins for your site can be a tedious task, especially with thousands of options to choose from. That's why we've tried out and compiled some of the top WordPress plugins to save your time and make your research process easier.
Here's a quick recap of our 15 best WordPress plugin recommendations:
Visual Composer – lets beginners easily customize their site using a drag-and-drop editor.
WooCommerce – has all the features needed to build a robust eCommerce store.
Yoast SEO – helps improve a site's SEO.
Contact Form 7 – adds contact forms to WordPress sites.
MemberPress – lets users start a membership program with as many subscription plans as they want.
bbPress – adds a forum page to a WordPress site.
HubSpot – an excellent tool to manage customer relationships on a centralized platform.
UpdraftPlus – a robust plugin for backing up site data regularly.
Jetpack – protects your site from brute force attacks.
LiteSpeed Cache – creates a static version of WordPress pages to make the site load faster.
Akismet Spam Protection – one of the best WordPress plugins for reducing spam comments.
Wordfence – adds two-factor authentication to a website to keep its data safe.
Smash Balloon – display social media content on a site.
MonsterInsights – lets users add Google Analytics to their website.
MailChimp for WordPress – creates signup forms and collects email addresses.
If you have any questions or other recommendations, let us know in the comments section below.