How to Use File Manager at Hostinger: Learning How to Navigate and Manage Website Files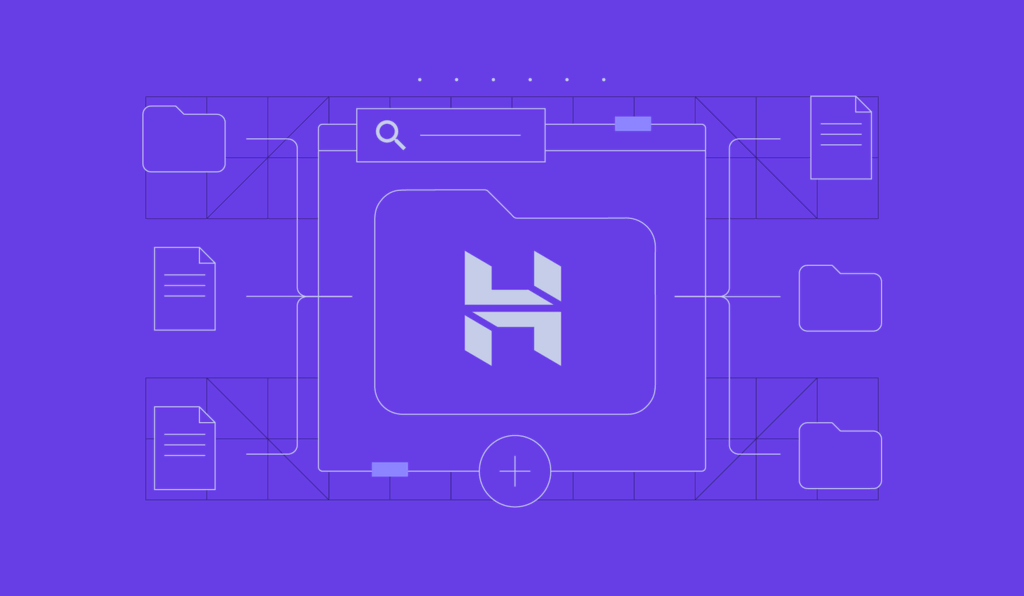 For Hostinger's web hosting clients, it is critical to understand how to use File Manager since it helps with website management tasks like troubleshooting errors or changing site functionality.
File Manager is an essential feature of hPanel, our custom-built hosting control panel that lets you create, delete, and edit your website's files without using SSH or FTP clients.
In this article, we will explain how to use Hostinger's File Manager. You will also learn how to manage your website files and utilize this tool's advanced features, like bulk editing and permission settings.


What Is a File Manager?

A file manager is a file management tool on your hosting control panel. It lets users easily manage their website data without using an FTP file manager, SSH, or other third-party software.
To open Hostinger's File Manager, access hPanel, click Manage on a website, and select File Manager from the sidebar menu. Then, select between opening the current website's file or all sites of the same hosting plan.
How to Access Hostinger's File Manager
You can access File Manager through the website management menu in hPanel. Here are the steps to find it:
Enter hpanel.hostinger.com in your browser and log in to your account.
On the top menu, click Websites.

Click Manage on the website in question.

Select File Manager to open the current domain's directory. Alternatively, navigate to the sidebar menu, and go to Files → File Manager to access all files of your hosting plan.

How to Use File Manager at Hostinger
To better understand how Hostinger's File Manager works, we will split it into four sections and analyze each in more detail.
Navigating the File Manager
The File Manager interface has three sections – the left menu, file management area, and top menu. The left menu contains the following:
My files – opens the File Manager's root folder.
New folder – creates a new folder in the current directory.
New file – makes a new file in the current directory.
Trash bin – accesses the deleted files.
Settings – changes File Manager options, including its language.
Logout – closes the File Manager session.
The second one is the file management area, where you see the current directory's files and folders. From this area, you can right-click them to access the shortcuts for managing files like deleting, editing, and renaming them.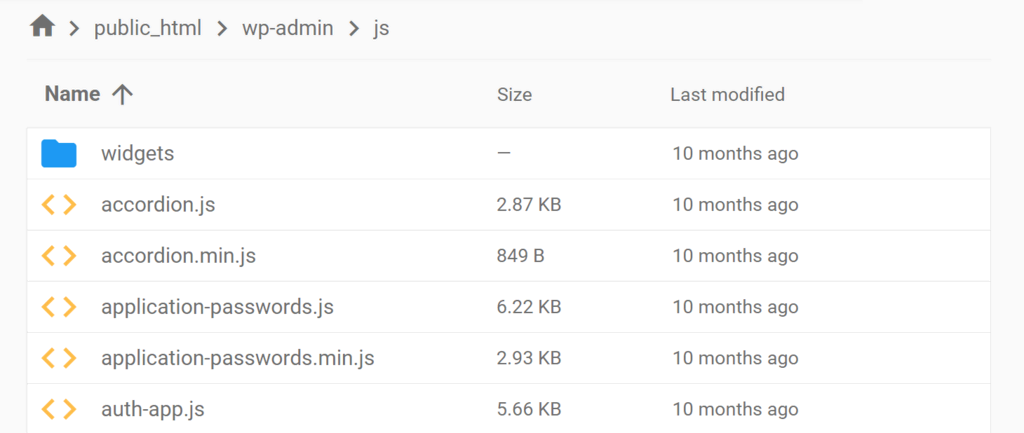 This area also has file manager navigation shortcuts. It shows your current location and lets you move to another folder or jump directly to the home.
The third area is the top menu, which contains shortcuts for downloading, uploading, and other advanced features. If you select a file or a folder, this section will also show the right-click menu's shortcuts.

Managing Files and Folders
Users can do several file and folder management tasks in File Manager. For instance, you can create, upload, download, rename, and move a file or a folder.
To create a new file or folder in File Manager, access your desired directory and navigate to the left menu. Click the respective icon, enter the file or folder name, and click Create to confirm.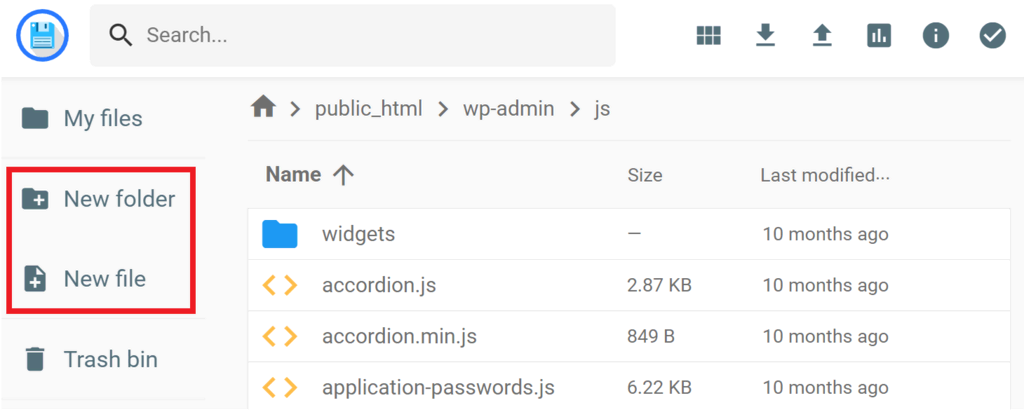 When creating a new file, specify its name and extension, such as yourfile.php.
If you want to download or upload a file or folder, navigate to the top bar instead. Click the downward arrow icon to download the selected file or folder and the upward arrow to upload items from your computer.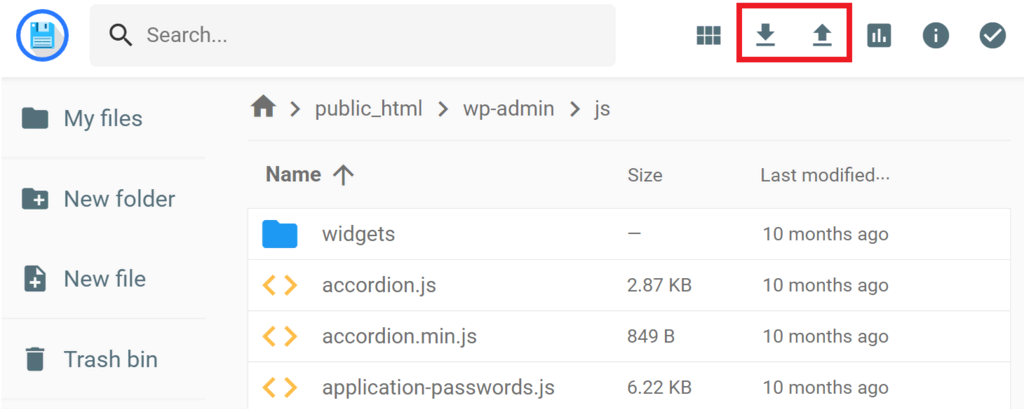 To copy, rename, and move a file or folder, simply right-click them and select the action from the menu. You can also delete them from the same menu.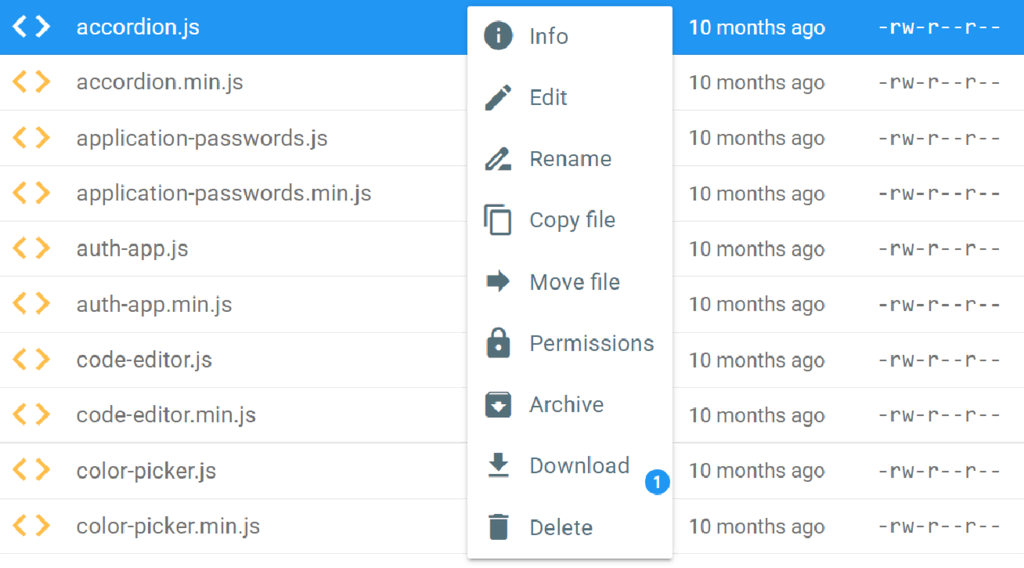 Important! We recommend unchecking the Skip trash bin box to avoid deleting the files permanently. Doing so lets you easily restore the files in case you need them later.
Editing Files
Our File Manager has a built-in text editor that lets you edit files directly from the tool. It makes the editing process more efficient as you don't need to download and edit them locally.
File Manager's text editor also has a syntax highlighter feature that makes editing files easier and less prone to errors.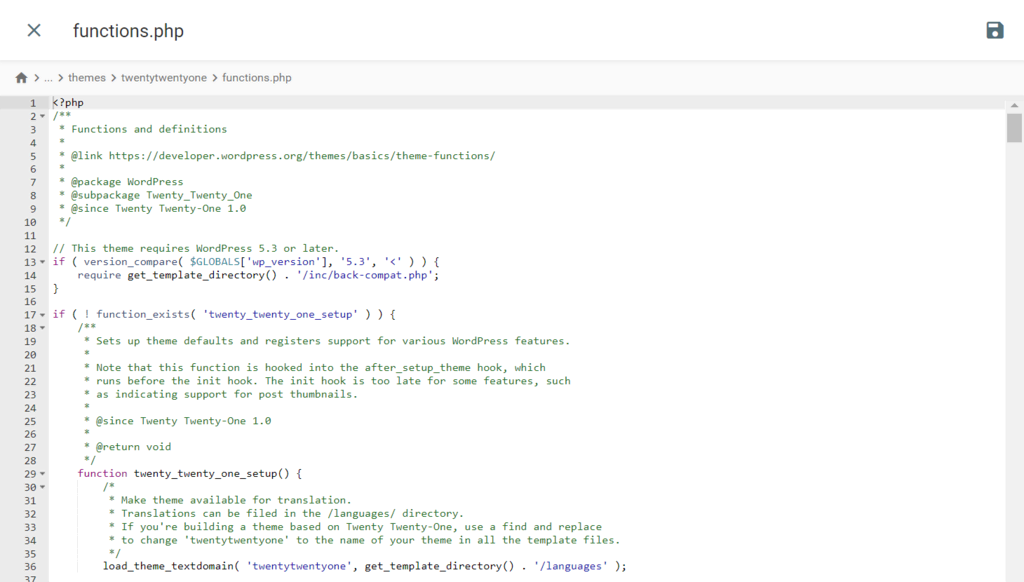 To edit a file, right-click on it and select Edit. In the text editor window, modify the code and click the disk icon on the top right to save the changes. Then, click the X button to close the window.
Using Advanced Features
In addition to managing website files, File Manager has several advanced features. While they aren't essential, they may be beneficial in your web development tasks.
Some of the most used File Manager features are:
Bulk actions – lets you manage multiple files simultaneously, such as deleting or moving multiple them. To do so, click the checkmark icon from the top menu, select the items, and choose the action.

Search function – enables users to quickly find a file or folder using its name. Users can also filter the types of files to search – images, audio, videos, or PDF files.
Permission editor – sets the viewing, editing, and execution rights to your files and folders. You can set these rights for the website owner, a group, or other users.
Archive – allows users to archive multiple items into a single zip or tar file. To do it, use the bulk selection to pick the files and click archive from the top menu.
Directory Info – shows the size or last modification of the selected file or current directory. For the directory, this feature will also show the number of inodes.


Conclusion
File Manager at Hostinger is a file management tool that lets users easily manage their website data without using an FTP client, SSH connection, or third-party software. It is used for various tasks, like troubleshooting errors or changing your website settings.
To access this tool, open your website management menu via hPanel and navigate to the Sidebar → Files → File Manager. Then, select whether you want to manage the website's file or the entire hosting account.
Hostinger File Manager lets you create, delete, download, upload, or edit files and folders. It also has several advanced features like bulk actions and file permissions settings.
How to Use File Manager FAQ
In this section, we will answer common questions about Hostinger's File Manager to help you understand the tool better.
Can I Edit Files Directly on the Server Using Hostinger's File Manager?
Yes. You don't need SSH, an FTP client, or other third-party software to modify your website files. You can edit website files directly through the File Manager.
Can I Undo Changes Made Using Hostinger's File Manager?
Yes. You can undo changes you made when editing files. However, you can't undo file deletion or creation. For this reason, we recommend creating a backup before modifying any file.
What Happens if I Accidentally Delete a File or Folder Using Hostinger's File Manager?
You can restore the deleted files from the trash bin. If you skip the trash bin, you can download your website backup and restore it to retrieve the file.