What's better than an aesthetically pleasing WordPress theme? An aesthetically pleasing WordPress theme with fast page load time. Stick with us as we will cover 15 of the fastest WordPress Themes in 2019.
By the end of this article, our choice of themes will make your website not only look great but also perform like a champ.
Ready for your site's makeover? Then, let's get to it!
Does Speed Matter?
Let's put it this way.
Imagine you're standing in line for coffee at a new coffee shop down the street. They have a great selection of coffee, but it takes more than fifteen minutes for you to get your order despite visiting outside of rush hour.
Will you return to that coffee shop?
If you have the patience of a saint, you will probably give it another shot. The same answer might also apply if they make an exceptionally good coffee.
In reality, not everyone has the time nor patience to tolerate slow service.
Similarly, this attitude applies when loading a website. According to Kissmetrics, 40% of visitors click off of a site when the loading process takes more than three seconds.
Considering these statistics, imagine the number of potential customers you'd lose if they don't have the patience to deal with your slow site.
Of course, there's a possibility that your content or products are unique enough to make new visitors return in the future.
Unfortunately, in some cases, that's not going to happen either. Kissmetrics stated that 79% of customers who are not satisfied a web performance don't return to the same site again.
What is more, page load time will not only affect your traffic but also your Search Engine Results Pages (SERP). As such, poor web performance will harm your sales and brand awareness.
There are various factors that could affect your page load time.
One of them is poor web hosting. The quality of hosting provider's performance contributes to your page load time. To avoid this problem, make sure that you choose a hosting provider with a good track record.
You can check what Hostinger currently offers as we provide affordable yet robust web hosting services.
Another factor that potentially poses as one of the culprits is your website's theme. This issue has become a common occurrence in WordPress sites, as website owners tend to prioritize price and appearance over performance when choosing a theme.
In truth, there are a lot of factors that contribute to slow loading speed. You can check this article as it provides tips and tricks on how to speed up your WordPress site.
15 Fastest WordPress Themes
Considering how many WordPress themes exist out there, we took the liberty of crafting a list of 15 fastest ones to save your time. Our choice of themes is determined by the aesthetic aspect of the design and the page load time.
As the longest tolerable time for a page to load is three seconds, the WordPress themes listed below have passed Pingdom's website speed test.
Therefore, they are guaranteed to load no longer than the appointed time frame.
Price: $59
Multi-purpose themes are getting more and more popular these days for a good reason. That's because they're suitable for various types of websites. Being one of this type of theme, Scalia is ready to make your website stand out from your competition.

Depending on your site's function and niche, you can choose one from Scalia's five design concepts. Despite so, these concepts are not set in stone as you still have the power to include your own personal touch through the customization options.
If you need to make more thorough customization, Scalia provides Visual Composer page builder to help you create outstanding custom layouts.
What's more, Visual Composer is not the only plugin you'll get. The theme is fully equipped with other premium plugins like LayerSlider and MailChimp that will further enhance your site's performance.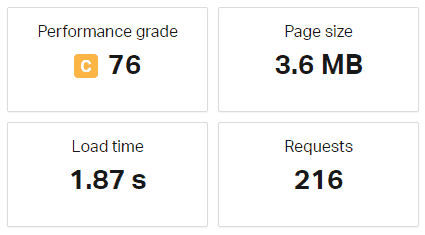 Added to its SEO compatibility, Google Analytics integration, and 1.87 seconds of loading time, we'd say you'll get more than you bargained for.
Price: $59
TheGem is one of the fastest WordPress themes worth your consideration. Launched by CodexThemes, TheGem offers 40 pre-built demos for various types of websites that can be easily imported into your site.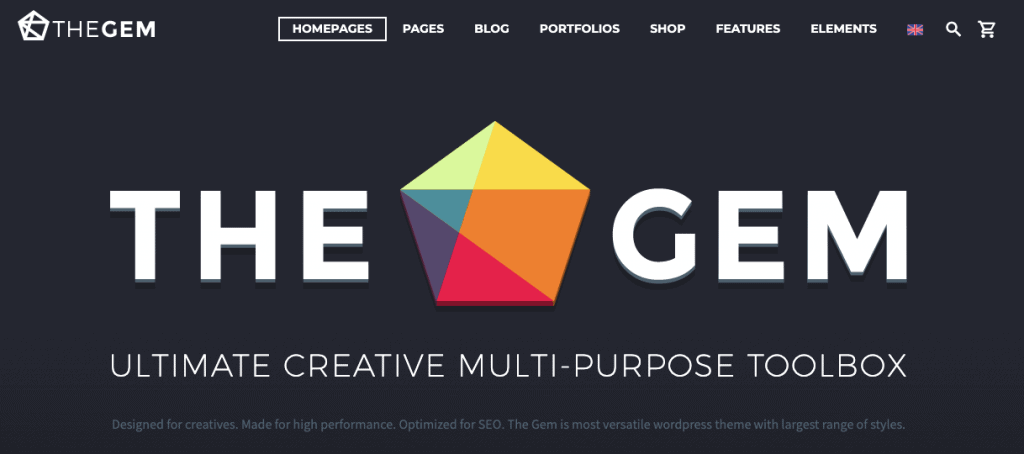 The customization feature is also available with an extended powerful theme options panel and drag-and-drop page builder tools.
With this option, TheGem facilitates non-tech savvy users in customizing every nook and cranny of the site's appearance.
Similar to Scalia, TheGem is also compatible with a number of translation, newsletter, ecommerce, and optimization plugins like WooCommerce, Yoast, and MailChimp. Furthermore, it's fully responsive and built to be mobile-ready.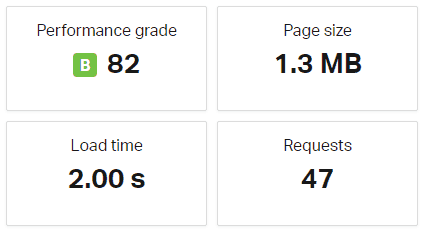 Coupled with the stellar quality of images and icons optimized for retina and 2.00 seconds of loading time, TheGem will turn your website into a beautiful powerhouse.
Price: $59
Skylar makes sure that all types of websites get to use its service. The available six demos cover not only the popular sites like personal blogs and online stores but also the niche-specific ones like agencies and industrial websites.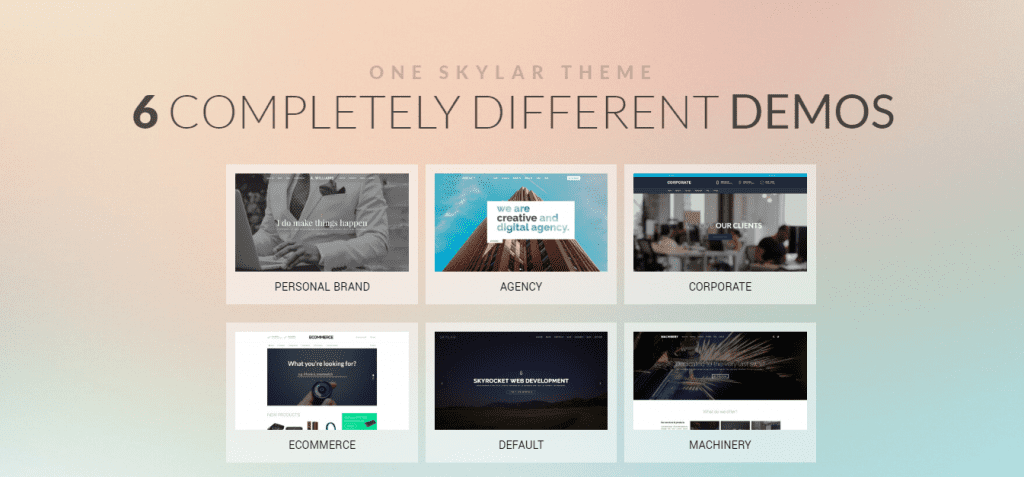 A wide selection of customization options is also available for additional alteration via Visual Composer.
Intending to fulfill all of your needs, Skylar equips its users with the Ultimate Addon for Visual Composer. Accordingly, you will get an additional 36 shortcodes to build a robust website.
Few examples of what these shortcodes can do are animation insertion, Google Trends integration, and a count down timer.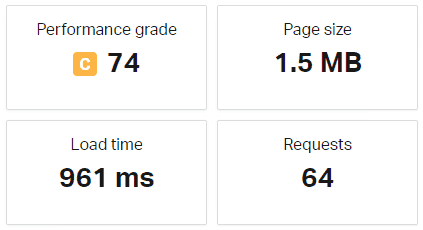 Considering that Skylar has over 820 theme options and 75 shortcodes, it's worth noting that the loading time only takes 961 milliseconds. Did we also mention that the theme is SEO-friendly?
Price: $60
Avada is one of the best multi-purpose themes because it provides a long list of demos for your needs.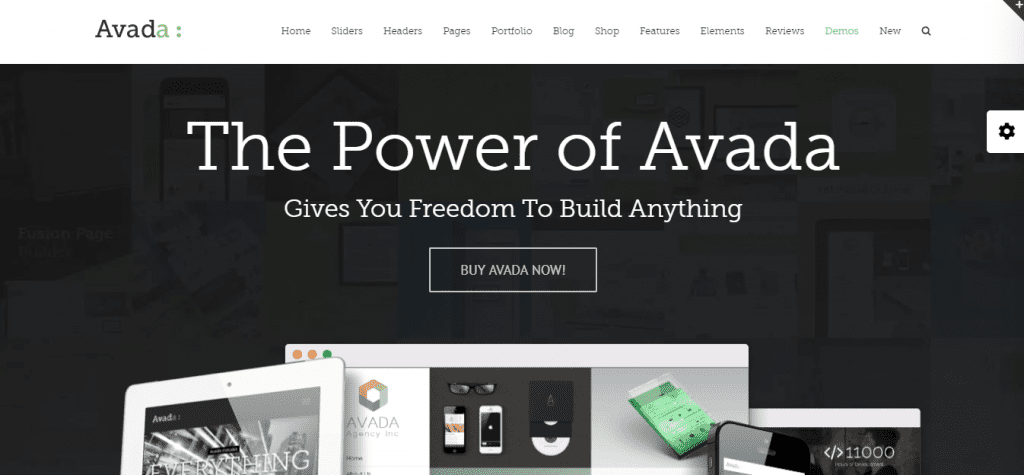 Over 50 demos are available for immediate use or to be mixed with one another to create your dream site. You can import each demo with one click and the customization process requires no custom coding. How's that for a start?
Another great feature that Avada offers is related to Europe's General Data Protection Regulation. To help ensure your website is GDPR-compliant, Avada equips its users with GDPR tools to manage various privacy-related activities within your site.
With said GDPR tools, you get to protect your visitors' privacy and, ultimately, build trust with customers.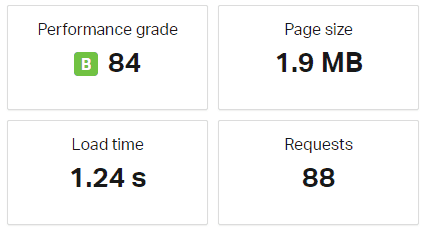 Even though Avada has robust functionality, it still is one of the fastest WordPress themes with a staggering load time of 1.24 seconds. Your visitors and business will applaud your choice of theme.
Price: $69 (Single Theme) or $99 (Theme Club)
Adaline is one of the seven magazine themes created by Themetry. Contrary to what multi-purpose themes offer, Themetry doesn't allow extensive modification on their themes. The only alteration allowed is concerning the site's color schemes.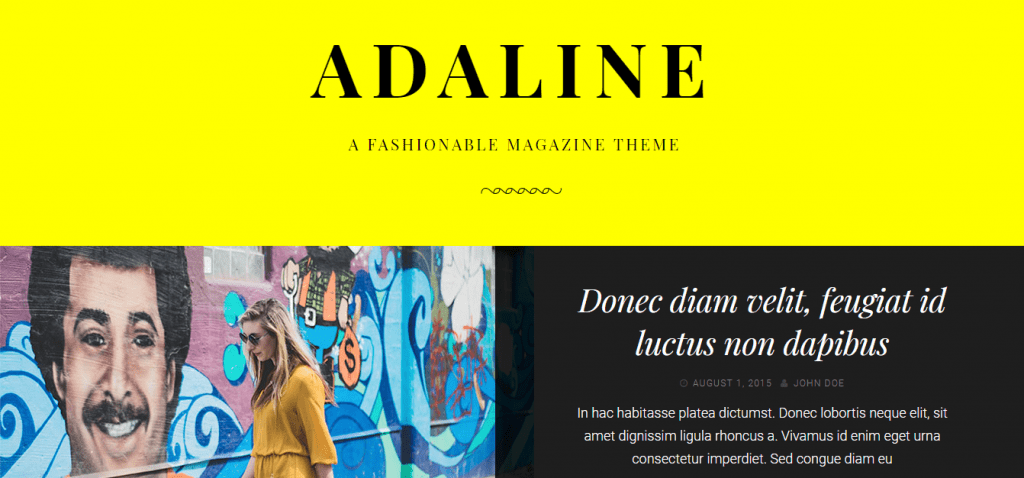 Developers claim this limitation is a strength, as they don't want users to spend more time choosing from various options rather than making decisions.
That being said, Adaline would be perfect for users who don't feel like dealing with too much customization.
Despite being a magazine theme, Adaline can also act as a fashion blog theme. The frontend template has extensive support to host WordPress' default widgets and multi-level menus, among other core functions.
As for its load time, Adaline passed our speed test with a remarkable score of 560 milliseconds.
Considering the number of images it has upon opening, it surely is eligible to be called one of the fastest WordPress themes.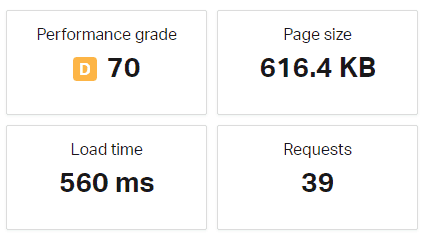 Adaline can be bought as a single theme for $69. However, you can buy the theme bundle consisting of seven Themetry themes for $99.
Price: $49
TopNews is one of the fastest WordPress themes that focus on news sites.
Built as news, newspaper, magazine, and blog theme, TopNews specializes in organizing your content to be eye-catching and accessible straight from the homepage.
As of this writing, TopNews offers 11 modern homepage demos that focus on popular niches such as travel, food, and technology.
Even so, there is a selection of header and menu styles you can choose from to personalize your site's appearance. The Visual Composer page builder is also available to facilitate more complicated alterations.
In addition, each theme is fully responsive and SEO-friendly to help you gain traffic in the long run. To make your site go viral even faster, you can make use of TopNews' social counter widget to keep track of your social network activities.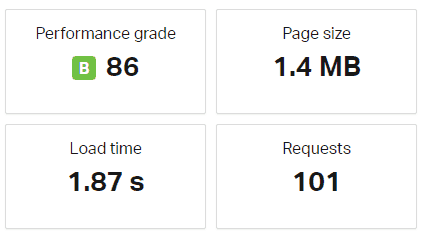 With 1.87 seconds of load time, TopNews' robust yet fast WordPress theme is definitely worth considering.
Price: $59
Another WordPress news theme that stands out from the competition is Jannah. With its 27 pre-built demos that can be easily imported with a single click, Jannah makes sure that any type of website can use its services.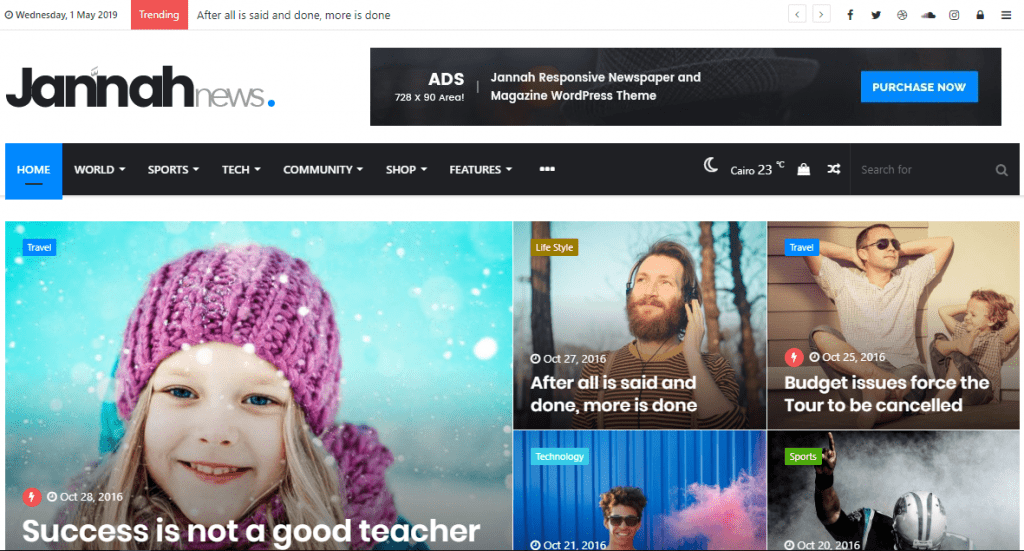 Aside from the robust customization options, you can also upload your own fonts in case the available options are not suitable for your needs. However, we figure you won't need to use this feature as Jannah has over 800 Google Fonts and 150 FontFace fonts.
To complement its elegant themes, Jannah equips its users with lots of tools to improve your site's performance. These tools include GDPR Compliance Support, Gutenberg Support, and Article Inline Ads.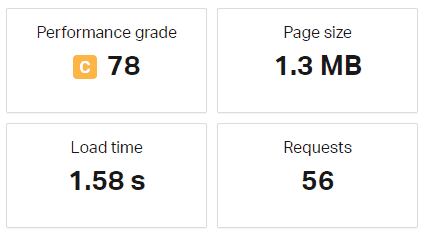 One of Jannah's highlighted features is its migration plugin. Jannah facilitates the migration process from 17 different themes without losing your posts' data and shortcodes. Added to its 1.58 seconds of load time, Jannah is one of the fastest WordPress themes out there.
Price: $16
Looking for a simple yet elegant WordPress theme? Wanium can help you with that. Hailing the multi-concept theme with 18 demos suitable for various types of websites, you won't have to work hard to create the site of your dreams.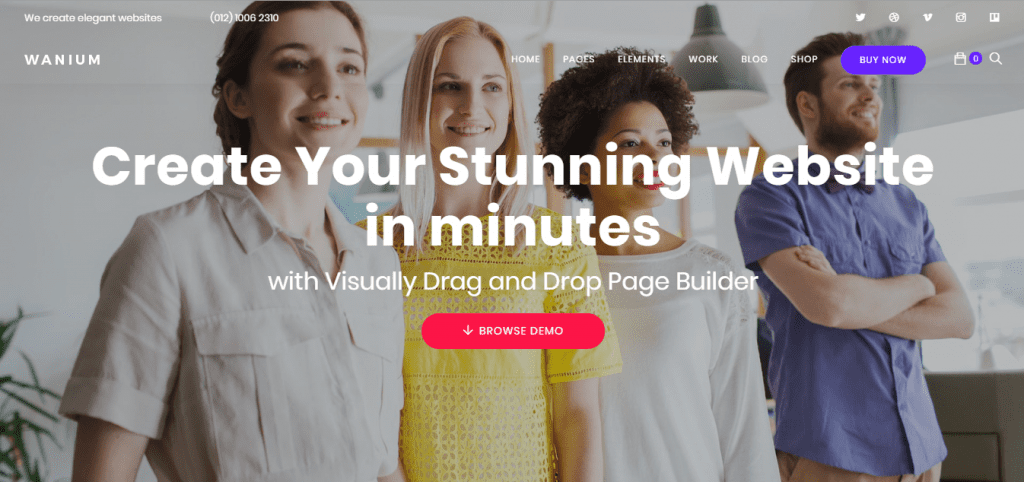 Furthermore, the use of Visual Composer as its page builder will make the creation and modification process feel like a breeze. You can also mix-and-match each demo's features to create a fresh look for your website.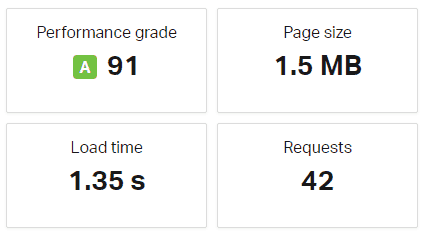 To facilitate your ecommerce needs, Wanium provides WooCommerce integration and ensures that your site is SEO-friendly. Coupled with the theme's load time which takes 1.35 seconds only and its affordable price, we'd say this a great deal for one of the fastest WordPress themes.
Price: $49
Designed to serve multiple types of website, Paperio aims to provide robust yet visually appealing designs for users who value appearance the most.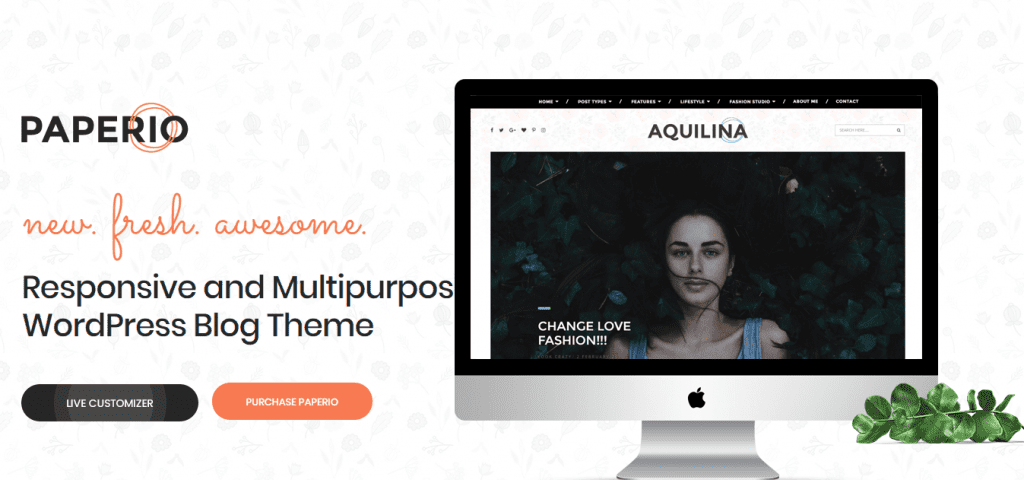 Offering seven aesthetically pleasing demos that are fully customizable and retina ready, Paperio will help you rebrand your site in no time.
Paperio customization features use WordPress default live customizer instead of an additional plugin or framework. Accordingly, there are over 400 customization options that you can make use of.
As for performance-enhancing features, Paperio will equip you with translation plugin, social media widgets, and MailChimp newsletter subscription to name a few.
You can also make new visitors feel at home as the theme offers breadcrumb navigation. This type of navigation is particularly useful if your site has a complex hierarchy.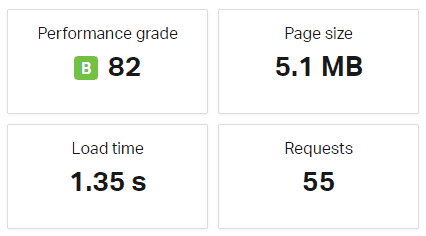 The theme is capable of fully loading in just 1.35 seconds. Added to its well-designed look, what's not to love?
Price: $59
Hailing over 40 pre-built demos with various different tones and designs, Total aims to fulfill its users' varied taste and needs.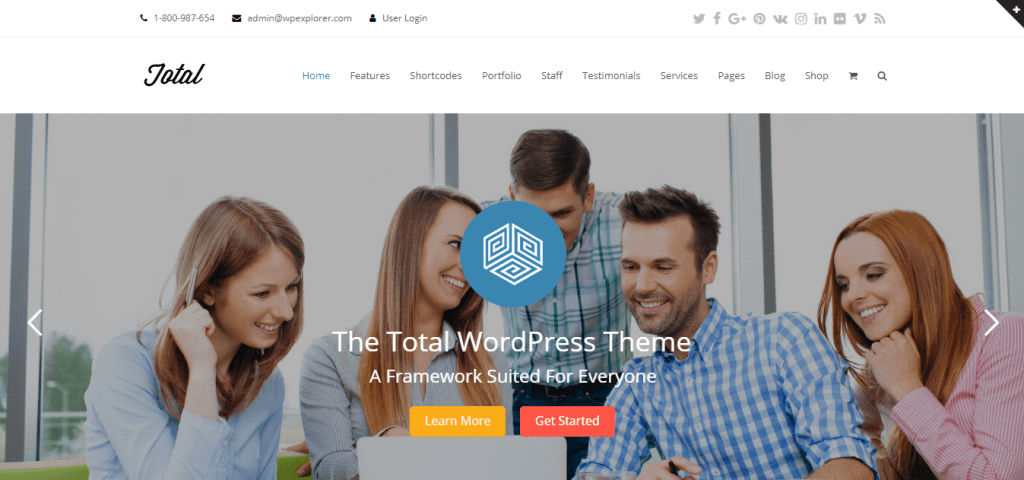 Coupled with over 500 styling options and 100 builder modules, you will have more than enough power to make the theme your own.
Furthermore, Total equips its users with premium add-ons to further enhance the site's performance. By paying as low as $59, you will not only get a stunning selection of web designs but also powerful tools like Templatera, WPBakery Page Builder, and Slider Revolution.
Despite having WPBakery page builder to ease the customization process, Total also provides more than 400 snippets to use via built-in hooks and filters. Thus, developers can make more thorough alterations without being limited by the standard tools' abilities.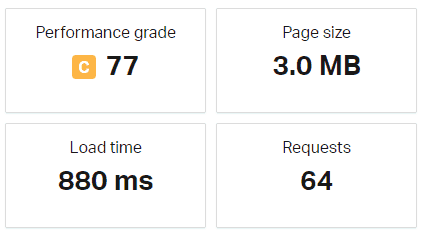 In addition to the default add-ons mentioned above, Total is also compatible with numerous third-party plugins like Yoast SEO, WooCommerce, and Polylang. Added to its 880 milliseconds of load time, we can't help but include Total in our list.
Price: $45
If you specifically look for a blog theme, you need to check out what Schema offers. That's because Schema's features cover everything you need to create the best possible blog.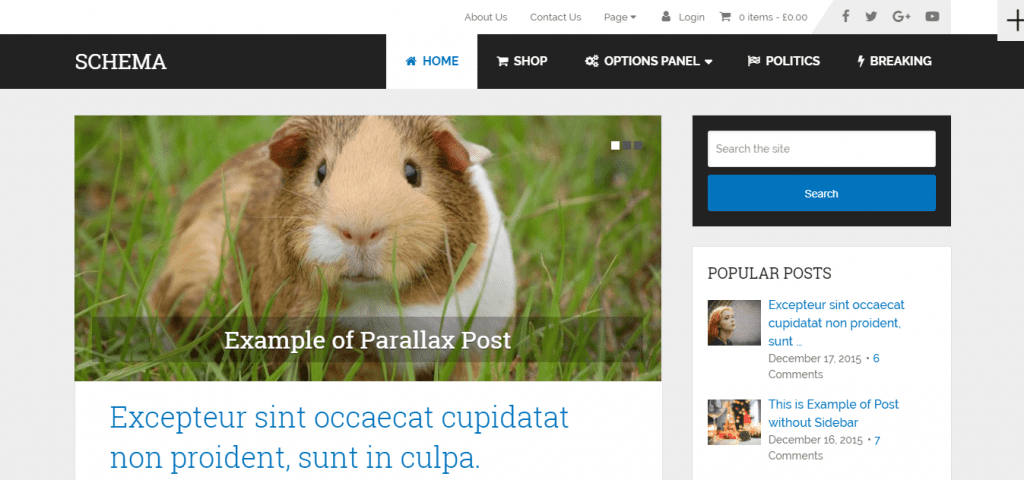 Besides, you can also use this ultra SEO-friendly theme to make your ecommerce thrive on search engines.
To make sure your site is SEO-optimized, Schema will equip you with the Elementor Builder. As one of the most SEO-friendly page builders on WordPress, it will make sure that your site's code has the best possible quality.
Consequently, your site will not only perform faster but also rank higher in the search engines.
Considering that most bloggers want to monetize their blog, Schema provides Ad Management to ease the ad tracking process. Since Schema sets you to create a successful blog from the get-go, it's logical that it includes this feature in the bundle.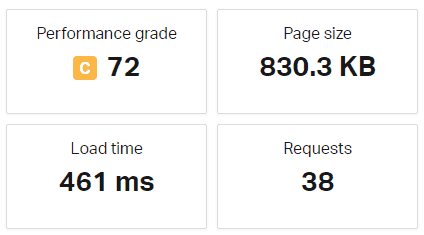 If we haven't convinced you yet, Schema's load time is 461 milliseconds. So, if you're looking for the fastest WordPress theme, you're in the right place.
Price: $59
Foto is a perfect choice if your site mainly consists of images. With 15 album demos and 33 gallery options to choose from, Foto will surely bring your art to life. In addition, Live customizer feature is also available to accommodate theme skin alternation if needed.
Despite hosting images as its primary content, Foto ensures that your site always performs optimally. Using quality code and minification, the theme will give nothing but consistent high-performance results.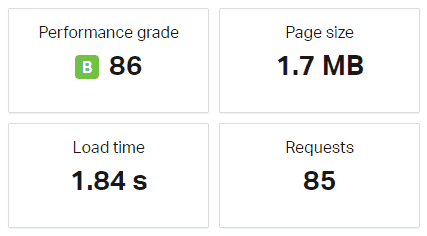 To make sure your art is accessible, Foto is fully responsive and, therefore, won't affect your site's appearance even if your visitors are viewing it from their smartphone. Load time is also not an issue as the theme can fully load in just 1.84 seconds, making it one of the fastest WordPress themes out there.
Price: $49
Looking for a portfolio theme? Folia is more than capable of helping you. Adapting the concept of minimalism, Folia ensures that your site represents you in the most elegant way.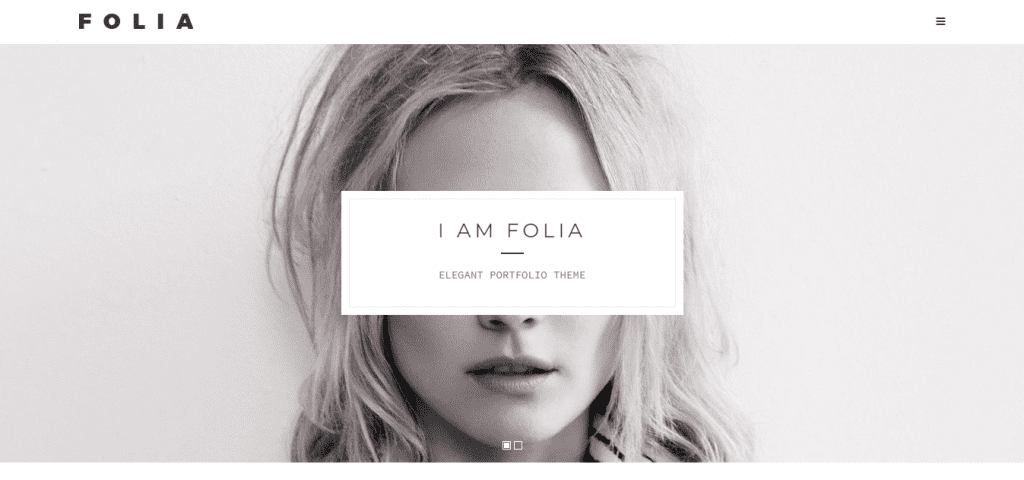 The advantage of using a minimalistic theme is the practicality of managing it. To compensate for the lack of demos compared to its rivals, Folia offers advanced portfolio features to customize each portfolio box.
WordPress editor also allows you to personalize each page based on its purpose.
Related to its accessibility, Folia provides .Mo and .Po files which can be used to translate the theme. If you want to know how to do it, you can check this article as it covers the steps on how to translate a WordPress theme using Poedit. Or, you can use the WPML plugin to handle this issue in no time.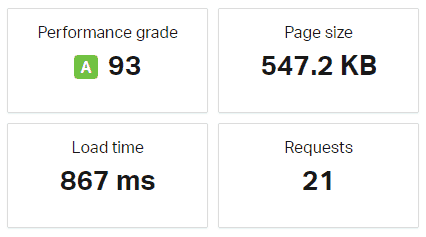 Added to the theme's load time which takes 867 milliseconds only, Folia is definitely one of the fastest WordPress themes to consider.
Price: $17
Here's another portfolio theme that could spice up your site. Aiming for a prestige look, this premium-looking theme will make visitors look twice at what you offer.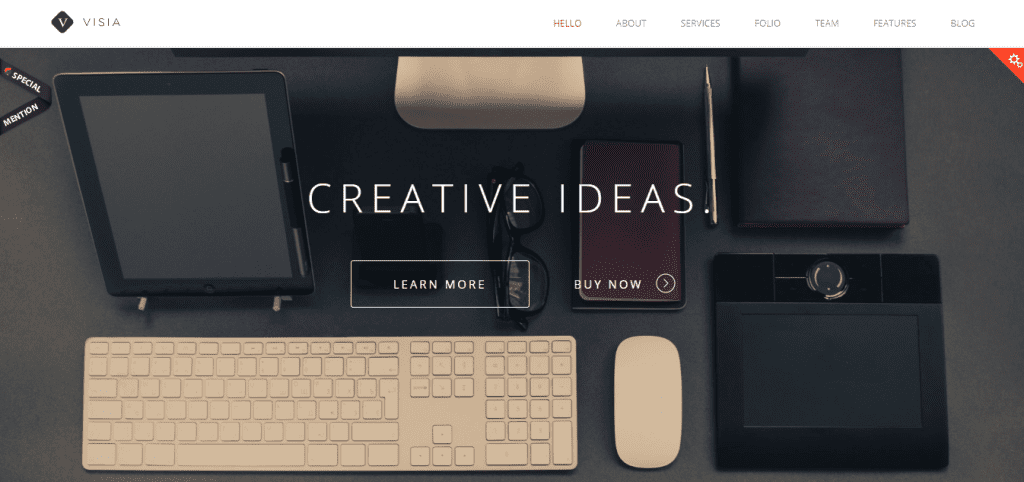 Despite having a single page only, Visia's performance and appearance are no less impressive than of themes representing websites with deep hierarchy.
On the contrary, Visia's newest updates ensure that the theme fully supports full-screen videos and additional homepage layouts with a subscription box.
To give the best possible performance, Visia is fully responsive and retina ready. Not only that, but it also applies parallax effects into the web design to create an eye-catching illusion of depth.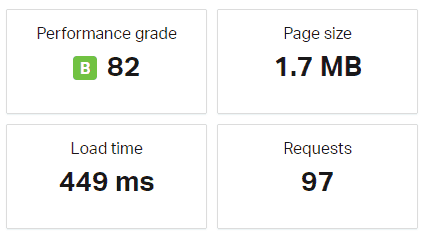 Visia's premium look is further supported by spectacular load time. With an impressive record of 449 milliseconds load time, Visia is one of the fastest WordPress themes to choose from.
Price: $45
True to its name, SociallyViral theme aims to boost viral traffic with its engaging look. Providing two demos to choose from, your content is guaranteed to be accessible and attention-grabbing.
A few examples of features that will help your site go viral are Social Share Optimization, Social Media Icons, Trending Post, and Subscription Box.
Furthermore, SociallyViral is not only SEO-friendly but also speed and Adsense optimized. Coupled with the Schema integration that will further improve your site's SEO, you will climb the search engine rank in no time.
To reach a wider audience, SociallyViral provides RTL support and a translation feature. In addition, you'll get to maintain the quality of your content by making use of the built-in rating system.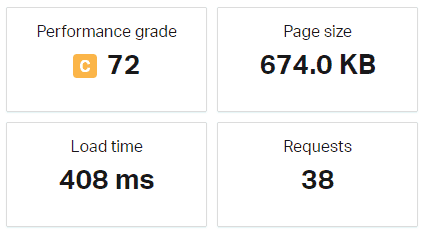 Fully loading in just 408 milliseconds, this makes SociallyViral the fastest WordPress theme on our list.
Conclusion
When building a great website, showcasing an aesthetically pleasing theme is as equally important as having fast page load time.
However, many website owners tend to neglect the latter. As a result, the website's poor performance harms their SEO and, ultimately, business.
Here are our top 5 choices of themes based on their performance and value:
Avada — wide selection of demos, GDPR-compliant
Jannah — has Gutenberg support and a migration plugin
Total — developer-friendly and has powerful premium tools
Schema — lots of SEO optimization features
SociallyViral — robust theme with less than a second page load time
Personal taste and needs aside, it's undebatable that page load time can affect your site for the better or worse. As such, we suggest you research this aspect first before deciding which theme you want to go with.