Needless to say, website's loading speed is an essential criterion in determining the success of your website. 47% users expect the website to be loaded within 2 seconds, while 40% of the users would abandon a website if it takes more than 3 seconds to load.
That is why you should be cautious about your website's speed. In such a situation, a tool that can help measure your website's speed and keep track of the changes can be very useful. This is where GTMetrix comes into the picture and provides an in-depth analysis of your site's load speed, combining the goodness of both Google and Yahoo analyzers. The tool provides you with a checklist of the areas you need to work on, and most importantly, this tool is super easy to use. All you have to do is put in the URL for the website and you are good to go!
GTMetrix speed test can be used in two effective ways:
It can be used to determine your website's performance in terms of loading speed
It can also be used for continuously monitoring your site's performance. In combination with Google page speed results, Yahoo speed analyzing results and the likes, it becomes an important tool for website owners.
Let's have a quick look on how GTMetrix can be used to test your website speed on the go.
Testing your website with GTMetrix
So, now that we have an idea about GTmetrix, it is time to understand how it works. In this tutorial, we will walk with you step by step and analyze the page speed of hostinger-tutorials.com on various parameters. Our test website has WordPress installed and runs free WordPress theme.

The first step involved in working with this tool is putting in a URL for the analysis. Right on the dashboard, you will be presented with a search box that says, Enter URL to Analyze. This is where you need to paste the URL of a particular website and start the whole procedure. Next, click on Analyze.
As soon as you click on the button the tool will start analyzing your website and eventually lead you to a page with the results of the analysis. This would include the Google Page Speed results, YSlow Score, the loading time, the page size and the likes. What follows is a set of recommendations that might prove to be useful for your site.
But the key here is to remember that these are only generic suggestions and not tailored to fit the needs of your website. The objective at this point would be to optimize the scores at the top of the page.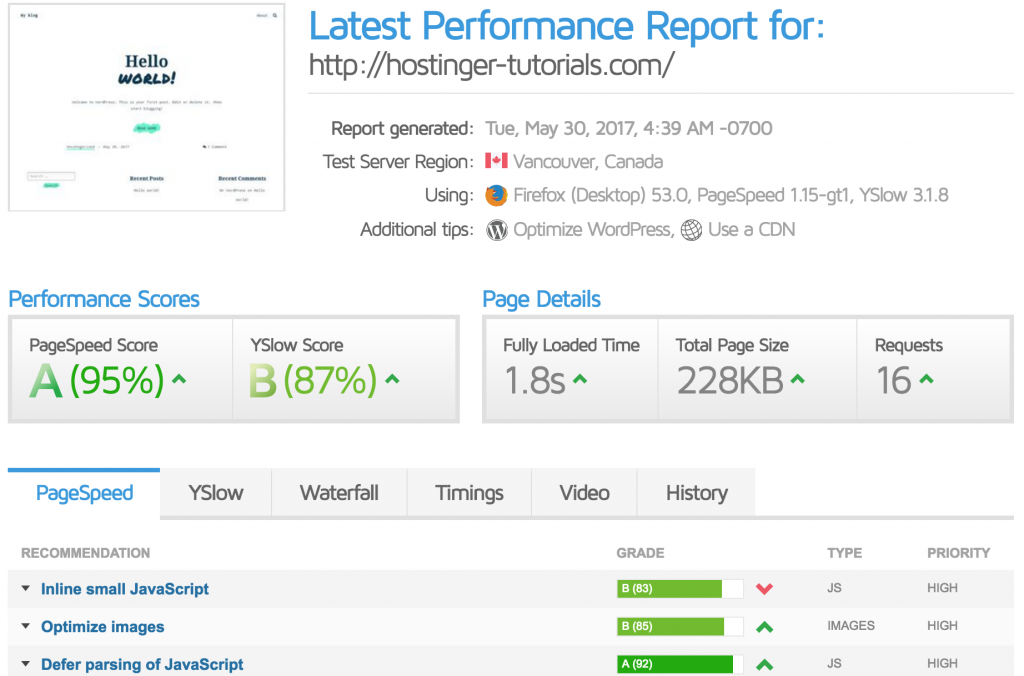 This is what the results page of the tool looks like. It is essential to understand what each of the tabs mean in order to work towards increasing your website speed.
However, analyzing the results is also an important component of the procedure. As it is only when you know the real meaning of the various parameters examined in the test that you are able to work on them. Let us go through some of the details given on the analysis results report.
PageSpeed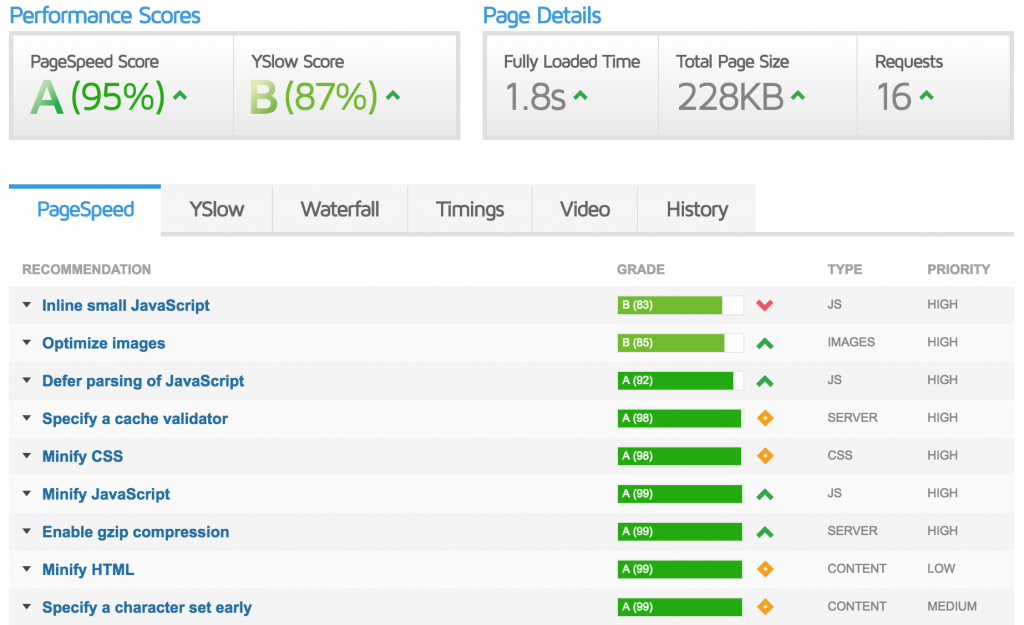 The first is the PageSpeed. As you can see, hostinger-tutorials.com has a PageSpeed Score of 95%. However, if your website PageSpeed is not up to mark, there are a number of recommendations provided, working on which, you will be able to boost your website's speed. Minifying the HTML, minifying the CSS, optimization of images are a few recommendations which you can work upon.
YSlow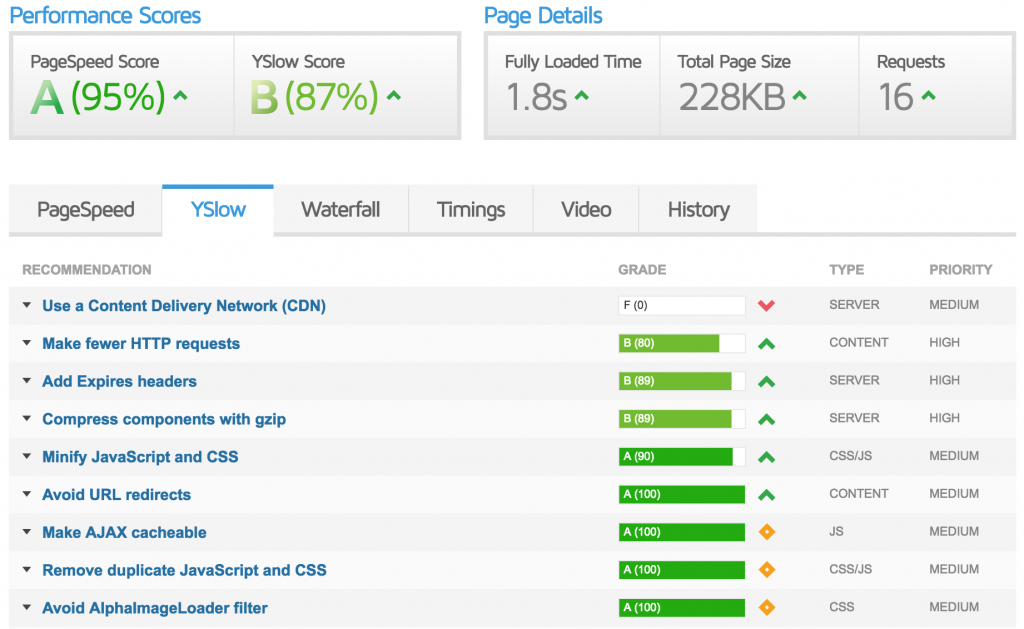 YSlow is the next category of results. Similar to Google Page Speed Insights YSlow test represents the key areas why your website is slow. This tab offers suggestions for enhancing your page's performance and provides you detailed statistics related to the page in addition to summarizing the various page components. Don't be surprised that results are different from Google Page Speed Insights, YSlow uses different criterions to check website speed.
Waterfall
The third option available to us is the Waterfall. Let us help you with it. You essentially going get some purple bars on the page. This basically gives you an idea of the waiting time for the request to finish. The timings in seconds are also mentioned next to the purple bars. Once your hover your cursor over the GET, you will see certain links to resources which might be taking more time than usual. This, therefore, helps you to examine your website in-depth and gives you a clear idea of the resources which are taking more time than usual to load.
Timings
The timings tab displays some advanced results, including the page load durations. This can be as detailed as redirect time, connect time, backend time, TTFB, DOM, First Paint and the likes.
Video
This forms a more audio-visual picture of the whole testing process. For instance, you can make a video of your page reporting and later check it to find out the hiccups faced in the process. In order to have a complete analysis, the playback speed can be slowed down four times the original value.
History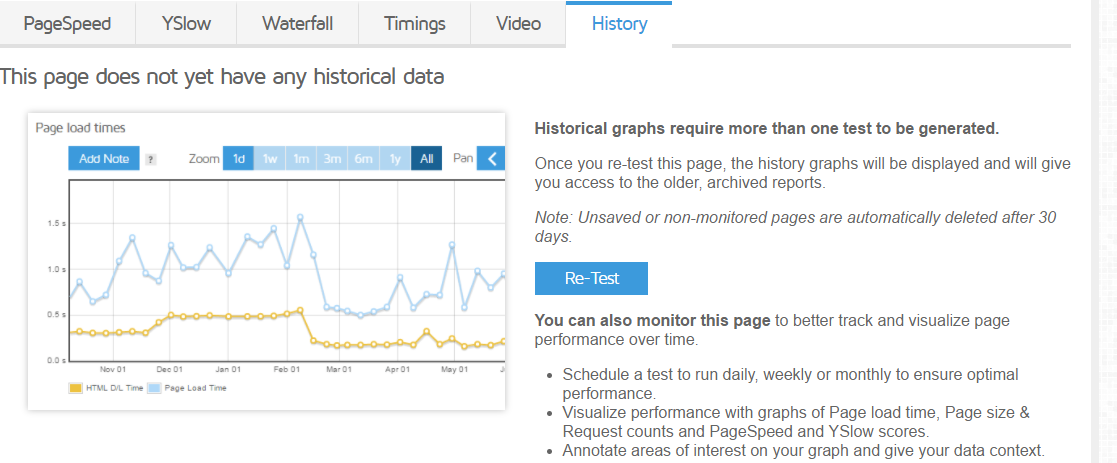 As the name suggests, this is an array of information related to the page load speeds, request counts, YSlow scores and the likes. If you do not have an account with GTMetrix, you will have access to the site History for only 30 days.
Track your movements
What do you do once the results are out? Try to improve your scores! GTmetrix can be of great help here to make amends. For starters, you can use the tool to monitor your changes. This data could be measured and analyzed using historical graphs with an idea of the improvements taking place. These tutorials will help you to get started with website speed optimization:
Conclusion
That said, GTMetrix is a simple tool to use and provides you with quick insights on various parameters related to the speed of your website. It is highly recommended to keep analyzing your website periodically, and especially, after hefty development processes, to ensure that it loads quickly.
We hope that the above tutorial would have helped you in testing your website's speed easily. However, if you have any query, we're all ears. Let us know your questions in the comments.