"What is WordPress featured image size?" This is one of the many questions raised by new WordPress users. In this article, you will learn what WordPress featured image is, why your image is not as great as it is in your theme demo, and how to change your WordPress featured image size.
What is featured image in WordPress?
WordPress featured images are images that best describe your blog posts, pages, or custom post types. This kind of picture is essential since it will help you to attract your visitors to read your content or give an initial idea of what will you tell in your content.
Not only standing as the representation of your content, but your featured image also support your entire theme.
Usually, you can find your featured images are displayed as the thumbnail of your posts. If you click the post, featured image will be placed on the top of your pages or posts. In most themes, featured images appear after pages or posts' title.
Wait. Most themes? Yup. You don't mishear it. Your featured images relate to your theme. Therefore, each theme will display your featured image differently. It can be in a different place or different in size.
How to add featured image?
To add your featured images, you can follow the instruction below:
Go to your WordPress admin dashboard;
Click Post on the right tab and Add New Post;
You will find your Featured Image tab in the bottom right corner. (If you find the featured image tab, you may directly jump to the steps number 8. Steps 6 and 7 are for those who don't find the featured image tab.)
If you can't find the tab and use clasic WordPress post editor, click Screen Options in the top right corner of your screen.
Give a check mark to your Featured Image box
In your Featured Image tab, please click Set featured image
Now, you have a window that opens your Media Library
You can select the images you want directly from your WordPress media library.
If you want to add an image from your computer, just click Upload Files
Select Files from your computer's folder.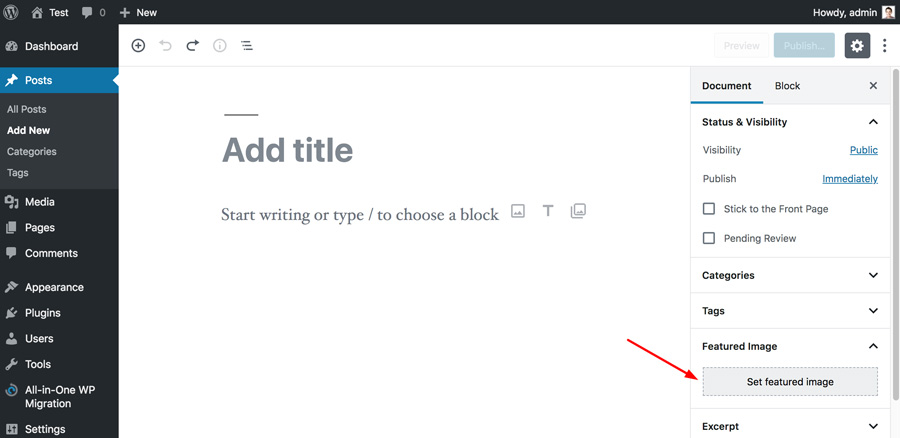 You now can add your featured images. Yet, you may have a better picture to be your featured image in the future and you want to delete your current featured image. To do this you only need some clicks.
Go to your Featured Image tab
Click Remove featured image below the picture.
Follow the previous steps to add your new featured image.
Why my featured image is not as great as it is in my theme demo?
Now, you have mastered how to add featured images to your posts or pages. But, a new problem arises. Why the image you have now is not as great as it is in your theme demo?
Remember that your themes have a full control of your images. Every theme comes with their own image sizes.
We will give you an illustration. Let's say that your theme has set that WordPress featured image size that you will have should be 1000px in width and 700px in height. However the WordPress featured image size that you upload is 960px x 720px. Surely, your featured image doesn't look great as it is in the theme demo. Yet, this is not a problem without a solution. You can fix this with the following steps.
How to change WordPress featured image size?
You can change WordPress featured image size by editing theme's functions.php file or by using a plugin. The second method is easier and will work on most of the themes. Simple Image Sizes plugin allows you to change your WordPress featured image size as well as modify your WordPress default image sizes. Moreover, with Simple Image Sizes plugin you can add custom image sizes easily.
Install the plugin and navigate to Settings -> Media to change WordPress featured image size.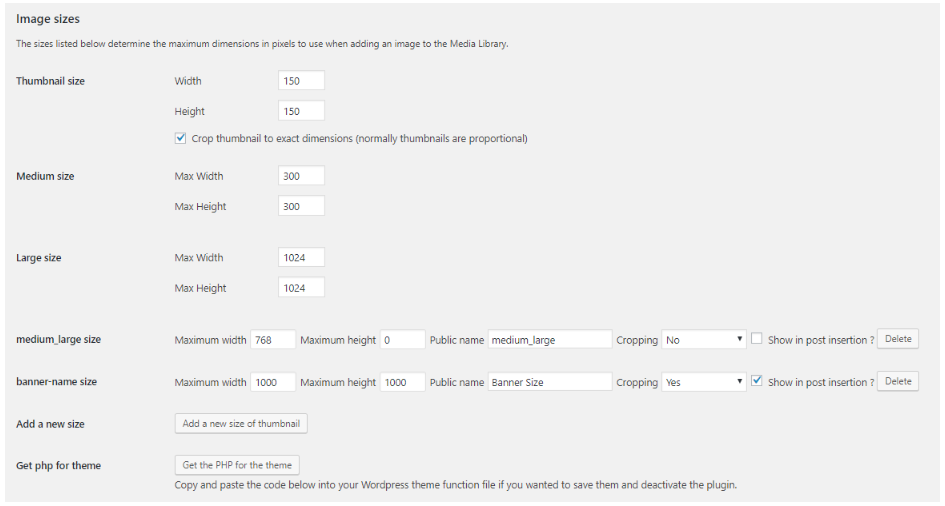 Note that the change won't affect your previous featured WordPress image settings. To fix this, You don't need to re-upload and reset your featured images. Just hit the Regenerate Thumbnails button to fix this. Now, all of your featured images will fit the new size you make.
Conclusion
Featured images on your blog are way more important than you think. They are one point of interest why your visitors may want to spend more time on your website. Featured images also represent the whole content in your blog posts or pages. In this tutorial you have learned how to add WordPress featured images as well as how to change their size.