10 Best Content Creator Website Template Examples For Hostinger Website Builder
A website with a custom domain name can help a content creator establish credibility and professionalism. It also allows them to reach a wider audience and increase income stream opportunities.
With the resources and tools available nowadays, you can build a website without having to code from scratch. Hostinger Website Builder makes it easy to create a functional and visually appealing content creator website.
This article will give you the ten best Hostinger Website Builder templates for content creator websites. We will also guide you through the steps of using our builder and explore several real-life examples.
Download Website Launch Checklist
Top 10 Content Creator Website Template Options
Hostinger Website Builder offers over 100 designer-made templates to simplify your web design process. You can quickly build a beautiful and highly responsive content creator site with them. The following content creator website templates are our top picks.
One-page content creator website templates like Ribot are great for showcasing your primary projects, events, and partnerships.
Displaying multiple links on your website also lets you encourage visitors to connect via social media and other platforms. This helps with building a loyal following and expanding your reach.
This template offers a modern and clean design with a black-and-white color scheme. If the monochrome theme doesn't match your branding, simply customize the fonts and colors using the Hostinger Website Builder editor.
Ramus is another one-page content creator website template. It incorporates a clean website design with no images, which is great for a professional profile or an affiliate link collection page.
Customize the website design by changing the theme colors and fonts to match your branding strategy. Also, connect all your social media accounts as the footer element before you launch the website.
Dovile is one of the best content creator website templates with multiple pages. This template type is great for a social media influencer or blogger because it lets them display plenty of images.
The home page is divided into several sections. Each section shows an excerpt of the pages available on the website design, which will help people easily find the information they need. You can also feature testimonials and social proofs to show your credibility.
You can showcase your other businesses, products, or services on the Service page. Displaying clear information can help minimize unnecessary back-and-forth communication with prospective customers.
The Contact page helps potential clients and collaborators reach out to you. Meanwhile, you can share insights and advice on your industry on a separate Blog page.
What's more, the visual hierarchy of each page's design highlights the most important elements.
Julian is one of the content creator website templates tailored for individuals in a specific industry. Its clean design and simple color combination of black, white, and red is a great choice for influencers.
This website template provides a simple and effective way to showcase a content creator's work portfolio to potential clients and collaborators via the Work, Contact, and About Me pages.
The home page displays a simple introduction and a single headshot photo. The Get in touch CTA leads people to a contact form where they can leave the website owner a message. This move makes it easier to communicate with people who are interested in your work.
List your best qualities as a content creator on the next section of the home page and your past work and experiences. You can also add testimonials from the people you've worked with.
Flynn is one of the mobile-friendly content creator website templates with a clean design.
The website highlights copy by displaying short text blocks that grab people's attention. Readers can skim through the website easily, no matter the screen size.
The Work page consists of cover images, with each hyperlink redirecting to a separate page to describe your past projects in detail. This way, you can offer prospective clients a deeper look into your work as a content creator.
If wordplay is one of your strengths, consider using this website design to build your portfolio.
If you're a content creator who wants to promote your podcast, consider using the Navy template for your website.
On the home page, you can add a CTA encouraging people to check out your podcast episodes on Spotify.
As one of the content creator website templates with a clean design, Navy incorporates a pastel color theme that gives a modern look. Additionally, this website design emphasizes your work by using minimal text.
You can also use Navy as a vlog website template. Simply replace the Spotify website element with YouTube to feature your videos on the website.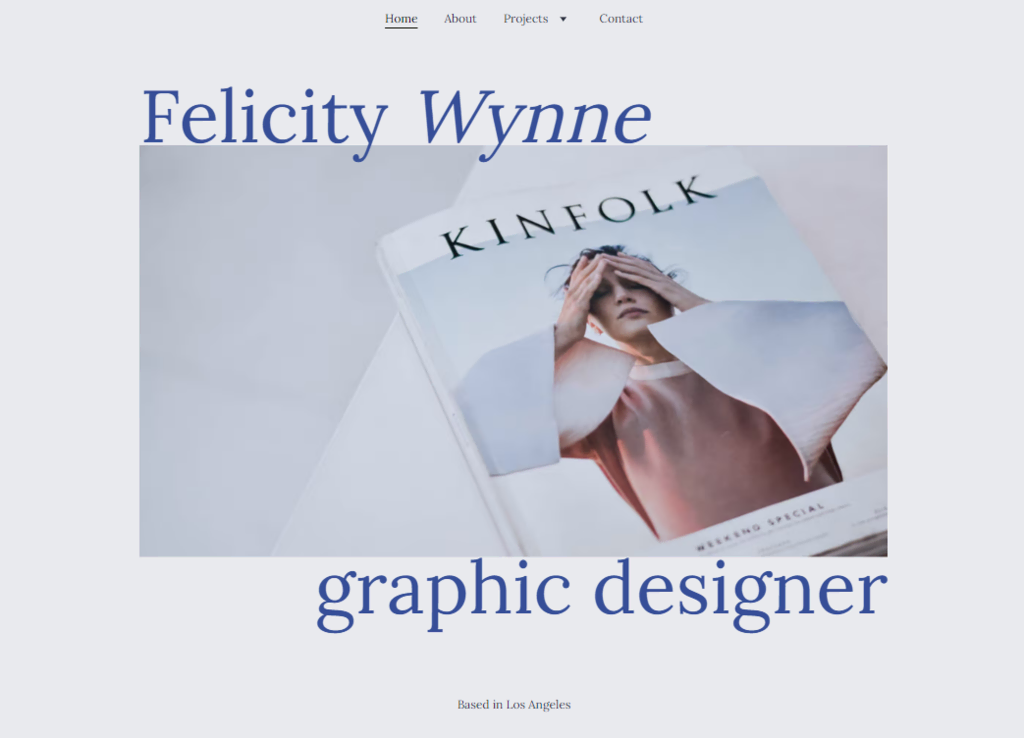 Felicity is among other simple yet elegant content creator website templates.
Besides attracting the audience's attention, the hero image redirects people to another page by clicking on it. You can showcase a detailed description of the work illustrated in the image.
This website design uses white space to spotlight images effectively. If you're a content creator, this UX design practice can redirect focus on visual content rather than design.
Another design element to note is the simple home page navigation. The Projects page uses a drop-down menu for potential clients to see your notable work easily. Each menu entry will bring them to a detailed description of your project.
The minimalist color combination gives a visually appealing modern feel to your website. Moreover, contrasting colors between sections can maintain clarity and readability on mobile devices so your content remains legible even on smaller screens.
If you're a blogger or aspire to be one, this content creator website template can be a perfect choice. Its full background image hero section provides an eye-catching visual narrative of your blog content.
Moreover, content creator website templates like Katzi utilize a bold headline and a straightforward introduction. A concise introduction with relevant keywords can improve your website's visibility on search engine results pages (SERPs) and increase organic traffic.
The second section of the home page lets you display the excerpts of your latest posts. These excerpts are a sneak peek into your articles, encouraging visitors to read them in full.
On top of all, this clean design with a dominant black-and-white color scheme is perfect for a text-heavy website.
Arnold combines the strengths of two content creator website templates, Felicity and Katzi, into one design. While Katzi is a great option for bloggers, Arnold is a more versatile template for content creators in general.
Visual content creator websites can benefit from a prominently featured image that dominates the screen and leaves a strong first impression.
The next section of the home page lets you show a favorite quote related to your industry. You can also customize this section to write your strong points or briefly introduce yourself.
The Projects page of this website design utilizes a one-page layout with color contrast to divide sections. This way, you can present a short description of your past projects.
Laurent has a simple, readable layout so visitors can easily learn about your experiences and achievements.
The hero section greets people with your name, profile image, and a short description of what you do. The Email Me CTA makes it easy for potential clients or collaborators to contact you without having to switch between different applications.
This personal brand website template lets you create a one-page resume divided into multiple sections with different colors. You can display your experiences, certification, education history, and social proof in each section.
Creative resume websites can help content creators explain their professional background. For instance, with the Laurent template, you can list your education, certifications, and experience.
Content Creator Website Examples
Now that you have learned about Hostinger Website Builder's content creator website templates let's go over some real-life website examples for creators to inspire you.
This website is a hub for the content creator's games, eBooks, and articles on various topics, including technology and the extraterrestrial.
The homepage is user-friendly, with a pagination system that lets people jump to a specific page. It features various posts with their titles, thumbnails, and short descriptions.
Readers who want to support the creator's work can click the DONATE! button at the top right of the homepage.
Visually, using a white background enhances readability on this text-intensive website.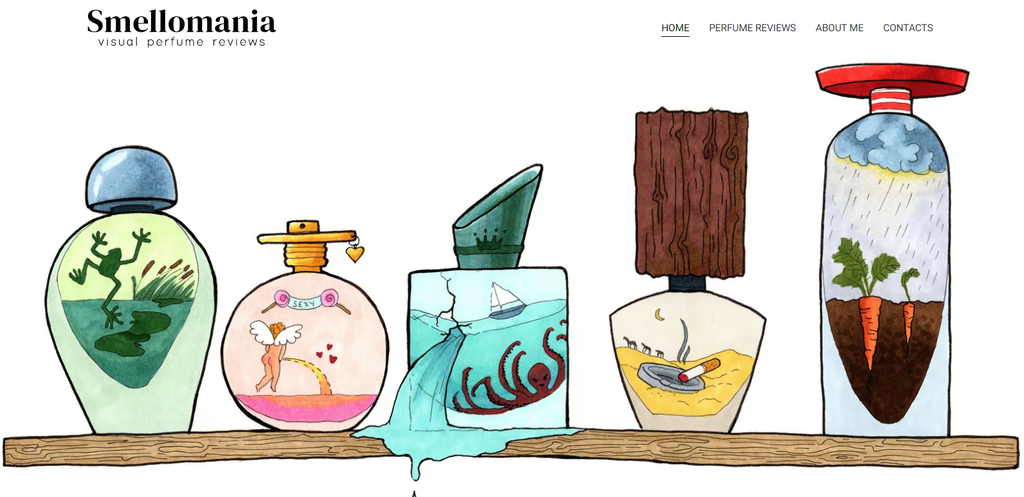 Smellomania is a visual perfume review content creator website. The website owner has a YouTube channel where she shares drawing videos, visualizing the scent of every perfume she smells.
The website's homepage has a full image of the creator's visual interpretation of different perfume bottles. When scrolling down, visitors can see a simple copy describing her work. You can also find a contact form and links to her Instagram and YouTube accounts.
This homepage structure applies the AIDA model, which is beneficial for attracting potential clients and collaborators.
In My Sistars Garden is a project dedicated to uplifting women worldwide. The content creator's website details information about the project's podcast and hosts its blog.
The website design incorporates simple Home and Blog pages with vibrant colors. Its custom fonts create a strong brand identity. This makes In My Sistars Garden a great influencer website inspiration.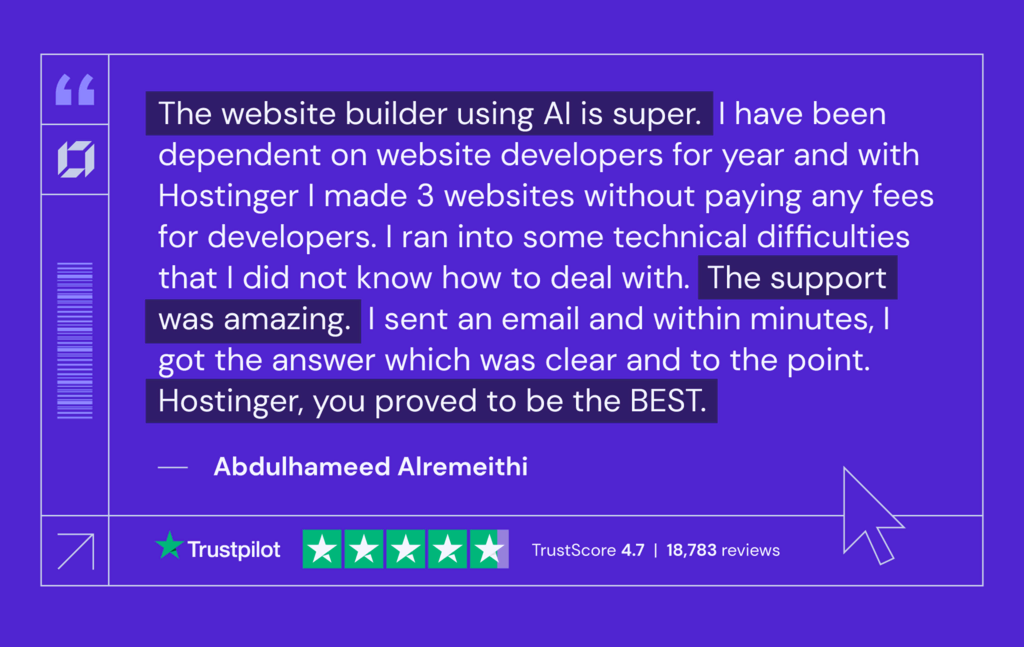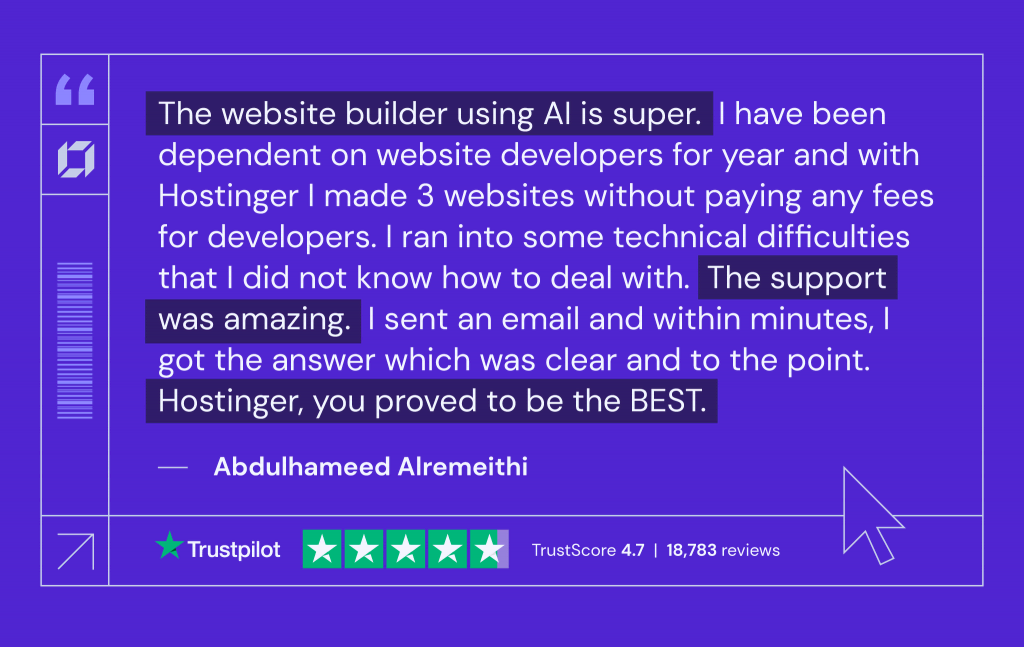 How to Make a Content Creator Website
There are various ways to display your projects on a content creator website. However, clearly introducing yourself and showcasing your best work in the best light is key.
Hostinger Website Builder implements web design best practices. You can easily build a content creator website and customize its elements without editing a single line of code.
To create a content creator website using Hostinger Website Builder, follow these steps:
Purchase a web hosting plan. Pick a Hostinger web hosting package that can fulfill your needs, and choose Hostinger Website Builder during the account onboarding process.
Choose a website template. Select a content creator website template that resonates with your needs and goals. Alternatively, start customizing a blank template or use the AI Builder tool to generate a site based on prompts quickly.
Add or delete default web pages. Each website template includes a set of default web pages. They may include a contact information page, a bio, and a portfolio gallery. Feel free to add or remove them as you see fit.
Customize your website. Personalize the website elements to match your goals and branding. Drag and drop the site elements and take advantage of our AI tools to design your website. For instance, our AI Heatmap feature helps you decide where to place essential site elements.
Apply SEO best practices. Follow Hostinger Website Builder's SEO guide to improve your site's rank on SERPs. Each SEO aspect indicator should turn green to ensure the best results.
Connect a personalized domain name. Most hosting plans at Hostinger include a free domain name. Make sure to claim and connect it to your content creator website to improve credibility and professionalism.
Launch your content creator website. Conduct a final check of your content creator website by making sure it's fully functional and visually appealing. Publish your website once you're satisfied with the result.


Conclusion
A website is the cornerstone of a content creator's online presence. It provides a centralized platform to showcase your work, connect with your audience, and establish a unique brand identity.
This article features the best content creator website templates for content creators and real-life examples for your design inspiration.
We've also explained how to build a website with Hostinger Website Builder. With it, you can create a website by dragging and dropping elements of customizable and mobile-friendly templates. Therefore, you won't need to hire a web designer or code from scratch.
We hope this article gives you website design inspiration and eases the creation process, no matter what type of content you want to showcase.