What Is a Blog? Definition, Blog Types, and Benefits Explained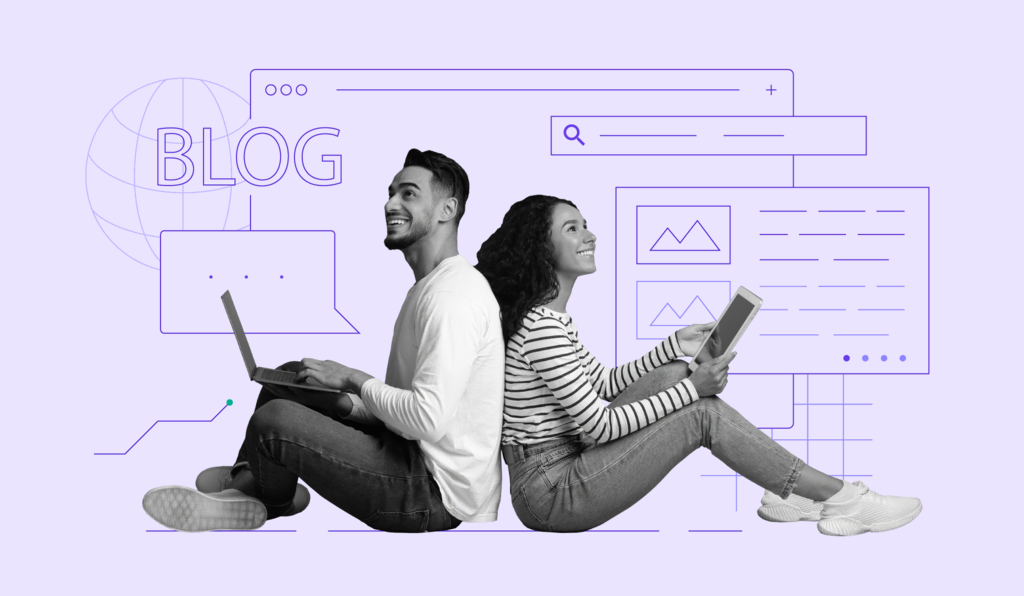 Many people look for ways to expand their online presence and while one of the most popular strategies is launching a blog, not everyone knows what is a blog and how to start one.
When blogs first emerged around 1994, people used them mainly to share their personal lives, including their experiences and interests. Now, blogs have become an essential online marketing strategy for businesses and one of the most profitable career choices for individuals.
The interface of blogs has changed significantly over time. Bloggers can now integrate various widgets and plugins into their platforms, such as a social media feed, a contact form, or an author profile.
In this article, you'll learn what makes a blog different from a regular website. We'll also discuss common blog types and the necessary components such as a hosting plan to start your own blog.
What Is a Blog?
A blog (short for "weblog") is an online journal or informational website run by an individual, group, or corporation that offers regularly updated content (blog post) about a topic. It presents information in reverse chronological order and it's written in an informal or conversational style.
Blog Explained in a Video Tutorial
Find out more about what is a blog by watching this video.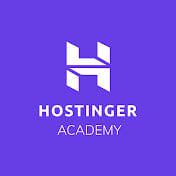 Subscribe For more educational videos!
Hostinger Academy
Subscribe
What Is a Blog Used For?
When blogs first appeared on the world wide web, their goal was mainly personal use, such as sharing stories, interests, and thoughts. We will take a look at the most common uses for a blog:
To Educate Others and Build Online Presence
While a blog's function remains the same, the type of content is more diverse. While many blogs still work like online diaries, some have started blogging to educate others on a specific subject or to build a professional online presence.
For example, David Winer – author of one of the longest-running blogs, Scripting News – publishes essays on software development, technology trends, and daily life on his personal web pages.
On the other hand, Natasha Kravchuk shares recipes and tutorials on using specific kitchen tools on her food blog, Natasha's Kitchen. Her blog is a go-to resource for recipes, including holiday and vegetarian options.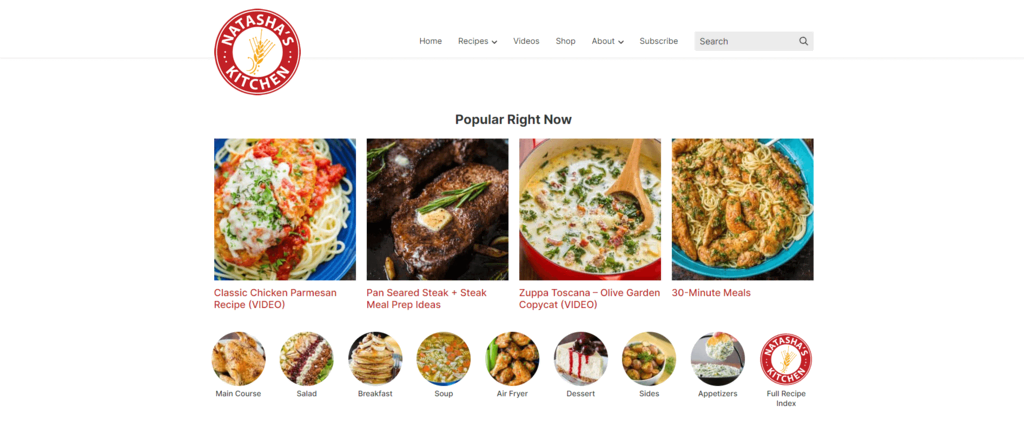 As previously mentioned, blogging has also become a profitable career choice, especially during the pandemic. In fact, over 50% of blogs gained traffic, and about 35% of bloggers increased their revenue in this period.
To Help a Business With Brand Awareness
Many organizations and businesses use blogs as part of their content marketing strategies to boost brand awareness and increase conversions.
A business's blog content usually focuses on industry-related information that may interest its target market. Often, a team of writers runs the blog instead of a single admin.
Take a look at Evernote's corporate blog. It shares tips on productivity and organization, as well as how its products help optimize these processes. The brand also uses its blog to share feature and company updates.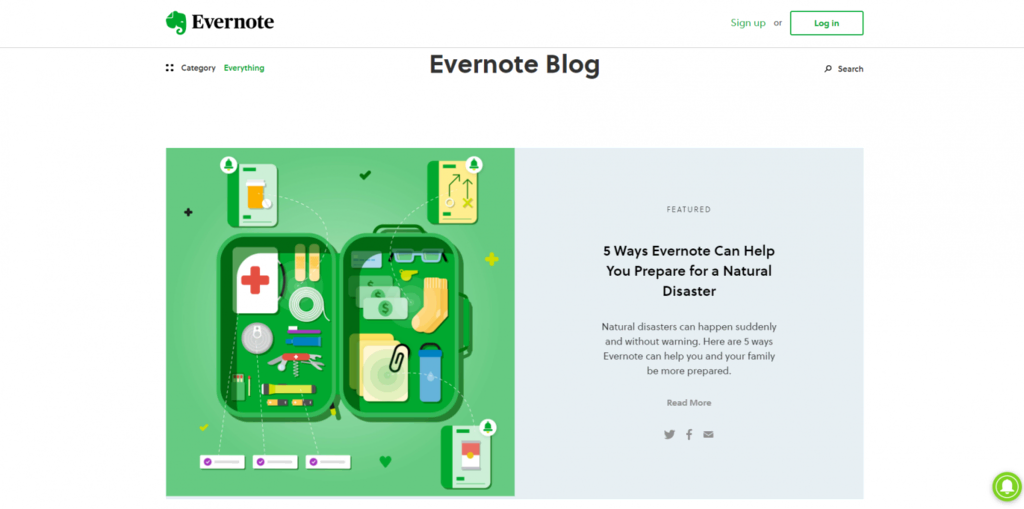 To Promote Programs And Attract Visitors
For instance, many businesses create blogs to promote their programs in the hope of attracting more visitors and leads. We see this often with educational institutions where they try to attract more students to enroll in their programs.
UCLA's Bruin Blog is an excellent example of this practice. It tells the stories of students from different backgrounds and majors and shows how life is on campus, including events and student organizations. So people who visit their blog are compelled to enroll and join their program.

What Makes a Great Blog?
If you plan to create your own blog, it is helpful to know what makes an excellent one in the first place. Typically, you can expect to find the following elements in successful blogs:
Expert's Tip

You should try to write content at least three times a week and eventually move up to once a day. Also, consider posting in the mornings – according to your target audience's time zone – as it helps encourage email traffic and social shares.
Active reader engagement. It refers to any type of action readers take when visiting a blog, such as reading the article from start to finish, leaving comments, and sharing the blog post on their social media profiles.
Good user interface (UI). A blog needs an aesthetically pleasing web design to make a memorable first impression, including layout, typography, and icons. Blogger owners also have to ensure that the design is simple, intuitive, and consistent throughout the entire blog.
Take a look at the Six-Two travel blog. It features complete travel guides, from tips on different places to inspirational stories from travelers.
It also has a good balance of UI and UX design principles. Six-Two organizes the content on a grid layout while keeping the color scheme simple, giving it a captivating look yet uncluttered interface. The blog also loads fast and is mobile-friendly.

For business blogs, a call to action (CTA) is an additional key element. It guides visitors to a preferred action after reading the posts and helps convert traffic to high-quality leads.
Take a look at the 99designs blog. It directs visitors to use its services by adding a CTA button to the header and at the end of each blog post.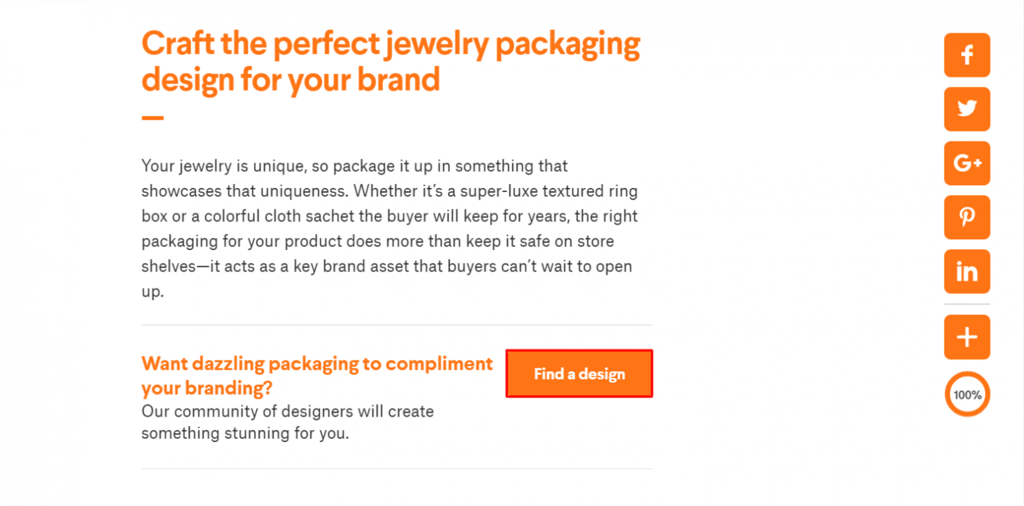 Another excellent place to put a CTA is in the sidebar directing readers to download its free app.
With more than 600 million blogs, it is also important to identify and work on what makes you unique to increase visibility and build a successful blog.
Expert's Tip
One primary strategy to make your blog stand out is creating a personal touch. Share stories and personal experiences, respond to comments, and let people know that you are there to help. Creating personal touches also helps people notice that your blog is not like the others.
Besides sharing personal stories, make the blog unique by experimenting with designing the website. For example, Social Media Examiner created a jungle theme and mascots for its blog, while the Dropbox blog uses charming illustrations for its featured images.
7 Types of Blogs
Now that you have learned the definition of blogging and what makes a blog successful, let's discuss the seven common types of blogs.
Personal blog. This type of blog usually works like an online diary where the blogger shares opinions, often not aiming to reach a target audience or sell an item. Personal blogs can discuss various subjects, from family events and self-reflection to work projects.
Niche blog. Provides information on a particular topic, usually related to the blogger's passions, skills, and knowledge. Examples of this blog type include book blogs, food blogs, and lifestyle blogs.
Multimedia blog. It uses a blog format but publishes multimedia content, like videos and podcasts, instead of written posts. It also usually includes the video or podcast's summary, table of contents, and essential quotes.
News blog. Content on this blog focuses on the latest happenings and new releases in a specific industry. Unlike other blogs, news blogs typically do not usually include opinions or personal content.
Company or business blog. Its primary purpose is publishing content relevant to a company's industry or updating the target market regarding any changes within its business. It may be a section on a company website or an independent site.
Affiliate blog. A blog based on affiliate marketing – the practice of promoting a third party's products and services. Affiliate blog owners will receive a commission when someone purchases from their custom links. Typical articles on this blog include product reviews and "best-of" listicles.
Reverse blog. Also known as group blogs, multiple authors create blog posts on related topics and the blog owner is the one who proofreads and posts content.
Some blogs focus on a specific category, but it is also possible for a blog to combine several types. For instance, Caitlin da Silva's personal blog contains posts with affiliate links and multimedia content.
For inspiration, check our comprehensive list of blog examples covering the best blogs from various niches, including finance and travel blogs.
What Is the Difference Between a Blog and a Website?
Blogs work to present fresh content – content that is updated frequently. Meanwhile, traditional websites provide static information about a person, group, or subject.
Reedsy is an example of an otherwise static website that contains a blog section.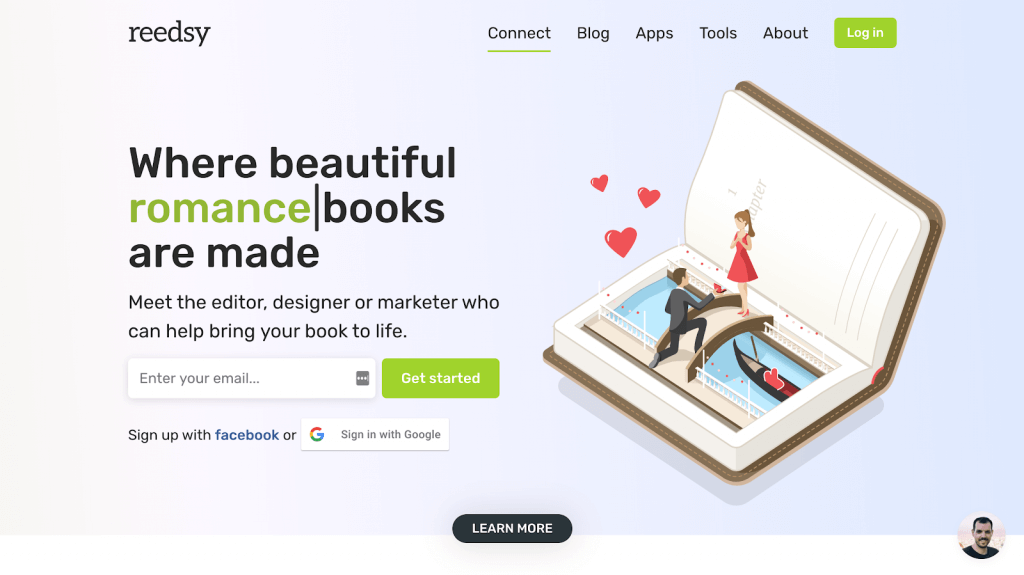 The main content consists of web pages that inform visitors about the company's writing and editing services, which remain unchanged for a long time.
Meanwhile, the blog section has new blog posts added every few days to educate readers about book writing and publishing. The blog automatically offers more frequent updates than the other sections, like the About and Apps pages.
Blog posts usually have a comment section where the readers and author engage – a great way to gain feedback and foster a personal relationship with visitors.
However, a comment section is uncommon for a typical web page as it does not generally encourage audience engagement.
Blogs also often have a built-in Really Simple Syndication (RSS feed), a link that sends content to a web browser or feed reader app like Google Reader.
Visitors can subscribe to your blog's RSS feed and get updates whenever you publish a blog post. Digital marketers often connect their blog's RSS feed to web push notifications or email newsletters to inform subscribers about recent posts and product announcements.
Many blogs are also independent – making up an entire website and displaying the posts directly on the homepage, like Ann Althouse's blog, Althouse.
What Is the Difference Between a Blog and a Wiki?
A blog is usually created and owned by an individual or organization to share information. It can have a single writer or many blog authors.
In comparison, a wiki is a collaborative website where many people can add, modify, and publish content.
Blog post timelines and comments are generally important to indicate the most recent updates.
Meanwhile, an article's publication date in a wiki matters less as these are constantly updated once new information is available.
Compared to blog posts, which often value credits, creating and editing content in a wiki is mostly anonymous. Here, the information is the focus, not necessarily the contributors.
Wikipedia is one of the most famous examples of a wiki. The site is written and maintained by volunteers worldwide. Content editing is open for everyone, but creating an account is necessary to start new pages and upload images.
Why Do You Need Your Own Blog?
For personal use, blogging is a great way to express thoughts and opinions, while businesses can create a blog to educate their target audience.
Moreover, now everyone can start a blog. Unlike the early days of blogging that required coding skills to even update a blog post, people can now use blogging software such as WordPress and Blogger. It lets people create a blog within minutes without worrying about technical complexities.
However, to become successful bloggers, owners need to identify the reasons and purposes for maintaining their blogs.
Here are six reasons to start blogging:
Share your knowledge. Many people blog to share their experiences without having to depend on journalists or media companies. When people have their own blogs, they get to control the style, language, and information.
Establish a personal brand. A blog is a great platform to demonstrate your skills and knowledge, helping you make a good impression on employers and stand out from the crowd. In fact, many professionals today have succeeded in landing jobs thanks to blogging.
Make money. Making money blogging is possible for most blogs, especially those with a huge reader base. Blog owners can create sponsored blog posts, display ads, or sell their own products and services.
Improve a website's online visibility. Websites with a blog have 434% more indexed pages in search engines, increasing the chances of ranking higher in search results. Also, it will help people find your content easily when searching for your name or brand online.
Acquire new customers. After reaching top rankings, a blog with relevant content can eventually bring more traffic and leads, as 81% of shoppers conduct research online before making a purchase.
Build an online community. Blogs provide a forum where visitors can comment and interact with the authors.
How Do Bloggers Get Paid?
Bloggers' earnings depend on their traffic and monetization methods. Generally, blogs with hundreds of thousands of web page views have an easier time generating revenue by selling products or displaying pay-per-click (PPC) ads.
Bloggers can also encourage readers to buy products using their affiliate links and work with brands for sponsored posts.
For instance, Jeremy's travel blog, Living the Dream, made $4,825 in January 2022. On the other hand, Adam Enfroy generated around $67,000/month in 2020, an outstanding amount for a blogging business.
Those who want to start a blog and make money have to focus on building their audience first to generate a stable income.
Picking a profitable niche is also important if you aim to make blogging your career choice. Profitable niches offer better opportunities, such as high-paying affiliate offers and ads from paid advertising networks.
Choosing a niche based on a passion sometimes does not equal consistent profit. For example, travel bloggers might experience traffic and revenue drops due to travel restrictions.
Some of the top profitable niches are:
Insurance. It is the highest paying niche with an average CPC of $17.55 in several countries like the United States, Australia, and Canada. Popular keywords within this niche include life, car, and health insurance.
Online education. Flexibility and convenience are the primary reasons people choose online education.
Digital marketing and advertising. The digital marketing industry has grown outstandingly during the pandemic. Take advantage of this high-demand topic to post content on social media marketing and brand management.
Personal finance. Money is an evergreen blogging niche. In addition to writing blog posts on money management and investment, bloggers can sell online courses, eBooks, and finance consulting services.
Lifestyle and wellness. Some of the top categories within lifestyle blogs include personal care, wellbeing, and fitness.
Expert's Tip
I would first stick with a subtopic then grow into a bigger, broader topic over time. This is because when you cover a niche topic, you're building a brand – an authority within that space. Once you build enough authority, you can expand into a broader topic.
Once you're ready to monetize your blog, include contact information like an email address and social media profiles on the blog's Contact page to help potential clients reach you.
What Do You Need to Start a Blog?
Now that we covered the basic concept of blogging – from what is a blog to benefits and types, it is time to discuss the essential elements for creating your first blog.
Six elements to prepare before starting a blog include:
Domain name. It is your blog's address, like yourblog.com. Ideally, a domain name should represent your business name or the blog's general topic. Check whether the name is available using our domain name search tool. If you are still unsure about naming your blog, use blog name generators to brainstorm options.
Domain Name Checker
Instantly check domain name availability.
Web hosting service. You'll need hosting to store all blog files, including images and code files, and make them available for internet users. Generally, WordPress hosting is a great solution for a small personal or lifestyle blog, while Cloud web hosting is ideal for heavy-traffic blogs.
Blogging platform. You can set up your blog using a content management system (CMS) like WordPress or a website builder like Hostinger. Users who create a WordPress website are usually looking for complete control and extensive customization, while website builder users prefer its quick setup and beginner-friendly interface.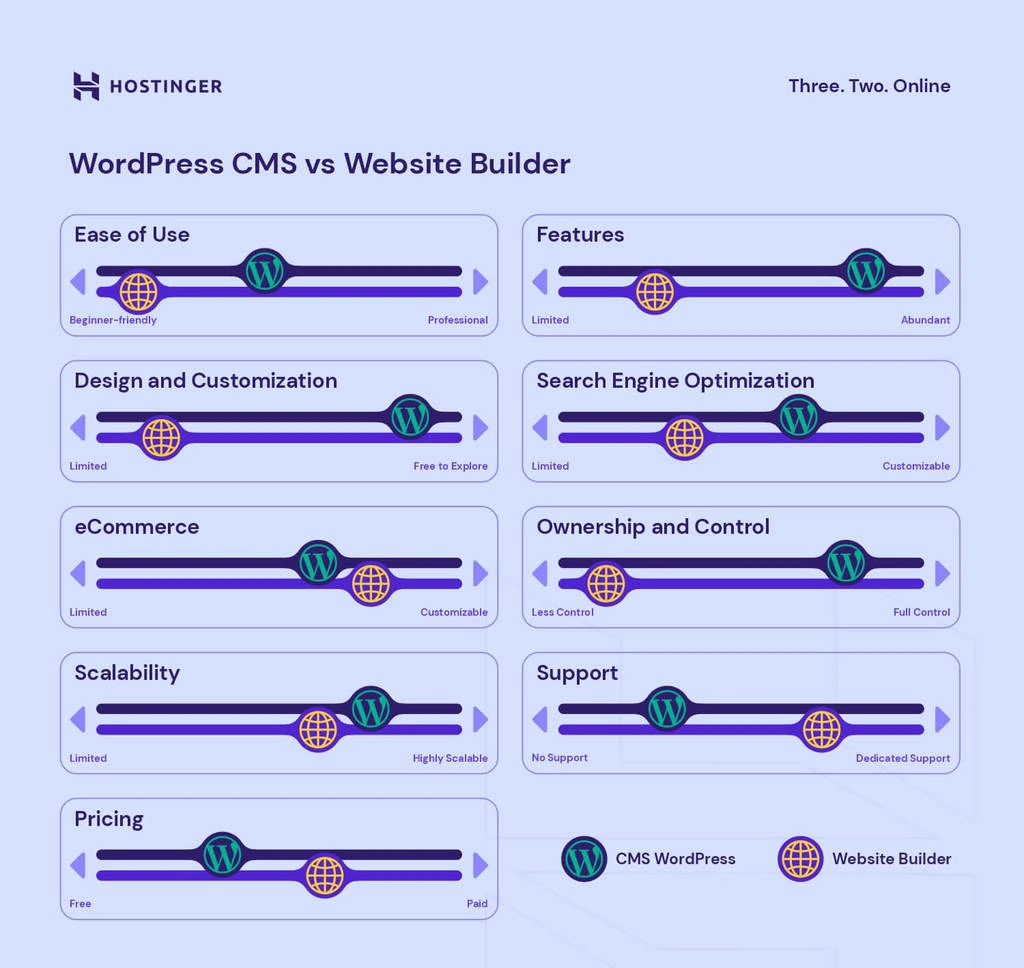 Content writing skills. Writing a blog post is different from writing academic essays or books. Consider joining a free online course like SurferSEO's SEO Writing Masterclass to develop your content writing and SEO skills.
Theme or template. This is a pre-made web design for your blog. Most CMS platforms and website builders provide free templates, but it is possible to purchase a custom blog theme from a third-party marketplace like ThemeForest or even design it yourself.
Blogging tools. Many tools can help produce better blog posts and manage your blog. For example, use Trello to create an editorial calendar and Yoast SEO to optimize the content for search engines.
Another vital element to start a blog is confidence. Many beginners think they are not experts in the field, which holds them back from sharing content. To overcome this, start by sharing personal experiences and using storytelling.
Expert's Tip
Let's say you are starting off in a space where you are not an expert. Here, you can talk about your journey, including what you feel, what you like and do not like.
People can follow you on your journey and, as they're following you, there's an emotional connection. On top of that, you are learning and improving yourself, which eventually leads you to an expert position.
Conclusion
Creating a blog has many advantages. It can help individuals build a personal brand and generate an extra or full-time income.
If you plan to blog as a way to make money online, consider picking a profitable niche to maximize the opportunities for better-paying sponsored posts or affiliate offers.
Business owners also create blogs to improve their website rankings on search engines, attract customers, and develop a loyal online community.
Whatever your purpose is, great blogs don't focus on simply publishing content. It is essential to consider its quality, consistency, and overall web design.
If you want to create your first blog, ensure that you purchase a suitable domain name and the best hosting plan for you. Then, select a blogging platform and develop your content writing skills by joining online courses.
What Is a Blog FAQ
This section answers the most common questions that beginner bloggers have about the basics of blogging.
What Is Blogging?
Blogging refers to the process of managing a blog, from idea generation to the publishing process. It includes the necessary tasks people need to run a blog, such as writing a blog post, promoting it, and practicing link-building strategies.
What Is a Blogger?
A blogger is the blog owner or person who maintains and runs the blog. Bloggers also foster relationships with their readers and other bloggers by encouraging online conversations in the comment section.
What Is a Blog Post?
Blog posts are, most commonly, pieces of writing published on a blog. Blog posts can also include other forms of content, like images, forms, and videos.
How Do You Write a Blog Post? 
The initial step when writing a blog post is to choose a topic. Conduct keyword research using a tool like Keyword Tool or AnswerThePublic. Decide on a blog post format and create an outline. Once you have a clear idea of the structure of the post, it's writing time.
Where Do I Find Blog Content Ideas?
Check what your target audience is searching for, as well as what other websites are writing about using analysis tools like Buzzsumo Trending or Alexa's Competitor Keyword Matrix. You can also go to Quora, social media platforms, search engines, and mainstream media to look for blog ideas.
How Much Does It Cost to Start a Blog?
The cost of a website or a blog in general ranges from $100 to several thousand dollars a year. The cost varies for each blog depending on multiple factors, like design, hosting, plugins, and tools used. Consider using a hosting service that offers a domain for free to save money.