If you're looking to launch a new blog, your first (and most important) choice is what platform you'll use to power it. Not all blogging platforms are equal, and the one you pick needs to have all the features you need to build a successful website.
The good news is that we've done all the legwork required to help you find the best blogging platform. In this article, we're going to cover:
What features you should look for in the best blogging platform.
A detailed breakdown of nine top blogging platforms, including WordPress, Joomla!, Drupal, Pyro, SilverStripe, Textpattern, Serendipity, Jekyll, and Subrion.
And if you're keen to give any of them a try, Hostinger has your back. Grab a web hosting plan and set up your blogging platform of choice with a single mouse-click!
We have a lot of ground to cover, so let's get right to it.
What You Should Be Looking For in the Best Blogging Platform
There are a lot of platforms you can use to set up a fully-working blog, and even have your first post available for people to see in a matter of hours. In most cases, these blogging tools fall under the category of Content Management Systems (CMSs). That is to say, they are platforms built to help you publish content on the web.
When you're looking for the best blogging platform, you'll want a CMS that offers several key features:
Built-in text editing options. Blogs are mostly text, so it stands to reason that the top platforms will provide you with plenty of formatting options.
Comments functionality. One of the best ways to grow your blog is through a thriving comments section. As such, your blogging platform needs to give you a way to easily enable and manage comments.
Customizability. These days, a lot of CMSs enable you to change your site's style and functionality using add-ons. This is important even for a simple blog, since it gives you the option to add new features whenever you want.
Scalability. Ideally, you want to choose a platform that can handle a lot of content without slowing down, so your blog can grow to its full potential.
Ease of use. Creating a blog doesn't have to be complicated, and you shouldn't need to be a developer to get the job done. The best blogging platform should be simple to learn and use.
That's a long list of criteria you'll need to keep in mind while looking for the best blogging platform for your needs. Fortunately, these days there are a lot of amazing platforms to choose from. Let's talk about our top picks!
9 of the Best Blogging Platforms Overviewed
Before we dive in, it's important to understand that all the platforms on this list are 'self-hosted' CMSs. They're all free to use, in other words, but you'll need to procure your own hosting.
Which provider to use is up to you, but if you don't know where to begin, you can check out some of our starter hosting plans!
Here is a list of the best blogging platforms for 2019 based on popularity, features and ease of use:

If you're a returning visitor to our blog, then you already know that we're big fans of WordPress. This CMS powers over 30% of the web, which makes it a juggernaut. However, that doesn't mean it's automatically the best blog platform for you.
What sets WordPress apart is its ease of use and extendability. These days, most blog hosting providers enable you to set up your WordPress site with just a few clicks. Then, you can easily find themes and plugins to help you implement almost any feature you might imagine:

Apart from its massive library of add-ons, WordPress has the advantage of a thriving community. If you run into any issues with the platform, finding tutorials or any other kind of help is simple. To sum up, WordPress is a safe choice that provides you with unlimited potential for growth, even if you're entirely new to blogging.
Pros:
A lot of blog hosting providers offer WordPress-specific plans.
You have access to thousands of add-ons in the form of themes and plugins (both free and premium).
The platform offers a low learning curve, and it's easy to find help if you run into any issues.
Aside from blogs, you can use WordPress to build almost any type of website you want.
Cons:
Customizing your blog's style can be difficult without a page builder plugin, especially if you're new to the platform.
There are a lot of low-quality themes and plugins out there that you'll need to avoid.

When people debate over the best CMS, Joomla! is one of the names that tend to show up right alongside WordPress. These platforms share a lot in common. For instance, they're both open source and provide amazing extendability.
Having said that, Joomla! offers its own unique experience. Out of the box, it gives you a broader range of settings to work with than WordPress does, which you can see with a peek at its dashboard: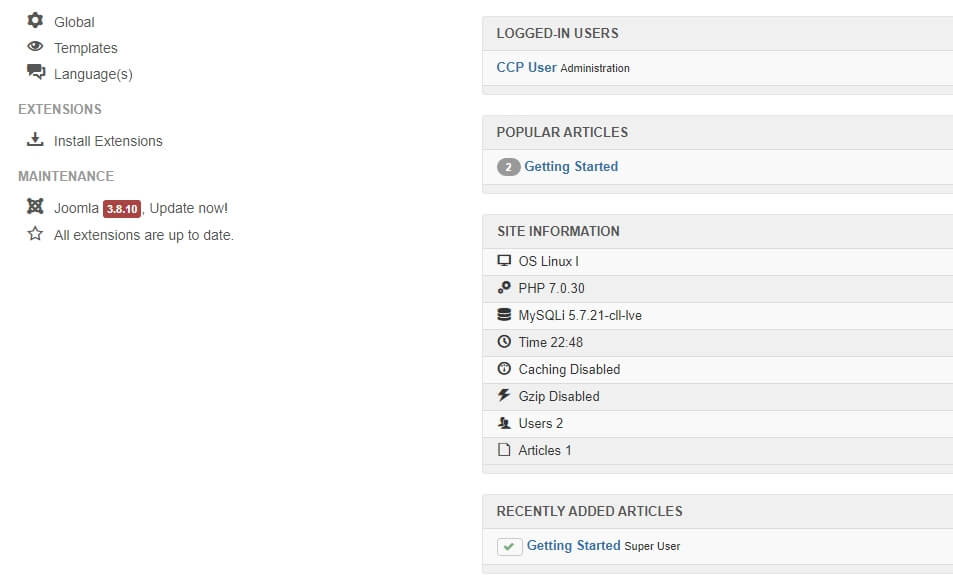 While having more settings to play with is useful, it also means that the learning curve with this platform is a bit steeper. On the plus side, however, Joomla! makes your website very easy to maintain. In our experience, it's not common to run into issues after you update Joomla! or any of its extensions.
Ultimately, a lot of people choose to go with WordPress or Drupal because both platforms offer more add-ons. However, Joomla! stands at a nice spot in the middle of the road between those two platforms. It's easier to maintain, it doesn't require you to be a developer to set up a website, and it offers enough options out of the box that using extensions may not be essential.
Pros:
It offers more built-in settings than WordPress.
Websites created using Joomla! tend to be easier to maintain, due to its seamless update process.
It's relatively easy to pick up, even if you're new to building websites.
The platform offers a fantastic help portal with thorough documentation.
Cons:
It doesn't offer as many themes or extensions as its main competitors.

Drupal is another big name that gets a lot of attention during CMS debates, alongside WordPress and Joomla!. This particular platform is popular among enterprise-level websites since it tends to offer superior performance.
When it comes to blogs, Drupal provides all the features you'll need to create a fantastic website. It includes built-in content creation functionality, editing features, and much more. However, the platform really starts to shine once you move beyond just blogging.
Another reason Drupal is a top pick for big sites is that it's incredibly secure, and is more powerful on the whole than either Joomla! or WordPress. However, there is a downside. Drupal is tough to pick up if you don't have any experience as a developer. Plus, it can be overkill if you just want to set up a simple blog.
With that in mind, using Drupal makes sense if you want to start a blog for your company and you're willing to invest in a developer (or you are one!). Otherwise, you'll need to do a lot of tinkering to get things working just the way you want.
Pros:
Get access to enterprise-level security and performance.
Choose from thousands of free plugins and templates to customize your website.
Seamlessly scale your website, thanks to the platform's powerful architecture.
Use custom Drupal distributions to set up specific types of websites.
Cons:
The learning curve is very steep unless you have experience in web development.

We've already talked about some of the most popular blogging platforms you can choose. Now, it's time to take a look at a few options you might not be so familiar with.
Pyro is a Laravel-based CMS, which prides itself on being an excellent platform for developers. When it comes to blogging, Pyro offers a grid-based layout system out of the box, which means you have full control over the way your posts look. On top of that, this platform makes it easy to edit all of your content.
When you start up Pyro, the first thing you'll notice is that its dashboard looks both modern and organized: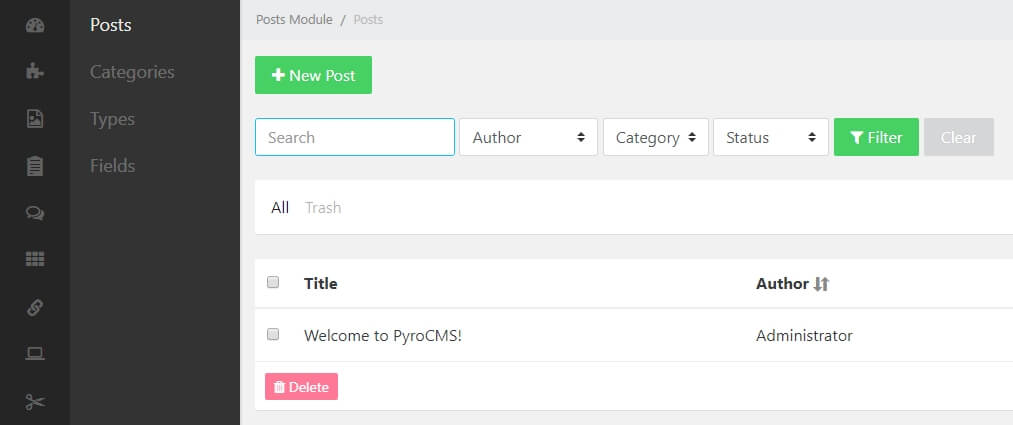 Overall Pyro is an excellent option for simple blogs and more complex websites. However, once you move beyond a basic blog, things start to get complicated, since you'll need to customize your website's code yourself to make any major changes. Likewise, a lot of Pyro extensions are rather expensive, so costs can quickly add up for blogs with a lot of functionality.
Pros:
Use a built-in grid system to get full control over your pages' layouts.
Run your blog using a modern dashboard with plenty of options.
Cons:
Implementing advanced features often requires you to have experience using PHP.
A lot of Pyro modules are rather expensive, so costs can add up quickly.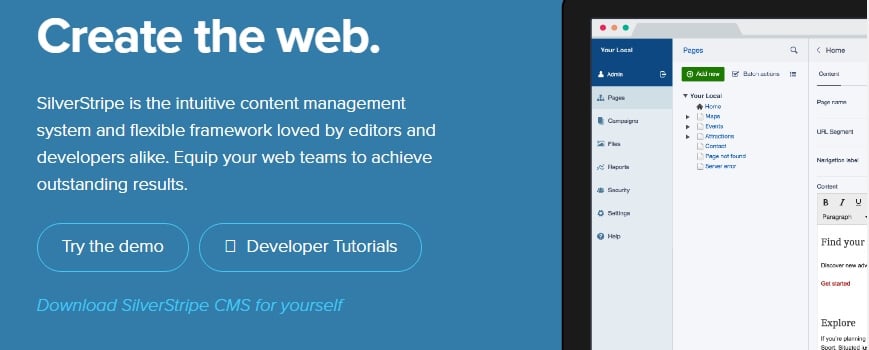 If you're looking for the best blogging platform that offers a combination of ease of use and power, SilverStripe is an excellent option. At first glance, it doesn't look as flashy as some of the other blogging platforms we've seen so far: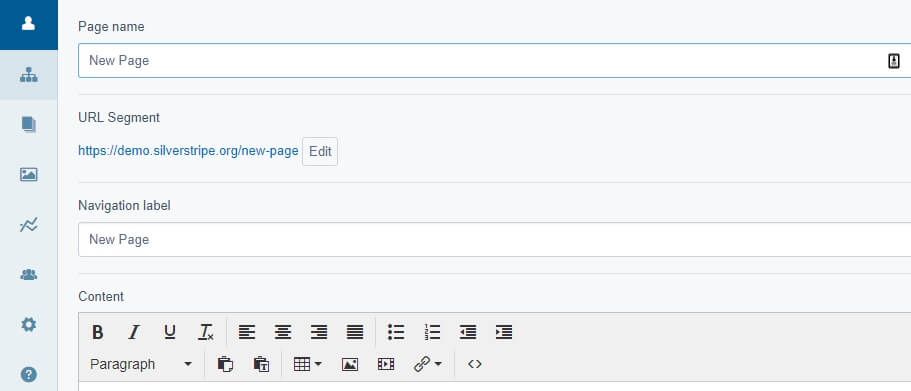 However, there's a lot to like once you take a closer look at SilverStripe. For example, the platform's editor enables you to preview your blog posts as you write them, and it provides you with built-in Search Engine Optimization (SEO) options to help you improve your content's rankings. Moreover, the platform also features built-in error reports, which enable you to monitor problems with your site right from your dashboard.
In our experience, the only area where SilverStripe disappoints is when it comes to templates. There are only a few dozen options to choose from, and not all of them hit the mark. You can always customize your pages using HTML and CSS, but that can be a lot of work if you're new to creating websites.
Pros:
Get access to powerful content management features.
Tackle SEO using built-in features.
Monitor page errors from within your dashboard.
Extend your website using plugins and themes.
Cons:
The themes available for the platform aren't all up to par, and editing pages on your own requires basic coding knowledge.

If you've taken a look at do-it-all CMSs such as WordPress and Joomla!, and thought to yourself "I don't need all this stuff", Textpattern might be the best blogging platform for you.
Out of all the platforms we've seen so far, Textpattern is the simplest. Its dashboard is a reflection of that fact:
Textpattern doesn't even include a visual editor. Instead, it works with Textile and Markdown languages, which provide you with plenty of flexibility but do require you to add tags to your content. Likewise, building pages with Textpattern requires you to use code, mainly HTML, CSS, and JavaScript.
While the platform does support themes and plugins, its selection of both types of add-ons is very bare-bones. There are some excellent choices among them. However, Textpattern assumes that all you need a very simple blog, and that you know enough coding basics to set it up with only a bit of help.
Pros:
Offers the most lightweight blogging platform you'll find.
Enables you to use HTML, CSS, JavaScript, and built-in tags to put together pages.
Cons:
You'll need a basic knowledge of web development and text formatting languages.
The selection of themes and plugins is rather lacking.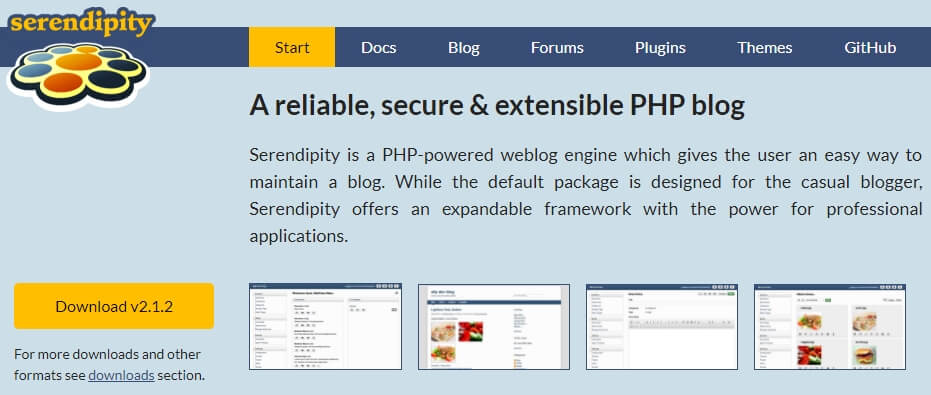 Serendipity bills itself as a weblog engine instead of a CMS, and that's appropriate given the features it offers. This platform is all about blogging, and it's a solid option if you're looking to set up a simple website with few frills.
While Serendipity does offer templates, most of them are quite basic. To put it another way, blogs built with Serendipity aren't going to win many design awards. However, what the platform lacks in style, it makes up for in substance with its blogging-friendly features. For instance, Serendipity features a powerful text editor, media management features, and advanced taxonomy settings.
On top of that, the platform also includes built-in spam protection, and support for multiple users. In short, it has all the features you'd expect to see from a best blogging platform, and it doesn't require you to have any background in web development.
Pros:
You get access to all the blogging basics you need, in an easy-to-use package.
You'll benefit from the built-in spam protection features.
Cons:
Serendipity themes aren't the most stylish, although they do get the job done.
The potential for building anything besides a simple blog is limited.

Jekyll is quite unlike any of the other blogging platforms we've featured in this list. This platform works entirely from your command line, and doesn't have a graphical interface. If that's not something you're comfortable with, feel free to jump to the next item on the list.
If you're not intimidated by the command line, however, Jekyll has a lot going for it. It's the best blog platform if you're looking for something ultra lightweight, and it enables you to create blazing fast static websites.
With Jekyll, you can use HTML, CSS, Markdown text, and Liquid templates to create simple sites. The philosophy behind the platform is to remove as many frills as possible from the content creation process, and enable developers to set up blogs in a matter of minutes.
Despite its straightforward approach to blog building, Jekyll does support basics such as pages, posts, custom layouts, and categories for your content. However, it doesn't use databases or support comments.
Pros:
Lets you run your entire blog from the command line.
Supports blog taxonomies.
Helps you create static websites using HTML, CSS, Markdown, and Liquid templates.
Cons:
It's only a viable option if you're very comfortable using the command line.
Customizing Jekyll websites requires some basic HTML and CSS knowledge.
It doesn't feature a visual text editor.

Last but not least, let's take a look at Subrion. If we had to compare this blogging platform to one of our earlier entries, it would be WordPress. In fact, the first impression you get when you log into your dashboard is that it looks very slick: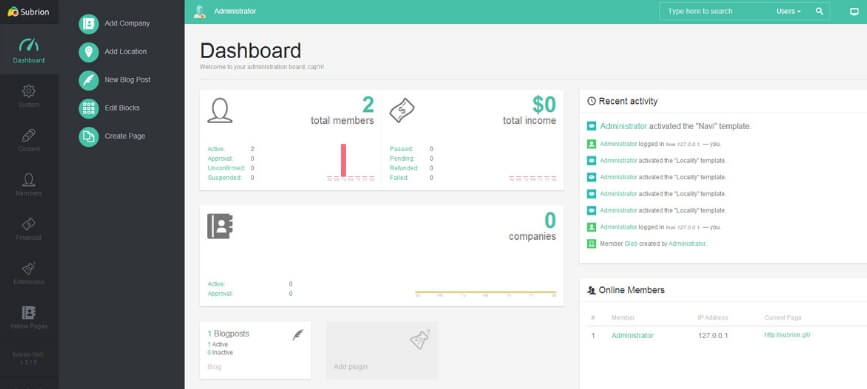 As far as features go, Subrion packs all the basics you'll need for blogging. It enables you to set up pages and posts, and it includes a robust text editor. The platform also offers built-in SEO features, and plenty of other functionality.
One of Subrion's most attractive features is that it enables you to manage subscriptions for your website from the get-go. That means you can use it to set up a private blog, for example, and you can even monitor your earnings from your dashboard. This platform also supports themes and templates, although it doesn't offer as many options in either department as WordPress does.
Pros:
Lets you easily set up blogs and other types of websites.
Makes it simple to implement subscriptions for your site and monitor your earnings.
Provides access to several plugins and themes.
Cons:
It doesn't offer as many add-ons as other blogging platforms.
Conclusion
If everything goes well, you're going to be using the software you choose now for years to come. That means it's important to pick the best blogging platform for your specific needs. We're big fans of WordPress, but it's not the only strong option out there. Each of the platforms we've covered on this list shines for certain types of projects and users.
Do you have any questions about how to pick the best blogging platform to build your site with? Let's talk about them in the comments section below!