Directories are essentially databases that are created to be user-friendly. There is almost an endless amount of possibilities of how you can use a directory. A directory plugin is a tool that you can use to create online directories. These plugins let you organize and show any data or content you want to add to your site. From personal information like contact numbers, addresses and the like. To internal purposes like a directory of employees working at a company.
Know What You Need
Since not all directory plugins are the same, you should decide on a type of directory first. A list of local restaurants may require a different plugin than that of a catalog of furniture.
Nevertheless, most directory plugins promote similar features. Here are some that you should look for:
Adding and editing entries
Collecting payments
Searching entries based on location
Giving ratings and reviews
Frontend submission for users
Taking this into account, it's time for the top 10 list of the best WordPress directory plugins

Business Directory Plugin is a versatile plugin with a free plan. You can add custom fields, allow users to upload images, and export or import data from another directory plugin.
But the free features do not end there. The plugin is mobile-friendly and has language support for many languages, including German, Russian, and French.
There are 15 add-ons that you can buy to get more features. The additional features give you payment gateways to collect payment, set user levels, Google Maps integration, and more.
The single-site license for each module costs $69.99, while it costs $139.98 for unlimited sites. Though, you can get all of them for $199.99. If you want the bundle for unlimited sites, the price is $399.99.
Remember that individual add-ons have an annual support and updates fee, which is 50% of the original price.
Like the previous plugin, Connections Business Directory has a free core with many paid additions. Apart from extra features, the plugin also sells six templates for $19.99 each.
The free version supports many languages. Interestingly, you can not only create custom fields but also duplicate the existing fields. This feature is useful if your users have multiple contact information.
You can also add logo and images to make your users more identifiable. Each file cannot be larger than 128MB.
There are 22 add-ons to enhance your directory, some of which are premium. Certain add-ons enable you to add useful widgets on your users' page, like business hours, facilities, and contact form for site visitors.
The cost of the premium add-ons varies from $2.99 to $14.99. For the lower price spectrum, you can get the extension pro pack or the pro pack. The former gives you all paid add-ons, while the latter also includes all templates.
The extension pro pack costs $29.99 for one site, $99.99 for five, and $199.99 for unlimited sites. For the pro pack, you need to pay $74.99 for one, $149.99 for five, and $299.99 for unlimited sites.
All premium add-ons and bundles are subject to an annual fee, which is 20% of their price.
At a glance, GeoDirectory is a free WordPress business directory plugin with minimal features. Nevertheless, it offers several premium add-ons that will improve your directory site.
The directory plugin allows you to group users based on area. The free version only gives you one area slot, but you can add more with a $39 add-on.
Another noteworthy add-on is the pricing manager. With this premium feature, you can make multiple pricing models to enhance your revenue.
Using GeoDirectory is also beneficial for your users. Apart from claiming their business, they can manage their data from the front end with ease.
GeoDirectory's paid add-ons come at various prices. Some add-ons can go up to $89; depending on how many licenses you get.
If you want to get all of them with free updates, you should register for their membership deal. You can choose to pay every four, six, or twelve months at $99, $129, and $199 respectively.

Are you looking for a free directory plugin with powerful features? Advanced Classifieds and Directory Pro might be a perfect choice.
Without spending for add-ons, you already get options for map viewer, front-end submission, and search bar. You can even set the search bar to find custom fields.
You also get the chance to earn by creating a featured list. To be in the list, your users have to pay the price that you set.
If you want to make custom pricing plans, you need to get an add-on. There are three other add-ons to give you payment gateways: PayPal, Stripe, and WooCommerce.
All add-ons have one to five licenses, and you can pay for them once, monthly, or yearly. The pricing depends on the number of licenses you get and your payment method – starting from $4.99 per month.
Name Directory is a good option if you want a minimalistic list. Without images or maps, the plugin is suitable for creating a simple glossary.
The output of this plugin shows only names or terms with some information. Apart from that, you can set frontend features.
You can add a search bar, show the newest entries first, and set a suggestion form. If you have long descriptions, you can set the number of words to display.
Name Directory is free and does not have any add-ons.
Plus, you can insert multiple directories without creating new pages. After setting the entries, you only need to paste the plugin's shortcode into a page.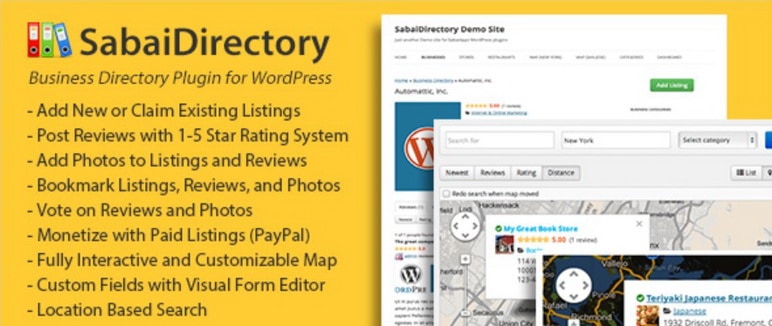 Sabai Directory offers premium quality at a low price. By spending $29, you can create a professional directory site similar to Yelp or Google Maps.
This plugin's main selling point is its crowdsourcing capability. Visitors can give ratings, write reviews, and upload photos into your users' page. Furthermore, visitors can also comment, bookmark, and flag other users' reviews and photos.
Sabai Directory is highly customizable too. There are three viewing options for your directory: list, grid, and map. You can choose from 16 map styles and use custom marker icons.
No matter what style you choose, you get an interactive map view. Hovering on any business or location markers will show their details.
Aside from custom pricing plans, you also get a built-in payment management system. You can ask payment using PayPal, 2checkout, Stripe, or Authorize.net.
By default, you get six-month support. However, you can extend it to twelve by spending an extra $9.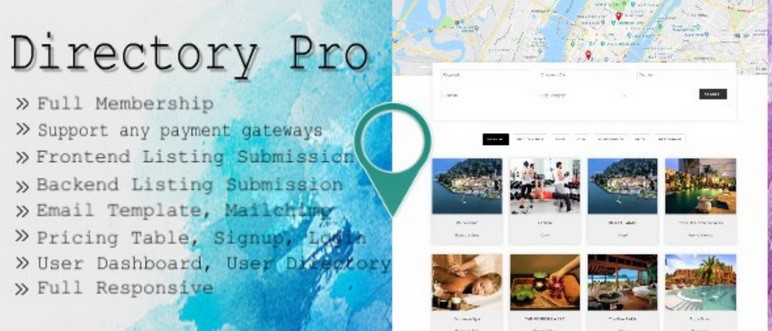 Directory Pro is similar to the Sabai WordPress Directory plugin, but it comes with some other features.
With the WordPress directory plugin, visitors can create a favorite list and contact your users. Along with this feature, visitors can also book a place or service.
On the other hand, you can let users sell coupons to visitors through PayPal.
The plugin has integration with MailChimp and Visual Composer. Thus, you can create an attractive website and send customizable marketing emails to users.
Directory Pro is $35 with six months-support. If you want another six months, you need to add $11.25.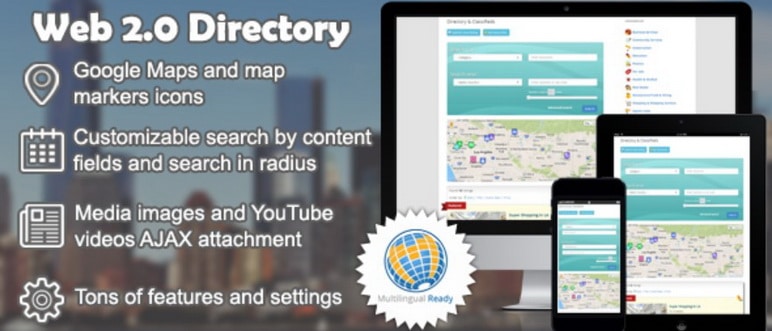 Web 2.0 Directory is a WordPress directory plugin with a powerful search feature. Its Relevanssi integration allows visitors to search into the contents of your custom fields. On top of that, they can filter places or businesses by rating and distance.
Like with Business Directory Plugin, you can make a featured list and charge users for it. This plugin supports Stripe and PayPal for transaction services.
You can get the plugin for $39, but you can also pay an extra $12.75 for 12 months support.

Usually, you can only send marketing emails with paid directory plugins. With LDD Directory Lite, you get this ability for free. Although it does not use any service integration, you can still make customized emails.
Apart from that, you can change the colors of headers, texts, and buttons of your directory. Like email customization, this feature is built-in as well.
Even though the plugin is free, it comes with paid add-ons such as import and export ability, rating and review submission, and social media share buttons. They cost from $9.99 to $99.99, depending on the add-on and the number of licenses you buy.

The BePro Listings WordPress directory plugin may not have many features, but it offers various paid add-ons. One of them is its form builder. With its drag-and-drop capability, you can make frontend submission forms as if you are dragging items on your desktop.
Another useful paid features that you can get is the gallery plugin. It adds three gallery styles to your directory pages: ticker, lightbox, and slider.
There are 23 BePro Listings add-ons in total, and their price ranges from free to $75.00. However, you can get them in bulk by buying the Gold Package. For $199.00, you already get 12 add-ons, including the form builder.
Summary
Directory plugins are useful for creating directory websites. Each has a different function, thus you need to choose one that fits your needs. If you have favorite directory plugins that we did not include, feel free to discuss it in the comment section!