Drupal Tutorial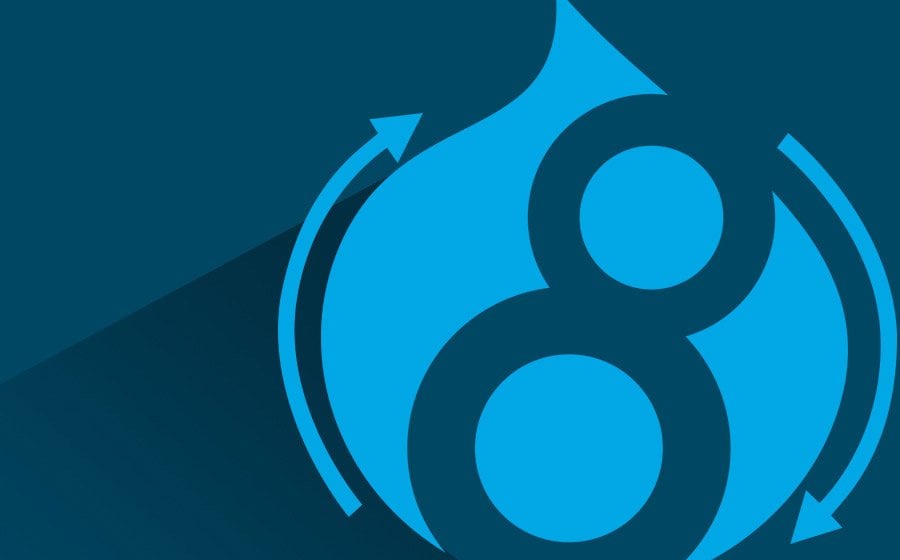 Choosing a reliable CMS (Content Management System) is essential, especially when you're building a site. It should possess excellent functionality and customizability to help you create a professional-looking website. One of the best alternatives you can try is Drupal.
If you don't know where to start – Don't worry! In this tutorial, you will learn all the basics of Drupal. To top it off, we'll also show you how to set up a site using this platform!
Why Should You Use Drupal?
Drupal's superiority lies in its flexibility since it offers plenty of options and configurations, which make customization easy. On the flip side, it has a steeper learning curve, especially for beginners.
However, it doesn't mean that you should overlook its benefits. Here are what you could expect when using this platform:
Great functionality –

you can easily expand the functionality of your site using

modules

. For example, if you want to add statistics features, you can download the

Google Analytics

module.

Better customization –

aside from modules, Drupal provides over 2000

themes

. Drupal core files can also be easily modified, which is a nice feature to have during the development process.

Reliable security – it generates detailed security reports regularly. Furthermore, if you're facing a security issue, you can directly report to the security team.
This tutorial will show you more features and attributes to help you make an informed decision when using Drupal. First of all, let's uncover how to install the platform!
How to Install Drupal?
There are two ways to install Drupal – manually or using auto-installer. In this section, you will learn how to do both! Please note that the steps listed in this tutorial are based on Drupal 8.x.x core version. However, it's also applicable for Drupal 7.x.x core version.
Using Auto Installer
The easiest way to install Drupal on your web hosting is by using the auto-installer feature. You can find it in your hosting control panel. As an example, we'll show you how to install Drupal in Hostinger's hPanel:
Enter the hPanel
In the Website section, click on Auto Installer.
Under the Most Popular section, choose Drupal.
Enter the details in the presented form and click on Install.

Installing Drupal Manually
If you're an advanced user, you might want to try to install Drupal manually. This method can come in handy if your hosting provider doesn't provide an auto-installer feature. You can also use it for installing Drupal on localhost or VPS.
In the following steps, we will show you how to install Drupal manually in hPanel:
Download Drupal –

visit

Drupal's official website

and click on the

Download Drupal

zip

button.

Extract installation files –

enter the

File Manager

on the

Files

section. Then, upload the

.zip

file to the

public_html

directory. Next, you can extract the

.zip

file, here's how the directory should look:



Prepare database –

you need to set up a new database. In the main menu, g

o to the

Database

section and choose

MySQL Databases

. Then, fill in all the details and click

Create

.



Enter the installation page –

go to your site's address to start the installation. Choose your preferred language and click

Save and continue

.

Choose installation profile –

there are two options to choose:

Standard

or

Minimal

. If you're a beginner,

standard

is the better choice since it provides pre-configured Drupal features. Whereas,

minimal

would be suitable for advanced users since it offers more freedom in terms of customization.

Verify requirements –

it will verify your server's specifications and check if the

requirements

are met. If they match, you'll be redirected to the next step.

Database configuration –

fill in the information regarding the database that you've created earlier. Once done, click

Save and continue

to install the site.

Configure site –

now, you can start filling the

site information

and

site maintenance account

. Don't forget to save the

username

and

password

since it will be used as your site's login credentials. Then, click

Save and continue

to finish the installation.



How to Build a Website With Drupal?
Now that you've successfully installed Drupal, we can get into the steps of building a site using the platform. Let's get an in-depth look!
Understanding Drupal Administrator Dashboard
First off, you should learn about the Drupal administrator dashboard. To do so, you need to login by adding user/login at the end of your Drupal URL. As such, it can be accessed via https://your-site-address/user/login.
Once logged in, click Manage at the top left corner of the page. The following sections will be shown:
Content –

this section allows you to add content, including an

article

or a

basic page

.

Structure –

here, you can manage the components of your site's structure, such as

block layouts

,

comment types

, and

content types

.

Appearance –

it allows you to install or uninstall

themes

. You can also change your theme's settings.

Extend – in this tab,

you can download and install

modules

to enhance your website's functionality.

Configuration –

this tab allows you to edit various configurations, such as

basic site settings

and

account settings

.

People –

you can manage

user accounts

,

permissions

, and

roles

in this tab.

Reports –

here, you can monitor your site by checking

recent log messages

or

status report

.

Help –

if you ever need help when getting started with your site, you can check out this tab.



Creating Taxonomies
Before knowing what a taxonomy is, you should know the following two words:
Term – is a word used to describe the content.
Vocabulary – is a collection of terms.
Taxonomies are used to classify content. A taxonomy uses terms to show specific content. Creating a taxonomy is easy; you can do it by following these steps:
Go to the Structure tab.
Click on Taxonomy.

Now click on

Add vocabulary

to add a new vocabulary. Enter the

name

(compulsory) and the

description

(optional) for your vocabulary. For example, let's type

Tags

as the vocabulary if you want to classify your articles based on tags.




Click on

Add terms

to add new terms to the vocabulary – let's say you want to add

Business Articles

as one of your tags. Enter the

name

,

description

,

text format

,

URL alias

(an optional URL to access the term directly), and

relations

for the term. Then, click

Save

.




That's it! Now you have

Tags

as the parent category, and

Business Articles

as the subcategory. Feel free to add more terms if you want to set more subcategories.
Creating Articles and Basic Page
If you want to make your site more engaging, you should know how to create content. Drupal provides two core content types by default:
Articles –

it was previously known as

story

. You can use it to create content like press releases or blog posts.

Basic page –

it displays static content that's not expected to change as frequently as articles. One of the most common examples of a basic page is the "About Us" section.
Aside from the core content types, Drupal has optional content types, which you can activate by installing modules:
Book page –

it can be used when creating content for a collaborative book. You can also set the book outline and authoring information to the content. Install the

Book

module in the modules list to activate it.

Forum topic –

it allows you to post a discussion thread within a forum where visitors can join the topic via comments. You can install the

Forum

module to use it.

Poll –

you can collect votes in the form of multiple-choice questions. Download and install the

Poll

module to activate it.

Blog entry –

this content type got

discontinued

from the core in Drupal 8 and is now a contributed module. It gives registered users the ability to create an online diary or journal.
In this tutorial, you'll learn how to create both core content types in Drupal. First off, we will show you how to create an article, just follow these steps:
Click on

Content

on the admin dashboard.

Now click on

Add content

and choose

Article

. You will be presented with a screen that prompts you to add the

title

,

body

,

tags

,

text format

, and

image

for the article.

If you want to link the article to a menu, click on

Menu Settings

and then on the checkbox that says

Provide a menu link

. Here you can add the

link title

,

description

,

parent item

, and

weight

for the menu.

You can also add

revision information

,

URL path

settings,

comment

settings, and

authoring information

for your article.

Now click on the

Preview

to view the article or just click on

Save and publish

to make it live.



Now, let us have a look at how to create a basic page. To get a real grasp on how to do it, let's try to create an About Us page:
Click on Content and choose Add content.

Pick

Basic page.

Then, enter the

title

and the

body

for the page. As this is an about us page, you can put "About us" in the title.

Toggle the

Menu

settings to link the page to a menu. Click on

Provide a menu link

. Enter the

title

,

description

,

weight

, and

parent item

– for example, it can be put under a section like "Company history".

You can also add

revision information

,

URL path

settings,

comment

settings, and

authoring information

for your page.

Click on

Preview

to view the page or just click on

Save and publish

to make it live.



Creating Menus
You can use menus for categorizing and structuring the site. For example, let's add a product menu. Check out the following instructions to create a menu:
Click on

Structure

and choose

Menus

.

Some of the default menus like

Tools

,

Administration

, and

Footer

are already present. You can edit them by clicking on

Edit menu

.

To add a new menu, click on Add menu.
Add the title and the summary for the menu. and click on Save.

Click on Add link to add a link to your menu.

On the presented window, you will be asked to add

link

path

,

title

,

description

,

parent link

,

weight

for the link. You can also select whether you want to enable the menu and whether you want to show it as expanded using the

Enabled

and

Show as expanded

checkboxes.



Once all entries are made, click the Save button.
Creating Drupal Blocks
Blocks can be referred to as boxes of content that are rendered into a region. For example, a user login (block) can be added to your website footer (region). If you want to know how to place a block on a region, follow these steps:
Click on Structure from the main menu.
Now click on Block layout.

Let's say we want to place a

page title

block in the

header

region. So, click the

Place block

button next to

Header

. Then, click on

Page Title

from the list of blocks.

Confirm the

title

,

visibility

, and

region

for your block and click on

Save block

.



How to Install Modules in Drupal?
Drupal has some highly useful modules embedded by default, like Statistics and Configuration Manager. Moreover, you can extend your site's functionality by installing contributed modules. In this section, you will learn how to install one.
Firstly, you have to navigate to the Drupal module search page and find the module. Once you have reached the webpage for the module you want to install, move over to the downloads section at the bottom of the page.
Please note that the first number in the module version represents the core version. Thus if you are running Drupal 8, be sure to download module with a version number starting with 8. Take this picture as an example:

Now follow these steps to install the module on Drupal:
Right-click on the module download link and choose Copy link location.
Move over to your Drupal homepage and click on Extend.
Now click on Install new module.
Under Install from a URL, paste the link that you copied in step 1.
Hit Install and wait for the installation to complete.

If the Install new module option isn't available, you should enable the Update manager module first. You can find it under the Core section in the Extend menu.
Now, let's have a look at some of the most useful contributed modules in Drupal:
How to Install Themes in Drupal?
Setting up the perfect look for your site is important, as it could bring a good impression to your visitors. Installing a visually-appealing theme is one way to do it. In Drupal, you can view currently installed themes or add new themes by checking the Appearance tab.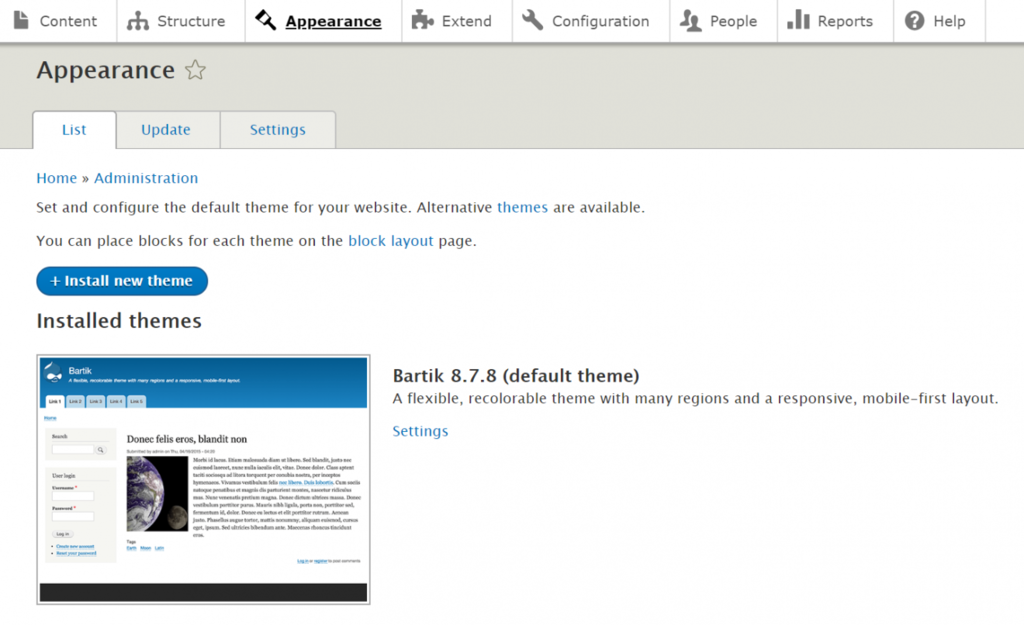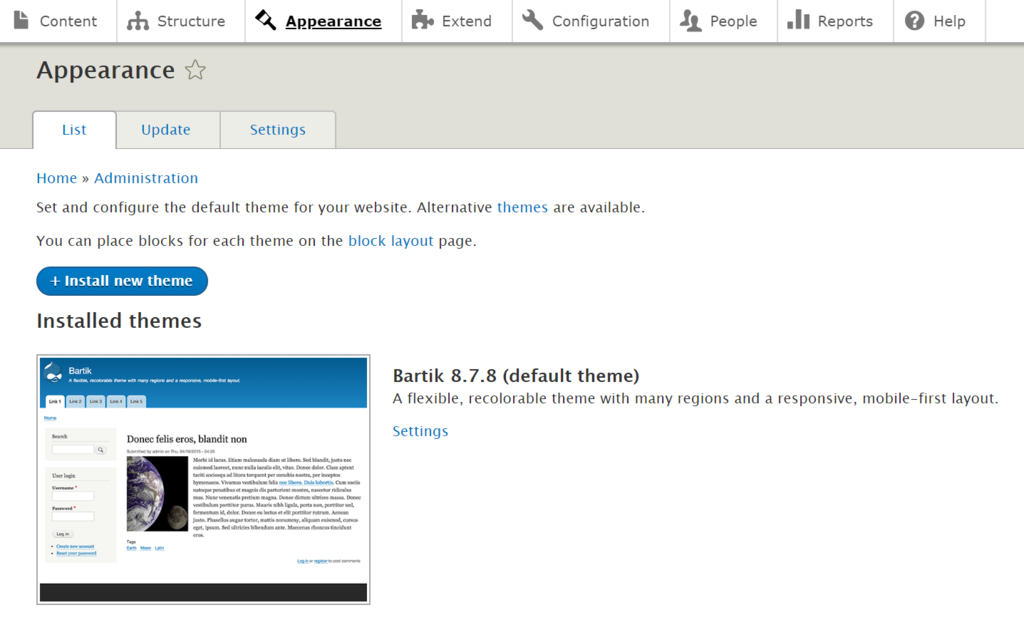 There are plenty of sources on the web to find various third party themes for Drupal. However, the most reliable source would be the official Drupal website.
It comes with useful filters to search for themes that you would like to use. The most important filter is Core Compatibility, where you can choose the version of your current Drupal installation. Make sure you select a theme that is compatible with your core Drupal version.
The installation process is quite similar to installing modules:
Right-click on the file you want to install and click on Copy link location.
Now move over to your Drupal homepage and click on Appearance.
Now click on Install new theme.
Under Install from a URL, paste the link that you copied in step 1.
Hit Install and wait for the installation to complete.
However, the newly installed themes are disabled by default. To enable them, find your theme in the Uninstalled theme section and click on Install and set as default.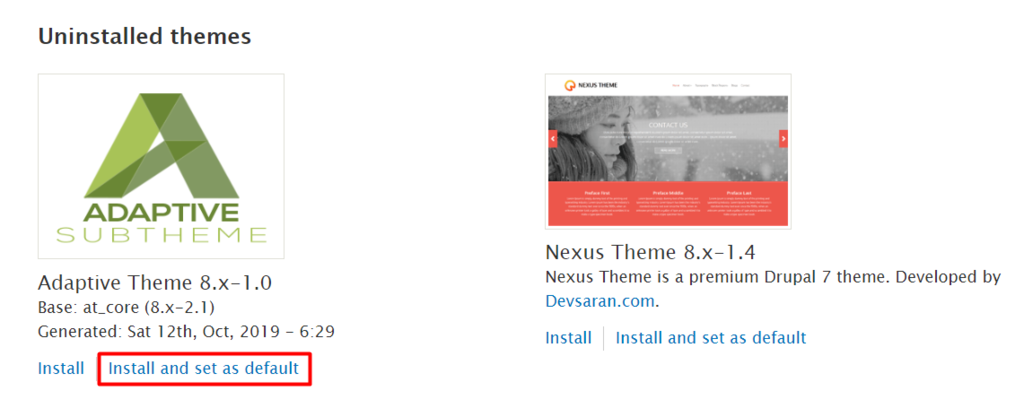 How to Create a Blog on Drupal?
You can set up a fully functional blog on Drupal. Yet, the blog module isn't a part of the core in the latest Drupal 8 version. Therefore, you should download and install the blog module manually.
Once installed, you'll see the blog module in the Extend menu. You can check the box next to Blog and click Install to enable the module.

Now navigate to Content ->Add content. You should now see a new content type called Blog post. Add the title, body, and publishing options for the blog, and hit Save and publish. Your blog should now be visible under the blogs section on your homepage.
How to Back up Drupal?
It's always important to periodically backup the Drupal files. So, you can conveniently recover your site if something goes wrong. In the following steps, we will show you the step-by-step tutorial to back up your Drupal files using Hostinger's hPanel:
Login to hPanel.
Select Backups in the Files section.
You will now see a list of available backups. To create a new backup, click on the Generate a new backup button.
A dialog box will appear asking you whether you want to replace the existing backup with the new one. Click on Yes.
Your backup files are now ready. If you want to download them, just click on Prepare Backup, and proceed with Download.

How to Update Drupal?
In Drupal, update and upgrade are two different things. Update stands for taking Drupal from one minor version to another, such as from 8.1 to 8.2, while upgrade would be taking your Drupal core version from 7 to 8.
In this section, we will go through the steps required to update Drupal. However, Before starting the update, it's strongly recommended to put your site into Maintenance mode. So you'll be the only one who has access to the site during the updating process:
Navigate to the Configuration tab and click on Maintenance Mode.
Check Put the site into maintenance mode option.
Hit the Save configuration button.
Now let's start the updating process. Firstly, to see if an update for Drupal core is available, navigate to Reports -> Available Updates section.


There are quite a few ways to update Drupal. For instance, you can use SSH or FTP to update manually or automate updates with composer. If you're a beginner, the most convenient way would be to use an FTP client like FileZilla:
Download the latest Drupal version and extract it to your computer.
Connect to your FTP account and access folder where Drupal is installed. In most cases it's public_html.
Select core and vendor folders as well as all the files (not folders) in the root Drupal directory and delete them.


Now access the folder with Drupal update files and select

all files

except

modules, profiles, sites,

and

themes

. Then, upload them.

After the uploading process is completed, visit the Available Updates section once again to check whether the core version has updated.

Turn off the maintenance mode by clicking on Go online.
Frequently Asked Questions
What is Drupal used for?
Drupal is a content management system used for building complex websites. It's suitable for sites with large databases and resource libraries, a lot of content, and that attract a high amount of traffic.

The platform is designed by developers for developers. Thus, it's necessary to have some coding knowledge to unlock its full potential.

Overall, Drupal is a highly flexible, scalable, and secure CMS that can be customized to fit different needs.

Is Drupal easy to learn?
For those who have some technical knowledge and experience using various CMS, yes. However, for complete beginners, not so much. 

Even though building a website using Drupal doesn't require any coding skills, it may take some time for beginners to discover and understand how to use all of its features. Installing themes and modules is also not as straightforward as other CMSs.

Building a unique and highly customized website using Drupal can be a long and complicated process. Unless you have technical and programming skills, you may need to hire a web developer.

Who is using Drupal?
Government agencies, publications, large corporations, trade associations, and non-profit organizations use Drupal for their websites. 

The City of Boston, George Washington University, The Prince of Wales, and The Economist are a few big names known to use Drupal. Visit Drupal's case studies to see the complete list of brands that are using the platform.
Is Drupal free to use?
Yes, the Drupal software itself is completely free to use.

Moreover, Drupal is an open-source CMS released under the GNU General Public License and Creative Commons License. Anyone has the freedom to download, use, share, modify, and extend the platform without having to worry about licensing fees.
You only need to pay for hosting and registering your site's domain name.
Conclusion
Drupal is an excellent choice if you prefer a highly customizable CMS. It provides a wide array of themes to help you create a professional-looking site. You can also extend the site's functionality by adding modules.
In this tutorial, you've got everything you need to kick-start a new site with Drupal, such as installing the platform with its themes and modules. We've also covered other essential things, such as how to create a blog, back up the site, and update the platform.
If you need further information, you can check out the official Drupal documentation. You can also ask us in the comment section below should you have any questions regarding this Drupal tutorial!