How Much Does Website Hosting Cost in 2023 Based on Hosting Types and Other Factors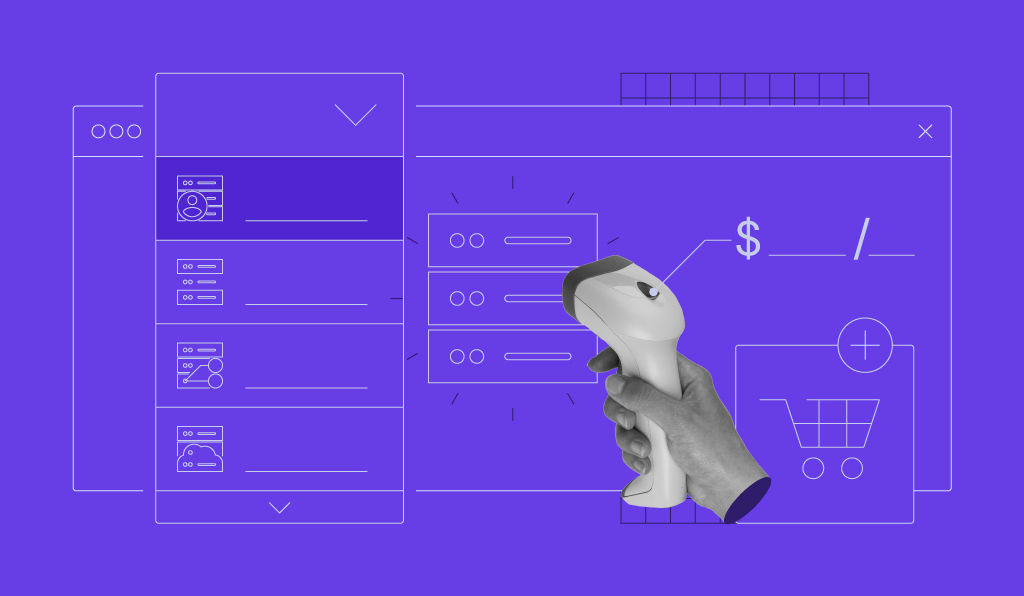 Every website needs web hosting to go online. Understanding your website hosting cost is essential to making an informed purchase decision.
This tutorial will explain different hosting prices, starting from around $2-15/month with shared hosting to $80-500/month with dedicated hosting. We will share the average cost for five of the most popular hosting types.
In addition, this article will also list other website expenses to consider, such as a domain name and marketing tools.
Download Website Launch Checklist
Total Website Hosting Costs in Detail
How much does it cost to host a website? The typical website hosting costs vary depending on multiple factors:
The web hosting type. Each type of hosting is designed for specific use cases, which influence the price. For instance, shared hosting is designed for beginners and small websites, while a virtual private server (VPS) is designed for web professionals and large-scale projects.
The web hosting provider. With thousands of hosting companies available, choosing a reliable provider is essential to get the most out of your plans.
The plan period. The length of your subscription influences the monthly price. If you choose a longer-term plan, you can reduce your website hosting charges per year. Many web hosting providers give discounts for longer subscription periods.
The features. Each hosting type offers multiple plans depending on the features and allocated resources. For example, a plan with more storage capacity will cost more.
Understanding what type of website you want to create is essential when choosing a web hosting plan.
Pro Tip
With a website builder, the pricing plans already include web hosting. Our easy website maker is included with web hosting, starting at £1.49/month.
Shared Web Hosting
With shared hosting, you are using the same server as other users. All websites on the server have access to the same allocated pool of resources, such as bandwidth, storage, and processing power.
On average, the cost to host websites using shared hosting is around $1-15/month. It is the cheapest web hosting service.
Every hosting provider has its own set of pricing plans. Hostinger offers three web hosting plans starting at £1.49/month. We also offer coupons and other discounts like Black Friday web hosting deals.

When looking for a shared hosting plan, consider its additional features. For example, Hostinger's Premium hosting plan, for £2.59/month, includes unlimited bandwidth, up to 100 email accounts, and a free domain name.
Choose a more extended subscription period to get a better deal for your hosting plan.
To demonstrate, Hostinger's Business hosting plan costs £3.99/month for 48 months. The same plan costs £13.99/month if you only pay for one month.
If you don't know much about launching a website, shared hosting is a beginner-friendly option to help get you started. This hosting service is suitable for blogs, online portfolios, and small to medium-sized business websites.
Pros
Affordable plans. The pricing plans are more budget-friendly than other web hosting types.
Beginner-friendly. An excellent option for users with limited technical knowledge.
Great support. The shared web host will manage all the back-end tasks.
Cons
Shared server. Sharing the same server with other users may pose performance and security risks.
Limited resources. Unsuitable for websites that require extensive resources.
Difficult to scale. Doesn't offer a lot of room for your own website to grow due to its shared nature and limited resources.
VPS Web Hosting
Virtual private server (VPS) hosting provides dedicated resources and web hosting space. It uses a virtualization technology like a hypervisor to divide a physical system into multiple isolated virtual machines.
Most VPS hosting providers give full root access to install your own software and operating system. Unlike shared hosting, what you do with your account will not affect other users and vice versa.
On average, virtual private servers cost around $20–100/month. VPS hosting prices often vary due to the allocated central processing unit (CPU), random access memory (RAM), and solid-state drive (SSD) storage.
Each web hosting company may have its own set of VPS hosting prices. Hostinger offers unmanaged VPS hosting, making our plans more affordable than average. With unmanaged VPS hosting, you are responsible for all the work inside the server.
Hostinger offers four VPS hosting plans ranging from £4.99 to £20/month. All plans include a dedicated IP and 24/7 customer support.


If you want to create an eCommerce or multimedia website, the KVM 2 hosting plan for £6.49/month is a great choice. On the other hand, the KVM 4 plan, for £9.99/month, is a great option for resource-intensive websites like online games.
With Hostinger, you can upgrade your VPS hosting plan without downtime. Therefore, we recommend getting the smaller plan first if you're still unsure.
VPS hosting is the go-to pick for technical users who want complete control over their server environment. Keep in mind that your website can be vulnerable to security threats without the proper configuration.
Pros
Complete control. Users have more control over their hosting environment.
Suitable for traffic surges. VPS hosting handles traffic surges better than shared hosting.
Better privacy. This hosting type secures your files and databases from other server users.
Cons
Higher average cost. The average virtual server hosting cost is more expensive than shared hosting.
Steep learning curve. Users need technical knowledge to utilize VPS web hosting entirely.
More responsibility. Users are responsible for setting up and managing their VPS hosting.
Cloud Web Hosting
Cloud hosting uses multiple virtual servers to host a website – providing high uptime and excellent scalability.
Cloud hosting is more resistant to physical hardware issues because it utilizes a network of remote servers. If one server is down, another will help keep your website running.
Most web hosting companies offer cloud hosting services from $10-200/month.
Find a web hosting provider that offers valuable features for each cloud hosting package. Hostinger's cloud hosting plans include free domain registration, an SSL certificate, and a 30-day money-back guarantee. They range from £8.99 to £29.99/month.
The cost of a cloud web hosting plan increases the more RAM and CPU are allocated to it.
Consider your traffic potential when choosing a cloud hosting plan. For example, medium-sized businesses can start with the Cloud Startup plan for £8.99/month. Once your business website gets busier, the Cloud Enterprise plan for £29.99/month is more suitable to support higher traffic.

Pros
High reliability. When one server fails, the website uses other servers to stay online.
Traffic load balancing. Cloud hosting maintains website performance even when traffic is high.
Scalability. When growing your website, upgrade your bandwidth and storage to support the increased needs.
Cons
Limited control. The web host manages cloud hosting. As such, users assume less control over their hosting environment.
Higher average cost. The average cost of cloud hosting is higher than shared hosting and VPS.
Security vulnerabilities. Improper configuration can cause security issues.
Dedicated Hosting
With dedicated hosting, you have an entire physical server allocated only for you. These dedicated hosting plans give users complete control over their server environment. You can customize the software, operating system, and general configurations.
Dedicated hosting prices are the highest, ranging from $80-500/month. The main elements influencing its price are the hefty bandwidth, storage space, and RAM for supporting large-scale projects and businesses.
Therefore, a dedicated server is ideal for high-traffic sites that require consistent uptime and fast speed, like a large eCommerce marketplace or a multimedia website.
Many web hosts offer a dedicated server plan that includes unlimited websites and domains. Keep an eye for plans that have additional features like unlimited email accounts and storage.
There are two types of dedicated servers – managed and unmanaged. A managed dedicated web hosting service offers professional support to help you with any issue. Meanwhile, an unmanaged server is a type of dedicated hosting that does not provide customer support.
Although the flexibility is excellent, unmanaged dedicated servers require advanced technical knowledge and skills as you are responsible for maintaining them.
You also want to check if the web host changes extra for additional data transfers with dedicated hosting. We recommend choosing a plan that charges a flat fee for data transfers to get a more cost-effective solution.
Pros
Full control. Assume total control over the physical server.
Flexible to your needs. Configure your hosting according to your requirements and preferences.
Suitable for heavy traffic. Lets you host large websites with heavy traffic.
Cons
Steep learning curve. Advanced technical skills are necessary to utilize a dedicated server.
High cost. Dedicated servers are the most expensive web hosting type.
Full responsibility for unmanaged servers. Since it does not always include professional customer support, you are likely responsible for managing the server.
WordPress Hosting
WordPress hosting improves the performance and security of websites built on the WordPress content management system (CMS). This web hosting type also simplifies your WordPress website-making process.
WordPress website hosting differentiates itself from other hosting options with WordPress-specific features, such as the one-click installer and security tool. Many web hosting providers also grant their clients access to a WordPress support team.
The average cost for WordPress hosting plans is higher than shared hosting. The cost to host websites using this option can go up to $70/month, depending on the provider. Many hosting providers also offer managed WordPress hosting, which can cost up to $200/month.
With Hostinger, WordPress hosting prices range from £2.59 to £8.99/month. All plans include a free secure sockets layer (SSL) certificate and a 30-day money-back guarantee.
Check out our article on shared vs managed WordPress hosting to get a better understanding of the price difference.

The Premium hosting plan, for £2.59/month, is suitable for beginners. It comes with free email accounts and WordPress multisite support.
However, a medium-sized website can benefit more from using the Business plan. For £3.99/month, this plan includes a free CDN and WordPress staging tool.
Pros
WordPress-specific features. Most WordPress web hosting plans include features and tools to improve performance and security.
Automatic updates. Update your WordPress plugins and themes automatically.
Dedicated support. Get access to a dedicated expert team to solve WordPress-related issues.
Cons
Pre-installed plugins and themes. Some of the pre-installed features might not be suitable for your needs.
Shared server. Many providers only offer WordPress hosting in a shared environment, which is more likely to pose performance issues.
If you're creating your first website with WordPress, you can start with a free web host and, when you need more resources or have more experience, you can switch to WordPress hosting paid services.
Other Costs of Owning a Website
Web hosting cost is not the only element you need to consider when budgeting a website. Here are several other main costs of building a website:
Domain Name
A domain name works as an address that directs users to a website. Without a domain, users must enter your website's IP address to find your content. As such, having a memorable domain name is essential for the overall user experience.
The first step in buying a domain name is to find a trustworthy registrar. Some hosting providers, including Hostinger, also sell domain names. For example, Hostinger offers a convenient domain name search tool which lets you find and register a domain in no time. Purchasing a domain from your web host can simplify your website-making process.
In addition, Hostinger includes a free domain registration with most of its hosting packages. Check your provider to see if your hosting plan includes a free domain to save money.
If you purchase a domain name separately from your website hosting, consider the different elements affecting the price.
For example, popular top-level domains (TLDs), such as .com, .net, and .org, are generally more expensive. On the other hand, domain endings like .store and .online are often more affordable.
| TLD | Registration | Renewal | Transfer |
| --- | --- | --- | --- |
| .com | £8.99 | £12.99 | £8.99 |
| .co.uk | £5.49 | £8.99 | £0.89 |
| .info | £2.99 | £14.99 | £13.99 |
| .net | £9.99 | £11 | £10.99 |
| .xyz | £1.99 | £12.99 | £6.99 |
Additionally, the name itself can influence a domain's price. Some of the most expensive domains are names with high branding potential. For example, business.com was once sold for $345 million.
Use a domain name search tool to find out a domain's availability and cost.
Domain Name Checker
Instantly check domain name availability.
Another cost to consider is domain privacy protection. This feature protects the domain name owner's personal information. Some registrars include domain privacy protection for free, while others charge extra. Hostinger offers this service for free to protect your domain information.
SSL Certificate
An SSL/TLS encrypts all data transferred between a website server and a browser. Its primary purpose is to prevent unauthorized users from accessing sensitive information. Having an SSL has many benefits and it helps you rank higher on search engines.
Many web hosting services, such as Hostinger, include a free SSL certificate in their hosting packages.
Hostinger's free SSL certificate is as secure as the paid ones. It uses a domain-validated certificate compliant with Payment Card Industry Data Security Standard (PCI DSS). Hostinger also renews all certificates automatically for free to help users save money.
If your hosting provider does not include this offer, get a free SSL certificate using Let's Encrypt. Another option is to purchase one from a trustworthy certificate authority (CA).
The cost of an SSL depends on several factors, such as the number of domains and subdomains it can cover. The price for a single-domain SSL is around $7–860/year. On the other hand, a Wildcard SSL certificate covers multiple domains for $50–1,000/year.
There are three types of SSL/TLS certificates according to their validation level:
Domain-validated certificates (DV). The CA will ask you to verify the domain ownership via email, phone, or DNS record.
Organization-validated certificates (OV). The CA will check the documentation that verifies the organization's name, contact information, and legal status.
Extended validation certificates (EV). The CA will conduct extensive background checks to verify the registrant's location, legal status, and order details.
All types provide the same encryption level, but some websites might need certificates with a higher validation level.
Extensions
Extensions enhance the overall site functionality, from adding pop-up messages for better conversions to improving security. Each website platform has its own set of free and paid extensions.
For example, WordPress is known for its extensive gallery of plugins. Some WordPress plugins are free, making them suitable for small to medium-sized websites.
Once your site grows, consider premium plugins like WP Rocket and OptinMonster for better features. Premium plugins cost around $5–50/month.
Another source to get website extensions is a third-party marketplace like CodeCanyon. A third-party marketplace lets you purchase multiple plugins from the same platform.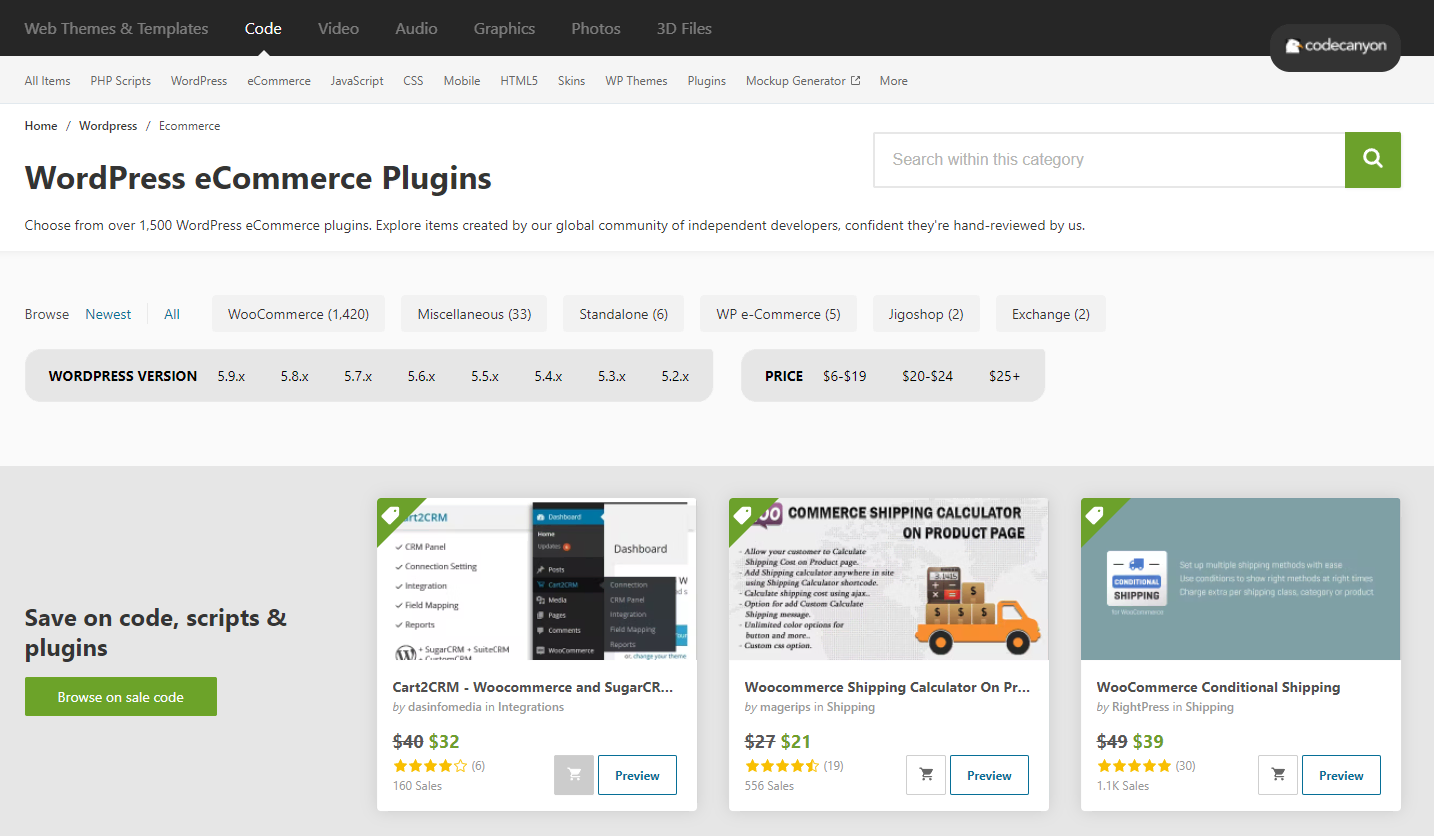 Themes
Themes help customize your website to make it more attractive and engaging. Whether you use a website builder or a CMS, you will most likely find free pre-made themes.
For example, WordPress offers 9,000+ themes for various website types in its directory. Many are free, making them great to start your website.
However, purchasing a premium theme can create stronger branding. Premium themes often come with developer support and regular updates.
TemplateMonster is one of the most popular marketplaces for premium or paid themes. The price ranges from around $5-290 for a one-time payment.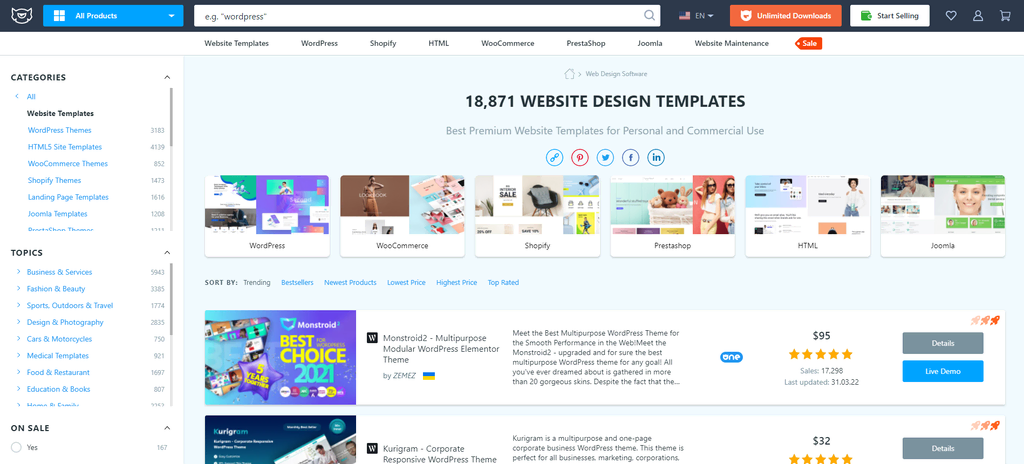 TemplateMonster also offers subscription plans. For $13.25/month, you can download unlimited themes and receive 24/7 support.
eCommerce Features
eCommerce websites are often more expensive than regular websites as you will need additional features to manage and sell products and services.
When starting an online store, consider your type of business and the number of products or services you want to sell.
The average cost for basic eCommerce features is around $15/month. However, the size and traffic of your eCommerce website will influence the total cost. Here are some vital eCommerce features to consider:
eCommerce platform. Use a platform that includes all the essential features to sell online. eCommerce platforms offering core features cost around $10–15/month.
Payment gateways. Build customers' trust and encourage transactions with a reliable payment gateway. A payment gateway for an average-sized online store costs between $15-25/month.
Inventory management. Manage your products and services easily using an inventory management tool. Smaller websites can use free inventory management. If you have plenty of inventory, inventory management may cost up to around $1,000/month.
Some web hosts offer plans for specific eCommerce platforms to save you money. For example, Hostinger offers two eCommerce hosting options:
WooCommerce hosting. Includes eCommerce features with the WooCommerce platform. Plans start at $3.99/month and offer free domain name registration and custom email accounts.
PrestaShop hosting. Uses the PrestaShop platform to help create your store immediately. The web hosting prices range from £3.99 to £14.99/month with unlimited bandwidth and databases.
Marketing Tools
Marketing tools are essential to expand your reach, grow your audience, and increase conversions. Some marketing efforts, such as social media advertising, email campaigns, and search engine optimization (SEO), require special tools.
The pricing for marketing tools varies depending on your needs. When starting, expect to pay around $10-150/month for each marketing tool.
Here are the average costs for different types of marketing tools:
SEO tools. Improving your website's ranking using an SEO tool like Ahrefs costs $99-999/month. Many SEO tools often include features to analyze keywords, backlinks, and on-page issues.
Email marketing tools. Create regular newsletters to keep your website visitors up-to-date. Mailchimp is an excellent tool for sending marketing emails to your subscribers. It offers a free plan to start. Once you have 2,000+ subscribers, premium upgrades start at $34/month.
Social media marketing tools. Increase your audience by targeting social media users. Paid advertising on social media may cost $7-9 for 1,000 impressions.
Alternatively, use a website builder like Hostinger to get marketing tools included with the pricing plans.
Conclusion
So, how much does it cost to host a website? It depends on your hosting type, provider, subscription period, and features.
We have explained the average web hosting prices for different hosting services:
Shared hosting. The most affordable hosting for small to medium-sized websites. Hostinger's web hosting plans cost from £1.49 to £3.99/month.
VPS web hosting. The best solution for growing websites and users with technical knowledge. Our VPS pricing plans range from £4.99 to £20/month.
Cloud web hosting. A highly reliable, easy-to-use option for websites with heavy traffic. The pricing plans for Hostinger cloud hosting cost £8.99 to £29.99/month.
Dedicated hosting. The most expensive web hosting service, which gives you complete control over one physical server. Unmanaged dedicated hosting requires advanced technical skills. Expect to pay web hosting fees of around $80-500/month.
WordPress hosting. A web hosting service designed for WordPress websites. Our WordPress hosting plans cost £2.59 to £8.99/month.
After choosing web hosting, consider other costs of owning a website. Fortunately, some web hosting services already include domain name registration, an SSL certificate, eCommerce features, and marketing tools. Once your site grows, also consider purchasing paid extensions and premium themes to unlock advanced features.
Let us know in the comments below how much your web hosting costs.
Website Hosting Cost FAQs
Can I Host a Website for Free?
Yes, there are several platforms that offer free website hosting, such as 000WebHost or WordPress.com. However, these free plans often have limitations in terms of storage, bandwidth, and customization options. For more advanced features, you may need to consider paid hosting services.
What Features Should Be Included in Website Hosting Cost?
The features included in website hosting cost can vary depending on the hosting provider and the plan you choose. However, some common features to look for are sufficient storage and bandwidth, domain name registration or transfer, email accounts, SSL certificate, regular backups, customer support, and additional services like website builders.
Should I Pay for Hosting Monthly or Annually?
Paying for hosting monthly or annually depends on your specific needs and preferences. Paying annually often comes with discounts and cost savings compared to monthly payments. However, if you're unsure about the long-term commitment or need flexibility, monthly payments may be a better choice.
What Is the Most Affordable Way to Host a Website?
The most affordable way to host a website is to utilize free hosting platforms, such as GitHub Pages, for static websites. For dynamic websites, shared hosting plans offered by a reputable provider like Hostinger often provide affordable options with features like unlimited bandwidth, storage, and customer support.