Forums are a staple of the internet. In fact, you could say they're the precursors to social media platforms such as Facebook. Today, it's easier than ever to set up forum software and enable your users to interact with each other. The question is, what is the best forum software for your particular needs?
In this article, we're going to look at nine of the best forum software options, as well as:
P.S. If you've been eager to start an online community, all of these forum scripts can be installed with just a single click of your mouse on our forum hosting plans!
But before that, however, let's talk about what functionality your chosen forum software needs to offer.
What Features Should the Best Forum Software Include?
Most online forums are fairly straightforward. They enable you to register an account, create threads, and post in response to other users' messages. In most cases, forums also include user role systems, so you can have admins and moderators at the top managing the site, while regular users retain minimal permissions.
Aside from that basic functionality, there are a few other features you'll want to keep an eye out for in the best web forum software if you want to offer a rich experience:
Profile customization. Enabling users to customize their profiles can increase engagement since it makes them feel more at home and in control.
A powerful text editor. Forums are almost 100% text-based, so you'll want to offer your users a robust editor to create and customize their posts.
Private messaging. Many forums are all about public discussion, but enabling private messaging is a smart way to foster interpersonal relationships.
Comment signatures. Just like profile customization, this option can help you increase engagement and gives users the chance to have a little fun.
Achievement systems. A lot of forums set up user 'levels' that can be unlocked after a certain level of activity or amount of time. It rewards users for participating in your forum frequently.
Whichever forum software you choose doesn't need to offer all of these features. What you need mostly depends on the kind of experience you want to provide. For example, if you just want to set up a forum that lets users submit support queries, it can be overkill to enable signatures and achievements.
However, most forums can benefit from as many modern features as possible. In fact, it's smart to provide an experience that's as close as possible to a social media platform, so users feel compelled to keep coming back. For that reason, you'll want to look for the best forum software that offers as many of the above features as possible, even if you don't intend to use them right away.
9 Best Forum Software Picks Compared
Now that you know what you're looking for, it's time to explore some of the best community forum software options. What follows isn't an exhaustive list. Instead, it's a curated collection of the nine best forum software tools we most recommend for those wanting to create their own forums.
Here is a list of the best forum software, based on popularity and functionality:
1. phpBB

phpBB is a flexible forum platform that enables you to create boards where registered users can post messages. Once you have a forum set up, you can create as many internal message boards as you want. In fact, this tool can handle thousands of users, especially if you're using a top-notch hosting service.
Along with some basic functionality, phpBB also enables you to use extensions to add new options to your forum. There are hundreds of free extensions you can use, which enable you to add almost any forum-related feature you might want.
phpBB also includes a theme system, which you can use to change your forum's look. Plus, your users will get plenty of options for customizing their profiles and posts. Finally, this is open-source software and benefits from the backing of an active community.
Pros:
Provides powerful forum software with multiple hierarchy options.
Enables users to customize their posts and profiles.
Offers access to plenty of moderation options.
Lets you set up extensions and themes to customize your forum.
Is very responsive out-of-the-box.
Cons:
Most phpBB themes look a bit outdated by 2018 standards.
Overall, phpBB is a simple recommendation if you're looking for the most customizable forum software you can find. With extensions, you get access to all the features you might need.
2. MyBB

By now, it should be clear that there is some functionality that you can expect to find among all of the best forum software options. That includes the ability to set up message boards, enable user registration, and perform moderation.
Instead of rehashing the same points, we're going to focus on what each of the remaining platforms does differently. MyBB, for example, shares a lot of features with phpBB. It offers robust plugin and theme systems, has an active community, and is easy to use.
The difference, in this case, is that MyBB doesn't offer as many extensions. However, it has a leg up on phpBB when it comes to style. MyBB forums tend to look a lot more modern, and your users should feel right at home when using them.
Pros:
Provides access to an easy-to-use open-source forum platform, with all the basic features you'll need.
Lets you set up plugins and themes to customize your forum.
Includes user reputation systems out of the box.
Makes it easy to use calendars to schedule events.
Cons:
It's not as powerful as tools like phpBB.
MyBB is the obvious choice if you like what phpBB has to offer, but you want something that looks more stylish. In our experience, phpBB offers more advanced features, but MyBB is still robust enough to handle most popular forums.
3. WordPress

From this point onward, we're going to look beyond forum-specific software and cover some multi-purpose platforms. You've probably heard of WordPress before since it's the most popular Content Management System (CMS) in the world. What you may not know is that this platform enables you to create anything from a simple blog to an online store, thanks to its massive collection of plugins.
Some of your best options to set up a forum using WordPress include Asgaros Forum, wpForo Forum, and bbPress. Any of those plugins provides you with all the basic forum features you need, plus plenty of useful extras.
It might seem counterproductive to use a multi-purpose platform to power your online community. However, a CMS such as WordPress is the best forum software if you want to set up a regular website and a forum side by side.
Pros:
Provides access to the largest collection of themes and plugins on the web.
Is incredibly easy to use.
Lets you set up both regular websites and message boards.
Makes it easy to choose from a wide variety of forum plugins, for a highly personalized experience.
Cons:
The platform wasn't built with forums in mind, so it requires a little work to get one up and running.
If you're a WordPress user, it makes sense to use the platform to set up your new forum as well. Even if you've never used the CMS before, however, it's pretty easy to pick up. What's more, knowing how to use WordPress can open a lot of doors.
4. Joomla!

Joomla! is another CMS that enables you to build almost any type of website you can imagine, including online forums. Just like WordPress, it also features powerful plugin and theme systems, so it's incredibly customizable.
The difference between WordPress and Joomla! is that the latter provides you with more control over your projects out-of-the-box. It's aimed at users with some experience in web development, however, so it's not as hands-off as WordPress.
If you're looking to use this robust CMS to power your forum, you'll need to choose the right plugin to do it. Some of our top picks include Kunena, ChronoForums, and EasyDiscuss (although that last one is a premium option).
Pros:
Offers more control over your website out of the box.
Lets you choose from multiple plugin options to set up your online forum.
Provides powerful built-in security and Search Engine Optimization (SEO) features.
Cons:
Getting started with Joomla! is a bit more difficult than with other platforms we've checked out so far.
Your choices for forum plugins are more limited than with WordPress.
There's a lot of debate around whether it's better to use WordPress or Joomla! In our opinion, there's a place for both platforms. The former is much easier for beginners to get started with, whereas Joomla! requires a bit of web development experience to get the most out of it.
5. Drupal

Drupal is the final entry in our list of the best forum software tools. This is another popular CMS, which sits a step above both WordPress and Joomla! in terms of default features.
When it comes to functionality, Drupal is one of the most powerful CMSs you can find. However, those added features also mean there's a steep learning curve. In fact, trying to use Drupal without any development experience can be a bit frustrating.
That being said, the platform also offers a solid collection of modules and themes to further customize your experience. However, you don't need to use any extensions to set up a forum with Drupal, since the platform includes that functionality among its core features. Of course, there are some modules that enable you to extend the default options, such as Advanced Forum.
Pros:
Provides a ton of customization options.
Offers built-in forum functionality.
Provides access to modules and themes you can use to improve your forum.
Cons:
It can be hard to get started with Drupal if you don't have experience in web development.
Overall, Drupal is a strong choice if you're looking for enterprise-level features and scalability. Especially if you're a developer, you shouldn't have any problem launching your first forum with this platform.
6. Vanilla

So far, we've only talked about open-source forum software. Vanilla, on the other hand, offers both open-source and premium versions.
The premium version of the forum software starts at an eye-watering $599, and is meant for enterprise-level customers. However, Vanilla's free version offers more than enough features for regular forums.
Overall, this platform stands out from other options due to its high level of polish. The message boards you can create out of the box look fantastic, and you also get access to theme and plugin systems. However, there aren't a lot of free plugin options, so you're mostly stuck with the default features.
However, those features including everything you'll need to set up a modern forum. Along with basic forum functionality, you'll also get access to "Best Of" sections, an advanced text editor, post auto-saving, and more.
Pros:
Lets you set up stunning forums using basic theme and plugin systems.
Enables your users to use an advanced text editor, with plenty of options.
Auto-saves content as you write it.
Includes the option to create private groups for your users.
Cons:
The collection of free plugins and themes is not as extensive as you might expect.
Vanilla spotlights its premium software on its homepage. However, its free version is one of the best forum software options so far. It features an impressive level of polish, and if it weren't for the small collection of free plugins, it might be our top pick.
7. Simple Machines Forum

If you're looking for a quick comparison, Simple Machines Forum is most similar to phpBB. What sets this forum software apart is the sheer flexibility of its module and theme systems.
Simple Machines Forum uses a package manager that makes installing and updating modules a walk in the park. Plus, it offers the most extensive collection of plugins and themes you can find for open-source forum software. What's more, it even supports paid subscriptions for your forum members, as well as all the other features you'd expect to see from any solid forum tool.
Pros:
Provides access to the broadest collection of modules and themes when it comes to forum software.
Lets you switch between multiple languages with a single click.
Simplifies setting up premium subscription options for your users.
Cons:
Most of its themes look quite outdated.
The platform doesn't offer a lot of profile customization options.
In summary, Simple Machine Forum is an excellent option if you want to have access to as many modules and themes as possible. This wealth of options enables you to implement nearly any feature you want on your forums. Plus, it's useful to have an option to offer paid subscriptions. That being said, this is probably not the forum software for you if you want something that looks stylish.
8. FluxBB

So far, all of the best forum software we've looked at so far have one thing in common – they all try to outdo each other in terms of features. That's to be expected, since many users will want to use the most powerful tool they can find.
However, sometimes you don't need to use a platform that offers hundreds of features when only a handful will do. In that vein, FluxBB focuses on providing a performance-oriented light alternative to other forum software.
In practice, that doesn't mean FluxBB lacks in features. It offers all the basics you need to set up messaging boards, along with plenty of moderation options. There are even theme and plugin systems included, although there aren't that many options available for either. Overall, FluxBB offers a fantastic experience if you want to use a simple platform without many frills.
Pros:
Offers top-notch performance out of the box.
Enables you to set up themes and plugins.
Includes advanced profile customization options and a user ranking system.
Cons:
Its plugin and theme collection is rather lackluster.
Despite its lack of advanced features, FluxBB manages to offer everything you need to set up a robust forum that looks reasonably modern. It's a perfect alternative if you don't want to deal with complex software, and you'd like to get something up and running fast.
9. Codoforum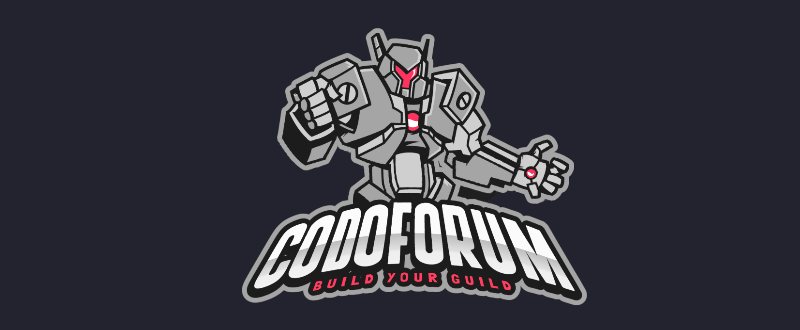 Codoforum is essentially a free forum software built with PHP and MySQL. The creators state that user experience one of the main keystones of the script. Hence it offers beauty, simplicity, and key features to make a thriving online community. More about Codoforum is nicely wrapped up in their introductory article.
One of the biggest perks of this script is that you can install it on any server that supports PHP and MySQL. While everything you need to go from zero to hero is located in a clean and user-friendly documentation.
Pros:
Offers a free license
In-depth documentation
Easy to install
Clean and simple
Cons:
Paid plans are quite pricey.
Free version includes a "powered by" watermark.
Overtime Codoforum received several updates and stands as a good pick to launch a successful online board.
Conclusion
Setting up an online forum is much like creating any other type of website. You need a reliable forum host, and tools that provide all the functionality you'll need. Our own go-to forum software is phpBB or WordPress, due to their wealth of features. As we've seen, however, they are hardly the only strong competitors for the title of 'best forum software'.
Do you have any questions about how to choose the best forum software? Let's talk about them in the comments section below!